Cape Panwa is a town in Phuket dominated by luxury hotels and resorts, the most famous of which are Cape Panwa Hotel, Sri Panwa Phuket Hotel, Panwa Boutique Beach Resort, Regent Phuket Cape Panwa, and the constantly - growing and evolving Sri Panwa Luxury Villas. Despite its proximity to Phuket, Cape Panwa is relatively detached to the mad tourist feel of the rest of the island. Most of the hotels and resorts here have made it a point to respect the privacy of their guests. The servicemen have been trained to be unobtrusive and constantly respectful, offering amenities such as Panwa Thai massage.
This said, staying in Cape Panwa is definitely a luxury. That is to say, there's no way that you'll stay there on a budget. You have to pay a premium for privacy, after all. The viewpoint and the silence make it well worth it though. Cape Panwa has been considered by many including celebrities like Leonardo di Caprio and Catherine Zeta - Jones as paradise. It's the type of place that you don't want to leave. However, if you want to take a day away from your staycation, here are a couple of things to do near Cape Panwa, Thailand.
Nestled on the shores of the Andaman Sea, this hotel in Cape Panwa invites you for an exquisite afternoon tea. Delight in an assortment of tropical pastries, classic scones adorned with clotted cream, and gourmet sandwiches. Choose from a diverse cake selection, including signature macaroons and decadent cheesecake. Complement your treats with a glass of sparkling wine, making any occasion memorable. Amidst this gastronomic journey, the serene beachside ambiance and captivating sea views promise a perfect backdrop.
Duration: 1 hour 30 minutes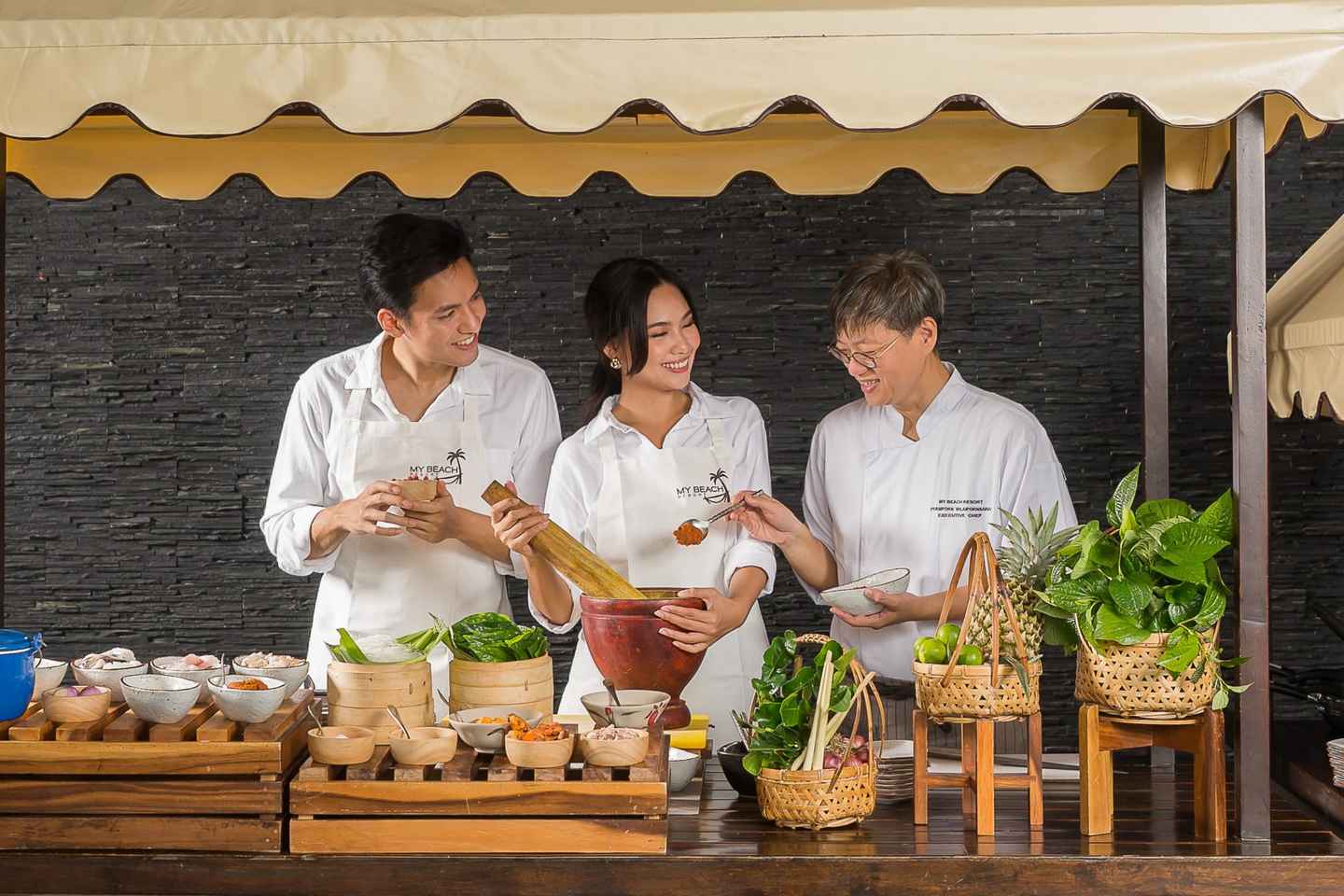 Embark on a culinary journey near the tranquil shores of Cape Panwa. This Thai cooking class, which takes place in a resort in Cape Panwa nestled by the azure sea, offers an immersive experience of Thailand's rich gastronomic heritage. Under the guidance of a seasoned chef, participants will unravel the secrets of crafting delectable Thai dishes.
The course ensures not just skill acquisition but also moments of delight, from a refreshing welcome beverage to treasured mementos like an apron. As the sun casts golden hues over the waters, take home not just recipes, but memories of a Thai culinary adventure.
3. Visit Phuket Aquarium
The Phuket Aquarium at the southwestern tip of the island is definitely one of Phuket's highlights. Here, you'll find a hundred exotic and colorful marine species. The Phuket Aquarium also offers its audience a close-knit opportunity to see underwater life up close through diving in its many housing facilities. But if you don't feel like doing so, you can just observe the many whales, dugongs, dolphins, sharks and sea turtles that consider the Phuket Aquarium their home. You can get to the aquarium via taxi, but if you'd like to save, you can go to the local market on Ranong Road in Phuket and take the local Songtheau bus. Admission for adults is around 100 baht (3 USD), while children get to enter at half price.
Phuket Aquarium

Address: Wichit, Mueang Phuket District, 83000 Phuket, Thailand

Website: Phuket Aquarium
4. Enjoy a night out at Baba Pool Club
The Baba Pool Club is a vacationer's dream. It is a luxury resort sprawled across 5,000 square meters (54,000 square feet). Each area has been curated for the ultimate dining and entertainment. The complex is a combination of indoor and outdoor structures that features, among others, a 25-meter (82-foot) infinity edge pool, a pool bar, the BabaQ dining experience, the Baba88 Disco, Baba Space for meetings and functions, a game room and the Yaya Boutique. The pool club can be for day use, or if you're lucky enough, it's also a great place to hang out during the day when you're a little tired of your view from your own villa. There's happy hour every day with various cocktails and antipasti. The pool club recommends reserving in advance so you can be assured of entry.
Baba Pool Club

Address: 4129, Tambon Wichit, Amphoe Mueang Phuket, 83000 Phuket, Thailand

Website: Baba Pool Club
5. Check out the 360-degree ocean views of Sri Panwa Luxury Villas
The Magnus Opus of Cape Panwa is the Sri Panwa Luxury Villas. It is perched on top of Cape Panwa, offering the best views of the Southeastern tip of the island. The collection of villas actually occupy the whole Cape Panwa peninsula and has stunning views of the Andaman Ocean. It consists of penthouses and residence villas that play to their tropical contemporary theme. Most of the villas also have their own infinity pool and face the western front in order to get the best position of the sunset every day. If this isn't tantalizing enough, you also have access to the resort's beachside and eight nearby islands from the resort's own docking station.
Sri Panwa Luxury Pool Villas

Address: 4129, Tambon Wichit, Amphoe Mueang Phuket, 83000 Phuket, Thailand

Website: Sri Panwa Luxury Pool Villas
6. Take a day trip to Koh Lone or Lone Island
If you want to take a break from the mass tourism in Phuket, then take a day trip to the nearby spot of Koh Lone where there really is nothing to do but sit back, laze in one of the daybeds or hammocks, or have a soothing massage by the waterfront. You can also snorkel, scuba dive, try cooking Thai dishes, canoe, or go through an elephant trek. Koh Lone is one of the islands near Cape Panwa. It is also known as Koh Lohn or Lon Island. Most of the island is populated by a friendly Muslim community whose main livelihood is fishing and rubber tree farming. It also has a healthy coconut industry. It is the second largest island in Phuket after the mainland. It is large and mountainous located in the middle of Chalong Bay. To get there, just take a 15-minute boat ride from Cape Panwa.
Koh Lone Island

Address: Phuket, Thailand
7. Dive in Coral Island
If you want to try more water activities, then continue on to the nearby island of Koh Hae. This island found 10 kilometers (6 miles) south of Phuket and Cape Panwa is surrounded by colorful reefs, hence the name Coral Island. It also has a long stretch of white beach, crystal clear water, and secluded bays, perfect for romantic picnics. The island is, naturally, perfect for scuba diving, banana boat rides, sea-walking and parasailing.
Coral Island

Address: Phuket, Thailand

Website: Coral Island
8. Visit the new night market, Chillva
If you'd like to take a night out and hang out with the hipsters of Thailand, then head on to Chillva night market, one of the newest and some say the best night market in Phuket. Chillva is unlike other night markets in Thailand in the sense that you won't see a lot of rip off clothing, jewelry, shoes or accessories here. The night market is well curated for the teenagers and is frequented by artists because of the artisanal drinks, fashion items, and craft beers. There are a lot of local items such as fried insects too. Along with street food, you'll also see a lot of small bars and restaurants that have been built with container vans.
Chillva Night Market

Address: Phuket, Thailand

Website: Chillva Night Market
How to get to Cape Panwa:
Cape Panwa is around 10 kilometers (6 miles) from the main town of Phuket. You'll find that Cape Panwa is a good place to stay with several interesting things to see here, apart from those mentioned above, such as the Maine Biological Research Centre. Taxis are found all over Phuket to take you throughout the entire island including to Cape Panwa. Just so you won't be shocked though, because Cape Panwa and Phuket is a tourist area, you'll find that the prices have been jacked up. Prices are usually fixed too instead of metered. There are no tuk-tuks or alternative transportation here as well. Unfortunately, this is the price to pay for paradise, and Cape Panwa is definitely just that: paradise.
Frequently asked questions about things to do near Cape Panwa, Thailand
1. Which things to do near Cape Panwa are ideal for families?
There are plenty of things to do near Cape Panwa that can make for memorable family outings. For example, you can enjoy a trip to the fascinating Phuket Aquarium, offering an educational and entertaining experience.
2. Which places near Cape Panwa are a must-visit for tourists?
There are several must-visit places near Cape Panwa. Take a day trip to Koh Lone or Lone Island for serene beaches. Dive in Coral Island's crystal-clear waters. Visit the new night market, Chillva, for local food and shopping, offering a perfect blend of relaxation and exploration.
Any must-sees we missed? Tell us about them in the comments section or write a post
here
to help out fellow travelers!
Disclosure: Trip101 selects the listings in our articles independently. Some of the listings in this article contain affiliate links.
Get Trip101 in your inbox
Unsubscribe in one click. See our Privacy Policy for more information on how we use your data