Alanya is a town in the Turkish Riviera that will fill up your travelogue with amazing stories. The town is situated along the Gulf of Antalya on a peninsula between the Taurus Mountains and the Mediterranean Sea. A formidable castle and a picturesque harbor dominate the landscape. Travelers also bring home snapshots of Ottoman villas and a medieval fortress. Alanya was a stronghold of many empires through the centuries. Its rise in the Middle Ages as an important political center is immortalized in landmarks that stand to this day. Tourism is a central part of the lives of its residents today. Aside from architectural and cultural attractions, Alanya is one of the towns of the Turkish Riviera that attracts beachgoers of all ages. Now is the best time for another escape. Read about the top things to do in Alanya, Turkey.
1. Immerse in history in Alanya Castle
The Citadel of Alanya stands on a steep hill with panoramic views of the town and harbor. Surrounded by a wall that's 6.4 kilometers (4 miles) long, Alanya Castle is now an open-air museum that reflects the history of the city. Most of the landward section of the castle is open to visitors free of admission.
Built on older fortifications, most of the structure that stands today, including 140 towers, was completed in the 13th century. You may walk seaward to see the Red Tower up close. It's a remarkable hexagonal structure built as additional protection to the castle on the harbor side.
Alanya Castle

Address: Hisariçi, 07400 Alanya/Antalya, Turkey

Website: Alanya Castle

Opening hours: 8am - 5pm (daily)
2. View remarkable exhibits in Alanya Archaeological Museum
Editor's Note: There's no photo available at the time of writing
Alanya Archaeological Museum features archaeological and ethnographic artifacts. Its pièce de résistance is a bronze statue of Hercules from the second century. The museum opened in 1967 and was renovated in 2012. Aside from the remarkable exhibits inside the building, the expansive grounds and gardens feature artifacts from the Roman, Ottoman, and Seljuk periods. If you want to learn more about ancient Alanya, make it a priority to visit the Alanya Archaeological Museum while on holiday in the Turkish Riviera.
Alanya Archaeological Museum

Address: Saray, İsmet Hilmi Balcı Cd. No:2, 07400, 07400 Alanya/Antalya, Turkey

Website: Alanya Archaeological Museum

Opening hours: 8:30am - 7pm (daily)
3. See a city symbol up close at Red Tower (Kızılkule)
The Red Tower (Kızılkule) appears on the flag of the city as Alanya's symbol. A Syrian architect, Ebu Ali Reha el Kett was brought in by the Seljuk ruler Alaeddin Keyqubad I to complete what is now known as one of the best examples of military architecture from the Medieval period.
Standing at 33 meters (108.2 feet) tall, its purpose was to guard the harbor entrance and protect Alanya Castle on top of the hill. It is said the tower could shelter as many as 2000 people. The Seljuk building houses the Ethnographic Museum of Alanya, which opened in 1979. The Red Tower is best viewed from the seaward side on a boat.
Red Tower (Kızılkule)

Address: Çarşı, İskele Cd. No:102, 07400 Alanya/Antalya, Turkey

Website: Red Tower

Opening hours: 9am - 7pm (daily)
4. Experience the Turkish Riviera at Kleopatra Beach
Kleopatra Beach in Alanya is one of the most visited tourist destinations in the entire province of Antalya in Turkey. Swimming and other water sports are popular diversions, and you will not run out of great photo opportunities.
There is a promenade, cafes and restaurants, and facilities for boat rentals. There are lifeguards on duty so that beachgoers can feel safe while having a fine time in the sun. Some hotels on the shore have direct access to this pretty stretch of sand, so expect a good-sized crowd in beach season.
Kleopatra Beach

Address: Alanya, Antalya Province, Turkey
5. Enjoy panoramic views at Alanya Lighthouse
Alanya Lighthouse is a towering beacon on the harbor entrance. This white tower proudly flying the Turkish flag greets every craft that passes through, and provides light to boats fishing offshore. The grounds surrounding the lighthouse are ideal for walking around with the sea breeze on your hair. Visitors are welcome to take photos and spend a quiet time enjoying the seascape from this part of the shore.
Alanya Lighthouse

Address: Çarşı, Unnamed Rd, 07400 Alanya/Antalya, Turkey
6. Discover underground marvels at Damlataş Cave
Damlataş Cave is located near Alanya Castle with its mouth facing the Mediterranean Sea. Discovered in 1948 during a construction project, the cave is now a tourist destination and anyone who ventures in can explore the cave floor and marvel at stalactites and stalagmites. Based on these mineral formations, the cave is believed to be thousands of years old.
The physical spectacle of Damlataş Cave is second only to its healing powers. It is believed that this cave cures asthma and other respiratory conditions. Visit the cave and take the opportunity to see the wonders of the underground.
Damlataş Cave

Address: Çarşı, Damlataş Cd. No:81, 07400 Alanya/Antalya, Turkey

Website: Damlataş Cave

Opening hours: 10m - 10pm (daily)
7. Sail back in time at Shipyard Alanya
Shipyard Alanya is bedecked by inscriptions and frescoes, which were uncovered during restoration. The five vaulted divisions of stone and brick stand strong and at different levels to allow for the natural characteristics of the topography.
This shipyard was made to harbor ships and used for repairs in the Ottoman period. It was also used as a depot, administrative center, and had a defensive position under the command of a navy leader. A view of the shipyard from a boat offers tourists a good perspective on how it was put to use in ancient times.
Shipyard Alanya

Address: Tophane, Tersane Sk. No:9, 07400 Alanya/Antalya, Turkey

Website: Shipyard Alanya
This paragliding adventure offers unforgettable views of Alanya's shoreline. A professional pilot will ensure that safety precautions are in place and that every maneuver of the glider will bring pure enjoyment.
The organizers offer this experience to travelers 14 years old and above. Each booking accommodates a maximum of six people in a group. Allow an hour for this activity, which includes hotel pick up and drop off. If you don't have back issues, if you're not pregnant, and if you're ready for the next adventure, sign up for this unique experience today.
Tandem Paragliding in Alanya

Duration: 1 hour
Where will you find a pirate boat in this day and age? This exciting activity is a family-friendly pirate boat experience and harbor tour rolled into one. The pirate boat takes travelers around the peninsula and lets them enjoy views of the Red Tower, Shipyard Alanya, and Alanya Castle from the water.
There's more for the buccaneer at heart. The tour stops at Kleopatra Beach so that you can swim for a bit, and then brings you to three caves in the area! Lunch is on the swashbuckling captain, and trusty deckhands will pick you up at the hotel and drop you off afterward.
Alanya Pirate Boat with Lunch and Drinks

Duration: 6 hours
This small-group tour is a special offer for avid divers who wish to explore Alanya's underwater riches. It's a full day of scuba diving with two dives in various sites, as well as snorkeling and swimming. The tour includes hotel pickup and drop-off, scuba equipment, and a sumptuous lunch.
Whether you are a certified diver or a bonafide beginner, you are welcome to sign up. The tour accepts divers who are 10 years old and above and can accommodate as many as 20 individuals in one booking. Spend a great day out in the ocean and bring home memories of a superb experience in Alanya.
Scuba Diving in Alanya

Duration: 7 hours
A hammam (Turkish bath) has civic and religious significance in Islam. Apart from promoting general hygiene, a hamman is used as ritual ablution. When visiting Alanya, pamper yourself with an authentic Turkish bath. This particular experience includes a steam bath, a sauna, foam massage, and aromatherapy oil massage.
This three-hour experience allows your lungs and your skin to breathe more deeply and your mind to reach a peaceful state as your body relaxes. You will reap the benefits, especially if you've been tired and worn out with worry. Experiencing a traditional Turkish bath is also an upstanding way to immerse in local culture.
Traditional Turkish Bath Experience in Alanya

Duration: 2 hours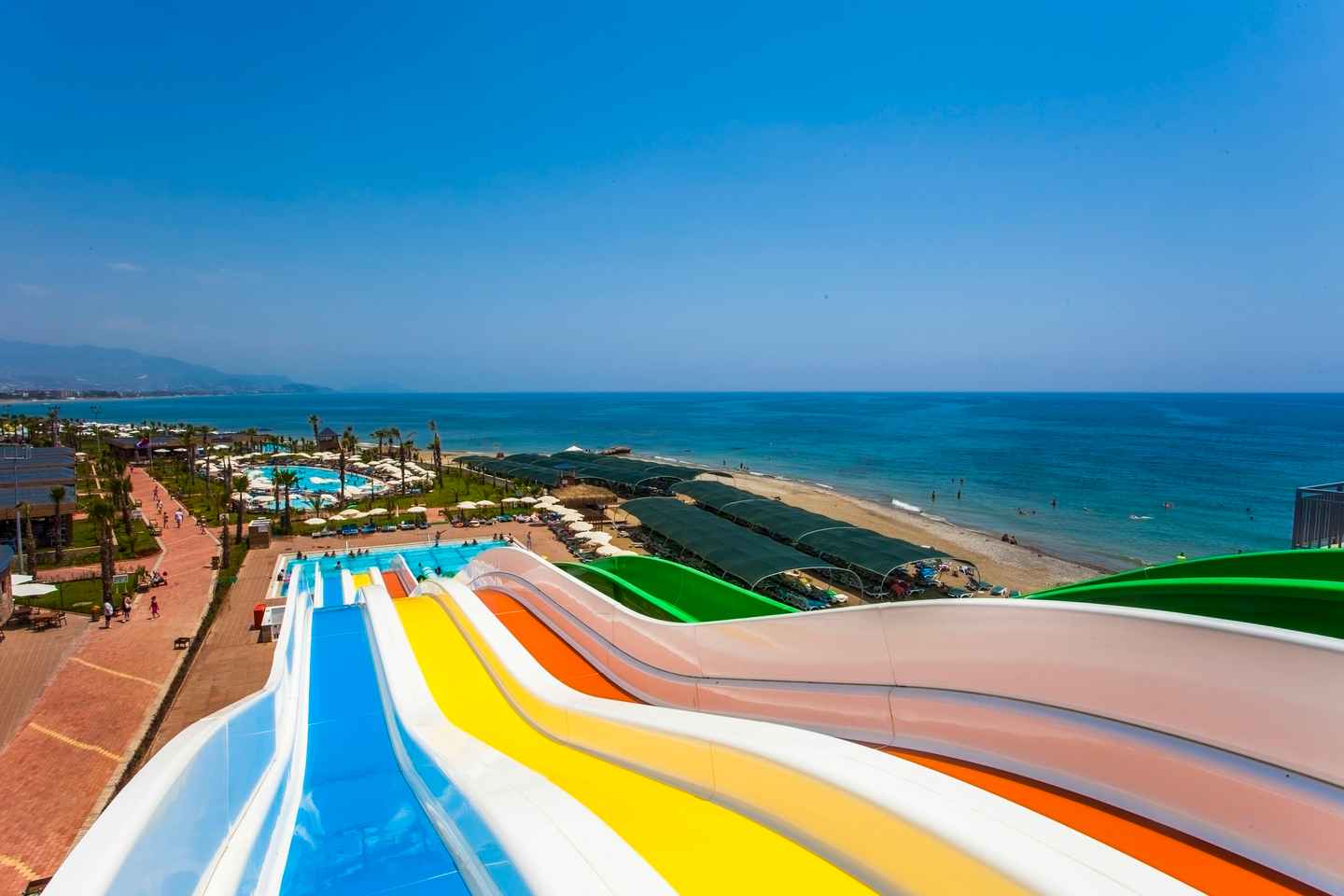 If you have 7 to 8 hours to spare and the children are keen on trying out 24 slides, then book this water park experience without a second thought. Water Planet Aquapark features a wave pool, a lazy river, and an assortment of slides for the kids.
If you the adults are looking for an adrenaline-pumping adventure, then sign up for bungee jumping. Book tickets online for sure slots as the water park is enforcing health and safety measures, and the number of visitors is limited.
Alanya: All-Inclusive Eftalia Island Waterpark Ticket

Duration: 7.0 hour
Nearby attractions and activities
A day trip to the Taurus Mountains is one way to spend your time in Alanya. Sapadere is a village located 25.6 miles (41.2 kilometers) from Alanya city center. Sapadere Canyon is about 750 meters (2460.6 feet) long, and the scenery is made even more spectacular by local flora and small waterfalls cascading from the ancient rock wall. You might spot some wildlife during your visit.
There is a natural pool where you can swim if you wish to dare the cold, refreshing waters. Before reaching the falls, the tour guide will escort you to Sapadere Köyü Yolu, a village that accepts travelers with open arms. This tour is available in English, Russian, and German.
Sapadere Canyon Jeep Tour and Village Visit from Alanya

Duration: 7 hours
Another sensational way to spend seven hours while on holiday is to go on a jeep safari adventure for an opportunity to visit Dim Cave, the second biggest cave in Turkey. This historical and majestic cave is situated on the hills of Cebeli Reis Mountain. It will be an uphill climb, but there are breaks along the way so that you can take photos and contemplate the view. At lunchtime, you will share a generous meal along Dim River.
Before heading out, you may enjoy the water park facilities by the riverside. A tour guide will accompany you on the trip and share insights on village life while visiting rural communities above Dim Dam.
Alanya Full-Day Jeep Safari with Dim River Lunch and Dim Cave

Duration: 7 hours
A visit to Manavgat Waterfalls levels up a few notches when you go on a scenic cruise on the river delta. This tour offers a Manavgat experience by boat, which makes the 61.1-kilometer (38-mile) journey from Alanya worthwhile. The spectacular cascade flows over the rocks in a torrent of water and there are plenty of photo opportunities from the boat.
There is also a 30-minute stop at Manavgat Mosque. Buffet lunch on board keeps you full and energized. There is time allotted for hassle-free browsing in the Manavgat Bazaar for souvenirs of your unforgettable journey.
Manavgat Waterfalls and Bazaar by Boat

Duration: 9 hours
Seek new adventures in Alanya's scenic spaces
Alanya offers travelers excellent beaches, marvelous caves, historical monuments, and adventures of all sorts. Alanya is also a living town that opens its welcoming arms to travelers of all ages.
Editor's note: In light of the February 2023 earthquake that devastated Turkey and Syria, Trip101 urges you to be apprised of the latest news if you have any urgent plans to travel to the country. Please note that some bookings and services may not be available at this moment.
Disclosure: Trip101 selects the listings in our articles independently. Some of the listings in this article contain affiliate links.
Get Trip101 in your inbox
Unsubscribe in one click. See our Privacy Policy for more information on how we use your data