Many people are probably more familiar with the Western European countries for their holiday destinations, and some of them might overlook the majestic and humble Central Europe on their wanderlust map. What people didn't know, traveling to Central Europe might be friendlier to their budget since the cities are cheaper. Put the Czech Republic, or Czechia as its shorter name, on your next holiday plan, and you will be surprised when you compare the traveling, and living, costs in this magnificent city over other cities in Western Europe. If you're still not sure what are the exciting activities that you can do during your holiday in Czechia, then you're in luck since we have an excellent list for you. Keep reading to learn about the best things to do in Czechia.
1. Explore the mysterious Šumava Lakes
If you're a fan of places with a touch of mystical ambiance, then you wouldn't want to miss Šumava Lakes. Just like other mysterious places in legends, it takes quite an effort to get there since it's not reachable by car. However, your hard effort of hiking there won't be betrayed by what's waiting for you deep inside the forest. You'll get to see the Czech Republic's largest lake, Black Lake, with its black colored surface from the reflection of the dark forest around it. If you follow the red trail, you will arrive at the Devil's Lake, the place that will tempt you to pay a visit and spend a good amount of time at the most beautiful yet hardest place to reach in Šumava. Word has it that up to this day, strange and unknown figures would emerge from its surface to roam around the forest.
Šumava Lakes

Address: Správa Národního parku Šumava 1.máje 260, 385 01 Vimperk

Website: Šumava Lakes

Price: From 149 USD
2. Have an outdoor adventure at Jeseníky Mountains
Jeseníky Mountains is located in the north of Czech Silesia and Moravia, and not too far from Ostrava and Olomouc. This place is famous for its trail and environment that is perfect for outdoor activities such as hiking, biking, and horse riding. You can also visit interesting places in the area, such as the Dlouhé Stráně hydroelectric power plant, Velké Losiny paper mill that's famous as one of the oldest paper mills in Europe that's still operating. You can also satisfy your taste for liquor at the Bairnsfather Distillery, where you can take a sip of their famous absinthe, or visit the hidden Forest Bar that's open 24 hours and 365 days in the Rychlebské Mountains.
3. Explore the Adršpach-Teplice Rocks
It might surprise you to learn that the area of Adršpach-Teplice Rocks was once the bottom of the ocean. It might explain the bizarre shapes of rocks and gorges that will challenge your imagination. Adršpach-Teplice Rocks is located near three villages, namely Teplice nad Metují, Adršpach, and Čáp Peak that is situated above Skály village. You can hike around the Teplice area, where you can visit Střmen Castle and Krakonoš' Garden. For something that's more visually pleasing, Broumov Cliffs are your option, with sandstone cliffs that will take your breath away, deep ravines, and viewing points that will send chills down your spine.
Adršpach-Teplice Rocks

Address: 549 57 Adršpach, Czechia

Website: Adršpach-Teplice Rocks

Price: 4.40 USD
A trip to Moravia is a trip of a lifetime. This is the region in the Czech Republic where you can visit one of the World Heritage Sites of UNESCO, the Renaissance town of Telč, and a UNESCO Site of Lednice, that's also known as one of the most amazing chateaux in the Czech Republic. Moravia's capital city, Brno, is the home of fascinating varieties of architectures that will please your eyes and your camera. While you're in the region, it would be a shame if you missed out on the opportunity to taste their fabulous wines. Even though Czechia is famous for its beer, once you give their wine a try, you might come to a hard place to decide which you'd like the most, Czechian beer or their wine.
South Moravia: 2-Day Tour with Wine Tasting from Prague

Duration: 2 days
5. Drop by Palac Akropolis
When you're in Prague and you don't know where to go, but you don't want to retire to your hotel yet, then Palac Akropolis is where you need to go. It's the place that can be anything you're looking for: a night club, a concert hall, a restaurant, and even a theatre. Make sure you check out their schedules to know what kind of show that will greet you when you're there. Even if it's in the middle of the night and you're in the mood for something, many locals will advise you to go to the Akropolis and be surprised by what you will find there.
Palac Akropolis

Address: Kubelikova 1548/27, Prague 3

Website: Palac Akropolis

Opening hours: Mon - Fri: 10am - 5:30am; Sat - Sun: 4pm - 5:30am
6. Admire a grand collection of art at the National Gallery
Spoil the art geek in you with a visit to the National Gallery Prague, and admire the most extensive art collection in the Czech Republic. Interestingly, the selections available were not gotten from one location, but several spots all around the city of Prague. While you're building up your enthusiasm to learn about the art scenes and history of the Czech Republic, you should also take a quick tour around the city to discover all the legendary artworks.
National Gallery Prague

Address: StaromEstske NamEsti 12 | Kinský Palace, Prague 170 00, Czech Republic

Website: National Gallery Prague

Opening hours: Tue - Sun: 10am - 6pm; Wed: 10am - 8pm (closed on Mon)

Price: 22 USD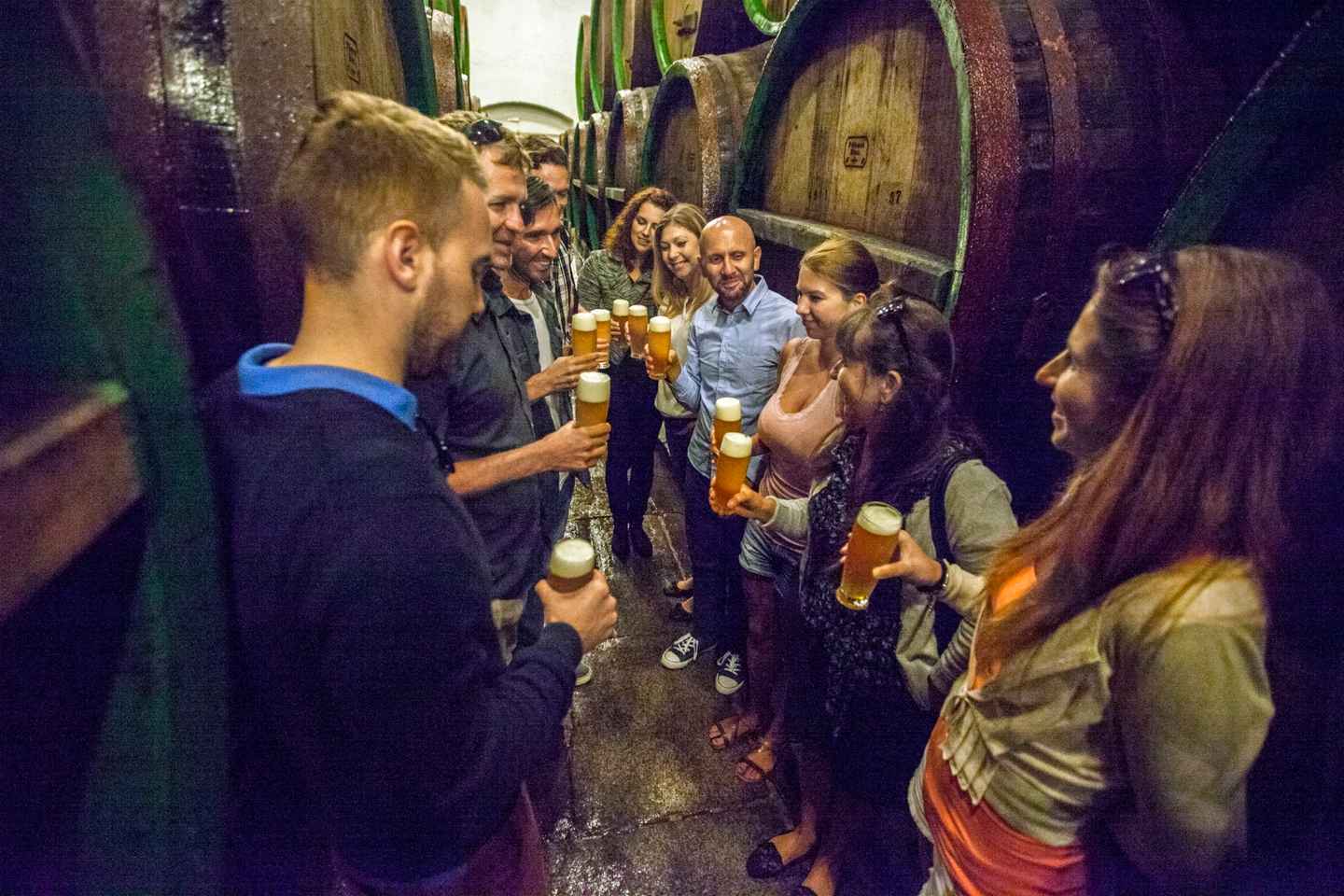 The history of beer brewing in the Czech Republic went back to the year 993, in Břevnov Monastery. Then, in the 12th century, the city of Brno earned the right to brew beer in the city. Pilsner Lager is the kind of beer that is most brewed in the country, and the color varies from pale, amber, dark, and black, with a strength of 3-9% ABV. If you visit the country in May, you might want to attend the Czechian biggest beer festival, Czech Beer Festival. It's a 17-day-long event where you can taste more than 70 brands of beer from all around the country.
Pilsen: Pilsner Urquell Brewery Tour with Beer Tasting

Duration: 80 minute
Bohemian Switzerland National Park is the youngest national park in the Czech Republic, and also a part of Germany's Elbe Sandstone Mountain. As soon as you arrive, be prepared to be amazed by the majestic scenery, from sandstone formations, ravines, valleys, and cliffs. All will make you feel like you've been thrown into a parallel universe. Also, visit Pravčická brána while you're in the park; a towering stone arch that is the largest in Europe. And don't forget to enjoy a cold beer at the food stall right at the bottom of the arch.
Bohemian Switzerland National Park Tour from Prague

Duration: 8 hours
Christmas time is always an excellent time to enjoy the charming and vibrant ambiance of a city, and Prague is one of those cities that provides an exciting event for its guests near Christmas day. Join a guided city tour to experience the Czechia Christmas tradition that will delight you. Learn about the local lifestyle during Christmas day, shop like them on the markets around the city, and, of course, dine like locals.
Prague Christmas Markets Tour with Traditional Snacks

Duration: 2 hours 30 minutes
Wintertime is a magical season that excites many people, especially when they don't have that particular season in their home country. To see the snow and wear layers of clothing to protect from the freezing weather can be particularly fun for some people. Mainly if it includes enjoying winter sports. From Prague, you can take a private day tour to the Klinovec skiing area, which is famous as the spot to snowboard and ski in the Czech Republic. The tour includes a private vehicle that will take you from the hotel to the Krusne Mountains and back, also a pass for your ski or snowboard gear so that you can enjoy an exciting fun time on downhill trails and slopes.
Full-Day Skiing on Klínovec Tour from Prague

Duration: 12 hours
Explore Czechia and collect memories
As much as people would have thought, the Czech Republic is more than Prague. There are more regions and attractions that you can visit and explore in this brilliant country. All you need is to set aside a bit more time and plan carefully for the best things to do in Czechia.
Disclosure: Trip101 selects the listings in our articles independently. Some of the listings in this article contain affiliate links.
Get Trip101 in your inbox
Unsubscribe in one click. See our privacy policy for more information on how we use your data