Prague has some of the most original architectures in Europe, ranging from Art Nouveau to Gothic and Baroque. They did not sustain significant damage during WWII, and today, these iconic buildings draw visitors from around the world. Walking down the medieval streets of this city, strolling along its riverside, and unwinding at green parks are some of the best adventures the country has to offer. That's not all! This destination is also filled with world-class museums, and of course, it boasts the most excellent beers on this side of the globe. It features luxury hotels and hotels with smoking rooms as well. In this post, we have handpicked some of the top famous buildings in Prague, Czechia—all of which are a must-see if you are fascinated by the beauty and history of the old world. Check them out!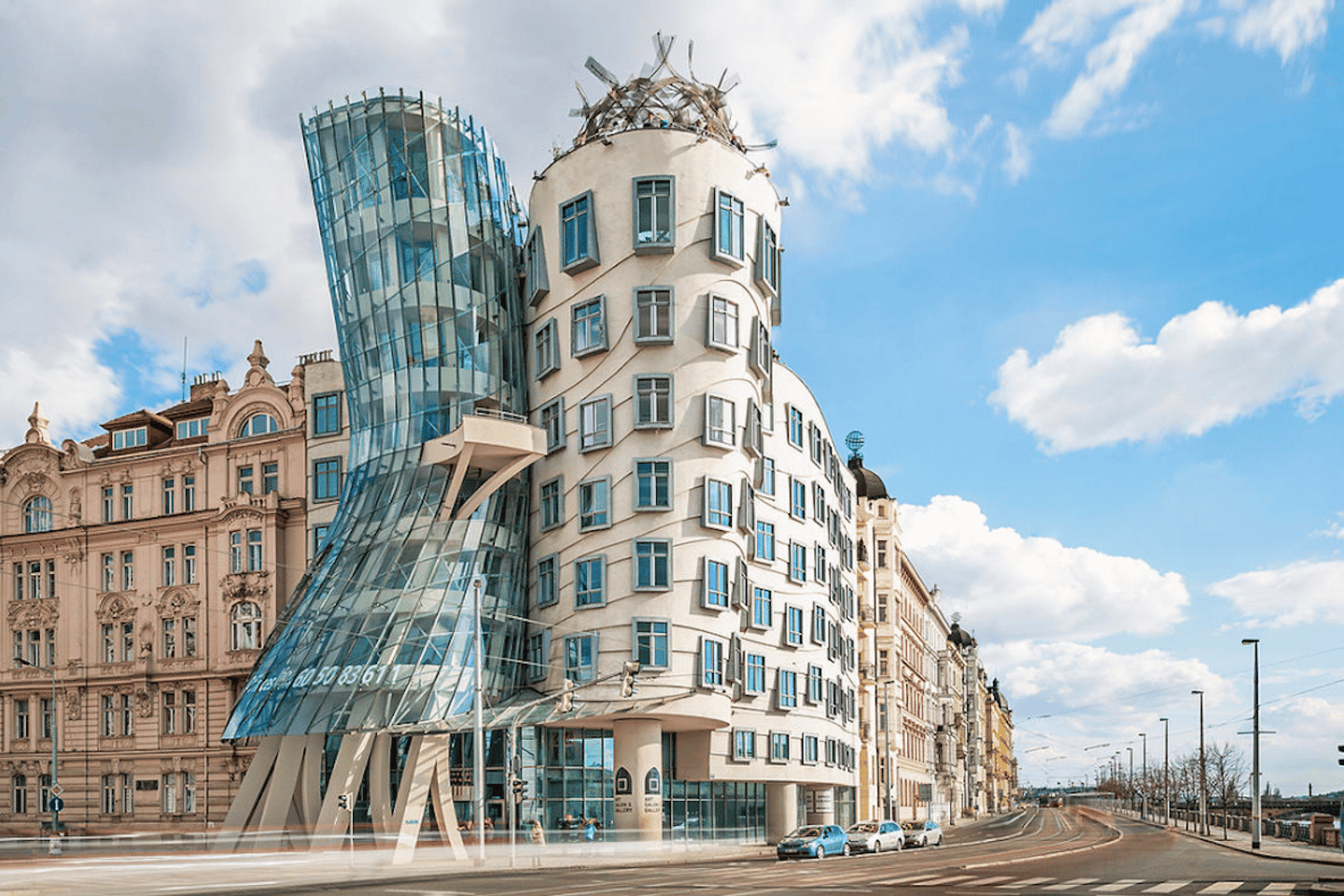 First on the list is the iconic Dancing House, a contemporary architectural piece designed by Frank Gehry and Vlado Milunic in 1989. The name originates from its figure of two famous dancers—Fred Astaire and Ginger Rogers. Today, it's used as a luxury hotel, highlighting an eatery at the top floor, a café, and 21 elegant rooms with breathtaking views of Prague Castle. The same year that it was opened to the public, 1996, it was awarded the design of the year by U.S. Time magazine.
Prague: Dancing House Gallery and Rooftop Entrance
2. St. Vitus Cathedral
This famous place of worship was constructed over a 600-year period, and today, it's one of the most renowned cathedrals in Central Europe. St. Vitus Cathedral is part of Prague Castle, contains chapels and the main hall, and stands at a height of 316.6 feet (96.5 meters). While touring this building, look out for some fascinating national treasures, including the Alfons Mucha art nouveau stained glass, relics of the Passion of Christ, and the coronation cross and crown of St. Wenceslaus—and even his tomb. This place also offers a quiet space for meditation and recollection, so make sure that visiting the cathedral is included in your list of things to do in Prague.
St. Vitus Cathedral

Address: III. nádvoří 48/2, 119 01 Praha 1-Hradčany, Czechia

Website: St. Vitus Cathedral

Opening hours: Sun: 12pm - 5pm; Mon - Sat: 9am - 5pm

Price: 10 USD
3. Zizkov Television Tower
This tower faced many criticisms at first as looking like Soviet architecture. Then David Černý, a Czech artist, decorated it with sculptures of crawling babies. This brilliant idea changed the people's perception, and today, this 856.3-foot (216-meter) structure is the tallest in the city and features places of relaxation and 360-degree views of the surroundings. It has decks where antennas and equipment are placed. Soak up the magnificent views of the city on a platform set at 305.1 feet (93 meters), or unwind on an entire floor designed for recreation. This building was designed by Jiří Kozák and Václav Aulický in the 1980s.
Zizkov Television Tower

Address: Mahlerovy sady 1, 130 00 Praha 3-Žižkov, Czechia

Website: Zizkov Television Tower

Opening hours: Mon - Sat: 8am - 12am (closed on Sun)
4. Old Town Hall
Although part of the structure was damaged and never rebuilt in 1945 during the Prague Uprising, this 14th-century architecture still retains its iconic features—including Orloj, an astronomical clock showing the 12 apostles of Christ every hour from 9am to 11pm, and a heartwarming Gothic-style tower with a bay chapel. It was the seat of administration and today is one of the most prominent landmarks in Old Town Square. You can tour the underground areas, the 229.7-foot (70-meter) tower, and the medieval halls. The tower is the only historical wheelchair-accessible fortification in the city, and it features beautiful views of the surroundings.
Old Town Hall

Address: Staroměstské nám. 1, 110 00 Staré Město, Czechia

Website: Old Town Hall

Opening hours: Tue - Sun: 9am - 10pm; Mon: 11am - 10pm

Price: 11 USD
5. Strahov Monastery
This building is where you will find the most extensive religious and cultural relics in the city, including Rococo and Baroque paintings, Rudolfian art, and Gothic designs. Strahov Monastery is a 12th-century Premonstratensian abbey, the highlights of which are Classical Philosophy Hall designed with frescoes, Baroque Theological Hall, and the rare Strahov Library—containing globes, maps, and many ancient manuscripts. Take your time and get a glimpse of the extraordinary 17th-century geological orbs in the libraries, over 40,000 medieval philosophical texts in the classic hall, and the 18,000 religious manuscripts in the theological space.
Strahov Monastery

Address: Strahovské nádvoří 1/132, 118 00 Praha 1-Strahov, Czechia

Website: Strahov Monastery

Opening hours: 9am - 5pm (daily)

Price: From 3.50 USD
6. Church of Our Lady before Týn
Church of Our Lady before Týn is another famous thing in Prague. This dominant structure sits in Old Town Square, constructed between three centuries—from mid-14th to early 16th. It was built in Gothic-style, but in the 17th century, the interior was updated to the Baroque style. Today, this iconic twin tower can be seen from many points in the city. Tour some of the most extensive collections of early Baroque, Renaissance, and Gothic works, as well as the heartwarming paintings of Karel Škréta around the altar. The place occasionally features musical concerts, as well as Catholic church services.
Church of Our Lady before Týn

Address: Staroměstské nám., 110 00 Staré Město, Czechia

Website: Church of Our Lady before Týn

Opening hours: Tue - Sat: 10am - 1pm, 3pm - 5pm (closed on Sun - Mon)
7. Spanish Synagogue
On the grounds of the oldest synagogue in Prague's Jewish Town—Altschul—is this beautiful and relatively most recent Jewish place of worship constructed in 1868. Its name, Spanish Synagogue, was due to the magnificent Moorish design of the interior by Bedřich Münzberger and Antonín Baum in the 1880s. This structure features some historical exhibitions of the Jews in Moravia and Bohemia. See the crowns, finials, pointers, shields, and other Torah ornaments placed on the upper floor of the synagogue. Other things to look out for are the Shabbat candles, Kiddush cups, and the Shabbat spice boxes—it's bound to be an exciting history tour.
Spanish Synagogue

Address: Vězeňská 1, 110 00 Staré Město, Czechia

Website: Spanish Synagogue

Opening hours: 9am - 5pm (daily)
8. Old Town Bridge Tower
Old Town Bridge Tower is an iconic Gothic fortification on the Old Town end of Charles Bridge. It was constructed in the 14th century by Emperor Charles IV after the foundation of the bridge was established. The beautiful sculptures that decorate the structure are still beautifully intact, although the tower was slightly damaged during the Swedes' violent invasion of Old Town in 1646. Today, the main draw is the beautiful view of Old Town and Vltava River from the tower's gallery, 138 steps from the floor. You can also check out Lesser Town Bridge Tower on the opposite side.
Old Town Bridge Tower

Address: Karlův most Praha 1, 110 00 Praha 1, Czechia

Website: Old Town Bridge Tower

Opening hours: 10am - 6pm (daily)
9. Powder Tower
Powder Tower, initially known as New Tower, is the most significant structure of Late Gothic Prague, completed in the 15th century. It was used as a gunpowder store and also the starting point during the procession of Czech kings to Prague Castle. This medieval structure was renamed because from 1715 onward, it was used as a gunpowder store, and today, it features an exhibition space with photos by Ladislav Sitensky. Aside from touring and admiring the sooty look of this building, you can climb up 186 steps to the gallery, and treat your eyes to the stunning views of Old Town.
Powder Tower

Address: nám. Republiky 5, 110 00 Staré Město, Czechia

Website: Powder Tower

Opening hours: 10am - 6pm (daily)

Price: 4 USD
10. National Theatre
Enjoy a range of ballet performances, drama, and opera in this historic structure opened in 1881. Prague National Theatre was built with the contributed funds from the public and nobles but was razed by fire the same year it was opened. Fresh donations were made afterward, and it was reopened in 1882. Today, it represents the people's culture and national identity. Catch enthralling shows at any of its four buildings, managed by four different companies.
National Theatre

Address: Národní 2, 110 00 Nové Město, Czechia

Website: National Theatre

Opening hours: 10am - 6pm (daily)
Enjoy historical sightseeing in Prague
Only a few cities in the world can compete with the conserved history of this ancient seat of power, Prague. For a more immersive experience of these famous buildings in Prague, Czech, there are many GetYourGuide tours and Viator tours you can join. And with this list, nothing can stop you from having your best historical adventure yet.
Disclosure: Trip101 selects the listings in our articles independently. Some of the listings in this article contain affiliate links.
Get Trip101 in your inbox
Unsubscribe in one click. See our Privacy Policy for more information on how we use your data