Celebrate the beauty of nature in the great subtropical wetlands of South Florida, the Everglades. With millions of acres of swampland, pineland and marshes, the Everglades National Park is a sanctuary to hundreds of different types of birds, mammals and other animals. You'll find the endangered Florida Panther, the lovable bottlenose dolphin, and West Indian Manatee here. While known as a famous sanctuary of alligators, it is also the only ecosystem in the world where alligators and crocodiles coexist. There are many ways to explore the Everglades — go birdwatching, take a bike tour along the lush trails, hike through the woods, indulge in boat-fishing, row a canoe in its waist-deep marshes, or discover the culture of the Miccosukee Tribe - the caretakers of this marvelous wilderness. So, grab your hat, spread sunblock lotion on your skin and wear your hiking shoes to explore this expansive area. Here's a rundown of the best things to do in the Everglades, Florida.
1. Have a little introduction of what the Everglades has for you at Ernest F. Coe Visitor Center
Photo is only for illustrative purposes
Ernest F. Coe Visitor Center houses galleries and theaters that shows interesting exhibits and videos on the Everglades. Learn about water conservation and the intricate water system in the park. See nature dioramas on fish, birds, and alligators, and pick up a free brochure that has all the information about this scenic park. The center is also the best place to start the tour and study the trail maps and know about tours offered by park rangers.
Ernest F. Coe Visitor Center

Address: 40001 State Hwy 9336, Homestead, FL 33034, United States

Website: Ernest F. Coe Visitor Center

Opening hours: 9am - 5pm (daily)
2. Enjoy a scenic bike ride to the top of the 45-ft Shark Valley Observation Tower with Shark Valley Tram Tours
Be captivated by the landscape as you learn about Everglades' rich ecosystem. The Shark Valley is an excellent and relaxing location to discover the plants and animals found in the park. Sightseeing can be so much fun, especially when you learn about the environment. You will be accompanied by a friendly, park-trained naturalist, who are highly knowledgeable. They can share the hidden wonders of the Everglades. A bike tour in its 15-mile (24 km) loop allows you to get close to nature, at a comfortable distance and at your own pace, giving you more time to marvel at the rich fauna and flora. The observation post — a 45-ft (14 m) high tower — also gives you a panoramic view of the wetlands. You can rent a bike on-site, if you are unable to bring your own.
Shark Valley Tram Tours

Address: 36000 SW 8th St, Miami, FL 33194, United States

Website: Shark Valley Tram Tours

Opening hours: 8:30am - 6pm (daily)
3. Have fun and go fishing
Photo is only for illustrative purposes
Have a fun-filled and hassle-free fishing adventure in the Everglades. Get an in-shore fishing charter service, where all you have to be concerned with is the trophy fish biting your bait. Cast a line and have fun catching local fish such as trout, tarpon, groupers, and snapper. Aside from the gear (boat, fuel, bait, tackle cooler, ice, food, and beverages), the fishing tour comes with a state license to fish, so you can enjoy fishing even off the coast of southwestern Florida. The experience is also designed to be enjoyed by people of all ages and all fishing skill levels. A third of Everglades National park is covered by water, making it a haven for anglers.
Everglades City Fishing Charters Family Owned Operated

Address: 200 Collier Ave, Everglades City, FL 34139, United States

Website: Everglades City Fishing Charters Family Owned Operated

Opening hours: 6am - 10pm (daily)
4. Learn some history at the Museum of the Everglades
Fascinating facts and the rich history of the Everglades can be found at the Museum of the Everglades. Its rotating and permanent exhibits show a collection of facts, photos, and artifacts discussing the life of people and the evolution of the environment in the last 2,000 years or more. It's interesting to discover how the life of settlers was both tough and adventurous; they were able to adapt to the wetland's harsh and difficult environment.
Museum of the Everglades

Address: 105 Broadway Ave W, Everglades City, FL 34139, United States

Website: Museum of the Everglades

Opening hours: Tue - Sat: 9am - 4pm; (closed on Sun & Mon)
5. Fuel up at Island Café in Everglades City
Photo is only for illustrative purposes
Whether you need a revitalizing meal to start your journey or recover strength after a fun-filled and exhilarating adventure, Island Café has you covered, be it for breakfast, lunch, or dinner. The cafe serves not just affordable and delicious meals, but is also known for its prompt service. Do try the Angler's Breakfast, which consists of your choice of three eggs cooked how you want them, 6 oz. steak, toast or biscuits, and grits or potatoes. Also, a favorite among regulars is the gator nuggets and gator burger made from rare and delicious alligator meat.
Island Café

Address: 305 Collier Ave, Everglades City, FL 34139, United States

Website: Island Café

Opening hours: Sat - Thu: 6am - 9pm (closed on Fri)
6. Watch an alligator "wrestling" show at Miccosukee Indian Village
Photo is only for illustrative purposes
On the border of Florida Everglades is the lively and warm community of the Miccosukee Tribe — a tribe that respects the natural environment. Their culture and lifestyle revolve around the natural environment. One of their oldest traditions of the tribe is to pay homage to the greatness of alligators. This is called the cultural alligator show, or more popularly known as the alligator "wrestling" show. It is perhaps one of the main attractions of the village. In the show, brave demonstrators tell of centuries-old traditions and rituals of Miccosukee Tribe, while bravely interacting with a mature alligator. The alligator wrestling show is truly a jaw-dropping experience.
Miccosukee Indian Village

Address: Mile Marker 36, US-41, Miami, FL 33194, United States

Website: Miccosukee Indian Village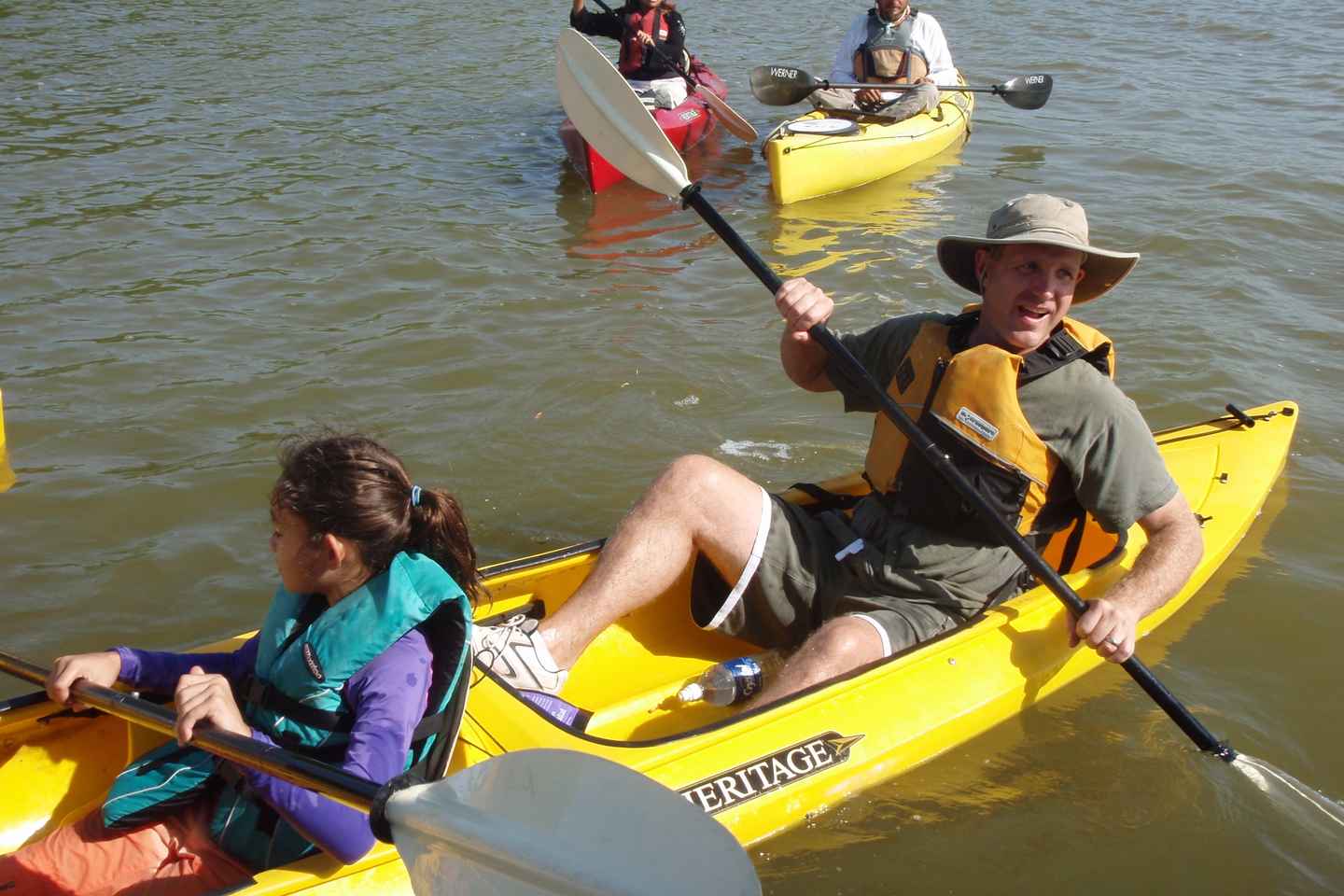 Paddle down the river to a rookery, where you'll find hundreds of wading birds, or up to the river to see small toothed sawfish or the endangered roseate spoonbills. Be amazed as feeding manatees and dolphins surround you or stand on top of 10,000-year-old Calusa Indian shell mounds. The kayak eco-tour starts from the scenic Chokoloskee Island, the largest among the breathtaking 10,000 Islands of Everglades National Park. Enjoy exploring its biodiversity, replete with land and water life forms. With all the wonders found in the waters and wetlands, a Florida Master Naturalist will guide you on where to look and describe to you what to look out for in the spectacular ecosystem of the Everglades.
Everglades National Park 3-Hour Kayak Eco Tour

Duration: 3 hour
8. Take home an alligator souvenir from Skunk Ape Headquarters
Photo is only for illustrative purposes
Skunk Ape Headquarters offers officially licensed, well-designed Skunk ape merchandise as well as a wide range of alligator items and locally produced indigenous craft products. Some of the merchandise sold in the store are python skin checkbooks, alligator purses, and alligator bone knives. Skunk Ape Headquarters also houses giant alligators and they are said to be the largest python in captivity across the globe; the 350-pound reticulated python named Goldie. Getting alligator souvenirs from Skunk Ape Headquarters is one of the best and satisfying ways to take home a part of the magnificent Everglades with you.
Skunk Ape Headquarters

Address: 40904 Tamiami Trail E, Ochopee, FL 34141, United States

Website: Skunk Ape Headquarters

Opening hours: Sat - Thu: 9am - 5pm (closed on Fri)
Get up-close and personal with exotic flowers, trees, and animals that can be seen only if you go on a walking tour at Everglades National Park. Explore the diversity of habitats in the wetlands and in the highlands of Big Cypress National Preserve. Enjoy dipping your feet in shallow pools of cool water, traverse slopes with Spanish moss, fern trails, rocks, and cypress trees. Your 90-minute walking tour will be guided by an expert hunter and authentic Gladesman. A walking stick is provided to walkers to make the terrain more manageable and easier to navigate.
Florida Everglades 90-Minute Walking Tour with Guide

Duration: 1 hour 30 minutes
Have a great introduction to alligator wildlife while on an airboat. Airboat tours are known to be the most exciting and efficient way to navigate the park. Spot sea turtles and spectacular alligators in their natural habitat from a close yet safe distance and discover facts about them in the most visual and exciting way. The Everglades is also home to over 300 beautifully colored bird species. See birds such as wading birds, osprey, white-crowned pigeons, painted buntings, and more. English-speaking park rangers will be accompanying you on the tour and help you understand and appreciate Everglades' complex and diverse ecosystem.
Miami Everglades Airboat Adventure

Duration: 4 hours
Explore the tropical wilderness of the Everglades
Exploring the Everglades' breathtaking scenery, amazingly rich flora and fauna, and the strange yet spectacular Miccosukee Tribe, coupled with the great ways to go around it like kayaking, boating, walking, or biking, is a memorable experience that lasts a lifetime. So get your hiking shoes ready and discover the Everglades, Florida, now.
Disclosure: Trip101 selects the listings in our articles independently. Some of the listings in this article contain affiliate links.
Get Trip101 in your inbox
Unsubscribe in one click. See our privacy policy for more information on how we use your data