Dumbo, a name derived from the acronym of Down Under the Manhattan Bridge Overpass, is the most luxurious neighborhood in Brooklyn. Back in the 1900s, it served as a ferry landing with large warehouses and industrial buildings. Since then, a large number of these century-old buildings have been restored. With its picturesque brick buildings, old-world streets made of Belgian blocks, and a majestic view of Manhattan Bridge, Dumbo is a favorite with many filmmakers. The neighborhood is home to many technology start-ups. It is also a place with a touch of elegance because of its fashion shops, hip restaurants, and luxury condos. It also has many art spaces. Scroll down to discover more things to do in Dumbo, Brooklyn.
1. Stop for a sweet treat at Jacques Torres Chocolate Shop
Considered as the Willy Wonka Chocolate factory in real life, Jacques Torres Chocolate Shop is heaven for chocolate lovers. Owner Jacques Torres is a celebrated pastry chef, chocolatier, and TV host. He started the "from beans to bar" experience where the whole process of making cacao beans into mouthwatering chocolates is done inside the shop. Satisfy your cravings with handmade chocolates, hot chocolate beverages, and ice cream sandwiches. The store's charming appeal is accentuated by wood shelves stacked with assorted chocolates. The quaint interior and marble café tables create an ambiance similar to that of European chocolate shops.
Jacques Torres Chocolate shop

Address: 66 Water St, Brooklyn, NY 11201, United States

Website: Jacques Torres Chocolate shop

Opening hours: 1pm - 7pm (daily)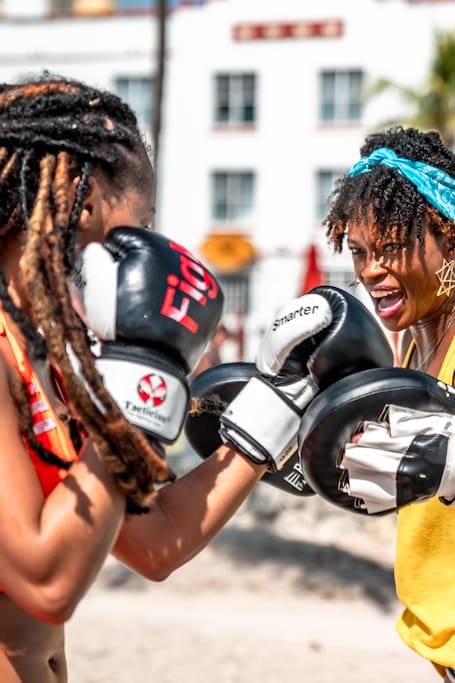 Muhammad Ali, George Foreman, Joe Frazier, and Mike Tyson are not only the biggest names in boxing, but they also trained at Gleason Gym in Dumbo. Be inspired to improve your jabs and strengthen your punches in the very same gym where Ali trained and exercised. The gym also continues to be a breeding ground for future boxing and mixed martial arts greats. Witness them in action and experience for yourself the same competitive atmosphere and training they have. At Gleason, you will be hosted by Keishner - a boxer who has won 12 championships, including the New York Golden Gloves tournament.
Boxing w/World Champ Fire On Miami Beach

Duration: 1 hour
3. Have a picnic at Empire Fulton Ferry Park
Go on a picnic and enjoy the panoramic cityscape with your family at Empire Fulton Ferry Park. Be sure to have your camera with you as this 9-acre (3.6ha) park offers so many picturesque sights. The suspension bridge's flexible steel towers, together with the harbor and the skyscrapers on the horizon are sights to behold. Gaze at the sunset, ride the charming Jane's Carousel, or cook grill burger patties in the picnic grove. Enjoy a leisurely walk with your kids in Empire Fulton Ferry Park's sprawling lawns and riverfront boardwalk.
Empire Fulton Ferry Park

Address: 1 Water St, Brooklyn, NY 11201, United States

Website: Empire Fulton Ferry Park

Opening hours: 24 hrs (daily)
4. Go rock climbing at The Cliffs
Whatever style and level of skills in climbing you possess, The Cliffs has something for you. An indoor climbing space, it has hundreds of routes to climb and a variety of walls for every style. With walls and routes for bouldering, lead climbing, toprope climbing, and more, The Cliffs is a great place to build your skills, grit, and endurance. It also offers many levels of climbing classes from basic climbing to building anchors and more. You will be provided with a harness, knots, belaying, and you'll be shown the climbing route, so you can just focus on developing your skills. The gear shop also has the widest array of climbing shoes in NYC. The Cliffs is not only a venue but a community of climbers.
The Cliffs

Address: 99 Plymouth St, Brooklyn, NY 11201, United States

Website: The Cliffs
5. Have drinks while playing arcade games at Randolph Beer
Fill your stein with NYC's premium beers. Randolph Beer is a 5,500-square-foot (510-sqm) modern tavern with self-serve taps. Fill up on comfort food and drink in between games of foosball, pinball, and other classic arcade games. The bar takes pride in serving the best beers in the world. It also offers six of its own rich and malty house-brewed beers. Fermenting on-site are Randolph Beer's own Hoppy Kolsch, Saison, pale ale, sour wit, and wet-hopped Marzen, an unfiltered harvest ale. Try all of them with friends for a superb beer-drinking experience. The communal seating in the bar extends up to the rooftop; it's a great location to hang out with friends.
Randolph Beer

Address: 82 Prospect St, Brooklyn, NY 11201, United States

Website: Randolph Beer
Developed in Japan, Saori is a freestyle, unconventional way of weaving based on a plain weave of two shafts. Also known as Zen weaving, the experience is a creative journey and a relaxing activity to release your natural creativity. At Loop of the Loom in Dumbo, you can weave your own scarf or tapestry. Light music and cheerful colors greet you as you go inside. Experience in weaving is not necessary. Before starting and as you go along, a certified Saori instructor with 15 years of experience will guide you in every step. Immerse yourself in the art of weaving yarn and threads and be surprised by how fun and liberating the experience is.
Weave a Scarf with Unlimited Yarns

Duration: 7 hours
7. Enjoy a meal at Time Out Market
Indulge in a different fine-dining experience at Time Out Market as you marvel at the stunning Manhattan skyline and Brooklyn Bridge. It is a place where fine dining is made casual. With 21 restaurants, three bars, a demo cooking area, this large venue houses the best bars and restos cooking up the best flavors and using the freshest ingredients. Take note: NYC's top chefs are under one roof. Some of the most stand-out vendors in Time Out Market are Fish Cheeks, Alta Calidad, Jacob's Pickles, Mr. Taka Ramen, and Little Ada.
Time Out Market

Address: 55 Water St, Brooklyn, NY 11201, United States

Website: Time Out Market
Dumbo has appeared in many movies because of its many picturesque spots. Make the most of your visit to this destination under the magnificent Manhattan suspension bridge and go exploring with a professional photographer. Although you may take selfies and photos with your phone or with your own camera, one of Dumbo's most skilled professional photographers, Jae, knows the exact sites and best ways to capture your memories in this charming neighborhood. No need for outfit changes. Just an hour strolling around and you will get picture-perfect shots meant to last a lifetime.
Dumbo Brooklyn Private Photoshoot

Duration: 1 hour
9. Shop at Brooklyn Flea Dumbo
Dumbo's Brooklyn Flea Market is popular with many New Yorkers and travelers alike. It is considered as one of NYC's top attractions. Set up every weekend, it features products and wares of hundreds of shops selling furniture, collectibles, and antiques, vintage clothing, as well as a meticulously curated selection of art, jewelry, and crafts from NYC artists, artisans, and designers. Travel magazines such as Travel+Leisure and Time Out NY named Brooklyn Flea Market as a must-visit for collectors and flea market enthusiasts. Whether you are looking for rare midcentury Dutch furniture, old world ceramics, or vintage period pieces, you will find them at the Brooklyn Flea Market, so get ready to haggle. The market also offers enticing and flavorful artisan food.
Brooklyn Flea Dumbo

Address: 80 Pearl St, Brooklyn, NY 11201, United States

Website: Brooklyn Flea Dumbo

Opening hours: Hours might differ
10. Admire the artwork at A.I.R Gallery
An artist-run space that exhibits works of women artists, A.I.R Gallery or Artists In Residence is more than just a collection of rooms and artwork. Since they founded the gallery in 1972, the people behind it have actively promoted women's perspectives through art platforms as necessary, compelling, and important undertakings. The gallery features the work of 22 New York artists actively curating and installing their own exhibitions. They are given free rein and license over their creations. As an alternative to mainstream institutions, AIR is also vocal against racism in America and supports the Black Lives Matter movement.
A.I.R Gallery

Address: 155 Plymouth St, Brooklyn, NY 11201, United States

Website: A.I.R Gallery

Opening hours: Wed - Sun: 12pm - 6pm (closed on Mon & Tue)
Dumbo, a unique experience
Dumbo is a unique urban neighborhood that you wouldn't want to miss visiting when in NYC. With its awe-inspiring views, rich culture, and diverse community, Dumbo in Brooklyn is a place where you can't run out of things to do.
Disclosure: Trip101 selects the listings in our articles independently. Some of the listings in this article contain affiliate links.
Get Trip101 in your inbox
Unsubscribe in one click. See our Privacy Policy for more information on how we use your data