Ko Lanta, also spelt as Koh Lanta, is a beautiful island off the southwestern coast of Thailand, part of the province of Krabi. Surrounded by the Andaman Sea, the warm clear waters lap up against the pristine white beaches where you can laze away a sunny day, before experiencing a fiery beachside nightlife scene that will have your hair standing on end. Average temperatures hover around 30 degrees C (86 F) and the area is thought to be one of the origins of the Thai people, with evidence dating back to the prehistoric period. Ko Lanta is a place to relax, where the words "island life" seem to resonate with ubiquity. To get started on your trip, take a look at the top Airbnb vacation rentals and accommodations in Ko Lanta.
Read on to find out about the best things to do in Ko Lanta, Thailand:
1. Grab a bite from the Traditional street markets
When in Thailand, going to a street night market is a must. As in the rest of the country, Ko Lanta proudly hosts such markets everywhere. Perhaps the best of the markets is the night market in Baan Saladan on Wednesday evenings. Market stalls are open all day long, but the night market really gets going at around 4 pm and goes through until around 9 pm. An array of food, clothing, and souvenirs are available, at often very cheap prices. If you like to eat your street food from a skewer, you will very much enjoy this market. You'll find meat on a stick, fish on a stick, and deserts on a stick. In fact, if the vendors found a way to achieve it, I'm sure they'd sell massaman curry or pad Thai on a stick too. The clothing and souvenir stalls will be like many you have seen throughout Thailand if you have been elsewhere in this wondrous country. There's definitely something that will appeal to you here with all the numerous things to do and sights at the street markets.
Traditional Street Market

Address: Baan Saladan

Website: Baan Saladan market
Locations

Sunday Morning: Old Town central square

Monday: Southern Haad Khlong Dao

Tuesday and Friday: East of Khlong Nin

Wednesday: Baan Saladan

Thursday: Between Haad Phra Ae and Khlong Khong

Saturday: Haad Khlong Dao
2. Let the Fire shows take your breath away
No evening spent on Ko Lanta would be complete without taking in one of the breathtaking fire shows that can be seen on beachfronts up and down the island. Watch the sunset away in the distance and retire to one of the many beach bars and soon enough you will be able to spot the glow of fire along the shore. A typical example will see between 2 and 5 young Thais with fire sticks, throwing them high into the night sky before catching them, often behind their back, between their legs, or with their arms outstretched above their faces. One particular show I took in saw an electrifying tightrope performance in which the performer juggled with fire sticks whilst walking a rope suspended above the gathered crowd. Kick-start your Ko Lanta nightlife by watching these fire shows!
Fire Shows

Address: Beachfront bars all over Ko lanta
3. Explore the Khao Mai Kaew Cave
A collection of caves and tunnels found in the centre of the island of Lanta Yai, Khao Mai Kaew Cave will leave you in awe of the power of nature and a little sweaty. The hot air inside the cave can be stifling for those not used to being literally inside the earth. You will find an underground lake in one of the caves as well as a whole host of wildlife including bats, snakes, and spiders. Visitors will need to dress appropriately for the caves as it takes around 2 hours to complete in humid conditions and will involve a lot of climbing, walking over naturally formed rocky terrain, and some crawling through very tight spaces at times. The visit also requires a short trek through the jungle to arrive at the cave's entrance.
Khao Mai Kaew Cave

Address: Tambon Ko Lanta Yai, Amphoe Ko Lanta, Chang Wat Krabi 81150, Thailand

Website: Khao Mai Kaew Cave
Walk along any main road on Ko Lanta and you will find no shortage of tour operators offering boat trips to neighbouring islands, back to the mainland, or even to Langkawi, an island belonging to Malaysia. One particular tour operator – Lanta Dream & Paradise – offers private longtail boat tours daily to islands such as Ko Rok and the Phi Phi islands as well as snorkelling sites around each island.
Lanta Dream & Paradise

Address: Lanta Dream & Paradise

Website: Lanta Dream & Paradise
Ko Lanta: Romantic Sunrise Gondola Tour at Tung Yee Peng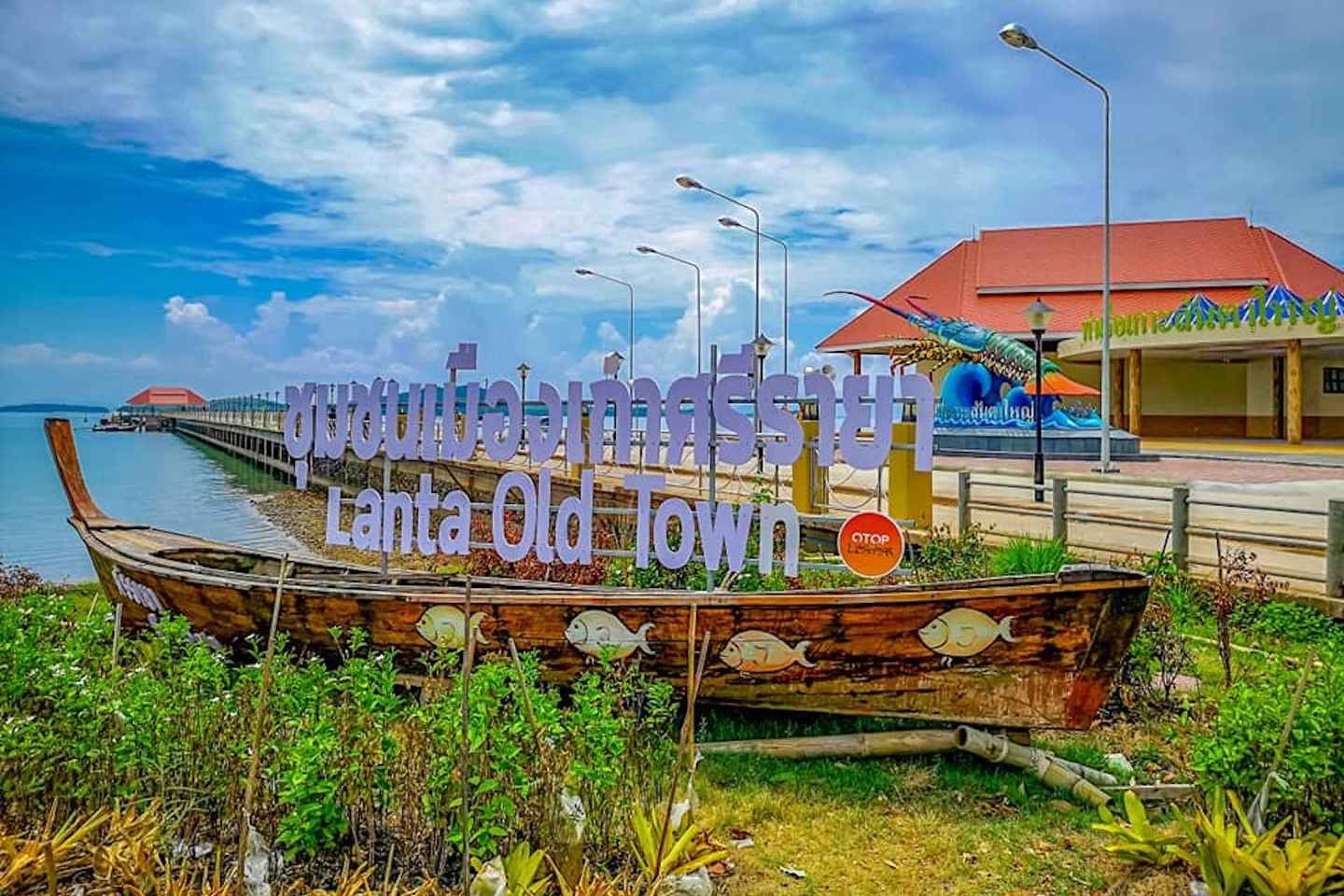 Lanta's old town is a beautifully preserved village on the eastern side of the island. Originally a sea gypsy settlement, the town was once the main trading port of the island. A historic feel runs through the town with a distinct Chinese influence coming from the settlement of Chinese traders over the last few centuries. Houses built on stilts jut out into the sea, with views of the mainland and at high tide, the waves crashing beneath your feet. The first full moon of March sees the Old Town host a festival of culture, known as the Laanta-Lanta festival, which lasts around 3 days and invites revellers to enjoy local food cooked by some of the islands best chefs as well as live music performances. Shine Talay restaurant is built on stilts above the sea and features a wooden swing overlooking the bay, offering excellent photograph opportunities.
Lanta Old Town

Address: East cost of Ko Lanta Yai

Website: Lanta Old Town

Shine Talay Restaurant

Address: 37 m.2 Sririya road | Ko Lanta yai, Ko Lanta 81150, Thailand
Koh Lanta: Old Town Sightseeing and National Park Tour
6. Browse the wares over at the Hammock House
Editor's Note: There's no photo available at the time of writing
Is there anything more relaxing than a store that sells vividly colored hammocks? The vibrant hammocks sold in this store are special. They are handmade by people of the Mlabri tribe of Thailand. Mlabri translates to "saved" because the tribe's way of life was threatened by deforestations. The members were displaced and have sustained themselves by making and selling their quality, hand-woven hammocks. Not only can you get a beautiful, durable hammock but also, you can help the tribe prosper. We hope this joins your list of what to do in Ko Lanta!
Hammock House

Address: Ko Lanta Yai, Ko Lanta District, Krabi 81150, Thailand
7. Meditate at Oasis Yoga Bungalows
Photo is only for illustrative purposes
Ko Lanta vacationers in serious need of mind, body, and soul alignment may head to Oasis Yoga Bungalows for some much-needed quiet time. This yoga studio offers classes that are suitable for all levels, so don't worry if you're a beginner yogi. You'll feel the warmest welcome at Oasis Studio. For refreshments, you can head to The Oasis Kitchen, which also serves breakfast and lunch daily. You can choose to stay at their bungalows for the entirety of your Ko Lanta trip, too!
Oasis Yoga Bungalows

Address: 215 Moo 3, Saladan, Ko Lanta, Krabi, 81150, Thailand

Website: Oasis Yoga Bungalows

Opening hours: 7am - 5:30pm (daily)
8. Join a cooking class at Time for Lime
Photo is only for illustrative purposes
On the hunt for an interactive way to spend your time in Ko Lanta and immerse yourself in their culture? Well, why not participate in a cooking class? Surely, it's a great use of time and will improve your skills, too! Time for Lime offers cooking classes for adults in their open-air beachfront kitchen. If you are interested to join and have your little ones with you, check out Time for Lime's shorter classes suitable for young children. Expand your culinary knowledge and wow your loved ones when you get back home.
Time for Lime

Address: 72/2 Moo 3, Saladan, Ko Lanta, Krabi 81150, Thailand

Website: Time for Lime
9. Swim the shores of Long Beach
Photo is only for illustrative purposes
Long Beach. Now, where have you heard that before? You'll be happy to know that one of the most beautiful beaches in Ko Lanta is called Long Beach. Trees line the shore of this beach, casting shades on the golden sand and preventing you from getting too sunburnt should you wish to lay under and just relax. Bars, restaurants, and hotels are found in the area, too, so if you plan on spending a good amount of time at Long Beach, you can choose to stay at the accommodations nearby!
Long Beach

Address: Ko Lanta, Krabi, Thailand
10. Heal nature with Trash Hero Koh Lanta
Editor's Note: There's no photo available at the time of writing
We all love to spend time in nature. It provides us with some of the best experiences of our lives. Sometimes, it slips our mind that nature needs some taking care of, too. It's only right that we give back and help retain its majesty. When in Ko Lanta, you are encouraged to join Trash Hero Koh Lanta in their endeavor. Participating in beach clean-ups is one of the many steps we can take toward environmental protection. Be a hero today!
Trash Hero Koh Lanta

Address: Ko Lanta, Krabi, Thailand

Website: Trash Hero Koh Lanta
Ko Lanta is blessed with some of the best beaches you will find in southern Thailand. Long stretches of white sandy beach are flanked by crystal blue waters on one side and relaxed resorts and beach bars on the other. My favourite beach is Klong Dao Beach in the north of the island. Around 1 mile/1.6 km from the pier in Saladan, the beach has golden sand, a gentle wave break, and is lined with young and old alike enjoying the pleasures of being beside the sea. The west coast is where you will find all of the Ko Lanta beaches, which means each beach will enable you to watch the sun set on the horizon. I stayed at Lanta Summer House, which gives direct access to the beach from the hotel front.



Lanta Summer House - SHA Plus

Address: 208 Klong Dao Beach, T. Saladan


Parking Restaurant Garden Terrace Non-smoking rooms Airport shuttle Fishing Laundry
Opened in 1990, Mu Ko Lanta National Park is home to a diverse array of animals including coral reef animals, tigers, and cobras. It consists of many islands in the south of Krabi Province. Once on the main island, you can participate in water sports such as boating, scuba diving, and snorkeling. You can also hike through the islands through the mountainous terrain, rain forest, and beach forest. After an exciting, but perhaps exhausting tour of the park, you can lounge on one of the park's iconic beaches. The park is well known for its pristine beaches with impossibly blue waters and fine white sand, so you will definitely love your beach experience.
Mu Ko Lanta National Park

Address: Mu Ko Lanta National Park, Moo 5, Tambon Ko Lanta Yai, Amphoe Ko Lanta, Krabi, 81150, Thailand

Website: Mu Ko Lanta National Park
4 Island Tour to Emerald Cave by Longtail Boat from Koh Lanta

Duration: 7 hours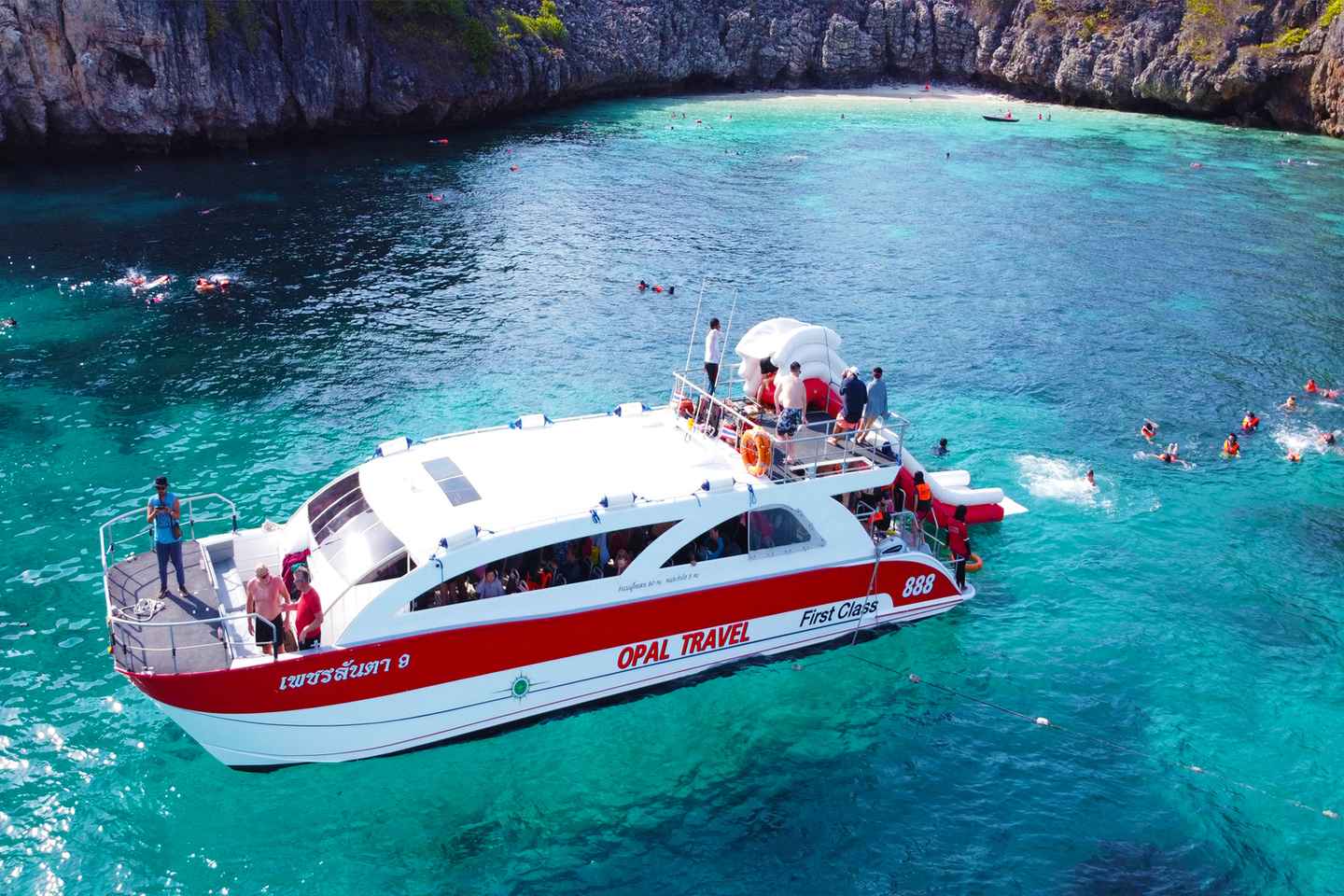 Clear blue water, coral reef and an abundance of fish make Koh Rok Island a must see when on Ko Lanta. Beautiful beaches and warm seas make for a memorable day trip swimming with the abundance of tropical fish that the Andaman Sea houses. Around an hour speedboat ride from Long Beach on the south of Lanta Yai, the Koh Rok islands form the southern part of the Mu Koh Lanta Marine National Park. Wether diving or snorkelling is your activity of choice, the Dive and Relax tour company give travellers the opportunity to witness the wonders of the sea, from your very own Finding Nemo challenge to diving with native sea turtles.
Koh Rok Islands tour with Dive and Relax

Address: 223 Moo 2, Saladan, Koh Lanta, Krabi

Website: Dive and Relax
Koh Lanta: Ko Rok & Ko Haa Snorkelling Day Trip By Catamaran

Duration: 1 day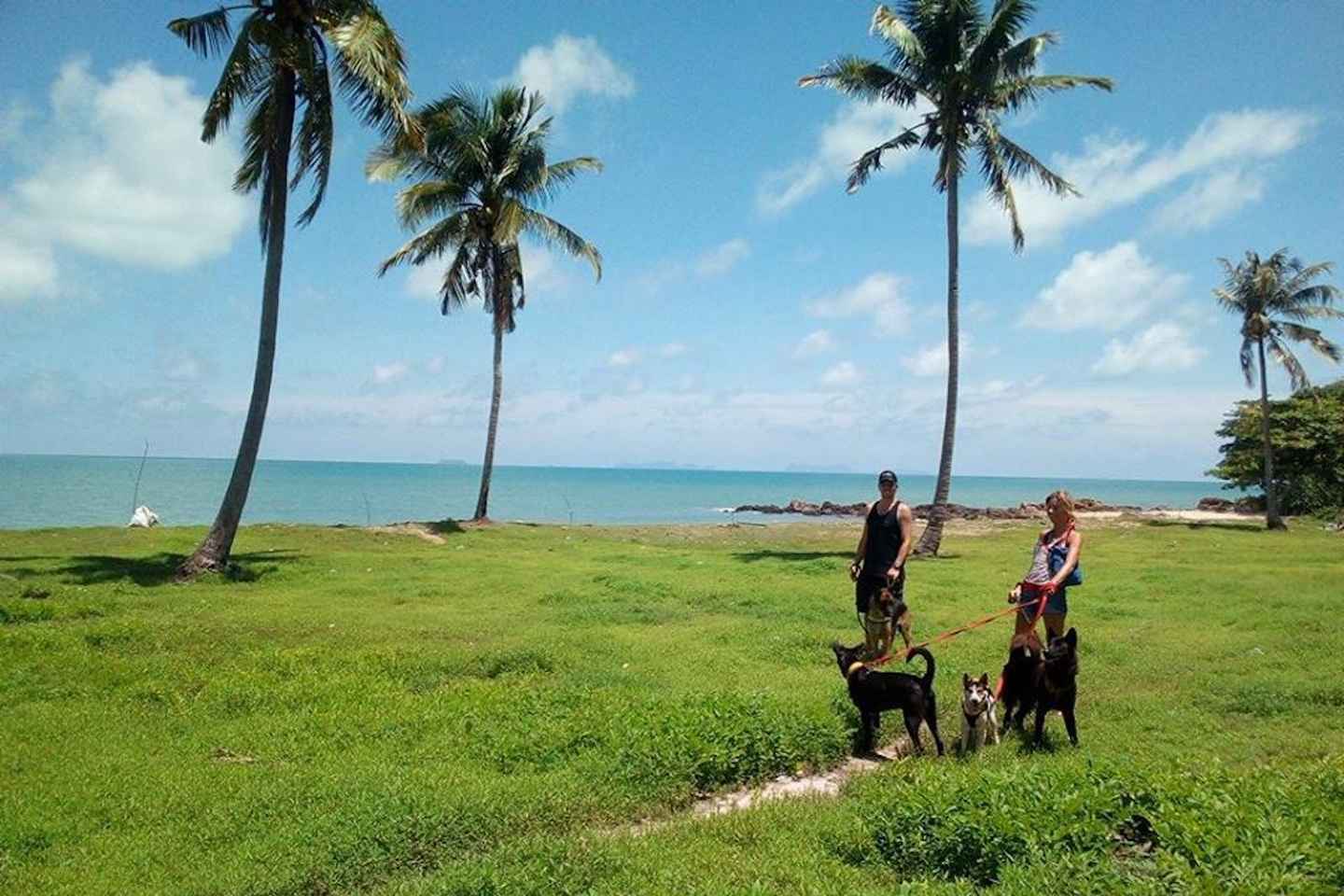 Ko Lanta, similarly to the rest of Thailand, sadly does have a culture of stray animals. Roaming dogs and cats are taken to Lanta Animal Welfare to be cared for in a shelter that gives the animals the care and attention needed. Visitors can help the shelter with cash donations, animal adoption as well giving their time to help look after the animals. Dog walking is encouraged by the shelter and organised walks are offered each day to fit around the searing midday heat. The shelter provides medical services to many homeless, abused, and injured animals and is working to educate its visitors on the causes of distress to these unfortunate animals.
Lanta Animal Welfare

Address: 629 Moo.2, Koh Lanta, Krabi, Thailand, 81150

Website: Lanta Animal Welfare
Ko Lanta: Animal Welfare & Sightseeing Tour

Duration: 1 day
Not afraid of what's down under the deep blue sea? Here's your chance to explore further! This scuba diving tour will take you to the diving sites with the richest marine life in Ko Lanta. Barracudas, whale sharks, mantas, and black-tip sharks are just some of our underwater friends that you will get to meet. This activity is ideal for couples since only a maximum of two travelers are accepted. We'd say that it's a great way to spend the day with your loved one. The tour comes with a traditional Thai lunch, too!
Koh Lanta Scuba Diving 2-Dive Package for Certified Divers

Duration: 1 day
Island life
Ko Lanta, like so many islands around the world, enjoys that "island life" feel of a relaxed attitude and a slower pace of life. Lanta is often used as a stepping stone between the mainland and the other islands in the region, most often the hugely popular Phi Phi islands and I forbid you to look out onto those islands off in the distance without longing to go and explore them. I spent four days on Ko Lanta in April 2017 and endured (oh no, it wasn't tough) long hot days, relaxing on the beach and stormy nights with some of the loudest thunderstorms I have ever witnessed. The biggest appeal is the picture-perfect surroundings it enjoys, clear waters, and distant islands. Take a walk around the island at night and spot the fireflies lighting your way after witnessing a breathtaking sunset behind the islands dotted along the horizons. There are plenty of things to do in Ko Lanta, and you'll certainly never be bored!
Disclosure: Trip101 selects the listings in our articles independently. Some of the listings in this article contain affiliate links.
Get Trip101 in your inbox
Unsubscribe in one click. See our Privacy Policy for more information on how we use your data