Blessed with fertile swathes of land in the Niagara Peninsula, Ontario is Canada's biggest wine-production area. And just a few miles drive south of Toronto, which is the capital city of Ontario, will take you to some superb vineyards producing delicious dry white wines, robust red wines, and unique ice wines. Though a relatively new wine region, it produces excellent quality wines that are very popular in the region as well as imported abroad. As such, wine tasting in Toronto is a popular activity for Torontonians and tourists alike. Whether you prefer Chardonnay, Riesling or Pinot Noir, a wine tour is just what you need to discover the delightful wines of this region. To enhance your experience, you can consider checking hotels for couples, as well as themed hotels, allowing you to immerse yourself in comfort and style during your wine-centric exploration. So come and take a look at our recommendations of the best wine tours in Toronto, Canada.
For an unforgettable day trip from Toronto, look no further than the ultimate wine country and Niagara Falls tour. This extraordinary experience seamlessly combines the breathtaking beauty of Niagara Falls with the culinary delights of Niagara wine country. Traverse the scenic Niagara Parkway, making stops at the charming town of Niagara-on-the-Lake and the iconic Floral Clock.
Explore acclaimed wineries, immersing yourself in tastings of diverse wines while gaining insights into the art of winemaking. Indulge in a delectable gourmet lunch, expertly paired with exquisite wines at one of the wineries. The tour's highlight is a thrilling boat ride to the base of the awe-inspiring Horseshoe Falls, where you'll be immersed in mist and captivated by the thunderous roar of the water.
Duration: 10 hours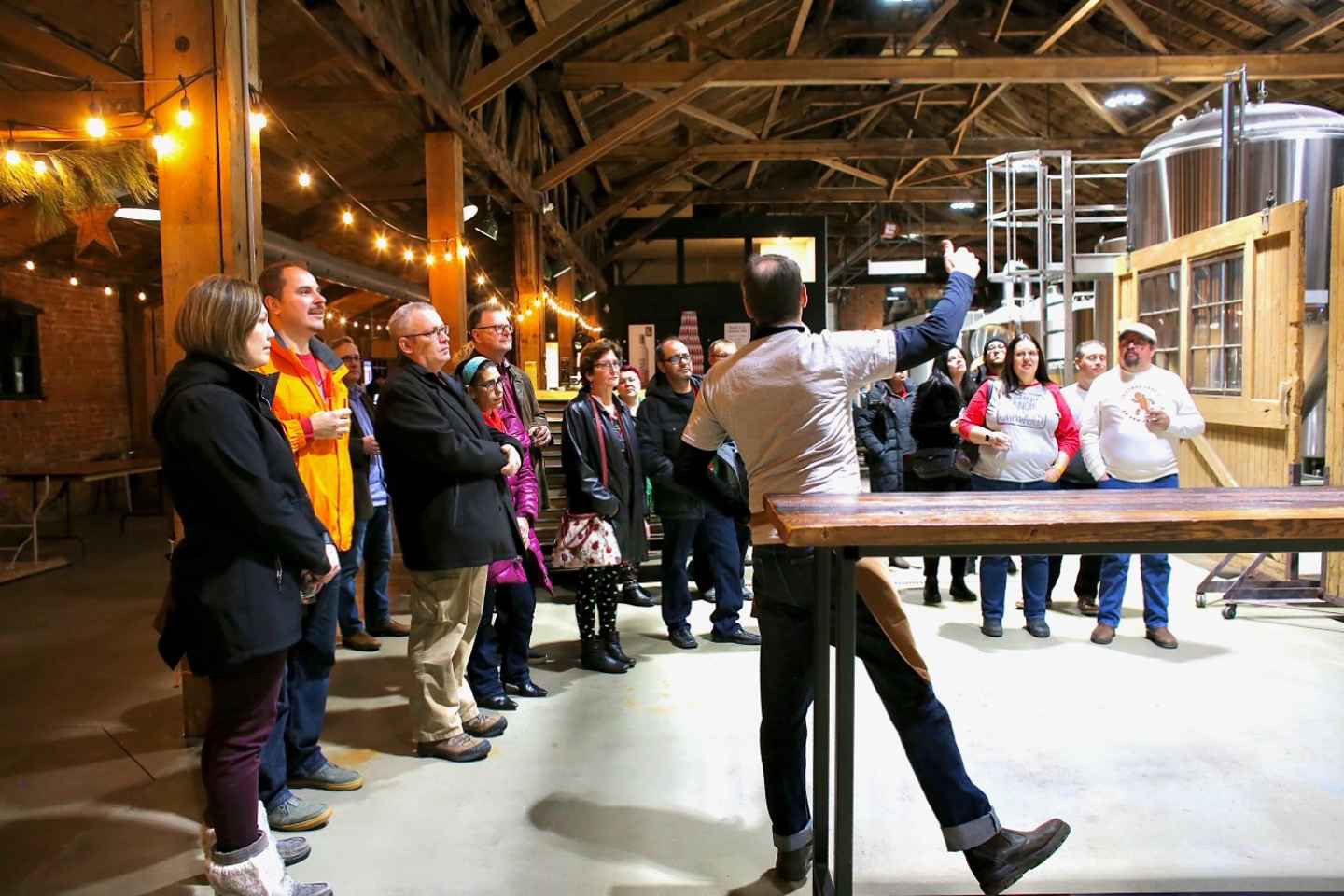 Embark on an enriching Wine Tour with your loved ones. This nine-hour-long tour will take you to four acclaimed wineries where you can savour their products. The expert guide, fluent in English, will provide insights into the region's viticulture. You will also get to learn about the winemaking process with exclusive behind-the-scenes access.
This experience offers a unique opportunity to sample the finest wines crafted in the Niagara Wine Region, making it an ideal outing for wine enthusiasts and connoisseurs alike. Treat yourself to a day of tasteful discoveries and scenic vineyard vistas.
Duration: 9.0 hour
What better way to see Toronto than from the air with magnificent 360-degree views as far as the eye can see! Add to that a wine-tasting excursion to an award-winning winery and you have a perfect day trip during your stay in Toronto! Experience the best of Toronto's winery tours and indulge in a delightful exploration of fine wines and picturesque vineyards. This five-hour tour includes complimentary refreshments at the VIP lounge at Buttonville Airport, from where you are taken soaring over the Toronto sky in a Navajo aircraft followed by a guided wine tasting tour at a local winery. Relax in the afternoon sun and enjoy the delicious wines in the beautiful vineyards. You can also enjoy a three-course fine dining lunch at an additional cost.
Duration: 5 hours
Experience the beauty and splendor of Niagara Falls on this amazing full day tour that also includes a visit to the charming town of Niagara-on-the-Lake and a local winery. Begin your journey around Lake Ontario while passing the famous sights and spots of the area before boarding the Hornblower Niagara Cruise for the most spectacular views of the Canadian Horseshoe Falls, the largest of all the falls in Niagara. Explore the surrounding area and spend some more time admiring the falls. Thereafter, move on to visiting Niagara-on-the-Lake town for some leisurely exploration of the town's attractions. Lastly, enjoy delicious wines at a local winery before your trip back to Toronto.
Duration: 8 hours 30 minutes
Enjoy a day of wine and food in the picturesque Niagara region with this full-day Niagara wine tour. With a friendly, fun and informative guide, explore the finer nuances of the cold climate wines of the Niagara region. Driving along the shores of Lake Ontario, tour two-three boutique wineries and sample the delicate flavors of Chardonnay, Riesling, Pinot Noir and many more wines along with a curated charcuterie or cheese pairing. Later on, enjoy a delicious lunch at a local winery in the quaint town of Niagara-on-the-Lake. Browse through the charming shops and streets of this ancient town and you could even upgrade your tour to include a boat ride at Niagara Falls before heading back to Toronto.
Duration: 8 hours
Head to Prince Edward County and enjoy a full day of wining and dining amidst beautiful green landscapes. On this trip, you will get to experience wines from a range of vineyards - from small to medium to large production. The Prince Edward County region has a climate similar to that of Burgundy and is home to many award-winning wineries, cheese makers and chefs. Visit four wineries for wine tasting, enjoy a sumptuous local lunch at mid-day on the terrace of a local winery, and stop at charming small towns, local alpaca or lavender farms and many other sites of interest during the trip.
Duration: 10 hours
One of Canada's brilliant contributions to the wine world is ice wine. Made from naturally frozen grapes via an arduous process, ice wine is a much-celebrated wine at the Niagara Icewine Festival. Enjoy a full-day tour of three local wineries (including ice wine tasting and food pairing at each winery) and a locally-sourced lunch at the Niagara Icewine Festival. This all-inclusive tour is perfect for couples because of its small-group size that allows for customization of the itinerary. The tour guides are knowledgeable about the area, the festivities, and ice wine characteristics.
Take a break from the hectic sights and sounds of Toronto on this fully narrated nine-hour winery tour of the famous Niagara region. Driving along Lake Ontario, your comfortable vehicle and knowledgeable guide will begin your trip with a full tour and tasting at the largest estate winery producer of ice wine in the world plus tastings at four other wineries in the scenic Niagara region. The trip also includes a 90-minute stop at the beautiful Niagara-on-the-Lake town where you can grab a nice lunch at the many cafés, bakeries, and restaurants or just stroll through the charming streets. Before heading back to Toronto, you will enjoy wine tasting at the final winery in the warm late afternoon.
Duration: 9 hours
Discover delightful wines near Toronto
Toronto is very lucky to be at a stone's throw distance from some of the best wine-producing regions in the world – the Niagara region. Explore the best of Niagara's wineries with unforgettable Niagara wine tours from Toronto. Try the famous ice wine, sample local food and explore the charming towns of the region with our recommendations of the best wine tours in Toronto, Canada.
FAQs about 8 Best Wine Tours In Toronto, Canada - Updated 2023
1. Which wine tours in Toronto are suitable for couples?
There are several wine tours well-suited for couples, including those that offer the opportunity to explore the delightful world of ice wine in Toronto. Here are a few options to consider: this wine county vineyards and Niagara Falls tour and this luxurious aerial Toronto tour with wine tasting.
2. Which wine tours in Toronto are also great for sightseeing?
If you're looking for wine tours in Toronto that offer a combination of wine tastings and sightseeing opportunities, one of the options to consider is this wine county vineyards and Niagara Falls tour.
Any must-sees we missed? Tell us about them in the comments section or write a post
here
to help out fellow travelers!
Disclosure: Trip101 selects the listings in our articles independently. Some of the listings in this article contain affiliate links.
Get Trip101 in your inbox
Unsubscribe in one click. See our Privacy Policy for more information on how we use your data