Being the capital of North Carolina, Raleigh has so much to offer in terms of tourism. From restaurants, bars, museums, recreational activities both indoor and outdoor, and to just simply strolling around the area, you will surely enjoy the city. One of the distinct features of Raleigh is that it's surrounded with oak trees. Hence, giving it the name "the city of oaks." Because of the many activities and sights to see in Raleigh, there are a lot of accommodations for both locals and tourists. That is why we have listed the top 10 vacation rentals in Raleigh, North Carolina, that we think will suit your dream vacation.
This modern home is bold and tastefully finished with strong-colored interior and decorations that will definitely catch anyone's eyes. This house has a full kitchen, washer and dryer, lots of windows with natural light, parking and an eastern inspired patio with fountain. A favorite feature is their chesterfield sofa that perfectly matches their big-screen TV. If you wish to expand your experience beyond this beautiful modern home, museums and nightlife are located nearby.
Downtown Pied-à-Terre

Raleigh, North Carolina, United States

Superhost

Accommodates: 2

At the heart of downtown Raleigh is this artist-owned home, which is proud of its convenient location. Staying at this house means that everything is walkable and accessible! From restaurants, bars, to coffee shops, and a free R-line shuttle, you can go to them all just by walking. This house can accommodate six people and has two master bedrooms and a bonus sleeper sofa for extra guests.
**Walk To Everything!**

Accommodates: 5
Minimum Nights: 2
Refund Policy : 100% refund if you cancel at least 14 days before check-in.


Top guest reviews

The home was so comfortable that it was difficult to leave to explore Raleigh

A big thank you to the owner because the master suite bed was so comfortable

I was concerned about the closeness of the railway line

so we felt safe here with our children

well looked after home Situated conveniently to town and easy drive to

She responded quickly to us

We had a couple of questions and contacted the property owner

We loved the home and the location; the owner was great to work with

I would definatelt book this home again and the owner was very sweet and hospitable in our communication back and forth

Upon arrival there was a binder with instructions and recommendations a bottle of wine and coffee available which

It is so convenient to downtown within walking distance of restaurants on Glenwood Avenue and very close to Cameron Village shopping

This is a great property within walking distance to many restaurants and bars We greatly enjoyed our stay

plus there is a grill out on the deck

I found a note from Anne

Oh and Reverse Charades

Read more reviews
If you wish to have an intimate experience with the places in Raleigh, this little home can be the perfect match. Only a few steps away from this rental home is Person Street district which houses famous establishments like the Yellow Dog, the Station, and Pelagic Beer. And within a 25-minute walk, you will be greeted with a free R-line bus ride to downtown where you can explore more places. This house is completely private and has a full bath, kitchen, a small dining area, and a small living area. Be sure to not miss out on this location! It may be small - but it has so much to offer!
Delightful Downtown Carriage House

Raleigh, North Carolina, United States
Charming is an understatement for this private apartment in Raleigh. If you're looking for something simple, yet has something new to offer, this is the place to go. We call this apartment charming because of the little touches that make it creative and unique, and not only that, you can enjoy multiple amenities such as the following: a queen bed, a twin daybed with a pull out trundle bed underneath in the smaller room, and tennis rackets and bicycle which are available upon request. If guests want total privacy, this will not be a problem because the guest suite is closed off from the main house.
Charming Private Apt. near Downtown

Raleigh, North Carolina, United States
Planning to visit nearby schools in Raleigh? This is the perfect place to stay in if that's the case because schools like NC State, Meredith College are located just close by. Some establishments are also at a walking distance such as major shopping malls, and Trader Joe's. Inside this cozy urban home, you will be pleased to see a newly and uniquely renovated home with a modern touch. The space has a new backyard and patio plus a hot tub that you can enjoy for your relaxation needs.
2 Bed/2 Bath in the City

Raleigh, North Carolina, United States
Looking for a vacation place that's cinematic and Instagram friendly? This secret guest house with a garden is the answer to your cinematic dreams. This apartment is hidden and tucked away in Oakwood, which is the historic district of downtown Raleigh. One of our favorite features about this home is having your own front porch with an overlooking view of a surrounding garden. In here, you can enjoy a glass of wine or a cup of coffee and have the time of your life. We suggest this place to those who want a peaceful experience away from the hustle and bustle, as well as a sense of tranquility. This location is definitely one of a kind!
Historic Downtown Raleigh Garden Guest House

Top guest reviews

Only ranking 4 stars because the internet on site was super slow throughout our stay

This was the only stay that checked all of those boxes

great location and the owners where great communicators and made sure we had everything we needed

Cute clean and well appointed

Great place close to downtown

Great location close to town but in a residential area

The cottage was just what I was looking for and within easy walking distance of historic downtown Raleigh

The weather was very hot during my visit but the A/C in the cottage worked perfectly

the property management company was so very friendly Close to several historic attractions - in a great neighborhood

Read more reviews
Aside from this house's full white walls, what we like about this space is its spacious feel as well as the additional office room where guests can do some necessary work while on vacation. The location is also very convenient because it's near parks, restaurants, galleries, museums, government offices, and the nightlife. If you want a guaranteed easy living, something that will make your travel less stressful and lighter, we suggest that you stay at this minimalist house in Raleigh.
Immaculate House - Downtown Raleigh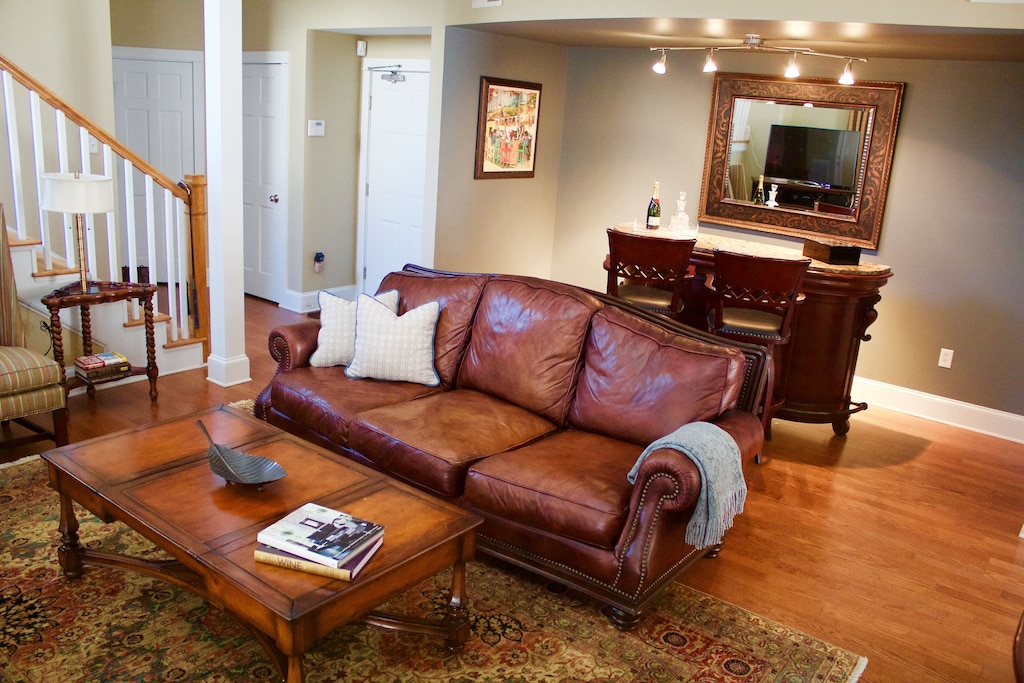 In the neighborhood of Boylan Heights, you will find this gorgeous condo that can hold a maximum of four people. This space is ideal for trips going to the city, and it will only take you fifteen minutes going to the airport. Some nearby establishments that you can quickly walk to are the following: Boylan Bridge Brewpub, The Pit Restaurant, Tuscan Blu Italian Restaurant, and Five Star Restaurant and Bar. Inside, you will find two spacious bedrooms, an entertainment area with Netflix and Apple TV, high-speed WiFi, free toiletries, and other basic necessities. Outside, you can enjoy a private balcony.
Gorgeous 3 bed Condo Dtown Raleigh!
Did you know that there's a 19th-century neighborhood located in downtown Raleigh? This newly-renovated historic home, also known as the John Lanier House, is the epitome of DIY and classic. This house has a Neoclassical Revival exterior plus art decorations that match the theme. Almost everything inside and within the house is handmade. The master suite is large, and it now includes a garden tub and standup shower. Staying at this vacation home is definitely a privilege because not only will you be relaxed, but you're also experiencing culture and art.
Gorgeous Historic Home In Downtown Raleigh.

Top guest reviews

My husband and I stayed here with our four adult children while attending a wedding downtown

The home is spacious and well appointed with every amenity one might want (wifi directtv large screen TV and a great kitchen )

The owners were great to work with and very responsive to any question we had

The house is even more impressive in person

My family was in town for a wedding and even though Hurricane Florence changed our plans greatly we had a wonderful time and totally enjoyed this house Beautifully decorated and well stocked

The house is just awesome and perfectly located Darin made everything he could to make sure we have a good time in Raleigh

The home is spacious clean and well stocked

The location is wonderful- charming neighborhood and close to everything

The home is in great condition in a beautiful neighborhood

Great place Really well stocked for any needs

This was without a doubt one of the best VRBOs we've ever had and would recommend it to anyone looking for a place to stay in downtown Raleigh

Read more reviews
In a quiet neighborhood in Raleigh, you will find this spacious downtown guesthouse. From here, you many dining selections to choose from. For breakfast, the Yellow Dog Bakery is just a few walks away, for dinner, there are highly-rated restaurants nearby, and for dessert, you can check out Escazu for a yummy treat. The space has generous lighting, so the ambiance is very vibrant. It has loft ceilings, comfortable beds, a full private bathroom, and necessary kitchen equipment. An interesting fact about this place is that a train track is actually located nearby, but don't worry because the noise it makes will not ruin your vacation experience. In fact, it might even put you to sleep.
Private Guesthouse in Quiet Downtown Neighborhood

Raleigh, North Carolina, United States
Enjoy the city of oaks!
Raleigh is one of the most underrated places you can visit to have that peaceful and relaxing vacation you've always been waiting for.
Disclosure: Trip101 selects the listings in our articles independently. Some of the listings in this article contain affiliate links.
Get Trip101 in your inbox
Unsubscribe in one click. See our privacy policy for more information on how we use your data