The harbor city of Sydney has so much to offer that you will simply lose track of time. You can dine at one of the award-winning gourmet restaurants, visit the city's sparkling harbor, or enjoy the natural beauty of Sydney. The public gardens, the pristine and picturesque beaches, and the thriving markets further add the charm of this city. Off you can go on a trip to a famous excursion to the Blue Mountains and visit the popular Taronga Zoo. The zoo houses over 4,000 native and exotic species of animals. Your trip to Sydney is incomplete without a visit to the famous Sydney Opera House that hosts over 40 performances every week. So, even though it rains, following are the top 10 ways to help you figure out what to do on a rainy day in Sydney.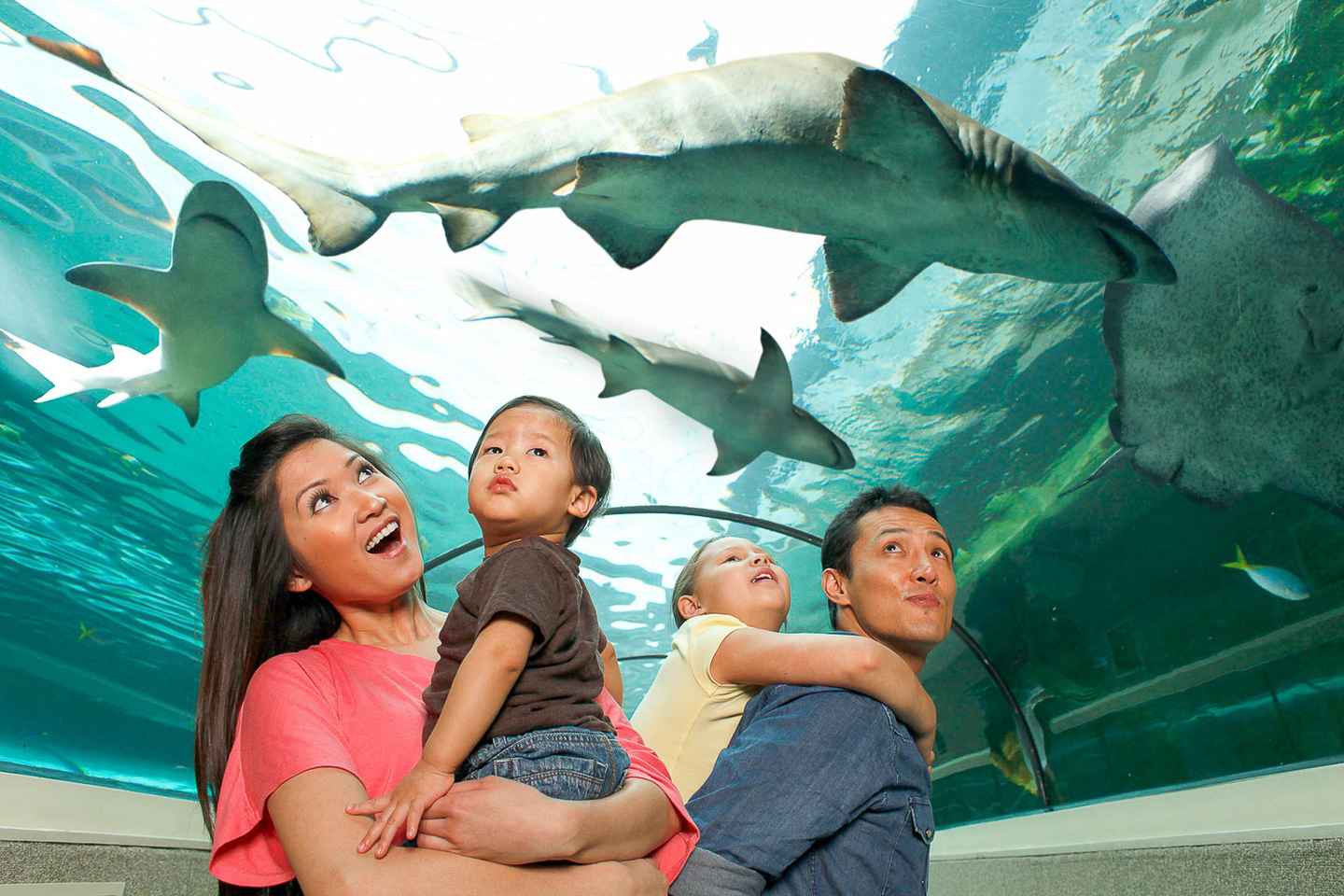 Your trip to Sydney will be incomplete of you do not visit the SEA LIFE Sydney Aquarium. One of the most spectacular aquariums in the world, it is the perfect place to visit with your family when it is raining outside. Situated on a prime location of Sydney, the aquarium houses more than 650 species and 12,000 animals including penguins, turtles, sharks, and more. Set close to Darling Harbor, you can also enjoy a unique experience of walking underwater at this world-class aquarium in the city.
Here is a chance for you to sample a wide range of exotic beer when it is drizzling outside. Also, learn the art of craft brewing in the city on a tour, assisted by an expert guide. In fact, you will also get an opportunity to see how breweries operate and get in touch with personalities who are responsible for transforming the beer-making scene in the city. There is a three-hour tour and two distinct six-hour tours to choose from for exploring Sydney's breweries.
Duration: 180 to 210 minutes
3. Have fun at Sky Zone, Sydney
Editor's Note: Photo taken from the establishment's official social account
This is the maiden indoor trampoline park in the world. There are so many interconnected trampolines, which enable you to actually enjoy bouncing off the walls here even though it is raining heavily. You can practice the tricks at Sky Zone without any kind of apprehensions and nervousness. The landings are soft, big, and great fun. Sky Climb is the indigenous indoor arena for rock climbing. Feel your adrenaline rushing as your tie up the safety harness and climb one of the many indoor climbing walls. Ideal for all ages, it is the best indoor climbing venue in Sydney.
Sky Zone

Address: 75 O'Riordan St, Alexandria NSW 2015, Australia

Website: Sky Zone

Opening Hours.Mon - Thur: 9am - 9pm Fri - Sat: 9am - 10pm Sun: 9am - 8pm

Price. 18 USD (jumping/climbing for 1 hour)
4. Try a session at Infinite Cycle, a virtual cycling studio
You will adore these fitness classes for sure and enjoy the feeling of riding on a real indoor bike. So, in case you are worried of inconsistent workouts, visit Infinite Cycle where, though the bikes do not exist physically, the software make them appear to be so. You can go through absolutely realistic virtual experiences so simply keep spinning.
Infinite Cycle

Address: 247 Pitt St, Sydney NSW 2000, Australia

Website: Infinite Cycle

Opening Hours. Mon - Fri: 6am - 7pm (closed on Sat & Sun)

Price. 25 USD (5 rides)
5. Tour the Sydney Parliament House
Sydney's Parliament House is a group of buildings that house NSW's (New South Wales) Parliament. The house is open on weekdays (Monday to Friday) so that visitors can visit and see how the state government functions in the lovely heritage chambers. However, when the Parliament session is on, public access is restricted to only the Visitors' Galleries. You need to do advance booking to attend the Legislative Assembly's Question Time.
Sydney Parliament House

Address: Royal Botanic Gardens, Mrs Macquaries Rd, Sydney NSW 2000, Australia

Website: Sydney Parliament House

Opening Hours. Mon - Fri: 9am - 5pm (closed on Sat & Sun)

Price: 29.18 USD
6. Have fun on a dodgem track at City Amusements at Market City
Get set to experience a scintillating session of M9 Laser Skirmish. Ride a Bumper Car and race along the Dodgem Track and have great fun irrespective of your age. Set in an excellent location in Sydney (City Amusements in the Market City), it is open on all days of the week. So, have an experience of a lifetime with your dear ones and do not let the rainy season act as a spoiler.
City Amusements

Address: Shop R307, Level 3 Market City Shopping Centre 9-13 Hay Street NSW 2000

Website: City Amusements

Opening Hours.Sun - Thur: 10:30am - 10pm; Fri - Sat: 10am - 11pm

Price. 7 USD
Enjoy an experience like never before as you visit the revolving Sydney Tower Restaurant. Marvel at the stunning 360-degree views while savoring a delicious dinner or buffet lunch. You will find the views changing during the course of your meal as the restaurant keeps revolving slowly. Iconic sights such as Sydney Harbor Bridge, Sydney Opera House, and the Blue Mountains are some of the major attractions you can admire while dining here.
Duration: 1 hour 30 minutes
Step inside the iconic Sydney Opera House especially on a rainy day and find out more about this magical venue. Sydney Opera House showcases more than 40 different shows every week. It offers something for everybody ranging from food and drink, activities for children, tours, and events. The house is a center for multi-venue performing arts and is one of the most famous buildings of the 20th century. Enjoy an unforgettable evening at the opera as you watch international and Australian artists give a mind-blowing performance.
Duration: 2 hours 45 minutes
Is it raining outside and are youin a dilemma about what to do while in Sydney? A brilliant option would be to ferret in the anthropology and natural history collections of this famous Australian Museum. It is Australia's first museum and houses over 18 million collections ranging from skeletons of dinosaurs, rare fossils and minerals artifacts, and megafauna. If you are traveling to Sydney with young kids, they will love exploring the fun but educational exhibits. It is indeed an excellent site for an excursion for the entire family when the weather is unfavorable for outdoor sightseeing.
Duration: 3 days 3 hours
Enjoy an experience of a lifetime as you try out your hand at skydiving for about 90 minutes at a stretch. Do not panic as you will be trying this out with the help of one of the expert instructors thus making sure that you have a safe and fun experience. Imagine the excitement of floating in the air as you pick up some basic techniques of skydiving. Take your pick from a wide range of fun packages including a package for family and friends.
Get to the soul of Sydney
So what if it is raining outside while you are in Sydney? The city offers unlimited attractions for the entire family even on a rainy day. If you are still wondering what to do on a rainy day in Sydney, our above recommendations will definitely help you to make your mind.
Disclosure: Trip101 selects the listings in our articles independently. Some of the listings in this article contain affiliate links.
Get Trip101 in your inbox
Unsubscribe in one click. See our Privacy Policy for more information on how we use your data