Houston is the most populated city in Texas and is associated with iconic figures like Beyoncé, Travis Scott, Megan Thee Stallion, and Hilary Duff. Known as the "Capital of Space Exploration", the state's National Aeronautics and Space Administration center has contributed greatly to space exploration and is responsible for training NASA's astronaut corps. On top of that, it's home to the world's largest medical center. Houston is also known to have some of the best places to eat out, with over 10,000 restaurants and eateries that sell more than 70 different cuisines. Not only this but the city attracts millions of attendees with events like the Houston Livestock Show and Rodeo and the Southwest International Boat Show. Check out these top yacht charters near Houston, Texas, and get a chance to experience life on a yacht during your stay in H-town.
Savor the dreamy sunset scenery by the bay in It's Five O'Clock Here, a luxury yacht rental near Houston. This high-powered motorboat, which accommodates up to six guests, is furnished with two staterooms for resting, a complete kitchen, roomy lounges, and outdoor decks where guests can enjoy their gatherings.
Apart from its onboard amenities, guests can also access the Waterford Harbor Marina with its communal pool and hot tub to cool off their bodies. There are lots of things to explore with this yacht. Guests can avail of any of its exciting all-in packages.
This houseboat offers accommodation for four people. It has two bedrooms and a cozy seating area with a flat-screen TV. There is also a small kitchen and dining nook where you can prepare and serve quick meals. Enjoy sunbathing on the deck and swimming in the lake.
This rental boat in Houston is fully air-conditioned, and you will also be provided with access to the internet. You can visit the nearby park in the afternoon and take a walk along the boardwalk at night.
This 40-foot (12.2-meter) sport yacht is complete with 2 private staterooms, air conditioning, 2 televisions, and a fully equipped galley. While guests can prepare their own meals on the stove and stock their groceries in the fridge, they can also enjoy a meal at one of the many restaurants nearby. The yacht can accommodate 4 guests, and only allows children older than 13 onboard. Note that guests aren't allowed to use the yacht's toilets or showers, and are required to use the marina's toilets and shower facilities, which are right next to the yacht.
Located 15 minutes away from NASA and docked near Kemah boardwalk is a 36-foot (11-meter) sailboat. Equipped with air conditioning, heating, free wifi, a television, and a dedicated workspace, this yacht rental in Houston is perfect for three guests.
On top of that, guests have full access to several facilities on the marina, including a laundry room, a party room, a grilling area, a pool, and a showering area. Guests can also enjoy nearby restaurants in Houston, like Perry's Steakhouse & Grille and Hubcap Grill, as well as fireworks every Friday night from June to July.
More options for boat rentals near Houston
This remodeled 52-foot (15.9-meter) houseboat is complete with a large bedroom, an en suite bathroom, a fully equipped kitchen with a dishwasher, wifi, 2 flat-screen televisions, electric recliners, ironing facilities, and air conditioning. In addition to that, guests also have access to the owners' private man-made island that features an outdoor shower, a hot tub, a gas barbecue grill, and water activity equipment. During their free time, guests can go on a fishing boat tour, have a relaxing sunset sail, or head to the marina's bird sanctuary.
This houseboat is quite the home away from home, complete with air conditioning, an indoor fireplace, two smart televisions, a bathroom with a bathtub, and two heaters. The boat also has a fully equipped kitchen that features a refrigerator, a microwave, a stove, and a coffee maker.
Guests can bring their own equipment and fish at the marina's fishing pier, which is only a short walk away from the boat, or rent a kayak from one of the nearby shops. Guests can also head to Kemah Boardwalk for rides, live music, food, and more.
Love Shack is a 40-foot (12.2-meter) houseboat berthed right next to the owners' floating island, complete with a barbecue, a hot tub, and a pergola. The boat's highlights include air conditioning, a bathroom, a refrigerator, a television, a washer, and wifi.
Guests can cook their meals in the well-equipped kitchen on board, or have a taste of local food at one of the nearby restaurants. Not only this, but guests can also catch Kemah Boardwalk's firework displays from June to July.
Top guest reviews

it was clean and the host is very nice and accommodating

Read more reviews
Located in Galveston, Texas, this houseboat is actually a Carver 36 Mariner that's been renovated to be a trawler, houseboat, and sun bridge at the same time. This innovative single-level boat is well-equipped with a large refrigerator and freezer, a dinette, a wet bar, a stove and oven, and two spacious lounges. Ideal for four guests, the boat has two bedrooms, one bathroom, and hanging lockers. Guests can bring their pets with them for an additional fee of 10 USD, and are encouraged to enjoy the fresh air at the sun lounge located on the boat's foredeck.
Lady Ayra is a 31-foot (9.5-meter) sailboat on Clear lake, which is 10 minutes away from Kemah Boardwalk. The sailboat provides guests the utmost comfort and has two bedrooms, air conditioning and heating, wifi, a television, a well-equipped kitchen, and a toilet. Although the boat lacks showering and laundry facilities, guests can make use of the marina's showers and laundry. Guests can also spend some time at the marina — it has a pool, a bathhouse, a gym, and a hot tub.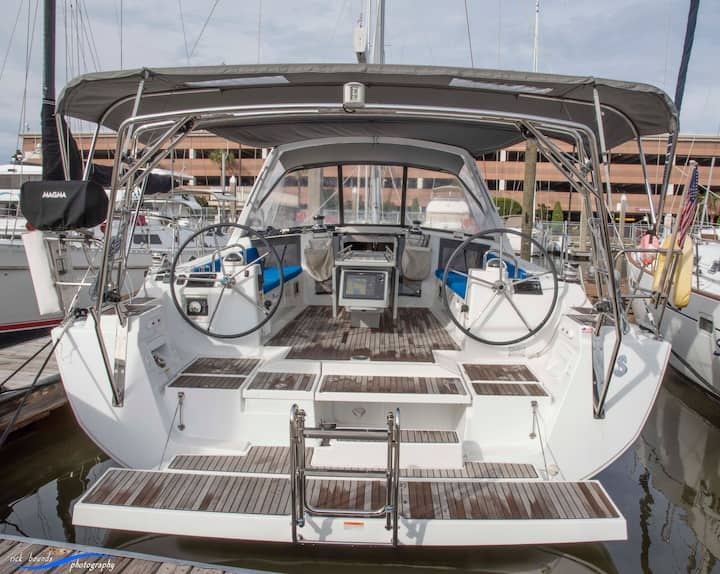 Capable of sleeping up to 6 guests, this 45-foot (13.7-meter) sailboat features 3 private cabins, restrooms, showers, and even coin-operated laundry machines. On top of that, the sailboat boasts a lovely pool and hot tub that guests can chill in during their stay. Guests are also welcome to catch some fireworks from Gavelston Bay, enjoy a quick sunset cruise, or have a look around the area. If guests ever want to learn how to sail, the owners offer private sailing lessons for an additional fee.
Top guest reviews

so clean we just had a great time

otherwise super clean super quiet super fun marina

a great place to go with a few younger children

Read more reviews
Experience the marina life near Houston
Running out of ideas on what to do for your next weekend trip? Texas promises visitors unique experiences like a glimpse of the marina life for a few days. Make sure to check out these yacht charters near Houston, Texas, and spend your weekend in a house on the water.
Disclosure: Trip101 selects the listings in our articles independently. Some of the listings in this article contain affiliate links.
Get Trip101 in your inbox
Unsubscribe in one click. See our Privacy Policy for more information on how we use your data