Bangkok, as a destination has always been a stopover or entry point before heading to the jungles or the beaches of Thailand. Historic Bangkok tour is a LOT about temple hopping and shopping for gems, authentic "fakes" of luxury brands, cheap phones and electronics. But, outside of shopping and a few temples, there's a lot more to do in Bangkok.
For those not interested in the usual touristy stuff, check out some of the activities you can do while in Bangkok, and trust me, they are a whole lot of FUN !!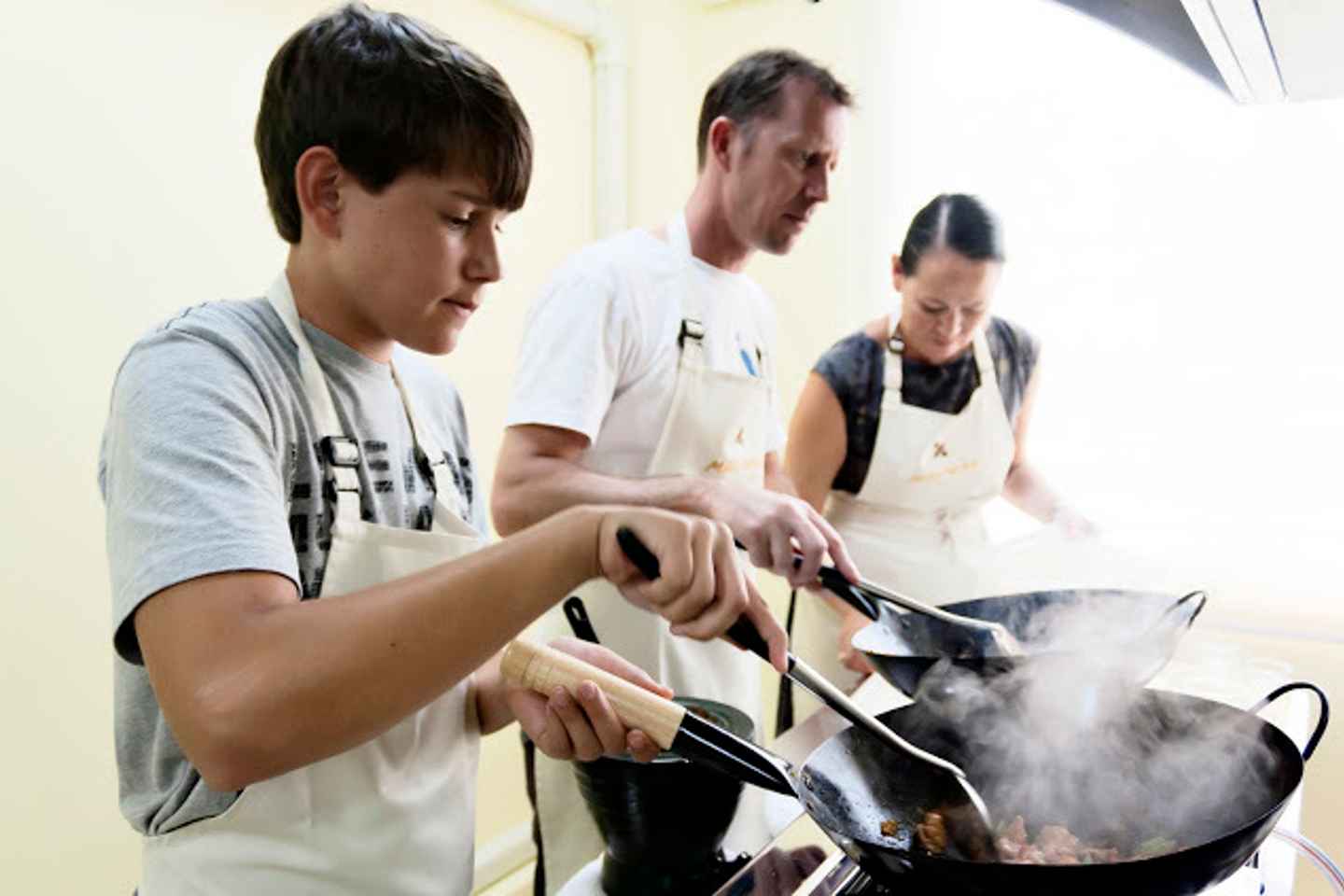 While in Bangkok, you can try your hand at learning local dishes at the Maliwan Thai Cooking Class. Located in the Khaosan Road area, Bangkok, this class provides tourists, expats and even local people an opportunity to learn Thai cooking from experts. You can choose from Thai popular dishes to Thai traditional dishes, from hors d'oeuvres to main meals. Each session is 4 hours long, and all the cooking instructors are experienced professionals and fluent in English, so language is certainly not a barrier for foreigners.
The session begins with a journey by Tuk-Tuk to the local market to buy fresh produce. The shopping experience surely helps in learning about vegetables and other essential ingredients for Thai cuisine like Thai herbs, coconut milk, jasmine rice, etc. After shopping, it's back to the school for the cooking lessons. The class begins with a welcome drink, which is followed by the first cooking demonstration. The instructor prepares 2 dishes while the class observes. Then it's time for the students to begin cooking. The experts are around to help and guide wherever required. Now it's time to eat! The students enjoy the dishes they prepare and then it's time to head back for the 2nd part of the demonstration class for the next two dishes. After the demonstration, it is time for the students to prepare the final two dishes of the day. Then it's time to eat and taste once more!
The class ends with sharing of important tips and personalized certificates. Maliwan Thai Cooking Class is a fun way of refreshing your culinary skill, exploring a Thai local market, and of course enjoying amazing Thai food along the way.
Bangkok: Half-Day Thai Cooking Class with Market Tour

Duration: 4 hour
This tour will make you experience Bangkok on a small teak boat. This tour starts at 3 p.m and you'll have to meet at BTS Skytrain Wutthakat Station. The English-speaking tour guide will take you to a small boat, which will cruise through the city's canals and stop at a few places such as an orchid farm, a local temple and more. Return within three hours to the place where you started.
Ensure you take sunblock and mosquito repellent during this trip. Walking shoes or sandals are recommended for this tour. Drinking water, life jacket, and tour insurance are included in the price.
Canal Tour

Price: 44 USD per person, or 150 USD for a group of 4

Duration: 3 hours

Website:
Nature lovers will enjoy this short trip, which will take them to lush greenery near the city. This tour starts in a small clubhouse garden in the city center where you will be introduced to the tour guide, who will show you a safety video. You will be cycling through the Central Business District of the city and the first - as well as the last stop - will be the country's former prime minister's home, which has a set of traditional teakwood houses amid beautiful tropical gardens. You'll then cross the River of Kings and you'll be amazed by the amazing natural views with endless lush greenery. You'll be cycling your way through the paths over the mangrove vegetation. Depending on the time, you can also take a short detour into the wilderness.
Bangkok Jungle Bike Tour

Price: 37 USD

Duration: 4 hours required

Website:
Ayutthaya is an ancient capital of Thailand and an island at the confluence of three rivers. Today it stands as a modern city, 85 km north of Bangkok and is famous for numerous magnificent ruins. Near the city, you can also find the Ayutthaya Historical Park , a UNESCO World Heritage Site since December 1991, where it is possible to visit the monuments and ruins of the ancient capital of the Kingdom of Ayutthaya.
Tourists usually opt for a one day tour to Ayutthaya, and Grand Pearl is one of the sought after tour operators who organizes this day trip. Your trip begins once you board the Grand Pearl air-conditioned coach. The bus journey ends at a stunning little place called Bang Pa In. Keep your cameras ready as you approach the Summer Palace of King Rama V, adorned with an incredible mixture of oriental and western architecture.
The next stop is at Ayutthaya. Here you get to see the royal monastery - Wat Mahathad, the largest and most famous temple - Wat Phra Sri Sanphet and the Wihan Phramongkhon Bophit - and the large bronze Buddha image, which was originally enshrined in the open area outside the grand palace and later enclosed by a building called Wihan.
Up next is the ride back onboard the Grand Pearl Cruise. You board the liner at Chong-Rom Pier and the cruise will travel through some of the gorgeous parts of Ayutthaya. Onboard you enjoy a delectable buffet lunch, which includes a variety of oriental and western cuisines. Enjoy the beautiful landscapes while you dine, as the cruise passes through the Pathumthani and Nonthaburi provinces and some areas of Bangkok city. Post lunch, you are served coffee, as the cruise lines passes by the colorful Royal Barges House, Thammasat University, Siriraj Hospital, The Royal Grand Palace, and the graceful Temple of Dawn.
Around 16.00 hrs you arrive and disembark at the River City Shopping Complex Pier. You are transferred back to your hotel by air-conditioned van. Accompanying guests on the tour is an English-speaking guide.
Ayutthaya from Bangkok with Chao Praya River Cruise

Duration: 10 hours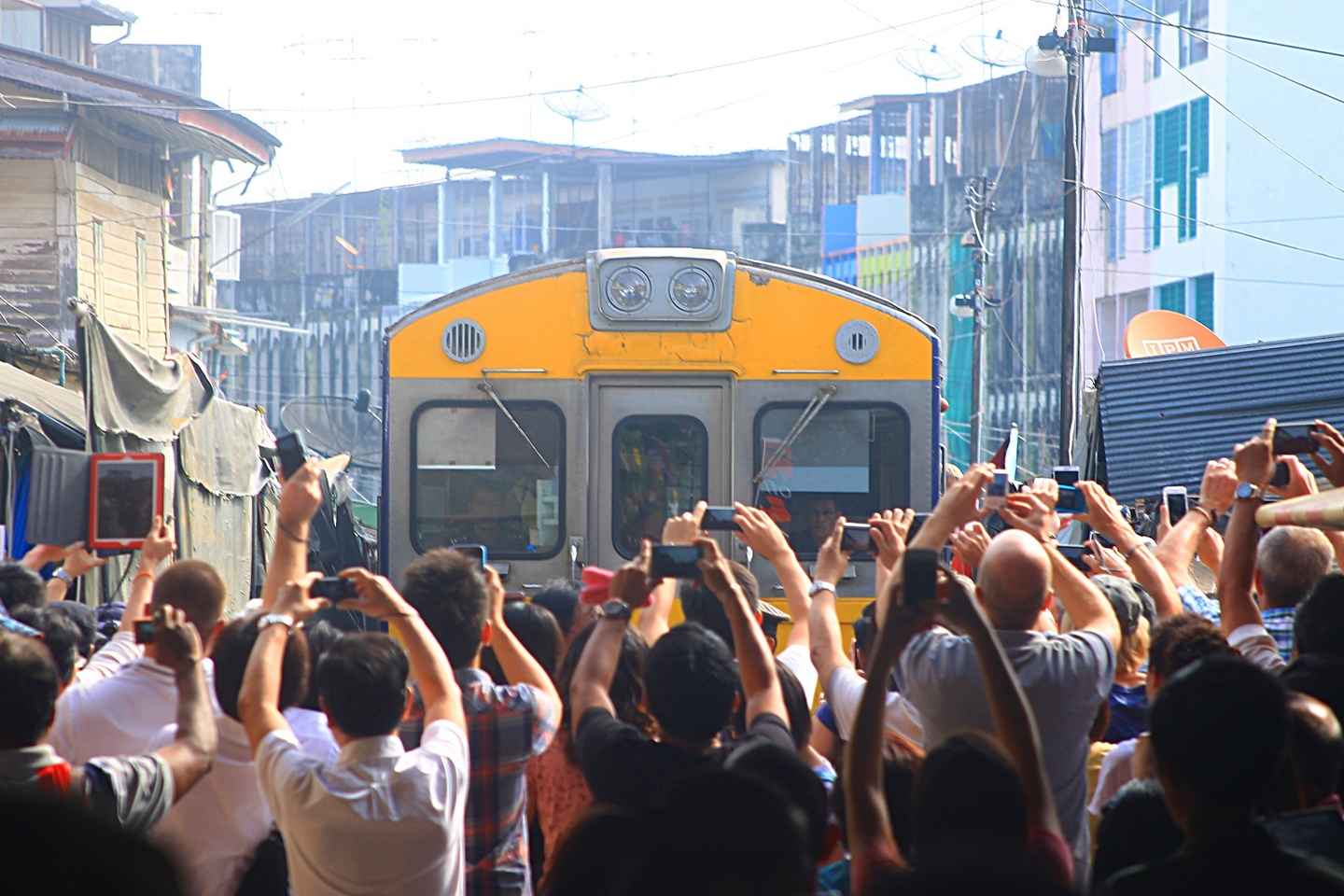 Damnoen Saduak Floating Market is a very popular and one of Thailand's largest floating market in Ratchaburi, about 100 kilometers southwest of Bangkok. Although this unique and vividly colorful marketplace has been captured by photographers the world over yet, it's worth at least a one-time visit to experience this unique and infectiously chaotic market.
The best time to visit is early in the morning to see the market at its busiest though you might have to brave the crowds. Sellers arrive early in their boats laden with tropical fruits, vegetables, flowers and other fresh produce and paddle along the congested canals to sell to shoppers on the banks.
Your tour begins with you been picked up from you hotel and driven to Damnoen Saduak, where you would be transferred to a long-tailed speedboat for a thrilling ride through the crowded yet colorful floating market. You can simply soak in the sound, smells and sights or do a bit of shopping of local fare or delicacy.
Quite often people who visit the market combine the trip with a tour to the Rose Garden Cultural resort, and/or Nakhon Pathom, the site of the largest pagoda (and highest Chedi) in Thailand. You are dropped back at a jetty pier after your tour, where you board on the vehicle for the journey back to Bangkok.
Damnoen Saduak Floating Market & Maeklong Train Market Tour

Duration: 6 hour
Sea Life Bangkok Ocean World is an underground aquarium, one of the largest in Southeast Asia and one of the most frequented tourist attractions in Thailand. Erstwhile known as the Siam Ocean World, it is spread over an area of 10,000 square meters and is located two storeys underneath the Siam Paragon shopping mall. The Ocean world is home to over 30,000 curious looking creatures from various depths and aquatic regions across the world. They have been sourced and transported from far off places like the Amazon River.
The exhibit is divided into seven zones, each with an individually designed theme. At the Sea Life Bangkok Ocean World , you can meet the ocean's deadliest predators in the 270-degree underwater tunnel, view some rare and bizarre-looking marine life, sneak a peek into the open ocean from a glass-bottom boat, or, if you wish, you can also dive in and have a swim amongst the sharks and rays. At the "Penguin Ice Adventure" you get to experience a cold ice-covered South Pole, and also, get up close and personal with the adorable Gentoo Penguins.
Some of the experiences at Sea Life Bangkok Ocean World:
Shark Feeding Show – Dive deep into the ocean world and come face-to-face with exotic aquatic species like round ribbon tail rays, sand tiger sharks, blacktip reef sharks, etc. Experience the adrenalin rush with help from experienced trainers.
The Ocean Walker - The underwater tunnel provides a safe and exciting way to experience an 180-degree view of the exotic underwater creatures.
4D Cinema – Enjoy and experience 4D movies at Sea Life Bangkok Ocean World. Apart from the audio and visual treat, the 4D effect is provided by the air jets and bumps to the seat, etc.
Behind the Scenes - Check out the "Aquatic Quarantine and Nursery Centre for behind-the-scenes activity and explore the secrets of SEA LIFE Bangkok Ocean World. You get to see things like ocean exploration equipment and visit the water quality monitoring laboratory.
Ocean Feeding Boat - Take a ride on the Ocean Feeding Boat and get up close and personal with sharks, stingrays and a great variety of fish. A SEA LIFE staff, who also feed the fish by hand, helps you learn the nuances if you can handle it.
SEA LIFE Bangkok Ocean World Admission

Duration: 1 day (Approx.)
Dream World is a big American-style theme park located on the outskirts of Bangkok. The park has games, rides and attractions for kids, teens and even adults. The Sky Coaster, which is a large hanging roller coaster) and the Hurricane (it does flips and somersaults over 20 meters above the ground), the "Viking" which is a swinging Viking boat, and the "Flying Carpet" which propels you into the air and back towards the ground are some of the favorite rides of the adrenalin junkies. For smaller children there are lots of fun things, games, and rides available like the racing cars, the antique car, the bump boat, sightseeing train, Indian boat, etc. There are animals shows too at the park where they can feed the animals after the show.
The "Giant House" from the Jack and the Beanstalk fairytale is an attraction where everything inside the house is 50 times bigger than normal. In Snow Town, kids can enjoy a sleigh ride, build a snowman or throw snowballs with artificial snow. Dream World also features a live 'Hollywood Action Show' which has a display of a SWAT team invading a criminal's den. Kids can meet their favorite cartoon characters in the spectacular "The Colors of the World Parade". There is a full-fledged go-kart track as well for racing enthusiasts at Dream World. Besides, you can also enjoy a 4D Adventure movie with lots of special effects
Water rides include the Super Splash, a boat ride ending with a huge splash, the Grand Canyon where you can raft down the water rapids. For the spooky effect, try the Werewolf, Dracula, Frankenstein and many others in the Haunted Mansion
There is a cable car available to go from one end of the park to the other if don't feel like walking. It provides an excellent view of Dream World Amusement Park. There is also an option of a short ride on the back of an elephant. There are several restaurants and food stalls all over the park that serve Thai and Western food so that you can grab a quick bite in between rides.
For families with kids, it's a good option for a full day activity.
Dream World Bangkok Admission Ticket

Duration: 1 day (Approx.)
The famous Siam Nirami show is a "must see" while in Bangkok! This grandeur show is an act of demonstration of Thailand's rich history and culture and includes more than 150 performers, breathtaking scenery, stunning sets, more than 500 colorful costumes and revolutionary special effects used to depict Thai beliefs like the Law of Karma and Mystical Forest of Himmapaan. This 80-minute show is one of the largest stage productions in the world. It finds a mention in the Guinness Book of Records and is sure to make you mesmerized.
The show starts at 20.00hrs., but it is always advisable to come early because there are lots of activities that you can see and do before the show. The gates open at 17.00 hrs., and pre-show activities include Traditional Thai Village tour, outdoor dance performances, Elephant feeding & rides. Besides, you can also choose to pamper yourself with a traditional Thai massage or shop for some gifts to take back home at the Souvenir shops.
The Siam Niramit show is divided into 3 part Act. Act 1 includes stunning live performances showcasing highlights from Thailand's geography, cultural history, and traditions. Act 2 gives you a better understanding of the Law of Karma, which includes Hell, Heaven and the Mystical Forest in between. Act 3 is about the joy and peace of Buddhism and it ends in a show-stopping finale.
Siam Niramit Show With Return Transfer

Duration: 3 hours 30 minutes (Approx.)
Sampran Riverside is a place where guests can take part in arts and crafts workshops such as traditional weaving, rice farming, bamboo dancing, Thai martial arts, garland making, traditional pottery, traditional Thai kitchen, umbrella painting, silk processing, Thai music and dance, Thai herbal compress making and much more. Visitors try out these activities, each one in their pavilion stations where trained staff demonstrates the activity and provide information so that guests can obtain a full hands-on experience.
Later, you can watch the Thai Village Cultural Show. It is the longest daily running show in Thailand and takes place in a classic air-conditioned theatre. Live traditional Thai music accompanies the performance that highlights the Thai way of life, festivals and traditional celebrations, wedding ceremonies, dances, a Muay Thai and sword fighting exhibition, martial arts and sword fighting, and an elephant show outside the theatre.
It is advisable to wear comfortable clothes and shoes for this tour.
Thai Art and Craft Workshop in Nakhon Pathom from Bangkok

Duration: 2 to 6 hrs (Approx.)
The Chao Phraya Cruise is a luxurious dinner cruise experience to view the main attractions of Bangkok while floating down the spectacular Chao Phraya River. The buffet style dinner spread has an array of choices, from authentic Thai to international cuisine, including sashimi and hand-rolled sushis. A live band plays in the background and professional singers sing along as you take in the sights of the lit-up Bangkok city skyline. You can view the stunning Grand Palace lit up after dark, the illuminated silhouette of Wat Arun, 17th-century Temple of Dawn, as you cruise slowly along the river.
The dinner cruise lasts for about 2.5 to 3 hours, after which you disembark from the boat. You are dropped back to your hotel after the tour ends.
This luxurious cruise ship has a capacity of welcoming up to 290 persons and has catered to guests from around the world.
Bangkok: Wan Fah Dinner Cruise

Duration: 4 hours
Besides all of the above, you can also visit Jim Thompson's House, the Chatuchak Weekend Market, Lumpini Park, watch a Muay Thai battle, experience the Siam rush hour, dig into some delicious local Thai food or perhaps indulge yourself with a traditional Thai massage to relax those weary muscles.
Disclosure: Trip101 selects the listings in our articles independently. Some of the listings in this article contain affiliate links.
Get Trip101 in your inbox
Unsubscribe in one click. See our privacy policy for more information on how we use your data