Thailand is not just about the delicious Thai food; it is a place with a diverse culture and a long and interesting history too. But that's not all! Thailand, apart from its beautiful temples, is also known for its tropical beaches and exciting nightlife.
Everybody who visits Thailand, somewhere in their minds, has the desire to the Thailand nightlife . It is exciting, adventurous, romantic, and everything you've imagined it to be. A visit to Thailand is an unforgettable experience. Some of the best places to visit in Thailand are Bangkok, Phuket, Pattaya, Chiang Rai, and Chiang Mai.
Read on to find out about the exciting Thailand nightlife, and the things to do there!
Bangkok
Here are some of the best places to visit at night when you are in Bangkok:
1. Roof Top Bar - Vertigo & Moon Bar at Banyan Tree Hotel
Situated on the 61st floor, Moon Bar boasts an incredibly fantastic view of the city, and the views are especially stunning at sunset. It is this beautiful environment that makes it a perfectly romantic place for couples to have a great evening together.
The layout of the restaurant is such that each table has an uninterrupted view of the setting sun, spreading ribbons of beautiful shades across the sky. Moon Bar is open from 5 pm to 1 am, but remember to follow their dress code, smart casual, before you plan your evening there.
Moon Bar

Address: 21 S Sathorn Rd, Khwaeng Thung Maha Mek, Khet Sathon, Krung Thep Maha Nakhon 10120, Thailand

Opening Hours: 5 pm to 1 am, weather permitting

Dress Code: Smart Casual
2. Sky Bar Lebua At State Tower
Located on the 64th floor of State Tower, Lebua is the highest open-air bar in the world. At this height the bar gives a view of the city like no other rooftop bar. You can gaze far and wide with a view of the Chao Phraya River that adds to the scenic beauty. Lebua is the bar that was featured in the popular movie Hangover 2, and to celebrate this they offer their famous 'Hangovertini'.
Couples can enjoy a romantic dinner at the restaurant, however, the bar has no special seating arrangements. The view demands you to visit!
Sky Bar

Address: 1055 Silom Rd, Khwaeng Silom, Khet Bang Rak, Krung Thep Maha Nakhon 10500, Thailand

Opening Hours: 6 pm to 1 am

Website Lebua Sky Bar
3. Dinner cruise on the Chao Phraya River
When in Bangkok, never miss the opportunity to take a dinner cruise on the Chao Phraya River. This night time cruise allows you to spend an evening enjoying the scenery and the grandeur of numerous temples and monasteries of Bangkok. This, combined with the delicious Thai food served buffet style, soothing music, professional singers, and a 360-degree view, is something that you would never want to miss. All this comes together to give you an experience of a lifetime.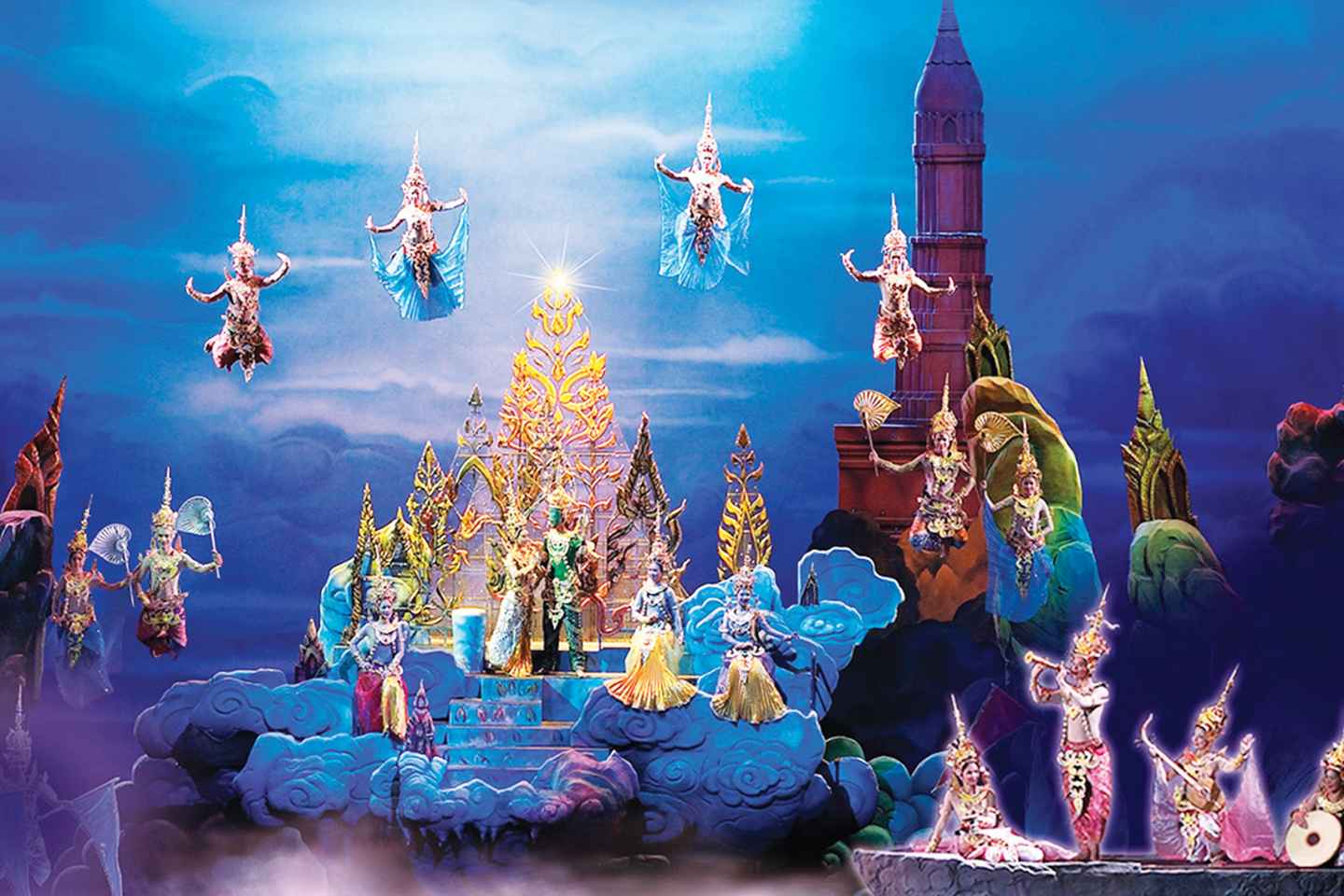 With an amazing Thai buffet or an international buffet (optional), you get to enjoy a spectacular stage show that takes you through 700 years of the history and culture of Thailand. All 700 years can be witnessed in a power-packed show of 90 minutes. It is bound to take your breath away. The entire show is performed on the world's highest stage at Ratchada Theatre, with a massive seating capacity of 2,000 people. There are three acts in the show that take the viewers through a journey of history, tradition, and culture. Siam Niramit cultural show can be enjoyed by all, from youngsters and couples to friends and family. You get to enjoy some very interesting pieces from history in an extremely creative style with, obviously, great food.
Bangkok Siam Niramit Show Admission Ticket

Duration: 80 to 2.5 minute
5. Live Jazz Music At Saxophone Pub Or Bamboo Bar
For those who think the nightlife in Bangkok is all about being unrestrained and naughty, well, you're wrong. The city has some very classy and cool jazz bars featuring some extremely talented artists for you to have a romantic evening with your partner or a sophisticated night out with your friends. One of the best bars is Saxophone Pub, which is also one of the most famous. There is also Bamboo Bar, which is equally well-known among jazz fanatics. There are even more too, like Brown Sugar, The Living Room, Jazz Happens, and Glaz Bar for a stylish end to an interesting day in Bangkok.
Saxophone Pub

Address: 3/8 ซอย ราชวิถี 11 Phayathai Rd, Thanon Phaya Thai, Ratchathewi, Bangkok 10400, Thailand

Opening Hours: 6pm to 2 am

Website: Saxophone Pub

Bamboo Bar

Address: 48 Oriental Avenue, Bang Rak, Bangkok, TH-10 10500, Thailand

Opening Hours: Friday & Saturday: 5 pm to 2 am, Sunday to Thursday: 5 pm to 1 am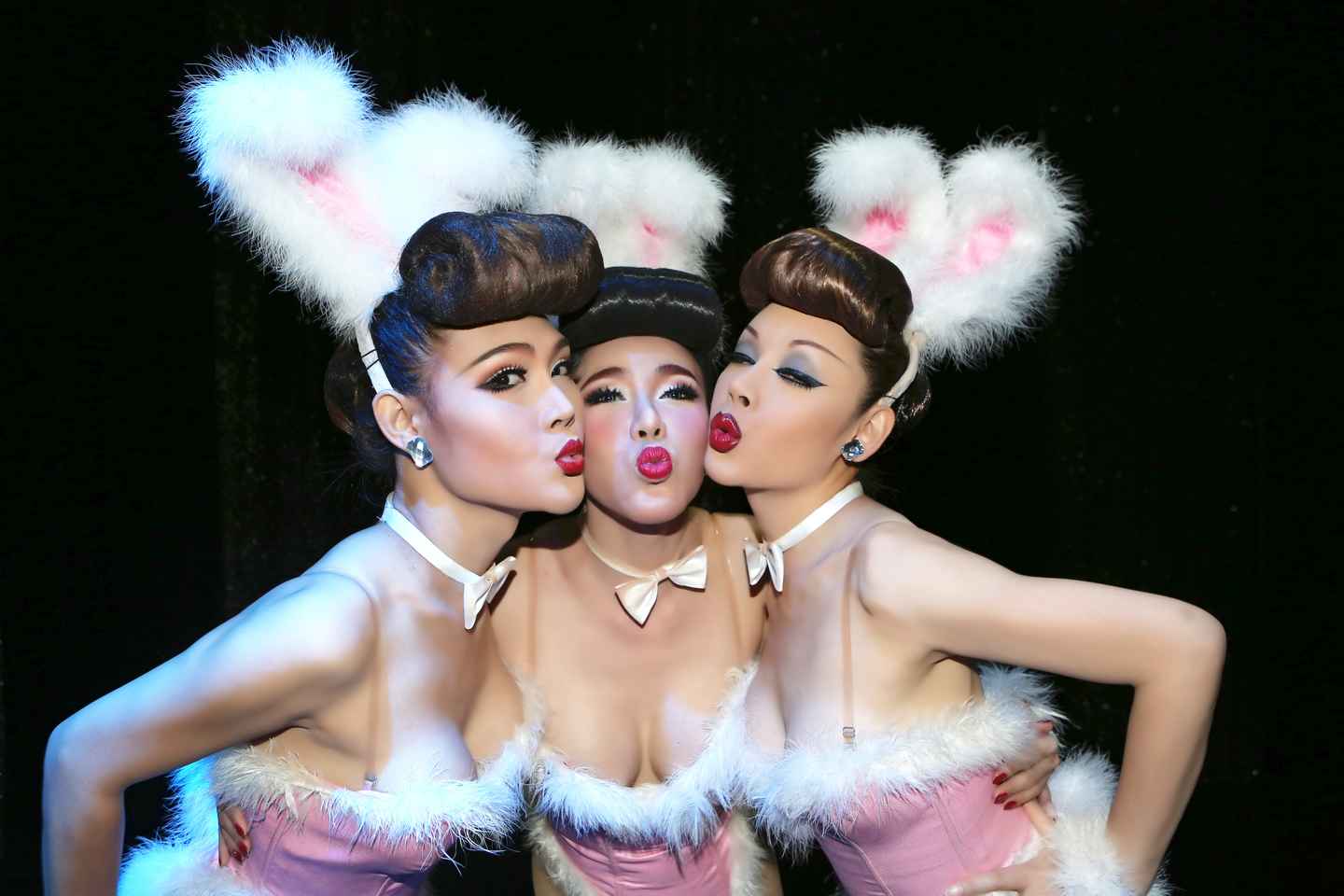 Another interesting way of entertaining yourself when in Bangkok is to watch a ladyboy show for a night filled with glamour, glitter, and humor. You will find world-class performers giving some of the most stunning performances you will ever witness. One of the best places to enjoy a ladyboy show in Bangkok is Calypso Cabaret at Asiatique, with two performances every night. Others are Playhouse Cabaret, Mambo Cabaret, and Golden Dome Cabaret. All these are places for an interesting and fun-filled evening with friends.
You can grab the tickets here.
Bangkok Calypso Cabaret Show Admission Ticket

Duration: 69 to 3 minute
Muay Thai Live is a stunning theatrical show with such exciting performances depicting the ancient martial art technique of Thailand. This is a 90-minute show filled with electrifying performances by highly-skilled world-class warriors. The show runs from Tuesday to Sunday from 8 pm at Asiatique. You might have seen exhilarating stunts and fights in movies, but here, everything that you see is real. So get ready for a night that will take your breath away.
Skip the line and get the tickets now!
Muay Thai Live Performance Show

Duration: 90 minutes

Price: From 29 USD
Muay Thai Live Show: The Legends and Heroes of Thai Boxing

Duration: 1 hour 30 minutes
Pattaya
A few options to liven up your evenings in Pattaya are:
8. Pattaya Walking Street
If you are an absolute party-lover then you would fall in love with Pattaya Walking Street, which is part of Pattaya Beach Road. Walk the entire one-kilometer (0.6-mile) stretch of Walking Street and you'll see that the vast majority of buildings are beer bars, music bars, nightclubs, massage parlors, go-go bars, or restaurants. There is so much to do here that you might want to spend every weekend here! Do note, however, that Pattaya is infamous for its sex tourism scene, even promoting itself as Thailand's Sin City. So, it may not be the best spot for couples, families, and groups of females on a girly vacation.
9. Club Insomnia and The Pier Club in Pattaya
There are a couple of Pattaya nightclubs that really do deserve special mention. Pier Club has an amazingly sophisticated sound and lighting system, with a total of 3 floors for you to dance the night away. There is great high energy music played by the DJs. The crowd is pretty good and prices are similar to other places on and around Walking Street. Club Insomnia has 6 bars and pool tables. It is also known for its famous guest DJs and live bands.
Club Insomnia

Address: 110/1 Walking Street, South Pattaya, Pattaya, Bang Lamung District, Chon Buri 20150, Thailand

Opening Hours: Monday to Saturday: 8 pm to 4 am, Sunday: 8 pm to 12 midnight

Website: Club Insomnia

The Pier Pattaya

Address: 190 Moo.10 Walking street, Nongpreu, Pattaya City, Chon Buri 20260, Thailand

Opening Hours: 6 pm to 6 am
10. Mixx Discotheque
A nightclub in the Na Kluea area of Pattaya, Mixx Discotheque is a perfect venue for late night fun. Go there with your gang of friends and you are sure to have the time of your life without burning (too much of) a hole in your pocket. There is no entry fee and the drinks are at fairly low prices. Starting at 9:00 pm, people continue to party there through till 6:00 am! You will find all kinds of people in the crowd. It is a perfect venue for a lads' night out, or those who are looking for fun night of music, booze, and dancing.
Mixx Discotheque

Address: 06-10 อาคาร President Tower Phloen Chit Rd, Lumphini, Pathum Wan, Bangkok 10330, Thailand

Opening Hours: 10 pm to 6 am
Phuket
Do check out these options while you are in Phuket:
11. Beach Clubs And Sunset Bars
Editor's Note: There's no photo available at the time of writing
Beach clubs and sunset bars are very popular in Phuket. The beach clubs are located quite close to the sea, and have good music, a decent bar, and a good chef for some nice, tasty snacks. Sunset bars have everything the same except that the places are generally elevated for great sunset views. Some of the best beach clubs in Phuket are Dream, Xana, Zazada, and Iguana Beach Club. Similarly, some of the best sunset bars in the area are Wassa homemade bar, La Versace, and 360 degree restaurant.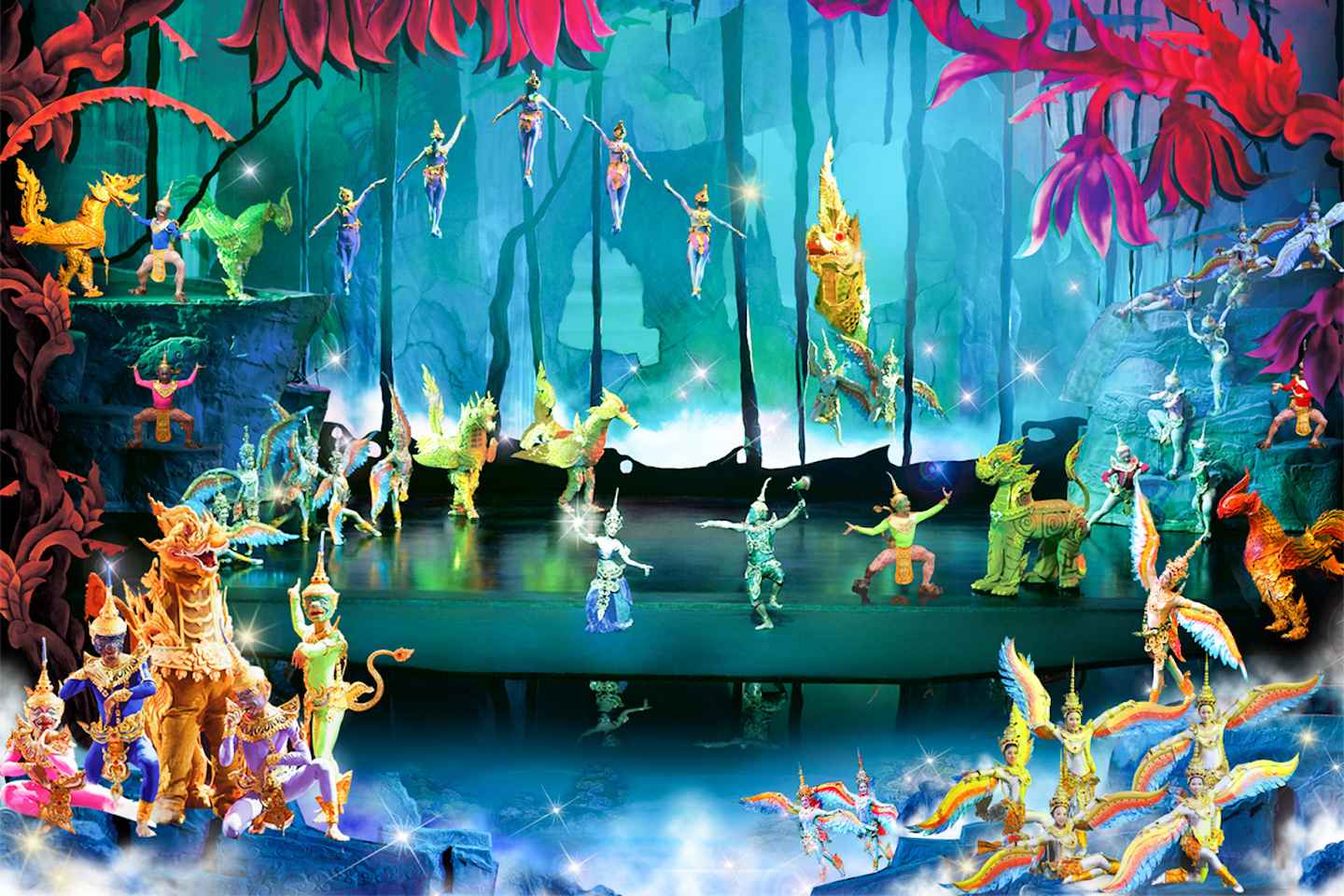 Just like the one in Bangkok, Siam Niramit in Phuket is an equally great show with an incredible team of performers. This is a 70-minute show that is carried out in 3 acts. The performances come to life through added special effects. The show is so amazingly realistic and spectacular that no one who is in Phuket should think of missing it. The entire show can be enjoyed by everyone, and it's a great way to learn more about the history and culture of Thailand in an interesting and fun manner.
Siam Niramit Phuket Ticket with Optional Dinner & Transfer

Duration: 4 to 6 minute
13. Phuket FantaSea
A show that can be enjoyed by the entire family, Phuket FantaSea is a show that beautifully depicts the customs, traditions, and heritage of Thailand. With the use of the latest technology and special effects, the show is one of its kind. It's definitely a must-watch. The 140-acre (56.7-hectare) themed complex includes a carnival village, handicrafts, games, and more. This night time cultural theme park, with all its mystery and magic, is a treat for the eyes.
14. Simon Cabaret
Simon Cabaret began in 1991 and since then it has become a premier entertainment venue for tourists. With incredible sets and costumes and amazing performances, Simon Cabaret is a Vegas-style ladyboy show that has gained a lot of popularity. The lights, the sound system, and the expensive sets make this 90-minute show a fun filled and glamorous event. It is a perfect venue for groups of open-minded friends, with dancing, entertainment, and incredible food.
15. Dino Park Mini Golf
Editor's Note: There's no photo available at the time of writing
Located between Karon and Kata beaches, Dino Park is an 18-hole golf course with settings of Jurassic Park. It also has a Flintstones themed restaurant. If you really wish to spend a perfectly fun time with your family then Dino Park is fantastic for both kids as well as adults. In this park there are dinosaurs, erupting volcanoes, dense forestry etc. The amazing sound effects makes the experience even more interesting.
16. Go-Go Bars
For visitors who are looking for a night of fun, drinks, and the company of some pretty ladies, go-go bars may be what they are looking for. Of course, girls are the main attraction here. Some of the most popular go-go bars in Phuket are Suzy Wong's, Harem a Go Go, and Exotica A Go Go.
Krabi, including the Phi Phi Islands
Experience the amazing nightlife at these places:
17. Phi Phi Reggae Bar
This bar is known for its kickboxing matches and loud music. The club is even known to lure people into fights by offering them prizes. There is also a large TV screen and a great range of cocktails that are not to be missed.
18. The Last Cafe
Editor's Note: There's no photo available at the time of writing
In the popular beach resort of Krabi you'll find the Last Café, perfect for a soothing cup of coffee or some beer. This entire place is a great spot to enjoy nature's beauty, peacefully with family and friends. Beautiful sunsets and a cozy feel makes this place a perfect romantic corner for couples to spend their time.
Chiang Rai
Go clubbing in Chiang Rai.
19. The Par Club
Editor's Note: There's no photo available at the time of writing
The Par Club in Chiang Rai is a good place for drinking, dancing, meeting new people, and hanging out with your friends. The place is open from 9 pm to 2 am and is often quite packed during these hours. The music may be loud for some but it is definitely sexy.
Across Thailand
Thailand is known for its fabulous night markets, especially in Bangkok. When the heat and traffic of the day does not allow you to shop, you are welcome to shop your heart out in the bright night markets of Thailand. In fact, if you actually want to feel the essence of Thailand, then it is in these markets that you will see the local life.
You will find some of the best night markets in Bangkok. For example, Asiatique is open from 5 pm to 12 noon and you can pamper yourself in boutiques, shop till you drop, and then find a yummy meal to eat. Then there is JJ Green night market where you can enjoy yourself with some vintage shopping, drinks, and a good meal. Patpong is one of the city's most well-known night markets, located in the heart of a red light district.
Similarly, in Phuket you can find night markets like Malin Plaza Patong if you love food. You can try out numerous delicacies of Thailand at amazing prices. For foodies, this is what heaven would smell like. The Royal Paradise night market at Patong Beach is also a great one to visit for getting your hands on some fabulous items. The Thepprasit night market of Pattaya is also a great place to shop for a variety of things and then have a hearty meal.
Chiang Mai Night Bazaar is one of the most famous night markets in the entire country. Covering several streets and alleyways, you'll find a wide array of souvenirs, clothing, handicrafts, snacks, and more!
There is more to Thailand's nightlife than club hopping, music, and shows …
Thailand's nightlife experiences draw an exclusive niche of travellers to this hot and steamy country year after year. From skybars with sweeping views to basement clubbing, from gender-defying theatrical shows to Muay Thai fights, and from exotic beach clubs to Go Go bars, nightlife in Thailand is as varied as it is unforgettable.
Some other top spots to enjoy Thailand's diverse and fun night time activities include the infamous party island of Koh Pha Ngan with its legendary full moon parties, not to mention the half moon parties, waterfall parties, etc.
For something different at night how about some animal magic at Chiang Mai Night Safari or Khao Kheow Open Zoo's evening tours? And don't forget that Chiang Mai, with its large expat population, has many top notch bars and clubs for you to enjoy. Other ideas for after the sun goes down include having a traditional Thai massage, hitting up a karaoke joint, visiting the wild ladyboy shows of Pattaya (Alcazar and Tiffany's), and bar hopping / clubbing on islands like Koh Samui, Koh Tao, Koh Samet, and Koh Chang.
There's definitely plenty to keep you busy after dark!
Disclosure: Trip101 selects the listings in our articles independently. Some of the listings in this article contain affiliate links.
Get Trip101 in your inbox
Unsubscribe in one click. See our privacy policy for more information on how we use your data