The thought of a bachelor party sends in bells of fun, music, liquor, road trips, and other fantastic activities. As one of the biggest cities in the world, London offers you plenty of fun and memorable activities and places to visit for your upcoming bachelor party. That said, choosing the best bachelor party idea might sound a bit confusing considering the tonnes of activities and places to discover and enjoy. Are you wondering about the best activities or places to visit in London for your upcoming bachelor party? To help you choose the best ideas and have a blast with your friends, here are the top bachelor party ideas in London, UK.
Under a qualified guide, you and your friends get to have one of the best experiences. There is a walk through some of the oldest and customer-friendly places and enjoying a beer or two at each stop. It is time to hunt for some of the oldest and genuine beers in London city. The tour takes you through several places allowing the visitors to mix with the locals and have a beer or two. All through this time, there is a guide teaching you the history of these pubs and their traditional brews. Such a walk is not only a fun-filled time but also an opportunity to learn, mix with new people, and tour London.
Small-Group Tour: Historical Pub Walking Tour of London

Duration: 3 hours 30 minutes
Food lovers have got themselves an opportunity to tour London while having a taste of some of the best traditional and modern dishes. Under the guidance of the expert gastronome guide, have an exploration of the most loved food joints by locals and have a taste of what they value. Your team gets to tour Spitalfields and Shoreditch, discovering restaurants with foods most adored by locals. The tour goes through several stops, including St John Bread, Brickle Lane, and many others. This is an opportunity to taste the scrumptious foods that locals have and appreciate. The guide gives directions on crucial factors such as hygiene and security.
London East End, Spitalfields and Shoreditch Food Tasting Tour

Duration: 3 hours 30 minutes
Touring London would be incomplete without tasting their traditional foods. Through 12 eateries, the assigned guide will lead you, allowing you to have a taste of the most valued traditional foods. At the famous borough market, you get to taste their excellent cheese that's locally produced while learning London's culinary culture. Through the walk, you get to learn, not only about their food, but also their culture. Have samples of their incredible scones, scotch eggs, and fish. Every stopover will have something new and better than the last one, making the tour fun-filled.
Traditional English Food Tasting Walking Tour in London

Duration: 3 hours 30 minutes
Cheese lovers have got themselves a great deal when it comes to the London cheese tour. Every stop that they make comes with better cheese than the first one, enriched over time. Starting from Mayfair, you get to tour some of the oldest cheese serving joints with some serving for over 300 years. This tour offers an experience to best discover London's cheese market, which has been there for ages. Through their tour, interactions are allowed, with the locals getting to learn even more. At the end of this tour, you not only get satisfied with tasting lots of cheese but also learn tremendously.
The Cheese Crawl - with glass of fizz

Duration: 2 hours
This craft beer tour presents you with a chance to enjoy the most lively and characterful places in London while sampling their craft beer. Through this tour, get to visit breweries, bustling pubs, watering holes, and get to learn about the making of beer in London. It also offers you the opportunity to visit the lively Shoreditch get to enjoy several beer brands and get it first hand from the local brewers. Through interactions with the locals, you'll learn about their rich history in beer making over a beer or two.
London Shoreditch Craft Beer Tour w/ Private Tour Option

Duration: 3 hours
6. Dance the night away at Ministry of Sound
Looking for the ultimate stag experience? If so, look no further, the Ministry of Sound is a superb option for anyone who appreciates dancing to some electric music in a good atmosphere. This is the best place to experience the best night out with your boys in London. With music being the club's main offering, DJs from all over the world spin a selection of dance and electronic music including techno, house, trance, and drum n' bass, just to mention a few. This club is sure to offer you an entirely special experience.
Ministry of Sound

Address: 103 Gaunt St, London SE1 6DP, United Kingdom

Website: Ministry of Sound

Opening hours: Tue: 10:30pm - 4am; Fri: 10:30pm - 6am; Sat: 11pm - 6am (closed on Sun, Mon & Thu)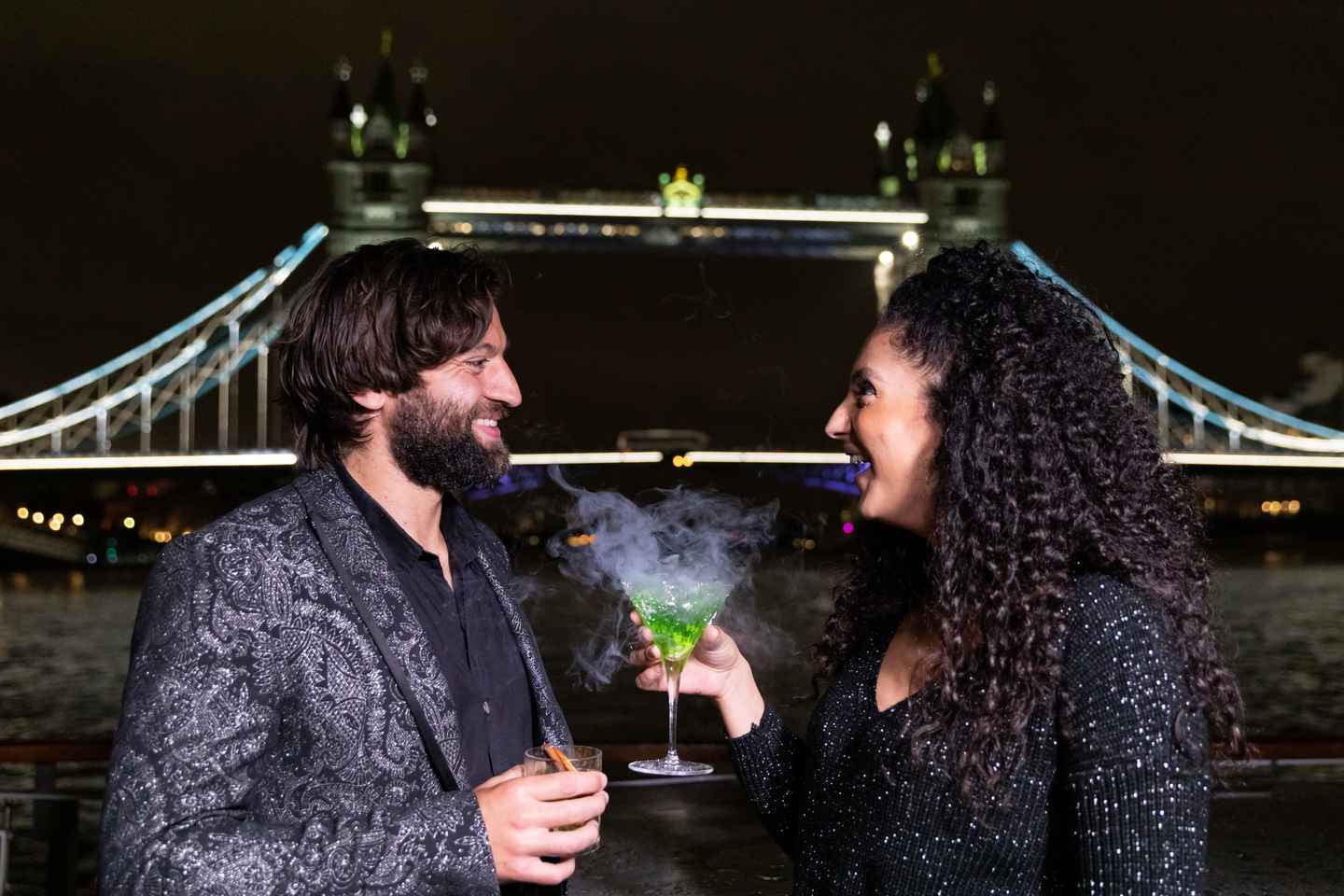 On a 2.75-hour dinner cruise on River Thames, you get to have a view of the well-illuminated London district. They have a three-course meal for their guests' dinner as live performances light up the moment. Through the tour, people get to have views of spectacular landmarks such as the house of parliament and St Paul's Cathedral. Guests get to interact and share the moment as the cruise heads down River Thames. The service delivery is exceptional, with waiters on the ready for both prepaid and postpaid orders. Music from the live performances turn the night tour vibrant and fills the atmosphere with joy.
London: River Thames Luxury Dinner Cruise with Live Music

Duration: 165 to 3 minute
Through a three-hour dinner filed with a three-course meal, get to step in a role where each person tries to solve some of the most intriguing Sherlock Holmes murder mysteries. It is an exciting show where, over dinner, guests get to revisit the life and times of Sherlock Holmes. Each night has an original mystery from those solved by Sherlock Holmes. Prepare to have your ribs cracked with laughter during the three hours of this interactive show. Instead of leaving everything to the actors, guests are allowed to participate and help solve the mystery. Such a moment is one worth the experience and it offers a lifetime memory for you and your friends.
Sherlock Holmes Murder Mystery Dining Experience in London

Duration: 3 hours
When it comes to the Central London pub crawl, there is an opportunity to tour west London and get to have a taste of its pub life. It is a tour that covers a minimum of five pubs with a stop at each joint, allowing drinking and interacting. The most distinctive feature of this tour is the fact that there is no time lost waiting in lines for entry. The guide assigned will take you into some of the top pubs in London for a night of fun. In each pub, you get to taste the beer, enjoy the music, and even have chats with the locals. Drink specials are offered, although you can take what is being taken by others to feel like part of the group.
Central London Pub Crawl

Duration: 4 hours
Take the party a notch higher and go for a helicopter tour. The Central London helicopter flight offers its guests a 10- to 20-minute ride over London city. Through the trip, the captain points out some of the significant places below, like the Buckingham Palace, house of parliament, big ten, among others. Picture taking is allowed at the site of the major attractions. Through the 20-minute ride, you have the chance to see and fill your cameras with the most attractive and breathtaking sites. The tour helps you view London from above, more quickly than you would on the ground.
Central London Helicopter Flight- Exclusive flight

Duration: 10 to 30 minutes
The ultimate London bachelor party
When it comes to London, your bachelor party will be well served with an array of ideas to choose from. Be it a beer tour, food tasting tour, or a helicopter ride; there will be something for you and your friends. Each of the chosen ideas has a value attached, making it worth the amount spent. Pick one of these and light up the night with your friends to have memories to remember for life.
Disclosure: Trip101 selects the listings in our articles independently. Some of the listings in this article contain affiliate links.
Get Trip101 in your inbox
Unsubscribe in one click. See our privacy policy for more information on how we use your data