Officially the capital of the Occitanie region of France, Toulouse, is a captivating city with lots to offer. Ideal for all types of tourists, from architecture lovers and foodies to tourists who are into culture and art, Toulouse has marvelous landmarks that are worth seeing. Not only that, but it is home to beautiful people and superb cuisine. If you are a Christian, the city has remarkable sacred places of worship that you should visit. One of them is the Basilique Saint-Sernin, Toulouse, formerly known as the Church of the Abbey of Saint-Sernin. Not only it is a pilgrimage site, but also a historic landmark. This church will enchant you with its 4th-century Romanesque architectural style. If you are planning to visit this iconic church on your visit to France, here is a guide to Basilique Saint-Sernin, Toulouse. Check it out below.
Things to do
Whether you grew up in a Christian family or a regular tourist who is into sightseeing, landmark visits, and marveling in sophisticated architectural wonders, Basilique Saint-Sernin should be included in your travel itinerary for your escapade in France. This ancient church will overwhelm you not only with its stunning Romanesque design, but also with its immense size, standing 104 m (341 ft) tall. To guide you better, here are some things that you should not miss while in Basilique Saint-Sernin, Toulouse.
Marvel at the architecture of Basilique Saint-Sernin
Basilique Saint-Sernin was constructed in the 4th century, during the time where people have a different concept of architecture and design. It is fascinating to see and an absolute sight for sore eyes, appearing to almost look like it's frozen back in time, with its Romanesque-inspired facade. It is constructed with a central cave that extends towards two collateral structures. With its immense size, be sure to admire every bit of this architectural wonder, and take as many souvenir pictures as you can.
Check out the church bells
Another thing that the Basilique Saint-Sernin is famous for, aside from its Romanesque architectural style and beauty, is its historic bells. In total, it features 21 bells, and some of them are more special than others. For instance, the one next to the keyboard is called "bell of the bell", and it can be heard ringing during important celebrations. Two of them are even older than the rest - the La Mercédaire and La Sarnine, produced in the 19th century.
Attend a mass
Just like any other sacred places of worship, Basilique Saint-Sernin is constructed to serve as a haven for devotees to say their prayers and honor the savior. This iconic church in Toulouse is one of the most famous pilgrimage sites in the city, and it conducts mass every day of the week, one at 9am, and the other at 6:45pm. Your visit will not be complete without attending the mass.
Be fascinated by the relics in the Basilique Saint-Sernin
Throughout the years, Basilique Saint-Sernin has gathered significant relics and made the church a safe home for them. These relics include belongings and fragments of the body of late bishops that used to administer the church. Some of them are even as valuable as objects that Christ was associated with, during his time on earth, including the true cross and the Holy Thorn.
Things to buy
Books
The Basilique Saint-Sernin has a lovely little gift shop called Boutique de la Basilique, and it is located on the south side. After a self-fulfilling tour of the church, complete your visit by purchasing a remarkable book that is written in relation to Basilique Saint-Sernin. The boutique carries interesting books from different authors. Some of them are Architectures of Romanesque France, The Symbols by Nathalie le Luel, The paths of Santiago de Compostela by Georges Courtès, Visiting Saint-Sernin, Quitterie & Daniel Cazes, and a whole lot more.
Cards and bookmarks
If you are not the bookworm type of person, you can buy a card or a bookmark to remember your Basilique Saint-Sernin visit. These cards are designed to reflect the image and features of the church, and visitors have so many options to buy. They have Saint-Sernin cards, classic format, Saint-Sernin cards, long Larrey cards, classic format Arcabas card, and more.
Travelers tips
Dress modestly
Just like other sacred places of worship, proper attire is observed at Basilique Saint-Sernin for everyone visiting the church. Visitors are expected to dress modestly. Avoid clothes that reveal too much skin, including sleeveless tops, clothes with a low neckline, mini skirts, short shorts, and things like those. For footwear, you might want to wear something casual, but not too casual. Slippers are frowned upon. A safer choice will be covered shoes. Lastly, you might want to consider ditching accessories that cause too much noise, as they may distract other visitors who are deep in their prayers.
How to get there
There are several ways you can reach Basilique Saint-Sernin when you visit Toulouse.
Take the bus
There are buses that snake through the Toulouse, and some of them have stops near the Basilique Saint-Sernin. When you hop on a bus in the city, wherever you are, be sure to choose a bus with any of these signage, Bus-12, Bus-14, Bus-23, Bus-29, and Bus Aero. If you want to head directly to the station and take the ride there, you can head over Basso Combo, Metro Ramonville, Mirail University, Paul Sabatier University, and Toulouse-Blagnac aeroport.
By metro
Another cheaper way to get to Basilique Saint-Sernin is by taking the metro. Be sure to hop on a Metro-A or Metro-B, as either of them passes near Basilique Saint-Sernin. Metro stations are located in Basso Cambo, Metro Ramonville, Mirail University, Paul Sabatier University, and Aeroport Toulouse - Blagnac.
Hail a cab
Just like other cities in France, Toulouse has taxi rides that are convenient for commuters, especially for tourists who are not familiar with the city routes. Just be prepared to pay a higher fare compared to the bus and the metro.
Basilique Saint-Sernin, Toulouse information
Basilique Saint-Sernin, Toulouse

Address: Place Saint-Sernin, 31000 Toulouse, France

Opening hours: 8:30am - 7pm (daily)

Official website: Basilique Saint-Sernin, Toulouse

Department of tourism: Visit Toulouse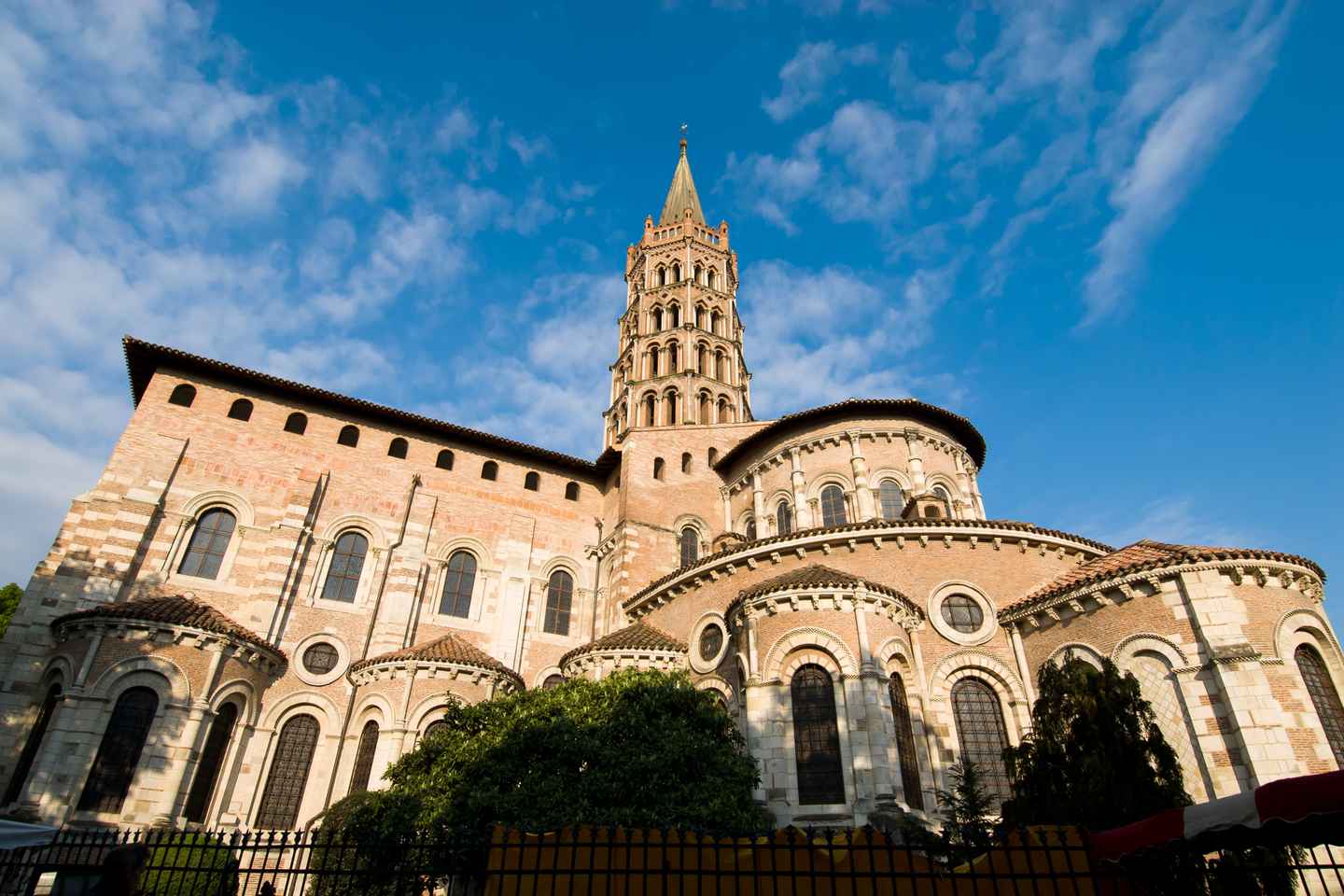 Duration: 2 hour
Disclosure: Trip101 selects the listings in our articles independently. Some of the listings in this article contain affiliate links.
Get Trip101 in your inbox
Unsubscribe in one click. See our Privacy Policy for more information on how we use your data