Hong Kong is the city of colors whether it is day or night. Its gorgeous red temples, crystal blue ocean, and golden Buddhas gives a beautiful site during the day. But nighttime takes these colors and enhances them ten-fold. It has a vibrance that cascades through the skyscrapers and echoes along the ocean during the night. But nowhere in the world illuminates the night sky better than Hong Kong. Here is the list of the top ten things to do during the nighttime in this magical city.
1. See the Hong Kong light show
Hong Kong shows off its incredible skyline like no other big city, with a light show that breaks Guinness World Records. A Symphony of Lights is a mixture of light showcasing, fireworks, music and lasers that are broadcasted from different buildings around Hong Kong. If you want to immerse yourself in the full experience with a panoramic view, the best seats in the city are at the Victoria Harbor. Light up your trip in Hong Kong at 8 pm every day if weather permits.
Symphony of Lights

Address: Victoria Harbor ferries, Tsim Sha Tsui waterfront, the promenade at Golden Bauhinia Square in Wanchai

Website: Hong Kong Tourism
2. Go to a night market at Temple Street
Don't miss the chance to get killer deals at the night market on Temple Street. This iconic area has been featured in countless movies and is a must-see for travelers in the area, for an enriching and different experience. Temple Street has it all, from electronics, art and crafts, to furniture, food, fashion, and antiques. Entertainment also comes out at night with opera singers, fortune tellers, street performers and great opportunities to people watch.
Temple Street

Address: Kansu Street and Jordan Road, Mongkok, Kowloon, Hong Kong, China

Website: Temple Street
3. Experience a circus themed bar at Ophelia
Ophelia is a popular bar in Hong Kong created by Ashley Sutton, a famous designer, who is known for creating unique bars all across Asia. The lavish decorations, peacock theme, circus performances, and fun drinks give this place a 10/10 in ambience. The exotic bar will definitely be one of the craziest, most whimsical, and gorgeous atmospheres you will encounter in Hong Kong nightlife, making you feel like you are in a dream.
Ophelia Bar

Address: Shop No41A, 1/F The Avenue, 200 Queen's Rd E, Lee Tung St, Wan Chai, Hong Kong, China

Website: Ophelia
4. Bet on a lucky horse at the iconic horse races
If you ask a resident of Hong Kong what a popular thing to do at night in Hong Kong is, one of the responses will definitely be see the horse races. These races are pretty much a massive party and a concert, mixed in with gambling on the fastest steed. The fun atmosphere will give you and your fellow travelers a memorable time. Go to the Happy Valley Race Course at a very affordable price on Wednesdays for live music, a good sporting event, and a picturesque backdrop with the surrounding Hong Kong skyscrapers.
Happy Valley Race Course

Address: The Hong Kong Jockey Club Happy Valley Racecourse, Wong Nai Chung Rd, Happy Valley, Hong Kong, China

Website: Happy Valley Race Course
5. Go squid fishing
Many coastal cities around the world offer the fun experience of deep sea fishing. However, Hong Kong offers a unique experience to go squid fishing. Squid fishing is an important commodity in Asian coastal cities and a great opportunity for travelers to learn. Not only is squid tasty but squid fishing is a beautiful site to see when you look into the ocean and see boats lit up to attract the squid with tints of blues, greens and white.
Squid Fishing

Address: 20/F, Hong Kong Trade Centre, 161 Des Voeux Road Central, Central, Hong Kong, China

Website: Jubilee Tours
6. Bonfire on the beach
The beaches in Hong Kong are incredibly beautiful but the fun doesn't have to stop when the sun goes down. Gather your fellow travelers and Hong Kong locals you have met along the way, for an amazing social setting. A bonfire on the beach not only provides you with the perfect ambience for a great night, but also it provides spectacular views of the city skyline.
7. Embrace amazing views from rooftop bars
When visiting Hong Kong, I can't emphasize enough to take advantage of those amazing city/waterline views. If you love rooftop bars, this is definitely the best city to experience them in. Ozone, Aqua Spirit, and Ce La Vie are bars that can give you those million dollar views. The Ozone is a posh bar with décor that will give your sightseeing experience a lot of glamour. Aqua Spirit is a modern restaurant and bar with a perfect ambience and dim lighting, to really see the sparkle of the city. Cie La vie is a true rooftop bar that is outdoors and has a lovely rustic theme. Great drinks, pretty ambience, and breathtaking views sounds like a perfect night out.
Ozone Bar

Address: Elements, International Commerce Centre (ICC), 1 Austin Rd W, West Kowloon, Hong Kong, China

Website: Ozone
8. Go clubbing at Dragon-i
Photo is only for illustrative purposes
We couldn't complete this list without providing an option for those travelers who need to get their dance on. Those who are in their element at night, go to Dragon-i to dance the night away. The chic club's classy style is what makes it one of the best options in the club scene around Hong Kong. Some of the biggest DJs come to perform here and the club is always hopping with people.
Clubbing

Address: The Centrium, 60 Wyndham St, Central, Hong Kong, China

Website: Dragon-i
9. Take a spin on The Hong Kong Observation Wheel
The Hong Kong Observation Wheel is a 60 meter (197 foot) tall Ferris wheel that stands above the Victoria Harbor. This wheel is best to experience at night and has food and drinks around the area. The views have travelers in awe, with the beautiful reflection of the city on the water. Keep an eye out for special events happening around the Ferris wheel!
Ferris Wheel

Address: 33 Man Kwong St, Central, Hong Kong, China

Website: Hong Kong Observation Wheel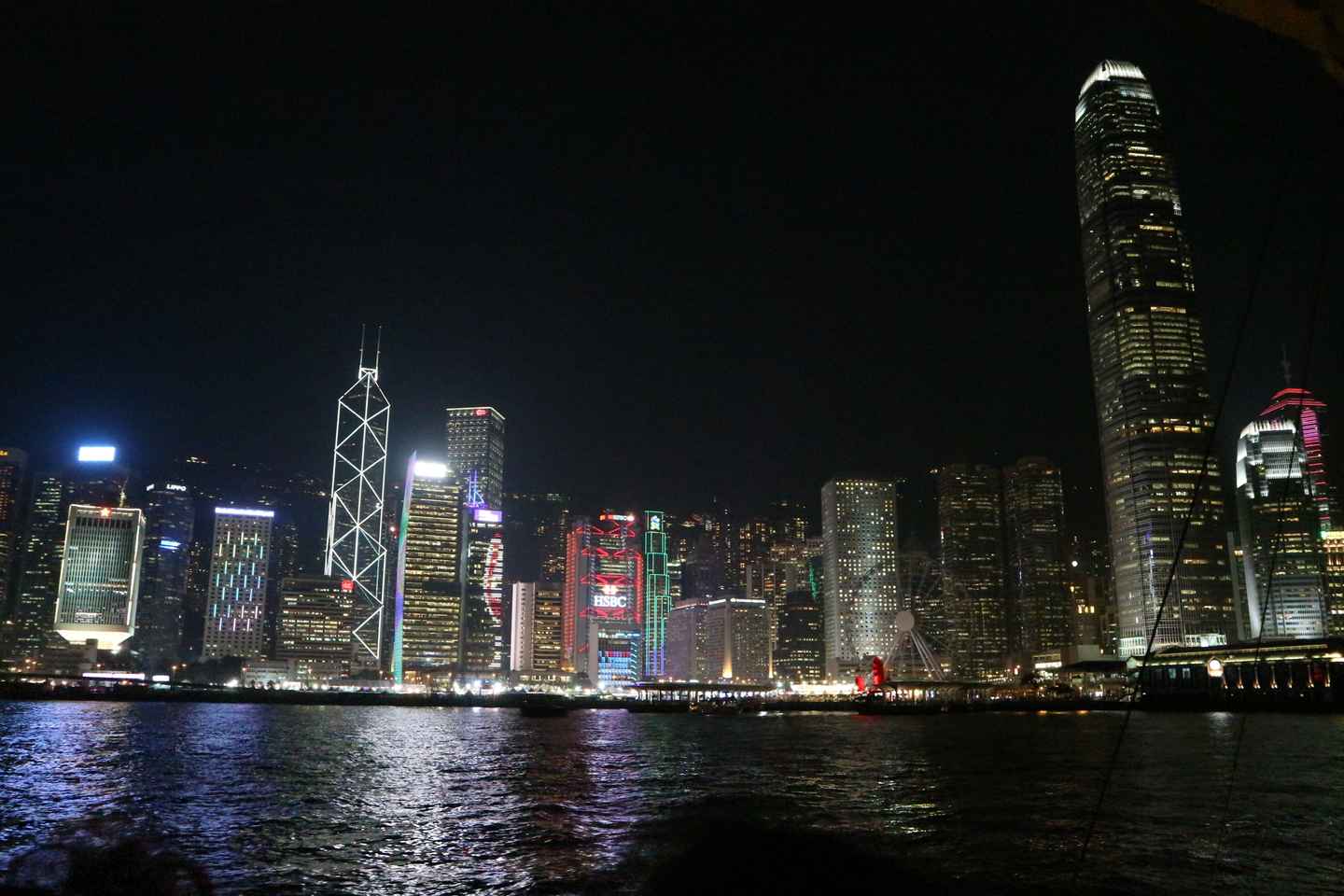 There could not be a better way to see the city than taking a dinner cruise along the harbor. Get a panoramic view while munching on delicious Cantonese food and yummy drinks. For those who want a more chill night, this would make a perfect setting. A great choice for families, couples and friends!
Dinner Cruise

Address: Aqua Luna pick-up point at Central Pier 9, Tsim Sha Tsui Public Pier 2, Wanchai Public Pier and Hung Hom Public Pier

Website: Aqua Luna
Hong Kong by Night: Harbour Cruise, Dinner, & Night Market

Duration: 5.5 hour
Great for everyone to enjoy
Hong Kong is a great destination for families, couples, friends, or even strangers to meet one another. The vibrant city has a great mix of the traditional and the modern, for everyone to enjoy. Between the Cantonese food, beautiful views, hikes, activities and beaches, it is the perfect city to fall in love with.
Disclosure: Trip101 selects the listings in our articles independently. Some of the listings in this article contain affiliate links.
Get Trip101 in your inbox
Unsubscribe in one click. See our privacy policy for more information on how we use your data