Paihia, the tourist hub of the Bay of Islands, serves as an outstanding base to explore many islands. Not only it does offer easy access to almost 144 islands forming the Bay of Islands, but also provides an excellent glimpse of New Zealand's Maori culture. It is a perfect example of a place where the rich heritage blends well with modernity.
Whether it is enjoying recreational water activities, island hopping, or acquainting in the rich culture, Paihia offers it all. It also presents one with an abundance of accommodations. Untraditional stays such as Airbnb vacation rentals are aplenty here. The available Bookabach holiday homes are also quaint stays that are worth checking out. There's no doubt why Pahia is fondly remarked as the Jewel of the Bay of Islands. To have an immersive experience in this bustling coastal town, here are the best things to do in Paihia, New Zealand.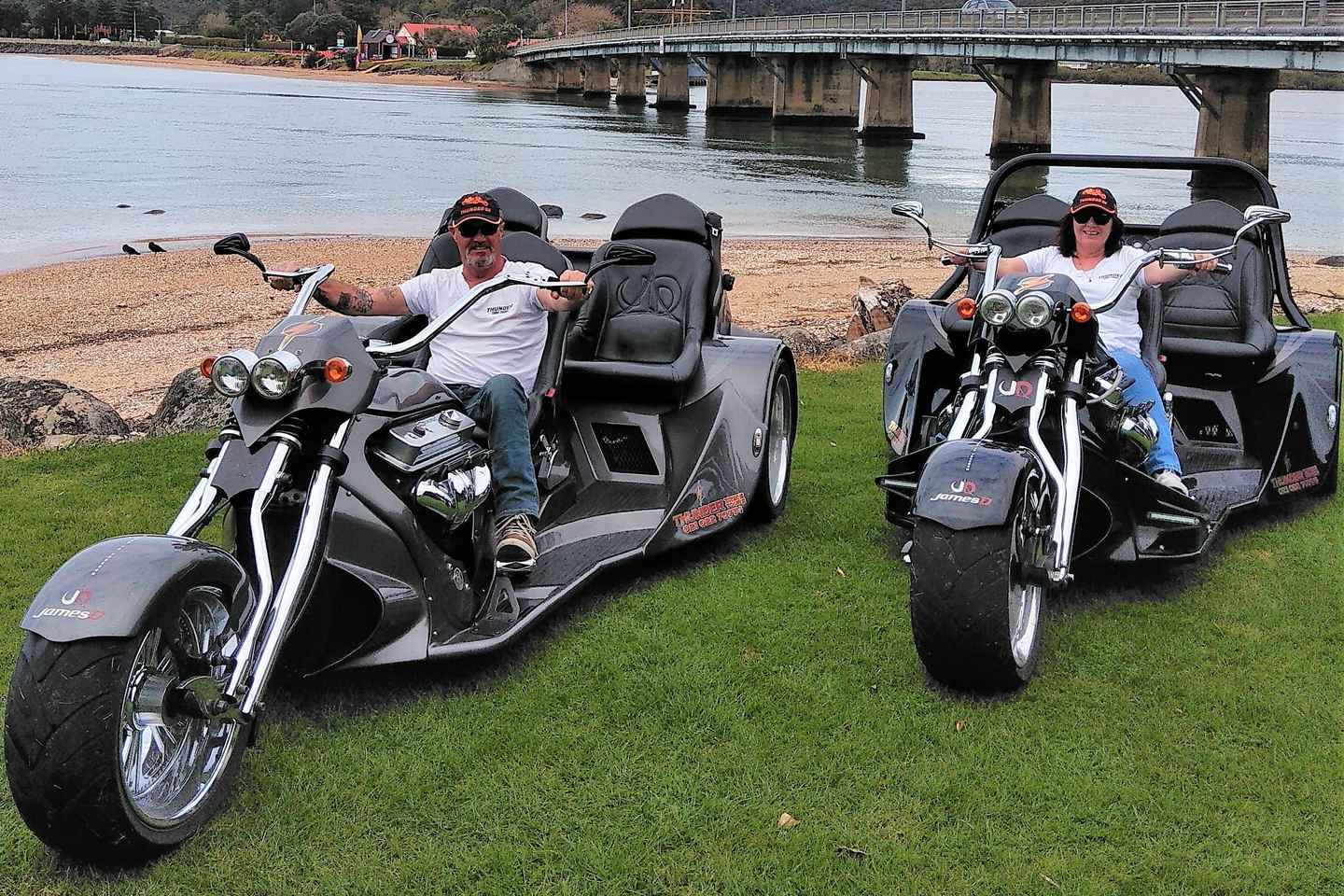 Embarking on a trike ride to explore the Bay of Islands in Paihia is a thrilling and unique way to discover the natural beauty and scenic wonders of this stunning region in New Zealand. The Bay of Islands provides the perfect backdrop for an unforgettable adventure with its stunning coastline, pristine beaches, and lush landscapes.
The trike ride allows you to experience the freedom of the open road while enjoying the panoramic views. As you zip along the winding coastal roads, you'll be treated to breathtaking turquoise waters, secluded bays, and verdant hillsides. Along the way, you can stop at various points of interest, such as historic sites, charming villages, and picturesque lookout points.
Duration: 30.0 to 1.0 minute
2. Walking on the boardwalk to Haruru Falls
From Waitangi Treaty Grounds, you can take the boardwalk and walk through the mangroves to reach Haruru Falls. Once New Zealand's first river port, today Haruru Falls has become a popular tourist attraction in Paihia, especially during the rains. It offers a spectacular view of a magnificent mass of water continuously pouring over the drop.
You can also go for a kayaking tour and paddle all the way up to the falls. These falls definitely provide an amazing backdrop for taking photos.
Haruru Falls

Address: 80 Haruru Falls Rd, Waitangi 0204, New Zealand

Opening hours: 8 am - 5 pm

Website: Haruru Falls
3. Indulging in aerial tours
Paihia offers a range of water activities to choose from. You can either go on a tandem parasail flight and enjoy 360-degree views of the Bay of Islands or take a helicopter flight to soar high above the islands and get a bird's eye view of the 'Hole in the Rock'. The best part is that you can choose either a single parasail flight and have your own flying experience or a triple parasail flight and experience the thrill with your loved ones.
For more fun, you can check out some of the best activity providers in the area. Salt Air Tours is a popular company that offers helicopter tours while Flying Kiwi Parasail is known for providing safe and fun parasailing activity in the Bay of Islands.
Salt Air Tours

Address: Marsden Rd, Paihia 0247, New Zealand

Opening hours: 8 am - 8 pm

Price: from 250 USD for adults

Website: Salt Air Tours

Flying Kiwi Parasail

Address: Paihia Wharf, Marsden Rd, Paihia 0200, New Zealand

Opening hours: 8 am - 8 pm

Duration: around 1 hour 15 minutes

Price: from 115 USD for adults

Website: Flying Kiwi Parasail
4. Engaging in water activities
A scorpion fish doing it's best impression of a wide mouth frog. 😅 We had some great diving today in Deep Water Cove,...

Posted by Paihia Dive on Friday, 12 May 2017
Paihia is also famous for its snorkeling and diving activities. It gives you a chance to experience the colorful underwater world and also swim with shoals of fish. For beginners, there are many diving institutes such as Paihia Dive that offer a number of professional diving courses. The guides even share with you with their immense knowledge about the abundant marine life that is found around the Bay of Islands. There are plenty of challenging dives for the experienced divers as well such as the Rainbow Warriors wreck dive or the cave dives. You can simply contact the diving institutes and opt for one of their many tours.
Paihia Dive

Address: 7 Williams Rd, Paihia 0247, New Zealand

Opening hours: 7 am - 6 pm

Offers: Reef diving, Rainbow Warriors wreck diving, dive courses, snorkeling

Price: from 140 USD for adults

Website: Paihia Dive
5. Exploring Urupukapuka Island
Urupukapuka is the largest island in the Bay of Islands. You can reach this place either by a water taxi, ferries or through one of the boat tours. This island is home to a number of birds and animals such as dotterel, paradise duck as well as oyster catcher that are mainly found in this region. Waters around the island are pristine and perfect for diving as the sea-bottoms are endowed with beautiful corals. It is also an ideal place for nature camping or walking excursions.
Urupukapuka Island

Address: Island in Russell, New Zealand

Website: Urupukapuka Island
6. Basking in the beauty of picturesque Paihia Harbor
Paihia Harbor is popular for the picturesque views and amazing eating options it offers. A number of cruise tours begin their journey here going to different islands in the Bay of Islands. If you're curious what are some of the best things to do in Paihia at night that you can try, these tours are definitely worthy of your time.
Moreover, it also hosts a number of watersport activities like kayaking as well as paddle-boarding. You can even opt for a fishing trip from this harbor. While enjoying the stunning views of the harbor filled with yachts, you can also enjoy delicacies like fish and chips or beef steak in one of the waterfront cafes.
Paihia Harbor

Address: Paihia Harbor, Bay of Islands, Paihia, New Zealand
7. Paying respects to Tane Mahuta kauri tree at Waipoua Forest, Hokianga
The nature lovers can take a day trip to Hokianga's Waipoua Forest, which is a 2 hour drive from Paihia. The most popular of all kauri forests of New Zealand, this forest houses some really huge Kauri tree and colorful ferns. Tane Mahuta, the famous largest living kauri tree in New Zealand is located here. This tree is over 2,000 years old and is revered as the Lord of this Waipoua Forest. For a truly mesmerizing experience, you can hire a local Maori guide for a walk through the forest at night.
Waipoua Forest

Address: Waipoua Kauri Forest 0376, New Zealand

Opening hours: Open 24 hours

Website: Waipoua Forest
Waitangi grounds, also famously known as the 'Birthplace of the Nation,' is where the treaty of Waitangi was signed between the British royalty and Maoris in 1840. Here you can go walking on one of the many trails in the extensive forest reserve. However if you wish to acquire more information about the history and culture of the place, go for a guided tour as the tour guides are really enthusiastic and informative. A visit to the museum also adds to the knowledge about the rich Maori culture. What steals away the show is the entertaining cultural performance at the end of the tour.
Waitangi Treaty Grounds

Address: Tau Henare Dr, Waitangi 0293, New Zealand

Opening hours: 9 am - 5 pm

Price: from 40 USD for adults

Website: Waitangi Treaty Grounds
This is one of the most highly rated local adventures. You can arrange a 3 to 4 hour cruise boat or yacht tour from Paihia Wharf and set out on an exhilarating adventure on the deep blue sea to Piercy Island. As the cruise navigates through the natural rocky sculptures and array of islands, don't forget to keep an eye out for the diverse marine life such as the whales, dolphins, penguins and seals. During the summer months, the cruise makes a short stopover at Urupukapuka Island where you can either swim in the pristine blue waters or simply relax on the beach.
Hole in the Rock Cruise (Dolphin Cruise)

Address: Fullers Great Sights Bay of Islands, Maritime Building , Paihia, Northland, New Zealand

Opening hours: Business Hours; Cruises twice daily

Price: from 105 USD for adults

Website: Hole in the Rock Cruise
Duration: 48 hours
Dip into New Zealand's rich history through Kerikeri, the Northland town near Paihia full of charms and colorful past which has now become a popular tourist destination. On this half-day excursion, you will get to visit a boutique vineyard and sample their organic wine and coffee. Next, see traces of European architecture and finally, visit the boutique Makana Chocolate Factory, where you can also have a sample of their sweets.
With an ambiance as vibrant as mentioned above, it's hard to believe that back in the early 1800s, Kerikeri was once terrorized by Maori chief Hong Hika. You'll learn about this and more during the tour.
Duration: 3 hours
A vacation to remember
Paihia never runs out of its charm to surprise travelers. Whether it is through its golden sand beaches, its diverse flora and fauna, or its culture, it manages to keep one enticed. The place has the power to turn your vacation into one of the most memorable ones. Just come and experience these activities in Paihia for yourself.
Frequently asked questions about the best things to do in Paihia, New Zealand
1. What are the top attractions in Paihia?
No trip to the stunning town of Paihia is complete without seeing its best sights. These attractions include: i) Haruru Falls, ii) Urupukapuka Island, iii) Paihia Harbor, and iv) Waipoua Forest, Hokianga.
2. What are the best outdoor activities in Paihia?
To further enjoy the sun in this part of new Zealand, you can consider doing these activities: i) riding a trike to explore Bay of Islands, ii) walking on the boardwalk to Haruru Falls, iii) engaging in water activities, and iv) exploring Urupukapuka Island.
Any must-sees we missed? Tell us about them in the comments section or write a post
here
to help out fellow travelers!
Disclosure: Trip101 selects the listings in our articles independently. Some of the listings in this article contain affiliate links.
Get Trip101 in your inbox
Unsubscribe in one click. See our Privacy Policy for more information on how we use your data