Its shows and theatrics are known around the world, it has one of the most renowned ballet companies on the planet, and its facade is even on the 100 Russian ruble banknote. The building is the legendary Bolshoi Theatre. Bolshoi Theatre and Opera are some of the biggest in the world with over 200 performers—with performance schools located all around the world where artists train. The theater comany was built in 1776 when Catherine the Great granted a prince the authority to organize theatrical performances. By 1821, the construction of Bolshoi Theatre started after the first theater burned down. Over the years, the building underwent some changes and renovations such as after WWII, when a bomb went off near it. If you're looking to experience historic Russia, here is a guide to Bolshoi Theatre.
Things to do
The historic Bolshoi Theatre offers a great experience for people visiting Moscow—even though they may not necessarily want to watch a show. The theater provides tours and is home to a museum for those looking to explore the iconic theater in some way and learn about its history—from Catherine the Great to the modern era.
Take a tour
Bolshoi Theatre is open to guests who wish to see the legendary center of the arts and learn a little about Russian history and its connection to the structure. Learn about the various renovations that have happened here since the 19th century, what goes on behind the scenes for a performance, and what it takes to become a performer at the theater. Tours can be done in either Russian or English and are held on Tuesdays, Wednesdays, and Fridays. These tours are approximately an hour long and cost 2,000 rubles (32 USD).
Visit the museum
Bolshoi Theatre is home to a museum that is dedicated to preserving Russian art and culture. It has also served as a haven to the various musicians, performers, and outstanding artists that have come through its doors. The museum opened in 1918, with its first exposition held in 1921, dedicated to dresses and costumes. Today the museum houses a host of valuable things, such as important documents, photographs, and artifacts like costumes and mockups. There are over 200,000 different historically significant pieces shown here that span from the 19th to the 21st century.
Catch a show
No trip to Bolshoi Theatre is complete without actually catching a show. The theater has shows just about every day, usually twice a day, alternating between operatic performances and ballet. Catch a show or a symphony and feel like you're a part of history at Bolshoi Theatre. Tickets typically range between 100 rubles (1.50 USD) to 15,000 rubles (238 USD). A list of upcoming shows can be seen on the website.
Things to buy
DVDs
Whether you're a big fan of a certain ballet or theatrical production, or maybe you've just watched a show and you're looking for a great souvenir to remember it, a DVD copy of the performance is a great idea. Bolshoi Theater has a host of DVD collections featuring its most iconic shows, like Romeo and Juliette, Spartacus, and the Russian favorite The Nutcracker.
Opera glasses
For a gift that theater lovers out there will certainly love, why not buy a pair of authentic opera glasses. For a pretty affordable price of 40 USD, these glasses are modeled after the classic design of opera glasses—complete with chain and gold styling. They are elegant and charming and useful too as you can view the performers up close and see the set and the costumes in a whole new way. It comes with a carrying case emblazoned with the Bolshoi facade on it.
Trinkets
The Bolshoi Theater gift shop has you covered if you're looking to pick up a little souvenir. Whether you're looking to buy something for yourself or a little gift for a friend, there are great options here. Things like ballerina keychains and magnets with images of the theater make a great souvenir or gift. The place also has cardholders, pocket mirrors, and T-shirts all depicting the splendor of Bolshoi.
Travelers tips
Restrictions on attire
In the old days, a night out to the theater meant that dressing up was the way to go. Men in their black-tie outfits and women in their finest evening attire were the norm, but now that isn't the case anymore. Because many people come to the theater after work and may not have a lot of time to spend dressing up, Bolshoi has looser restrictions on attire. However, there is still a dress code. Shorts and T-shirts are not allowed, and women are asked to dress with modesty.
Access for the differently abled
The entire theater is outfitted with ramps and lifts for those with mobility-related issues so they can enjoy the shows in comfort. There are also PWD-friendly bathrooms on every floor.
How to get there
By car
Access to the theater by car is easy, with parking available nearby as well. Both Mokhovaya Street and Tverskaya Street lead right up to the theater. Petrovka Street is a one-way route but leads right up to the theater as well.
By metro
Taking the metro might be the easiest way to get to Bolshoi, and with Moscow's beautiful and affordable public transit system, taking the metro is an experience in itself. Get off at Teatralnaya (which is the Bolshoi exit) or Okhotnyi Ryad (which is located on Theater Square). Tickets cost around 50 rubles (0.80 USD) for a one-way trip.
How to get tickets
Getting tickets can be done in person at the box office or through the website, where you can see the schedule of events as well.
Bolshoi Theater information
Bolshoi Theater

Address: Theatre Square, 1, Moscow, Russia, 125009

Official website: Bolshoi Theater

Board of tourism: Russia Tourism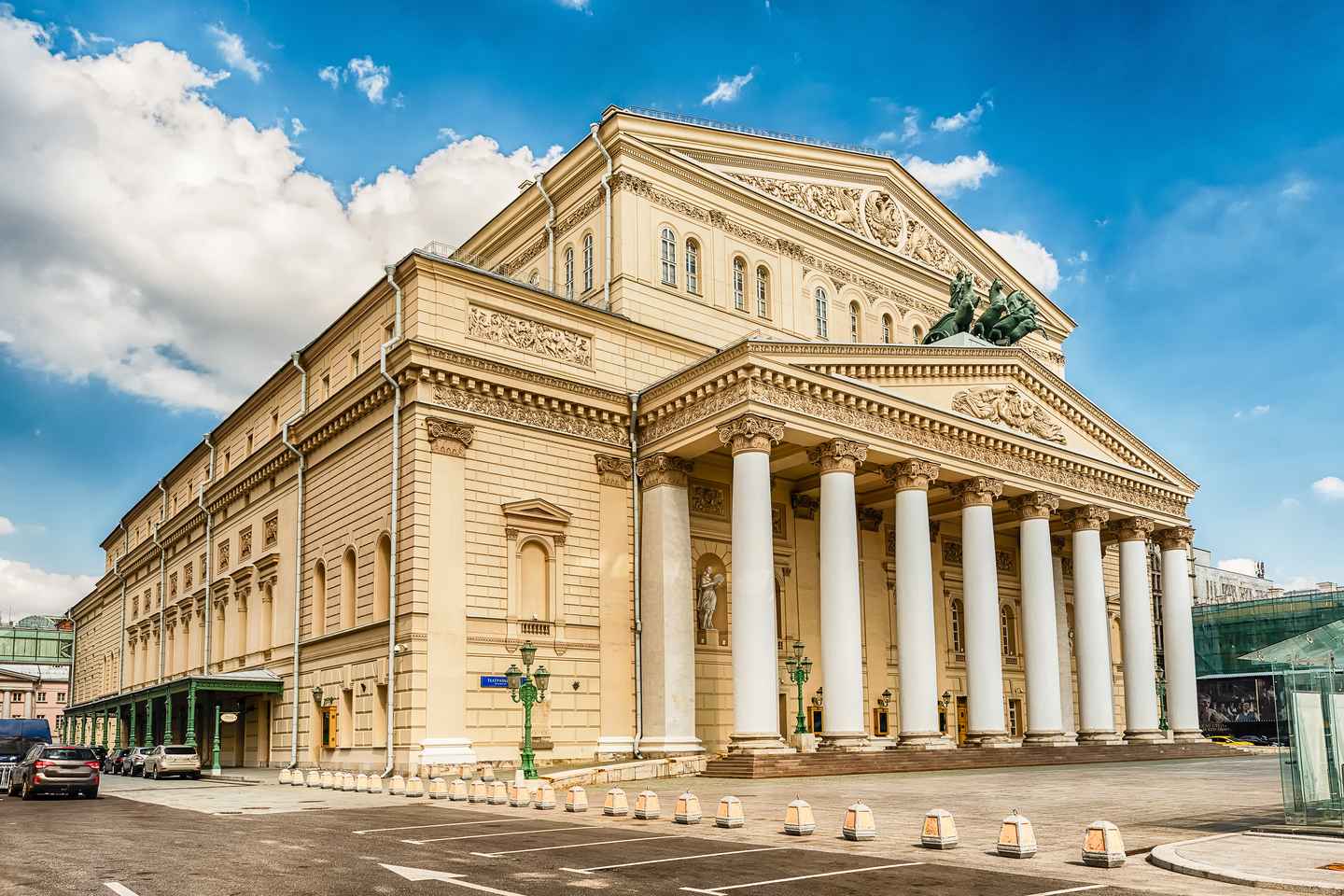 Moscow: 2–Hour Legendary Bolshoi Theatre Historical Tour

Duration: 2 hour
Disclosure: Trip101 selects the listings in our articles independently. Some of the listings in this article contain affiliate links.
Get Trip101 in your inbox
Unsubscribe in one click. See our privacy policy for more information on how we use your data