Moscow is a city unlike any other. With a population of 13 million, it is the largest city in Europe and one of the biggest in the world. In addition to its size, Moscow is a city of great cultural importance. It has long been the political center of Russia and has seen much upheaval in its history: the elegant homes of the tsars' gave way to the proud, utilitarian buildings of the Soviet Union. The city has a number of amazing places to stay in since in recent decades Moscow has committed itself to rebuild the city. Its famed landmarks that were torn down are symbols of its glorious past. Many are now reconstructed - soaring cathedrals and ornate palaces have helped replicate Moscow's glory days. If you're wondering where to stay in Moscow, you'll be glad to know that this city has a number of amazing options - from luxe hotels to some of the best hostels. Read on for a list of the most famous buildings in Moscow, and be sure to see them when you visit this great city.
1. Central Moscow Hippodrome
This large racetrack has been in operation for almost 200 years, and once welcomed emperors and Russian imperials. The current building dates to 1955 and is an impressive example of Stalinist architecture. The front of the Hippodrome is a long building which has a three-story tower topped with a horse-shaped belvedere on one end, and a colonnade on the other. The inside of the Hippodrome is just as impressive as the exterior. It has seats for over 3,500 spectators to watch horse racing during the summer and trotting races year round.
Central Moscow Hippodrome

Address: Begovaya Ulitsa, 22, корп. 1, Moskva, Russia, 125284

Website: Central Moscow Hippodrome
This soaring white structure with gold-plated domes is the tallest Orthodox Christian church in the world and it dominates the city's skyline. It appears almost identical to the original church on this site, which was finished in 1883 only to be demolished several decades later in 1931. It was supposed to be replaced by the Palace of the Soviets, which was never constructed. Instead, after the fall of the Soviet Union, the Cathedral of Christ the Savior was rebuilt in all its glory, and updated with modern building materials, air conditioning, and elevators. The only way to see the inside of this cathedral is on a guided tour, but the panoramic view of Moscow from an observation deck makes it even more worth visiting!
Cathedral of Christ the Savior

Address: Ulitsa Volkhonka, 15, Moskva, Russia, 119019

Website: Cathedral of Christ the Savior
Private Cathedral of Christ the Savior Tour with Observation Platform Access

Duration: 2hrsDuration
The Monument to the Conquerors of Space is a towering obelisk commemorating Russia's accomplishments in space travel and the men and women who made them happen. The monument is a soaring structure, similar to the many unique skyscrapers in Moscow. It is made out of titanium that curves upward much like a rocket launching into the atmosphere. At its base is a memorial poem and at the top is a rocket, giving the effect that the entire obelisk is the exhaust from a spacecraft taking off. While you're visiting the monument, stop by the Memorial Museum of Cosmonautics nearby, which will give plenty of information about Russia's history in spaceflight.
Monument to the Conquerors of Space

Address: Prospekt Mira, 111, Moskva, Russia, 129223
Moscow: Cosmonautics Museum & VDNKh Private Space Tour

Duration: 4 hour
Just a few kilometers away from the Red Square, you will find Kolomenskoye, a large museum reserve full of original historic buildings, unlike some of the recreated places in Moscow. There are two wooden fortresses which are incredibly rare to find in Russia, as well as a wooden church. You can go inside these buildings to see how their inhabitants lived and look at the church's ancient frescoes. The oldest building that has continually existed at Kolomenskoye is the Ascension Church, which dates back to 1532. It is a stone church with a tall steeple built to commemorate the birth of Ivan the Terrible.
Kolomenskoye

Address: Andropova Ave, 39, Moskva, Russia, 115487

Hours: 9 am to 8 pm daily
Private Tour of Kolomenskoye Tsar's Estate and Wooden Palace

Duration: 4 hour
Looking at the intricate detail in the Palace of Tsar Alexei Mikhailovich, it's hard to believe that this building is a recreation and not the original. This stunning wooden palace is also located in Kolomenskoye, which was once a royal estate, and is one of the museum reserve's most impressive buildings. It is a large wooden structure with green roofs and onion-shaped turrets. The original palace was built in 1667 and had a staggering 270 rooms. It fell into disrepair and was demolished in 1768, but like many Moscow landmarks, was rebuilt in the 1990s. The reconstruction was based on archaeological and historical research, and it is a realistic replica to show visitors how a royal Russian family might have lived.
Palace of Tsar Alexei Mikhailovich

Address: Andropova Ave, 39, стр. 69, Moskva, Russia, 115487

Hours: Tuesday-Sunday, 10 am to 6 pm

Website: Palace of Tsar Alexei Mikhailovich
Private Izmalovo Tour with Flea Market and Kremlin

Duration: 2 hour
This fortified complex consists of buildings for many different purposes and is one of the most famous landmarks in Moscow. The President's Residence and administrative buildings are where the Russian government sits to this day, and are closed to the public. There are many other buildings in the Kremlin that are accessible to visitors, like the Armoury Chamber museum, which has over 4,000 exhibits. Visitors can also tour Cathedral Square, which has four beautiful cathedrals. There are also two former palaces at the Kremlin: the Grand Kremlin Palace and the State Kremlin Palace, which are open for tours.
Moscow Kremlin

Address: Moscow, Russia, 103073

Hours: 10 am to 5pm, Friday to Wednesday

Website: Kremlin Museums
Moscow: Kremlin and Red Square 3-Hour Private Guided Tour

Duration: 3 hour
7. State Historical Museum
This museum features exhibits that show the real rich history of Moscow. See the events that transpired during the early centuries of the Russian Empire and understand how they all shaped Russia into what it is now. Check out the vast European metal collection that showcases beautiful jewelry art, gold crowns, and golden cups. There are also manuscripts and books from the early age you might find interesting as well. Spend a whole day at State Historical Museum to explore all the collections and enjoy a fun and educational experience.
State Historical Museum

Address: Red Square, 1, Moscow, Russia, 109012

Website: State Historical Museum

Opening hours: Mon, Wed - Thu, Sun: 10am - 6pm; Fri - Sat: 10am - 9pm (closed on Tue)
8. Cathedral of the Assumption
Built in the 1470s, Cathedral of the Assumption is known to be the first temple in Russia. Significant ceremonies were performed here such as royal weddings and coronations. This grand place has been decorated with beautiful paintings depicting Mother Mary's life story. Get your cameras ready and take great shots right outside the church, with its famous golden domes. Visit the cathedral to understand and appreciate its significance in the early centuries.
Cathedral of the Assumption

Address: Moscow, Russia, 103073

Website: Cathedral of the Assumption
9. Igumnov House
This historic house is popularly known for its Neo-Russian architecture. Both the exteriors and interiors feature variegated tiles that are definitely hard to miss. It used to serve as a place of residence for the Igumnov family; however, the French government eventually took over, and so the house has been the official home of French ambassadors since 1979. When in Moscow, do not miss the opportunity to see this unique structure.
Igumnov House

Address: Ulitsa Bol'shaya Yakimanka, 43, Moscow, Russia, 119049
The Ostankino Tower is a TV and radio tower that is the highest freestanding building in Europe. If you're not afraid of heights, you'll be excited to learn that you can go up into the tower and observe Moscow from a bird's eye view! Be sure to book your ticket in advance, as only a certain amount of people are let in at any time. The lower observation deck is about 25 stories above the ground, and is open air, so be prepared for some wind while you're outside! The second observation deck is enclosed, but much higher—100 stories off the ground! This level also has a glass floor which you can stand on that will make you feel like you're flying! There is also a rotating restaurant which is a great place for a meal while peacefully watching the lights of Moscow.
Ostankino Tower

Address: Akademika Koroleva St, 15, Moskva, Russia, 127427

Hours: 10 am to 10 pm

Website: Ostankino Tower
Ostankino Tower Admission Ticket

Duration: 1 hour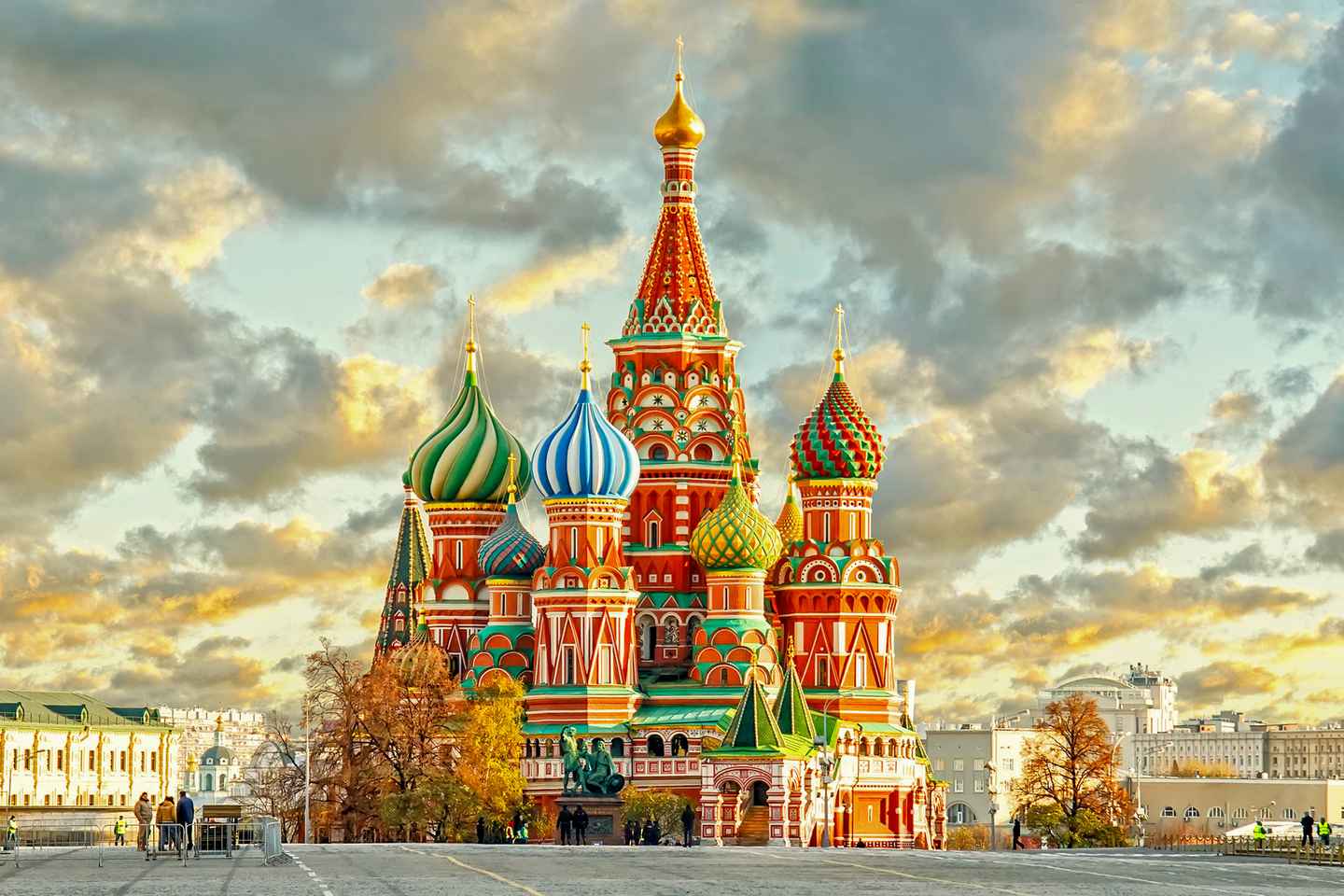 This former church is a symbol of the city and a stunning sight to behold. The building consists of nine chapels, which are peaked with onion-shaped, colorfully painted domes on the roof, and is one of the top places to visit in Moscow. A smaller, 10th chapel holds the crypt of the church's namesake, Vasily (Basil) the Blessed. What makes St. Basil so unique is how it captures the colorful architectural features of Moscow. It is so unusual that legend has it that its builders were blindfolded during it construction in the 1550s so that they couldn't create anything else like it. The interiors of the chapels are covered with colorful paintings and ornate decorations that are a must-see.
St. Basil's Cathedral

Address: Red Square, Moskva, Russia, 109012

Hours: 11 am - 5 pm

Website: St. Basil's Cathedral
St.Basil's Cathedral and Red Square: Private Tour and Ticket

Duration: 2 hour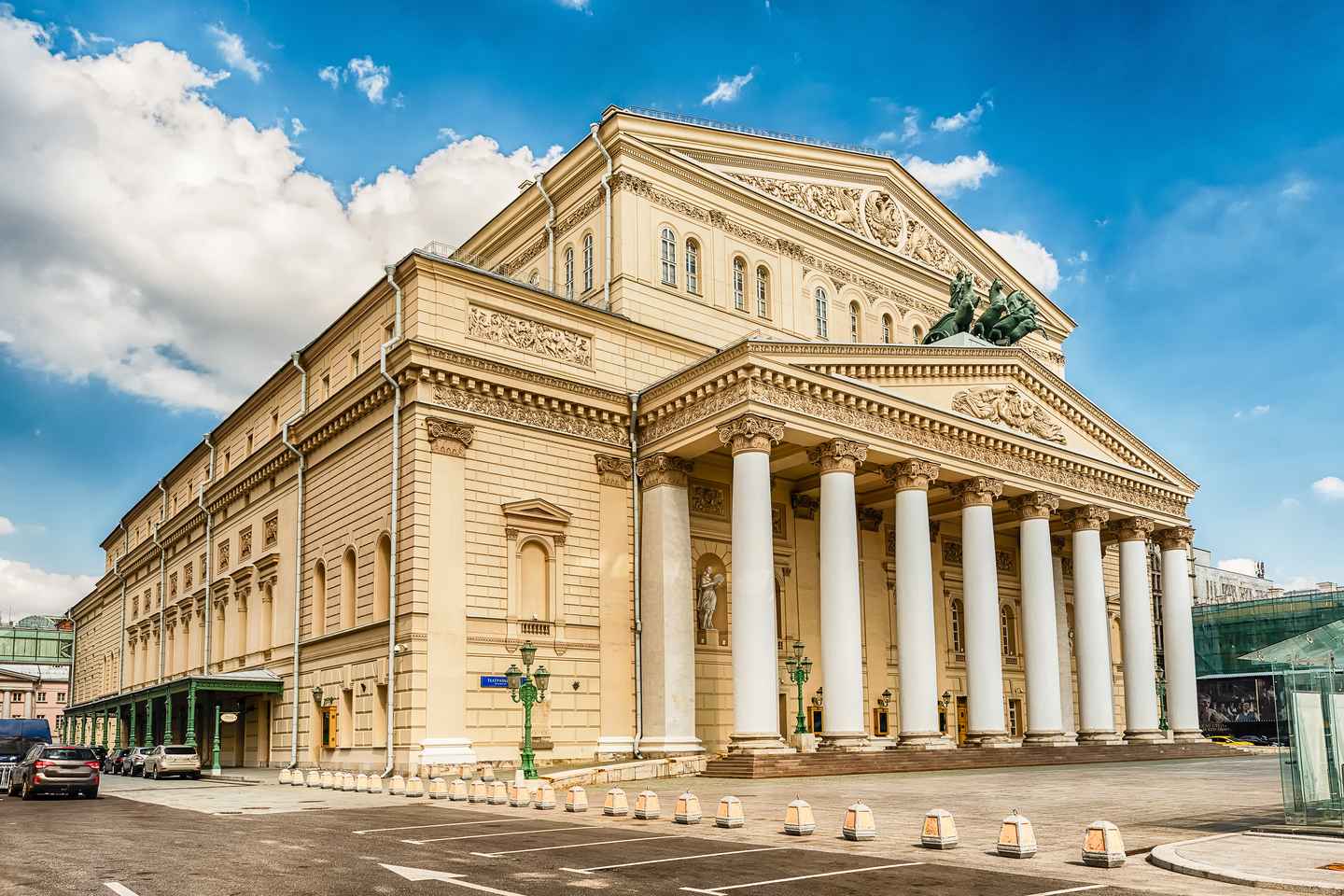 Bolshoi Theater in Moscow is a stunning neoclassical theater that has tall arches out front beneath a carved triangular pediment. Inside, your breath will be taken away by the theater's wraparound balconies and huge chandelier. You might even be lucky enough to catch a performance by the Bolshoi Ballet, the world's largest ballet company that calls this theater their home.
Bolshoi Theater

Address: Theatre Square, 1, Moskva, Russia, 125009

Website: Bolshoi Theater
Moscow: 2–Hour Legendary Bolshoi Theatre Historical Tour

Duration: 2 hour
When the Soviet government decided to demolish Kazan Cathedral in the 1930s, architect and restorer P. Baranovsky smartly recorded measurements of the cathedral before it was torn down. One of his former students arranged for the cathedral to be rebuilt in 1990, and the result is what we see today. They even recreated the Naryshkin Baroque design which utilizes contrasting colors like red, green, and white on the decorative arches. The Kazan Cathedral has flexible opening times and free admission, so be sure to add this church to your itinerary.
Kazan Cathedral

Address: Red Square, Moskva, Russia, 109012

Hours: 8 am to 8pm daily

Website: Kazan Cathedral
Church of the Savior on Blood, St. Isaac and Kazan Cathedral

Duration: 4 hour
A city proud of its heritage
Many cities and countries that have faced as much turmoil as Russia have sadly lost their most important landmarks. It is inspiring to see the efforts that have been made to rebuild the most treasured buildings and famous monuments in Moscow. Russia is a country that is proud of its history, and despite many obstacles, they are committed to preserving that history for years to come. Moscow is a city of stunning and unique architecture, and it is wonderful to see both the original buildings that still stand and the reconstructions that honor its past!
Frequently asked questions about the best architectural buildings in Moscow, Russia
1. Which are the best architectural buildings to visit in Moscow for couples?
Some of the best architectural buildings in Moscow that would be perfect to see on a day out or on a date would be the ornate and captivating St. Basil's Cathedral, the historic Bolshoi Theater, and the impressive Ostankino Tower.
2. Which are the best architectural buildings to visit in Moscow for groups?
Whether you're traveling with your friends or family, some of the best architectural buildings to see in groups are St. Basil's Cathedral, Moscow Kremlin, and State Historical Museum. You and your group will enjoy taking photos and strolling around their wide grounds.
3. What are the best places to see architectural buildings in Moscow?
If you want to cover a lot of ground on your visit, head to Red Square to see famous architectural buildings such as Saint Basil's Cathedral, Kazan Cathedral, State Historical Museum, and more. Afterward, head to Andropova Avenue to check out Kolomenskoye and Palace of Tsar Alexei Mikhailovich.
Editor's note: In light of the 2022 political and military situation in Russia, Trip101 urges you to be apprised of the latest news if you have any urgent plans to travel to Russia. Do note that some bookings and services have been suspended or may not be available at this moment.
Disclosure: Trip101 selects the listings in our articles independently. Some of the listings in this article contain affiliate links.
Get Trip101 in your inbox
Unsubscribe in one click. See our privacy policy for more information on how we use your data