Ah Fort Lauderale, Florida–the Sunshine State and land of the most magical place on Earth (hint: Disneyland), luxury hotels, and plush retirement communities for well-padded seniors. Boring and probably meant only those under seven or above seventy? Stop that thought right in its tracks because we at Trip101 are here to bust all your preconceptions. While Fort Lauderale certainly has all that mentioned above, it is also famous for its beachfront promenades, lively cultural scene, and beautiful people. Travelling a little way out also offers many attractions for the discerning traveller. Read on and take extensive notes from this (almost!) definitive list of the top day trips from Fort Lauderdale, Florida.
Travel over one of the longest bridges in the world, Seven Mile Bridge, to arrive at Key West in the Florida Keys and enjoy the sensation of zooming over crystal clear waters on both sides of this bridge. You might recognise Seven Mile Bridge from the Hollywood blockbuster, 2 Fast 2 Furious, one of the many popular movies filmed on the bridge. Upon arriving in Key West, most visitors make a beeline for Flagler Museum. The museum is a stately estate that used to be the private residence of Henry Morrison Flagler, one of Florida's most famous industrialists who connected the East Coast of America with his Florida East Coast Railway line. Henry Flagler was also the mastermind behind Seven Mile Bridge, which connects the various landmasses in the Florida Keys.
Fort Lauderdale to Key West Tour with Upgrade Options

Duration: 15 hours
2. Miami, FL
Miami, Florida is the glittering pulse of the state with its dizzying range of activities. Make a stop at Miami Beach for what locals love to do - tanning! The beach has an Art Deco-style neighbourhood dating back to the 1930s and makes for a nice place to spot the more unique architecture. Soak up some Cuban flavour in Calle Ocha, the heart of Little Havana and enjoy Latin American food, music, as well as art. Visit the glitzy Bayside Market along the Miami waterfront especially at night for a taste of the vibrant nightlight that this city enjoys!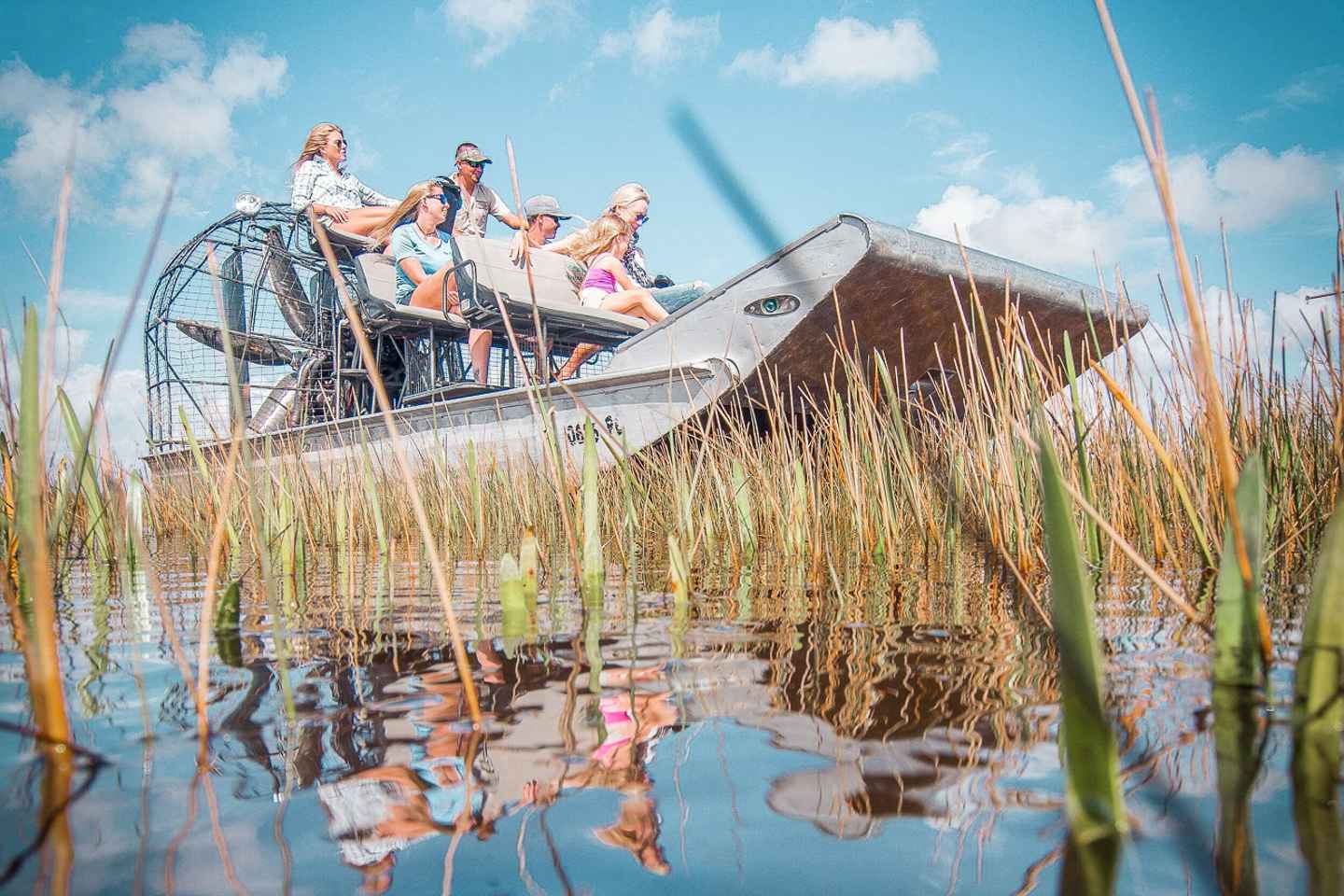 Take a journey on the wild side with a visit to Everglades National Park. It is the largest sub-tropical region in America and teems with wildlife that can be spotted if you are lucky enough. The swamplands in The Everglades are the best spot in Florida to see the famous gators and Florida panthers, in addition to a large variety of other wildlife. The swampland is also known as the River of Grass for its lush fields of sawgrass that create natural water passages by which visitors to Everglades National Park can travel by on a boat. The best time to visit the national park is from November to March when the weather is cool and dry.
Everglades National Park: Airboat Tour and Wildlife Show

Duration: 1.0 hour
Experience the beautiful Biscayne Bay on a cruise and enjoy a stunning view of Miami from the water! Most touring cruises will take you through the sparkling, blue waters of Biscayne Bay, where you will see the famous Miami downtown skyline and spot celebrity mansions along the way. For a taste of Floridian life, visitors should also try to sail past the luxurious Venetian Islands, Port of Miami, and Miami Beach with tanned and beautiful bodies surrounding it almost 365 days a year. Keep a sharp eye out as you cruise along Biscayne Bay as there have been numerous sightings of marine wildlife that abound in the waters!
Sightseeing Cruise of Biscayne Bay

Duration: 1 hour 20 minutes
Foodies, rejoice! Delray Beach, Florida is the stop for you. With a wide range of cuisines available and numerous award-winning dining establishments firmly planted in the area, you can literally eat with every step. Try everything from Mexican to Cuban, bespoke cocktails, craft beers, and even vegan cuisine! As you amble along the main street in town, learn about Delray Beach's history and check out the rich culture that is unique to the area of Baca Raton, with roadside art and buskers who add to the spirit of this town.
Delray Beach Craft Food and Drink Walking Tour

Duration: 3 hours
For those who want to get even closer to Mother Nature, consider exploring the natural scenery of Naples, Florida on a stand-up paddleboard! You can paddle along the mangrove backwaters of Naples or the sunny coast, depending on the day's weather. Keep a lookout for Florida's native marine wildlife along the way and marvel at the amazing variety of flora and fauna that grow in abundance along the water. No sweat even if you are a beginner to paddleboarding as this sport is pretty easy to pick up. Most paddle board schools also provide visitors with instructions and safety gear.
Naples Fl, Paddleboard Mangrove Forest Tour

Duration: 2 hours
7. Orlando, FL
No introduction is needed for Orlando, Florida as this is the spot where Walt Disney World Resort stands! The young and young at heart will love this gigantic theme park that is home to beloved characters such as Mickey Mouse and his friends as well as thrilling rides that will get your heart pumping. Choose from a number of differently themed parks within this mega-resort to visit or set aside a couple of days to see them all!
8. Sebring, FL
Sebring, Florida is known as "The City on the Circle" for a road in the heart of its historic downtown called Circle Drive. In a nod to the references to driving, Sebring is also famous for having hosted the 12 Hours of Sebring endurance race at Sebring International Raceway since 1950. However, the city is also known for its vibrant arts scene with many excellent galleries putting down roots in Sebring. Another popular attraction is Highlands Hammock State Park that boasts of 89 years in operation. As one of Florida's oldest parks, Highlands Hammock State Park is home to a number of endangered plant communities, black bears, and the native Florida panthers. Visitors can bike or hike through the park and take a tram tour to view the wildlife up-close.
Lake Okeechobee is a favourite of many fishing enthusiasts for its abundant population of largemouth bass. For many years, Lake Okeechobee has also won the title for the number one bass fishing spot in the world. The largest bass ever caught in Lake Okeechobee was from 1932. This monster of a bass weighed about 22 pounds and four ounces or about 10 kilograms! Try your luck and see if you can break this record. Those who occasionally enjoy some bird watching are also in luck as the lake attracts a significant number of migratory flocks at different times of the year.
Lake Okeechobee Fishing Trips Near Palm Beach Florida

Duration: 4 to 12 hours
Make Fort Lauderdale, Florida your gateway to a wealth of experiences
Dispel your notions of Florida being a place that only the young and old would have cause to visit! With Trip101's list of top day trips from Fort Lauderdale, Florida, enjoy a whole new world of experiences that are suitable for families, couples, friends, and even individuals. Start planning for a trip down south today!
Disclosure: Trip101 selects the listings in our articles independently. Some of the listings in this article contain affiliate links.
Get Trip101 in your inbox
Unsubscribe in one click. See our Privacy Policy for more information on how we use your data