Mandarmani is one of the largest seaside resorts in West Bengal, India. Those who fancy long drives by the sea will be delighted to know that this coastal town is home to the longest motorable beach in India, Mandaramani Beach. In your downtime, you can also enjoy leisurely walks and watch scenic sunsets on the 13-kilometer (8-mile) sandy stretch. The Delta, also locally coined as Mohana, is where the river meets the sea and is a great place to eat red crabs. It is situated on the outskirts of Mandaramani Beach, just 6 kilometers (4 miles) away.
Once done with your day, it is essential to find a place offering a peaceful retreat before embarking on your next day's pursuits. For your convenience, we've compiled this list of the best resorts with pool in Mandarmani, India.
This resort is nestled in a serene setting surrounded by verdant greenery and is a proud home to the largest swimming pool in Mandarmani. Comfort-filled cabanas and sun loungers encircle the pool area, offering guests a place to cool down. There is also a sunken bar beside the pool where you can grab cold refreshments between soaks and revel in happy hours.
Meanwhile, if you're keen to feel the sand under your feet, the property is about a six-minute walk from Mandarmani Beach. Cap off your night in the rooftop sky lounge called Sundowner for al fresco dining and craft cocktail tasting under the starry skies.



Address: Mandarmani Beach Road, Silampur, Mandarmoni, India, 721423
5.29 km (3.3 mi) from Mandarmoni Beach

Start your day with a complimentary American or vegetarian breakfast in this laid-back resort. Fur parents will appreciate the property's pet-friendly policy allowing them to share the fun-filled trip with their four-legged buddies. Paid airport transfers are also provided for added convenience.
Beachgoers can work on their tans at Mandarmani Beach, as it is just near the resort. If you're not in the mood to go out, an elegant indoor pool waits for you here for a private soak at an additional charge. Moreover, you can spend your leisure time playing table tennis in the game room or playing tag with your pets in the lawn garden.



Address: Mandarmoni Beach Access
683 meters (0.5 mi) from Mandarmoni Beach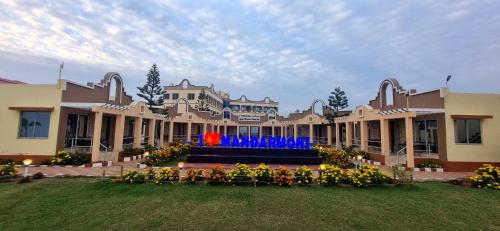 Aqua Marina Drive Inn offers accommodation in front of Mandarmani Beach. The property features colorful rooms with a flat-screen TV, air conditioning, and some rooms with sea views to ensure maximum comfort. Additionally, car hire and room service are possible for a hassle-free stay.
You will find a sun terrace making an excellent spot to catch the morning sun or chase the beautiful sunsets. The sun terrace comes with an outdoor pool to provide guests with a space to relax after a day out. The pool also has a shallow area for kids and adults who can't swim.



Address: Dadanpatrabar, Purba Medinipore, West Bengal
338 meters (0.3 mi) from Mandarmoni Beach

Other accommodations with pool in Mandarmani, India
Budget-conscious tourists who want to experience beach life in Mandarmani should check out Mohana Beach Resort. The hotel offers a buffet or vegetarian breakfast for a worry-free stay. This beachfront home features well-appointed, air-conditioned rooms and suites that allow you to have your vacation in style and comfort at a reasonable price.
If you fancy leisure strolls while soaking up the gentle sea breeze, you can immediately access Mandarmani Beach quite close to your doorstep. Once done sun basking on the beach, feel free to use the well-maintained outdoor pool for all ages to burn off your remaining energy and sleep soundly.



Address: Mandarmani Sea Beach Road Silampur
963 meters (0.6 mi) from Mandarmoni Beach

Providing leisure opportunities is the top priority of Hotel Sonar Bangla Mandarmoni. This casual hotel is a slice of heaven on earth, boasting state-of-the-art facilities and delicious treats. Wake up to a delightful in-house breakfast in the morning. Afterward, you can unwind on the outdoor pool with an adjacent sun deck and loungers to witness sunrise and sunsets. The pool deck is dotted with palm trees, giving the setting a quaint nature touch.
Thanks to the garden with an expansive lawn and seating areas, you can indulge in calming morning walks to commune with nature. You can also take your little ones to have fun at the kids' play area for family time.



Address: Mandarmoni Beach Road, District Purba Medinipur, Kalindi, Chaulkhola, Mandarmoni, West Bengal 721455, Silampur, Mandarmoni, India, 721455
3.39 km (2.2 mi) from Mandarmoni Beach

Go for a scenic drive in Mandarmani
The unspoiled nature is the greatest charm of Mandarmani. This tranquil seaside village is a haven for respite seekers who wish to get away from the bustling crowds in Digha without parting in the pristine waters. A relaxing lap in the pool is the perfect way to wrap up your night after your outdoor adventure quest. Map out your itinerary by choosing accommodation from this list of the best resorts with pool in Mandarmani, India.
Any must-sees we missed? Tell us about them in the comments section or write a post
here
to help out fellow travelers!
Disclosure: Trip101 selects the listings in our articles independently. Some of the listings in this article contain affiliate links.
Get Trip101 in your inbox
Unsubscribe in one click. See our Privacy Policy for more information on how we use your data