Taipei is the capital city of Taiwan, and it is home to almost three million people. The city is as modern as it gets, with plenty of shops, diners, and skyscrapers. Transportation options are plenty, as there are many train lines, taxis, and buses plying all the major thoroughfares and suburbs. Some of the most popular sites here are the super-tall Taipei 101, Chang Kai Shek Memorial Hall, and many parks around. And of course, what is Taipei without its night markets? These markets serve all kinds of dishes and street fare, including the popular stinky tofu. No trip to this city is complete without them, so we've selected some of the best and most popular night markets. Read more about the best night markets near Taipei, Taiwan, so you can shop til you drop on your next visit.
1. Ximending Night Market
Considered by many as the Harajuku of Taipei, the Ximending Market is one of the most popular tourist spots in Taipei. It is frequented by the younger people around the city, complete with its own subculture. Popular eats here include fried chicken, pancakes, strawberries, and much more. There are also clothing shops that sell trendy fashion fitting for the younger generations. This market is also where the popular Ximending pedestrian crossing is located. This market is the yuppie capital of Taiwan.
Ximending Youth Shopping District

Address: Wanhua District, Taipei 108, Taiwan

Website: Ximending Youth Shopping District

Opening hours: 5pm - 1am (daily)
The Huaxi Street Night Market, also known as Snake Alley, is two blocks of night market near Lungshan Temple. Once an infamous red-light district until the 80s, the night market is now more known for its special delicacies, most notably snake soup. Many stores here sell snake meat and blood, hence the name Snake Alley. The most prominent store here is probably Tainan Danzai Noodle House, which serves seafood dishes. Most of these shops have been around for decades, and are popular among the locals. You can also visit fortune tellers and herbal shops along this alley too.
Duration: 3 hours 30 minutes
3. Raohe Night Market
The Raohe Night Market is 600 meters (656 yards) of shops and delicious snacks, and it is located near Songshan Station and the Ciyou Temple, a temple dedicated to the goddess Mazu. It is the premier market of Songshan District. You can try out the spicy grilled squid, pork buns, beef cube and noodles, Lu Wei, and much more. Who can forget the famous stinky tofu, which is basically fermented tofu that is usually fried? It is a delicacy here in the city. You can also pass by the Wufenpu clothing outlet, a hot spot where you can get really cheap and really stylish clothes.
Raohe Night Market

Address: Raohe St. and Sec. 4, Bade Rd. and Fuyuan St., Songshan Dist., Taipei City Taiwan, R.O.C

Website: Raohe Night Market

Opening hours: 5pm - 12am (daily)
4. Lehua Night Market
Lehua Night Market is one of the best markets in New Taipei, located just over the bridge from Taipei City. There is a healthy selection of stores here, like rice cakes, soup, and plenty of other snacks. The must-try drink is the Yonghe Doujiang, a sweet soy-milk drink that locals enjoy for breakfast. You can also visit other shops here to buy gifts. The market may not be around for much longer due to some difficulties, so you should visit it while you still can.
Lehua Night Market

Address: Yongping Road, Yonghe District, New Taipei City (Near the metro's Yongan Market Station)

Website: Lehua Night Market

Opening hours: 5pm - 1am (daily)
Shida Night Market is one of the trendier places in town, owing to its location near the Taiwan Normal University, also known as Shi Da. The market is home to bars, cafes, and specialty restaurants. There is also a wide selection of clothing stores, selling affordable and stylish garments aimed at a young audience. An added bonus is that the place has many English speakers, which makes shopping around here much easier. Biking here is quite easy too, as it is not as crowded as most night markets.
Duration: 2 hours
6. Fuda Garden Night Market
Fuda Garden Night Market is the biggest night market in New Taipei, having been open since 2011. It draws many visitors each day and is located near the Fuda Station and Fu Jen University. Many shops here are run by university students, and they offer new and experimental dishes often. As the place is popular among tourists, there is plenty of international cuisines like brick-oven pizza, waffles, Thai chicken, Indian Samosa, and skewers for you to enjoy. There are also other attractions like shrimp fishing, darts, and some mini-arcade games, for your added fun.
Fuda Garden Tourist Night Market

Address: No.666, Sec. 2, Zhongshan Rd, Taishan Dist, New Taipei City, Taiwan (R.O.C.)

Website: Fuda Garden Tourist Night Market

Opening hours: Tue & Fri - Sun: 5pm - 1am (closed on Mon, Wed & Thu)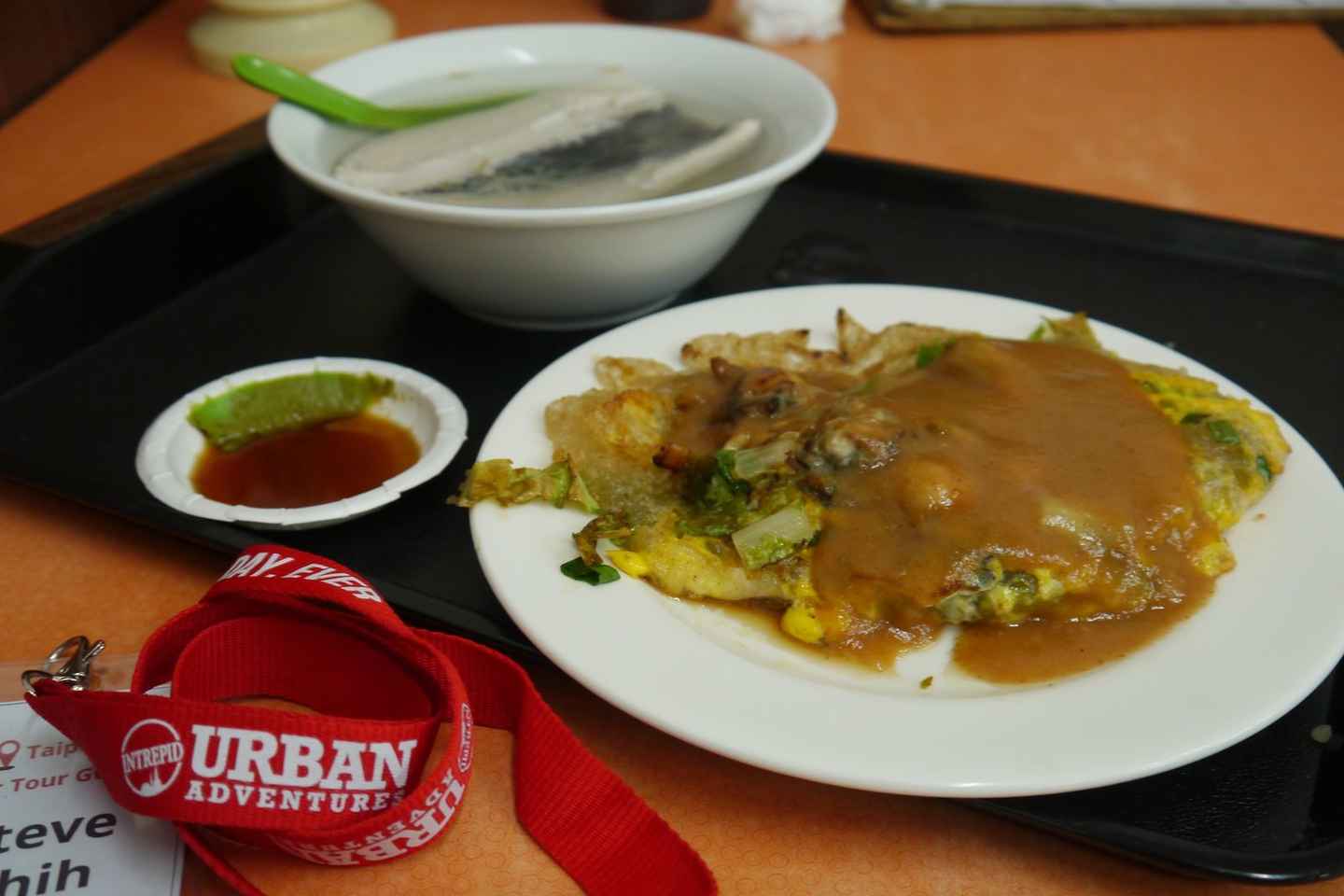 This Taipei food tour in Ningxia Night Market gives you a lowdown on tasty local cuisines. Many of these stores have been around for decades, with a rich history in tow. Munch on some fried yam balls, pork leg rice, or have some taro balls from the popular Liu Yu Zai stall, and finishing off with oyster pancakes. Your guide will give you more insight into Taiwanese Cuisine, and how this market came to be. There is also a challenge waiting for you at the end, so be prepared. The tour takes a couple of hours, enough time to finish all the food you want. You can stay until midnight if you still want to enjoy more food.
Duration: 2 hour
Located in the Shilin District less than 100m (109 yards) away from the train station, the Shilin Night Market is one of the liveliest in the city. This market is frequented by many locals after work, and it is also popular among tourists. It is filled with shops that sell all kinds of goodies, from fried chicken steak, tempura, oysters, crabs, and much much more. At the edge of the market is the food court, considered as a treasure chest to many. Lastly, you are encouraged to try out their oyster omelet, and come early before they are sold out.
Duration: 4 hours
Taipei, a city of diverse cultures
Taipei is one of the busiest cities in the world, and the crowded night markets are a sign of these. With more delicacies than you can shake a stick at, it is as diverse as the culture in this city. Be sure to include all of these great food spots on your next trip to Taipei.
Any must-sees we missed? Tell us about them in the comments section or write a post
here
to help out fellow travelers!
Disclosure: Trip101 selects the listings in our articles independently. Some of the listings in this article contain affiliate links.
Get Trip101 in your inbox
Unsubscribe in one click. See our Privacy Policy for more information on how we use your data