Coined as the Sunshine State of America, Florida offers various attractions that differ in every city. In Orlando, you'll have the famous theme parks like Disney and Universal Studios, while in Miami, you'll find a vibrant nightspot, a notable art scene, and a visible influence of Latin American culture. These are only a few examples of what to expect in the area, so make sure you're ready for some adventure when you decide to visit. Check out our list of the top pet-friendly vacation rentals in Florida, the USA, in case you plan to bring your furry friend with you during your trip to the state.
Located in a private property, deep in the woods, is this pet-friendly cabin rental in Florida that will make your holiday a memorable one. Booking this rental will make a lot of outdoor nature activities convenient to you, as it has private access to Ichetucknee and Santa Fe rivers, where you can swim, kayak, boat, and fish. Outside the house, you'll find a fire pit and a barbecue grill, where you can set up a tent. You might also spot some wildlife when you go on a hike on the numerous trails leading to National Wildlife Refugee. As for your accommodation, the house has one bedroom, a loft, and a pullout bed in the living room, all of which can accommodate up to seven guests. Additionally, there is a living area, a well-equipped kitchen, dining space, and an outdoor shower. Just a reminder, if you're bringing a pet, make sure you keep them on a leash because the property is big, and you wouldn't want your furry friend getting lost in the woods.
Three Rivers Private Retreat

Branford, Florida, United States
If you're looking for Florida rentals that allow pets, then this cozy little cabin close to Withlacoochee State Forest is a great option. It's far away from the busy streets but still close enough if you want to shop and eat at some local restaurants. It has a charming rural set-up with plenty of outdoor activities, including joining manatee tours, kayaking, or scalloping at Crystal River, as well as going on a hiking trip on nearby trails or biking around the area. This vacation rental is studio-type and can only accommodate up to two people, but you're allowed to bring a pet with you. Also, there is a mini kitchen with an oven and a fridge, a small dining set-up, and a sitting area. Another thing to like about the cabin is its decor and furnishings that are in sync with rural life.
Peace Cottage

Brooksville, Florida, United States
If you want a peaceful and relaxing stay with nature within your fingertips, then you have to book this one-bedroom cabin that can accommodate up to two people, which is perfect for a couple or a solo traveler. It is set in a small clearing, located in the north Florida woods, that features a spring that leads to Santa Fe River. It is also close to Rum Island Park and other state parks, which will enable you to partake in many outdoor activities like hiking, swimming, biking, kayaking, and more. While inside the house, you'll find everything you'll need for a short stay, which includes a mini kitchen, a cozy sitting area, a private bathroom, a dining set-up, and a screened porch. Moreover, if you're planning to bring a pet, make sure you inquire first with the owner about their pet policy.
Rum Island Cabin on Santa Fe River

Fort White, Florida, United States
For a very affordable rate, you get a lovely home set in a 1-acre (0.4-hectare) wooded property, located close to everything, including the beach, nightlife, shopping options, local restaurants, and many tourist attractions. The house is fully furnished, features wooden floors and panels, and is decorated with modern furniture. It has one bedroom and sleeping arrangements in the living room, making it available for four persons. Also, it is complete with a functional kitchen, a dining space, a living room, and an outdoor patio with a screened gazebo that has another dining set-up suitable for up to six people, perfect for entertaining guests. If you're coming with your fur baby, there's nothing to worry about as the hosts allow pets inside the house.
Private Charming Cottage w/ Kayaks

Sarasota, Florida, United States
If you're looking for a place that is away from the crowd but still near enough if you want to dine in a fancy restaurant in town, then this cabin in a rural setting is ideal for you. It is a studio-type and features a comfortable bed that can fit up to two guests. It also comes with a semi-functional kitchen, a small dining set-up, and a cozy sitting area. The property allows pets, so you won't have any issue when you bring your animal companion. Just a heads-up, there's no bathroom inside the house, and you have to walk to the main barn to use one.
Triple C Ranch

Brooksville, Florida, United States
Are you looking for a space for your big family or group of friends? If so, you'll love this two-bedroom house with sleeping arrangements at the shared spaces, accommodating up to nine people comfortably. It is set in the quiet neighborhood of Rio Vista, shaded by many trees, and close to many parks and rivers, making a lot of outdoor activities accessible, including kayaking, biking, swimming, hiking, etc. The available golf car will also make it easy for you to explore the surroundings. The house is well-equipped for a short or longer stay, with it being well-equipped with usual home conveniences as well as modern ones. It is complete with a functional kitchen where you can whip up a feast, a living area, a dining set-up, a private bathroom, a screened porch, and a fire pit outside. Additionally, if you're going to have a pet with you during your stay, make sure you bring a kennel and don't leave them unattended.
Rainbow River getaway 2BR/1.5BTH...sleeps up to 8!

Dunnellon, Florida, United States
If you're in search of a place where you can stay and at the same time have a party, then look no more, for this five-bedroom ranch house is ideal for you. It features a solid-pine interior with many gorgeous chandeliers, elegant furniture, and charming decor. It has five bedrooms and a separate apartment, all of which can accommodate up to 15 guests. Outside, you'll find a porch, an outdoor swimming pool with chairs, a barbecue grill, and a basketball court. Also, if you're planning to have a party or bring a pet during your stay, make sure you inform the host and pay the additional fee.
"Home In the Oaks"- Peaceful, Airy, & Nature View

Apopka, Florida, United States
This rental is an elegant wooden cabin with a glass facade, making the place bright and giving the illusion of being one with nature. The house features three bedrooms that can suit up to six guests, a fully functional kitchen, a lovely dining area, and a private bathroom. Also, it is complete with all the modern conveniences like a flat-screen television with Roku devices, DSL internet access, memory-foam mattresses, and more. As for the location, It is alongside a canal that has access to Withlacoochee River, where you can swim, fish, and kayak. Additionally, the house is open to furry friends, in case you plan to bring your baby dog with you.
The Nature House

Hernando, Florida, United States
Enjoy the summer and stay in this fabulous pet-friendly beach rental in Florida. The big windows from the open-plan living room and kitchen will beckon you to the water, which is just a few steps away. Pets are welcome in this holiday home for an additional pet fee of 50 USD. With one bedroom and one bathroom, this place is perfect for couples on vacation.
Terrific BEACHFRONT. Walk to restaurants/state park!
Want to escape the crowded beaches and retreat to the woods for a few days? For a minimum stay of two nights, you can enjoy a peaceful stay in this riverside cabin in Jasper, Florida. There's one bedroom as well as one bathroom, which makes it ideal for quick holidays with your partner and your furry best friend. Enjoy activities like hiking, bird watching, or fishing. If you want to explore the river, there's a place nearby where you can rent a kayak or a canoe. Do note that WiFi is not available, so this is ideal for those who want to disconnect for a while.
Beautiful river-front cabin overlooking the Upper Suwanee River

Top guest reviews

the place is beautiful cozy and surrounded by nature

loved it my only surprise was there was no bathroom door just a curtain

the owners are wonderful also

hosts are friendly and helpful

) the hosts were very nice and accommodating

dennis and his wife are amazing and very helpful

quiet and peaceful location in rustic but very comfortable cabin

beautiful place to get away

the cabin was a wonderful get away in a very quiet area right on the suwannee river

this is a great place to get away from the world and just relax

just what we wanted - secluded quiet on the river and near some good hiking trails

Read more reviews
Rustic on the outside but modern and well-furnished on the inside, this cabin in Crawfordville, Florida is perfect for your family of five and your four-legged friend too. In the morning, take your tea or coffee out to the screened porch and rest your eyes on Saint Marks River. You may spot some wildlife like otters, squirrels, and raccoons, as the wooded setting means you'll be in the middle of their natural habitat. WiFi is available, so make sure to snap and upload some photos of your cabin retreat.
Relax on a Beautiful River in a Natural Florida Setting

Top guest reviews

very clean and comfortable

the cabin was very clean

the cottage was very well equipped very clean and well stocked

the people were very friendly

all the additional recommendations provided by the owners were extremely useful and taken advantage of

absolutely flawless stay the hosts were very nice and the property met all expectations

perfect location and so relaxing there

great places to walk plus to my surprise outstanding for cyclist

Read more reviews
This cozy log cabin sits on verdant land overlooking the river. A highlight of this Vrbo rental is the deck that extends down to the river - the wooden path makes it wheelchair accessible. With two king bedrooms and one bathroom, this cabin can sleep four guests, but if your party is a bit larger, you can also rent the add-on cabin connected to the property. Pets are allowed but should stay in a crate or a kennel when indoors.
'Suwannee River Tranquility' from $180/Night for 4 People!'
An all-wood cabin along Santa Fe Creek, this rental aims to give you a relaxing vacation through nature therapy. The house is shaded by many huge trees, and from the deck, you can spot deers and birds. You can stargaze and camp at night, then swim, kayak, or boat during the day. Inside, you'll find a functional kitchen with a stove, an oven, and a fridge, as well as a bedroom with a futon bed that can accommodate up to two persons. Moreover, you shouldn't forget to bring your pet with you as it might also need a nature getaway.
Waters Edge Log Cabin and Tiny Home for Couples

Fort White, Florida, United States
Are you looking for affordable accommodation in Florida, one that allows pets? If so, this studio-type lakefront cabin is heaven-sent to you. The cabin is air-conditioned and contains two beds that can suit two people, a private bathroom, a mini-fridge, a coffeemaker, and a porch, where you can have coffee while marveling at the beautiful view of Lake Bryant. Also, you'll find an outdoor kitchen with a propane grill and a sink, where you can cook your meal. Additionally, you can use everything that you can see outside, including the dock, the picnic table, barbecue facilities, and more.
Quiet Lakefront Cabin in the Ocala National Forest

Ocklawaha, Florida, United States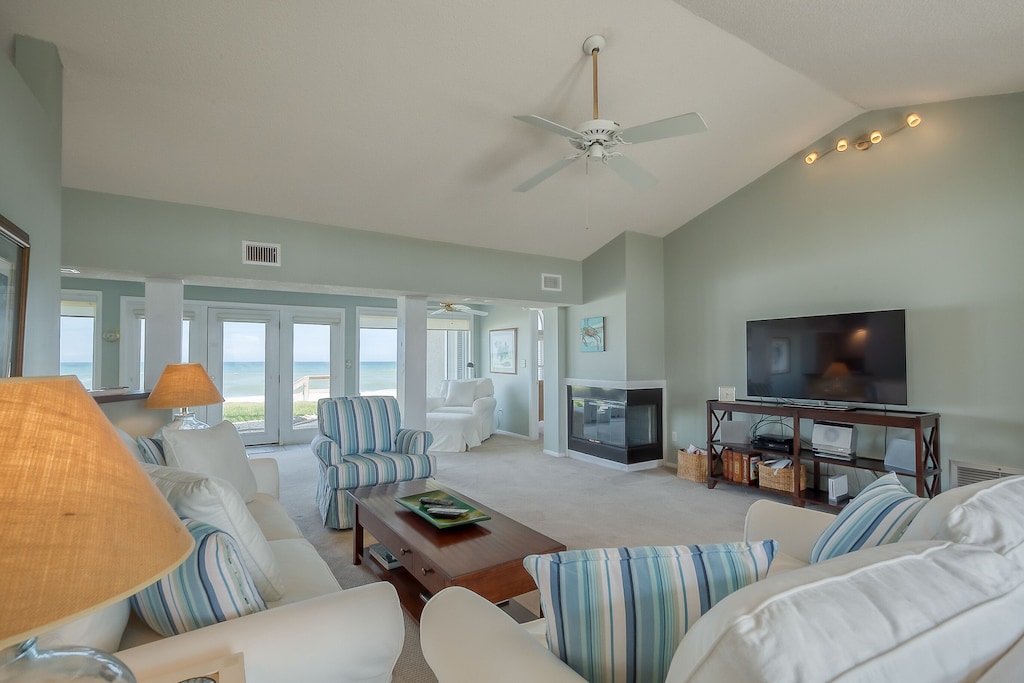 This pet-friendly cottage in Florida will let you enjoy a perfect beach vacation. Since this is a beachfront property, you can enjoy stunning ocean views from the comfort of your deck, which is furnished with a picnic table for four and a beach umbrella. The interior follows a beach theme, with blue accents, big windows, and white walls. The kitchen is equipped with updated appliances so you can cook with ease. From the master suite, there's a door that exits straight to the deck and a big window to the left of the king bed. Dogs are welcome upon approval from the owner, and for additional fees.
WOW. Fabulous Serene Ocean Front Living..Peaceful and Serene. Dog friendly

Ponte Vedra Beach, FL, US

Top guest reviews

very clean comfortable chairs

it is a beautiful place and very private beds are very comfortable and house was clean

we really enjoyed our stay at dreamkeeper - clean spacious and beautiful view lots of great restaurants nearby

the ocean view was amazing cleanliness just the right distance from st

the house and its location are just great for us

we absolutely loved our stay i have never been so close to the beach and it was fantastic

my family loved the location and we felt like we were at home but with better views

Read more reviews
Have a vacation in Florida
Can't leave your fur babies at home? Then worry no more, as Florida will give you many accommodation options when you decide to bring them with you to the state - for sure, they also need that nature therapy just like you do. So what are you waiting for? Choose among our list of the top pet-friendly vacation rentals in Florida, the USA, and have a wonderful vacation ahead with your pets.
Disclosure: Trip101 selects the listings in our articles independently. Some of the listings in this article contain affiliate links.
Get Trip101 in your inbox
Unsubscribe in one click. See our privacy policy for more information on how we use your data