Embark on a Greek Odyssey as you traverse the hidden wonders of the scenic village of Pyrgos Kallistis or Pyrgos, which lies on the foothills Mount Profitis Ilias. Offering panoramic views of the mesmerizing landscape, Pyrgos is a little-known destination in Santorini, Greece and its name translates into "tower". This little village features delightful white Cycladic cottages peeping out from behind the ruins of the castle atop the hill. There are plenty of churches with blue domes that add to the charm of this traditional medieval village in Santorini. Pyrgos is not only one of the best-preserved Greek villages, but also the highest in Santorini. It also has several eateries that offer a homey feel and give a peek into the local culture. Here's a guide to Pyrgos, Santorini to help you plan the perfect vacation to this beautiful spot.
Things to do/Highlights
Boasting labyrinthine streets, fortified walls, stone houses, restaurants, bars, hidden galleries and shops, Pyrgos is the perfect destination for travelers looking for something off the beaten path. There are a lot of things to do in this small Greek village, with a population of only around 1,000 people. Here are some things you can do when in Pyrgos, Santorini.
Visit Kasteli Castle
Kasteli Castle, or Venetian Kasteli, is the prime attraction in Pyrgos and is built atop the hill. It is one of the best-preserved Venetian castles out of the five in Santorini. It provides an unparalleled panoramic view of the island, surrounded by the beautiful Aegean Sea. The three churches around the castle also add to the beauty.
Tour Santo Winery and taste some wine
Santorini wines are world-famous and you can sample some of the best in Pyrgos. Visit Santo Winery where you can taste wines paired with a platter of cheese and olives. You will marvel at the fact that the volcanic eruption during the 16th century left behind the red, black, and white pebbles in the Aegean beaches, and that the rich volcanic soil helps make Santorini's wines so famous worldwide. Guided tours are available for Santo Winery, so make sure you join one as it's a memorable experience. You not only get clued into the winemaking process but also get acquainted with Greece's rich heritage and culture.
Check out Prophet Elias Monastery
Prophet Elias Monastery, built back in 1711, resembles a fortress with its stone walls. It was devastated by an earthquake in 1956 but has been through some restoration works. It is home to The Icons & Relics Collection, and a visit will let you see religious texts, 17th-century ecclesiastical items, religious icons, and antiques. The collection is only open to the public from April to October, from 10 am to 4 pm daily, so make sure you plan accordingly!
What to eat
Franco's Cafe - Bar, Pyrgos, Santorini
This is one of the world's best bars, and you can enjoy the fabled Greek sunset from here, atop the hill, from inside the castle walls. It offers mezze platters, cocktails, and wines. You can also enjoy the classical music playing in the background as you soak up the panoramic views of the island. The best time visit is just before sunset, so check the timing and weather for the day - you don't want cloudy skies! Also, be sure to make reservations to avoid disappointment as it might get crowded.
Local food
There are other establishments in Pyrgos that takes pride in serving mouthwatering food. When dining out, be sure to look out for the tantalizing tomato fritters, delicious rissoles, sweet white salad, and the savory dessert wine! Make sure the gastronome in you delights in these before leaving Pyrgos.
Things to buy
What makes Pygros famous are its quirky galleries and shops hidden in the corners of the uphill and downhill alleys as you amble along its white-washed streets. Also, on the bottom of the hill, there are some shops and stalls selling trinkets for tourists. The best things to buy are savory wine, local jewelry, artwork, and handicrafts. You can purchase handmade souvenirs made of wood that show excellent craftsmanship. However, make sure you bargain as they may be overpriced!
Travelers tips
Best time to visit
To make the most of the weather, the best time to go is between April to November, with April and May being the most ideal time. June to September are the hottest months, so you may want to keep that in mind. December to February should be avoided, as this is the rainy season.
Wear proper footwear
From climbing the hill to Kasteli Castle to walking down the uneven streets of Pyrgos, you need to have proper footwear or sports shoes so you'll be comfortable while out exploring.
Know the Greek time zone
Greece follows the Eastern European Time (EET) and is two hours ahead of Greenwich Mean Time (GMT). Also, the summer daylight moves forward on the last Sunday of March at 3 am. Similarly, during winter, it moves back by an hour on the last Sunday of October at 4 am.
How to get there
Pyrgos is now a protected settlement as per the EU declaration in 1995 and is situated in the Thira Municipality of Santorini. Here are some ways to get to Pyrgos.
By cab or bus from Santorini National Airport
Santorini National Airport is 6 kilometers (3.7 miles) away from Pyrgos. It will take about 10 minutes by cab and 15 to 20 minutes by bus. The journey will cost approximately 11.50 USD to 17 USD (10 EUR to 15 EUR).
By cab or bus from Fira
You can take either a bus or a taxi from Santorini's capital Fira to reach Pyrgos. Fira is 5 kilometers (3.1 miles) away and it takes 10 minutes by car. A bus journey from KTEL Santorini will take you around 15 minutes.
By cab or bus from Athinios Port
Athinios Port is 5.3 kilometers (3.3 miles) away from Pyrgos, and you can take a bus or a taxi to get to the village. Most buses from the port go to Fira and stop at different villages such as Mesaria, Pyrgos, and Karterádos. So make sure you tell the driver you need to stop at Pyrgos. The bus fare is 2 USD (1.80 EUR). You can alternately take a taxi to Pyrgos from the port. The drive takes less than 15 minutes and is quite scenic.
Pyrgos information
Pyrgos

Address: Municipality of Thira, Santorini, Greece

Department of tourism: Visit Greece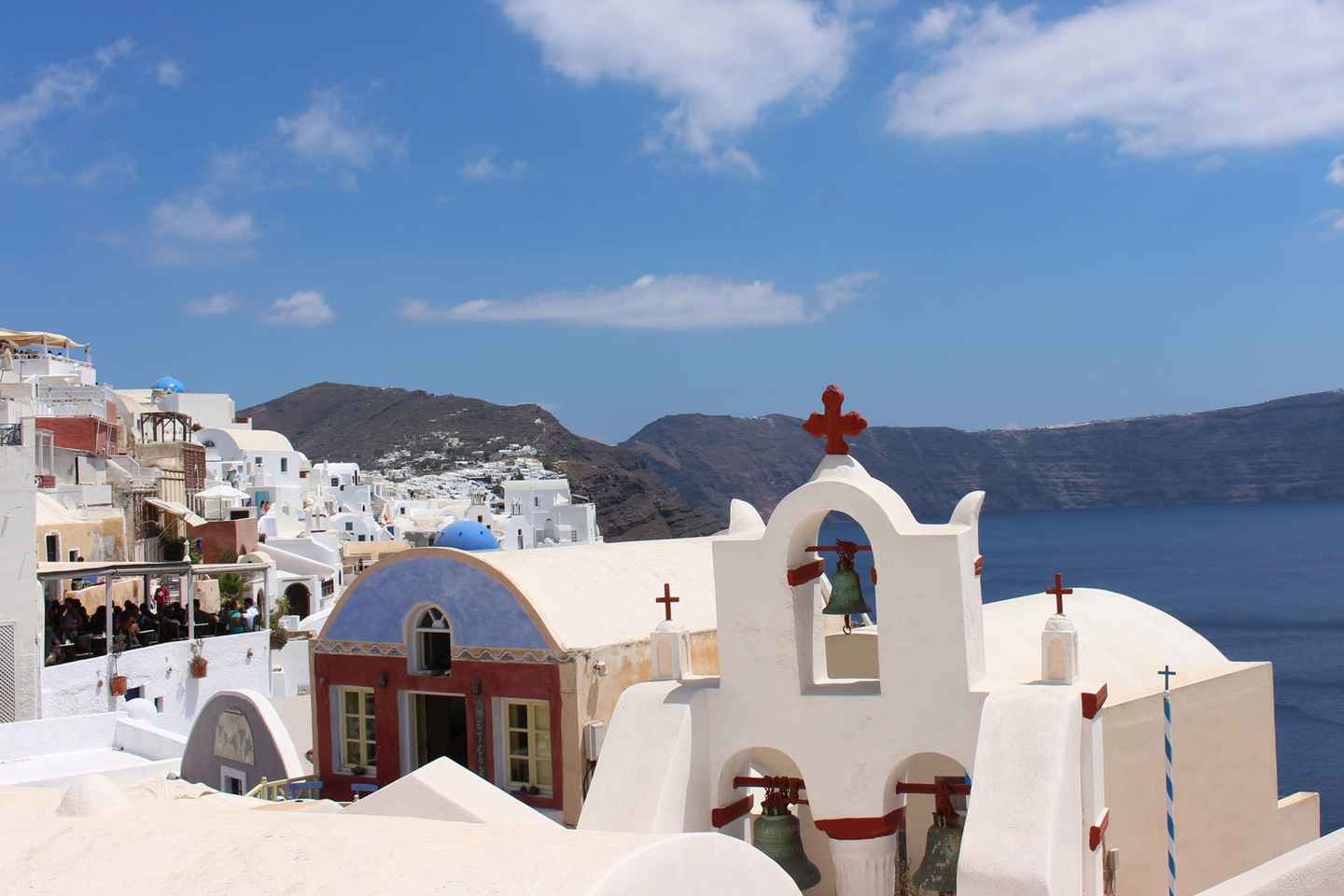 Santorini: Mesa Gonia, Pyrgos and Oia Tour

Duration: 7.0 hour
Disclosure: Trip101 selects the listings in our articles independently. Some of the listings in this article contain affiliate links.
Get Trip101 in your inbox
Unsubscribe in one click. See our Privacy Policy for more information on how we use your data