Long gone are the days of orange groves, which have been replaced with visitors passing excitedly through turnstiles at California Adventure's main entrance, eagerly anticipating the Golden State's thrilling attractions and inspiring performances. Rev up your engines before entering your impressive racecar in anticipation of a race filled with hairpin turns, towering red rock formations, and desert valleys. After encountering charming Lightning McQueen, Mater, and other personalities from Cars during your exhilarating adventure, wander over to nearby Ghirardelli to indulge in a mouthwatering hot fudge brownie sundae. Please check out the following guide to Radiator Springs Racers, Anaheim before your magic-filled visit to Orange County's always popular Disneyland Resort.
Things to do / Highlights
Be transported into the world of Pixar's Cars as you prepare to travel along the famed Route 66 en route to charming Radiator Springs in your custom six-seater vehicle. After visiting Luigi's Cassa Della Tires or Ramone's House of Body Art to prepare for the high octane race day, cruise over to the starting line to meet your competition. Rev up your engines for a thrilling ride through the Cascade Mountains to experience hairpin turns at full speed.
Join a thrilling race
Put your new wheels into overdrive to climb over steep hills, drive around sharp corners, and race down at full throttle. Feel the need for speed as you accelerate past towering red rock formations and fly through darkened caverns. Keep your eye on the competition in the opposite lane. Put the pedal to the metal while you travel neck and neck towards the finish line, where the locals and famous Cars' faces cheer the drivers on. Cross the finish line as Lightning McQueen waves the checkered flag and the boisterous cheers of the crowds drown out the roaring engines.
Meet Cars' famous faces
After experiencing the adrenaline-pumping Radiator Springs Racers, saunter over to Cozy Cone Motel. Straight from the raceway, Lightning McQueen and Mater are eager to meet Cars fanatics of all ages. Watch as your little one's eyes light up in delight when they meet Pixar's stars. Create fun-filled memories by snapping a few photos while Lightning McQueen and Mater engage cheerfully with your children, creating a magical Disney moment.
What to eat
Race over to 50's diner-inspired Flo's V8 Cafe to fuel up before venturing over to the exhilarating attraction of Radiator Springs Racers. Fill up on classic diner faves such as finger-licking good fried chicken, hamburgers, and creamy milkshakes. Watch as race cars fly past from a window seat across the towering red rock mountains.
Flo's V8 Cafe
Order a plate of silver dollar pancakes emblazoned with characters for the kids while you fill your empty tank up with spicy chicken tamales served alongside fluffy scrambled eggs. Choose from cheeseburgers, fried chicken with garlic mashed potatoes, or a healthy Cobb de Ville salad. Little ones can fuel up with turkey sliders or mac & cheese, which come with sporty Lightning McQueen memorabilia. Finish turbocharging with a chocolate shake before spending the day immersed in California Adventure's numerous themed lands.
Cozy Cones
Enjoy a brief pit stop at Cozy Cones and order corn on the cob slathered with spicy lime mayo and rolled in cheese puffs. For a filling option, choose a spicy buffalo chicken cone stuffed with carrots and celery. Before leaving for an encounter with the stars of Cars, finish off with creamy soft serve or a refreshing root beer float served in a souvenir cup.
Things to buy
After trying out Luigi's Rollickin' Roadsters, cruise over to Ramone's House of Body Art to pick up fashionable attire. March over to Sarge's Surplus Hut to browse through the extensive inventory of toys, apparel, and other souvenirs inspired by Pixar's popular Cars movie.
Sarge's Surplus Hut
Wander through Sarge's aisles to search for baseball caps, t-shirts, and toys for momentoes of your time spent here. Pick up souvenirs embossed with Cars characters, including key chains, magnets, and ceramic mugs.
Ramone's House of Body Art
Check out designer Chip Foose's artwork while browsing through popular items designed by Champions Custom Speed Shop. Pick up merchandise or apparel celebrating car culture before making a pit stop to Mater's Junkyard Jamboree.
Travellers tips
For first time visitors, invest in multi-day tickets to explore the exciting attractions and shops, and enjoy being entertained by innovative parades, shows, and dazzling fireworks displays. Be sure to check the Disneyland website for rides that may be closed for repairs. Below are some tips to ensure your visit is filled with magical memories and less time waiting in long lines.
Off-season travel
Avoid the overwhelming crowds found during peak season, by visiting during mid-January through Mid-March or mid-September through November. If you decide to travel in the summer months, try mid-August or after Labour Day since kids will be returning to school. Also, ask friendly staff members which days of the week are less busy, as weekends are extremely busy.
Park tickets
Purchase a park-hopper ticket to enjoy both the magic of California Adventure and Disneyland Park. To experience both parks with little ones at a leisurely pace, purchase either a multi-day single park ticket or a multi-day park-hopper ticket which allows you to hop between both parks to enjoy the awe-inspiring World of Colour, parades, and thrilling rides. If you plan on visiting the Disney Resort on multiple occasions and returning the following year, it would be advisable to consider buying an annual pass.
FastPass
Download the Disneyland app and purchase the Maxpass to skip lines with FastPass. Limited rides offer FastPass tickets that can be obtained by heading to the entrance of the ride. If you decided not to pay the additional cost by purchasing the Maxpass, venture over to see the FastPass line times, which are listed adjacent to the standby line times. Insert your park ticket into the nearby kiosk which will produce a ticket with a window of usually a few hours for you to return, thus avoiding standing in a long line. Get the FastPass for Radiator Springs Racers in the area behind Ramone's House of Body Art.
Single Rider or Rider Switch
This option is excellent for solo travellers or those who don't mind being separated in order to prevent waiting in lengthy lines. Once you reach the ride's entrance, inform the castmember of your status and you will be sent to another line. Sometimes you can get on within minutes.
Strollers, scooters, and wheelchairs
The Disneyland Resort offers guests with young children the option to rent strollers instead of lugging along theirs. Those with mobility issues can rent wheelchairs or electric scooters, and they will also be able to bypass busy lines via entry through attraction exits.
How to get there
On foot
It's a short walk or monorail ride from Disney Resort hotels to gain entry to either amusement parks. If staying at Disney's Grand Californian, enter straight into California Adventure near Grizzly River Rapids before wandering over to the various lands. Majority of the visitors will end up staying in properties off-site, which are usually a 5 to 30-minute walk to the main gates.
Hotel shuttle, rental car, bus
For those staying near Anaheim Convention Center, most hotels offer complimentary shuttles to Disneyland Resort. Otherwise, you will have to rent a car and park in the multi-level parkade located in Downtown Disney. By booking hotels located on Harbour Boulevard, you will be within walking distance. You may also consider taking the OCTA and departing at the bus stop beside the park's bordering hedges.
How to book tickets
Sprinkle some pixie dust and fly over to their official ticketing site to find out more about Magic Kingdom's thrilling attractions, spectacular parades, dining, and shopping. Purchase tickets online through the Disneyland app or at the park's ticket booths to gain entry to Walt Disney's magical oasis. You're one step closer to meeting your favourite Cars character!
Radiator Springs Racers information
Radiator Springs Racers

Address: California Adventure, 1313 Disneyland Drive, Anaheim, CA 92802, United States

Opening hours: Mon - Thu: 8am - 10pm; Fri - Sun: 8am - 10pm

Price: from 97 USD

Official website: Disneyland

Department of tourism: Visit Anaheim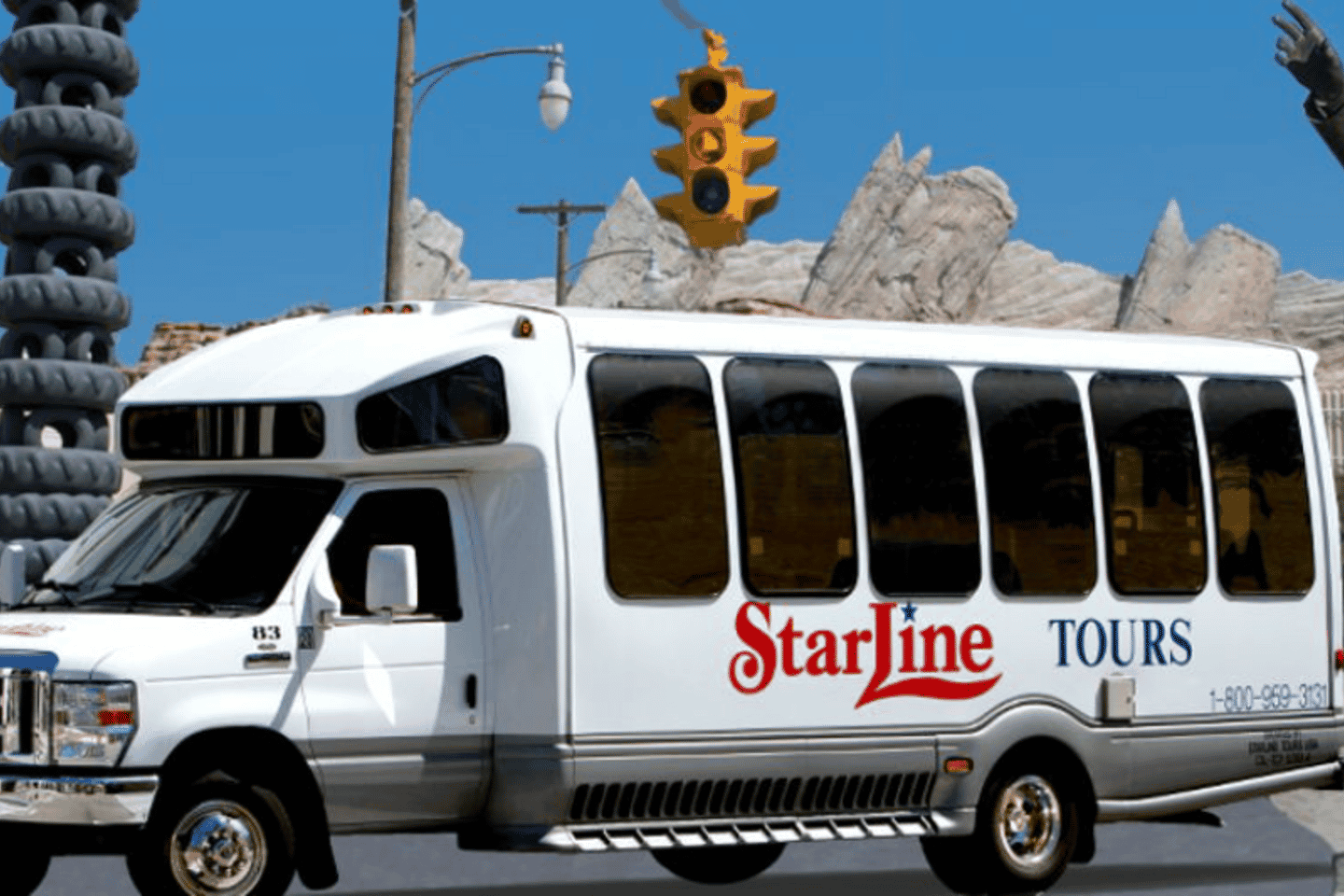 Round-Trip Daily Transportation to Disneyland California

Duration: 12 hour
Disclosure: Trip101 selects the listings in our articles independently. Some of the listings in this article contain affiliate links.
Get Trip101 in your inbox
Unsubscribe in one click. See our privacy policy for more information on how we use your data