Melbourne is truly the ultimate playground for shopaholics. Featuring the landmark 7-hectare (17.2-acre) open-air bazaar Queen Victoria Market, an army of artisan and speciality shops, and scores of outlet shopping centres and tempting boutiques, Melbourne has no shortage of stellar merchandise that shows off its unique, delicious, and stylish character. If you're looking for a relaxing and beneficial day at the shops then you must have a look at this list of the best shopping tours in Melbourne.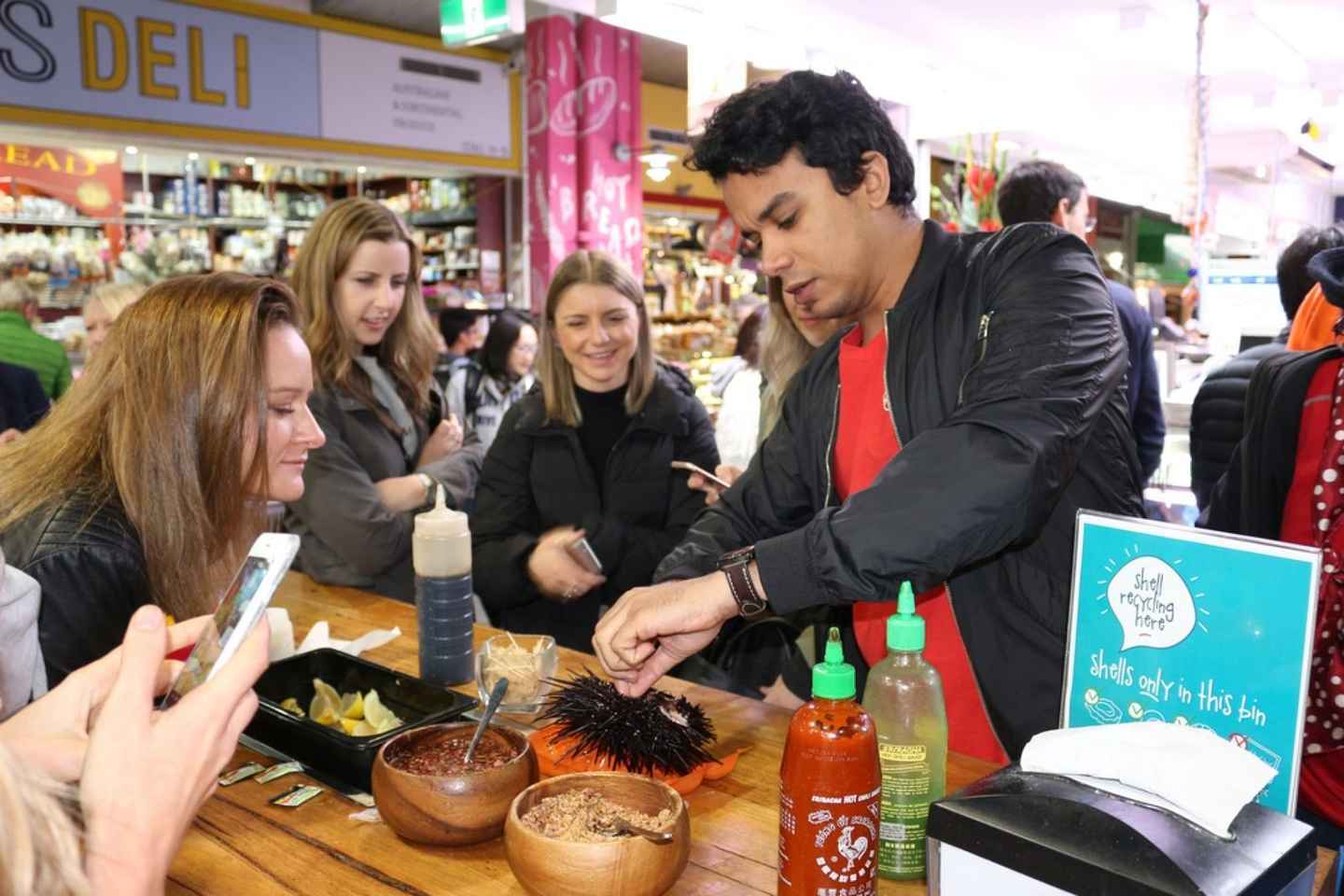 Participants of the Melbourne Multicultural Markets Culinary Culture Tour have the chance to sample the best foods Melbourne has to offer. Standouts of this tour include a myriad of flavourful food tastings and a stop at a lively local pub for your choice of a frosty beer or cold soft drink. The guide is a local foodie, so expect an extensive and enthusiastic trek through the region's vast culinary culture, history, and traditions. This excursion takes you behind the scenes where you can engage with vendors, from several multicultural markets, about their wares.
Melbourne Multicultural Markets Culinary Culture Tour

Duration: 3 hour
This incredible shopping tour takes place at the centre of Melbourne. You'll browse little-known shops as well as high-profile art galleries. Participants will encounter wares, like handmade glass, sculpture, and jewellery, from local artists to authentic handcrafted and designed Aboriginal products. The range of possible souvenirs on this tour is endless: affordable opal gems, sweet confectionery, soft kangaroo and emu leather products, Ugg boots, and so much more.
Melbourne Half Day Guided Small-Group Shopping Tour

Duration: 2 to 3 hours
A round of shopping in top areas with a personal escort, a tasty lunch, and a sparkling glass of champagne, what more could a shopaholic ask for? The Melbourne Outlet Shopping Tour - Bargains and Bubbly is a delightful worry-free excursion in Melbourne. An expert shopping guide will lead participants to a variety of shopping venues, from bargain wholesale shops to fabulous and fun pop-up sales across the city. The best part is you can customise this tour to fit your shopping list. At the end of the day, you're sure to walk away with a wonderful array of purchases: attractive clothes, designer bags, and pretty jewellery.
Bargains and Bubbles Outlet Shopping Tour in Melbourne

Duration: 7hrsDuration
If you're a fan of clothing from past decades then the Melbourne Vintage Shopping Tour is the perfect way to spend the day. Browse intriguing clothing and handsome accessories from the 1920s to the 1990s on this tour that covers all the top-notch retro clothing stores Melbourne possesses. Melbourne Vintage Shopping Tour makes stops at various shops with merchandise that reflects a particular era. If you're hunting for a mod 60s fringe vest or a pair of parachute pants from the 90s, you're sure to find it on the Melbourne Vintage Shopping Tour.
Melbourne Vintage Shopping Tour

Duration: 3hrsDuration
Shop for premier opals at Melbourne's top jewellery store, visit captivating art galleries replete with Aboriginal art, and browse speciality shops for chocolates, jams, and other sweet treats on the Half Day Small Group Guided Shopping Tour in Melbourne. This tour blazes an enjoyable trail through the city's cultural sites, cherished landmarks, and first-rate shopping venues. You're certain to uncover hidden treasures and one-of-a-kind gems when you make your way through Melbourne's inviting laneways and arcades. This tour allows you to customise your itinerary to suit your tastes.
Melbourne Half Day Guided Small-Group Shopping Tour

Duration: 2 to 3 hours
With an eye toward acquiring the best souvenirs to take home, Melbourne Shore Excursion: Melbourne Shopping Tour is a wonderful way to spend time in the city and depart with something memorable. Traverse the picture-perfect laneways and exciting arcades as you browse lively areas at the heart of Melbourne. Melbourne Shore Excursion: Melbourne Shopping Tour is a mix of an interesting history-filled commentary by your guide and a fun hunt for souvenirs. Your guide will supply you with insider tips on the best local wares and bargain buys and you'll hit all the top tourist spots as well.
Melbourne Shore Excursion: Melbourne Shopping Tour

Duration: 4 hours
Eager to taste some of Australia's top foods? The South Melbourne Market and Suburb Foodie Walking Tour is a great introduction to Melbourne's fresh local fare, as well as its aromatic coffee, energetic markets, and fascinating history of the city. This foodie tour focuses on the lovely South Melbourne area that features one of the town's oldest markets. The vibe in South Melbourne is vibrant and the locals are welcoming. The tour is small, comprised of only up to eight participants, so the experience is intimate and you get plenty of personal attention. The guide is experienced and shows participants a good time.
South Melbourne Market Food Walking Tour with Tastings, Lunch

Duration: 4 hours 30 minutes
You'll shop like the locals on this splendid walking tour that covers sections that are considered the city's foodie birthplace. Queen Victoria Market and Carlton Foodie Walking Tour is a deep dive into two fun areas of Melbourne. First stop is the massive Queen Victoria Market. Here, participants can indulge in a large array of food options. You can also sample the market's fine coffee and get a behind-the-scenes look at the java brewing experience. The next stop is Carlton, where you can not only enjoy great cuisine but explore the town's history. Highlights of the entire tour include a relaxing lunch and a glass of the region's best vino.
Melbourne Queen Victoria Market and Carlton Food Walking Tour

Duration: 4 hours 30 minutes
Be treated like royalty on the fantastic Private Australian Designer Experience Shopping Tour. Accompanied by an expert personal stylist, your day begins with a chauffeured ride in a luxury vehicle. With the help of your guide, visit charming hand-picked boutiques that fit your desires. This tour provides a great opportunity to explore Australia's fabulous fashion scene and you'll come away with an incredible selection of apparel to add to your wardrobe. A lovely added bonus is sparkling champagne, sweet chocolate, and gourmet nibbles along the way. The day of indulgences on this tour hits all the right notes.
Private Australian Designer Experience Shopping Tour
Catering to participants tastes, Made in Melbourne Private Shopping Tour Including Local Stores Visit provides a wonderful private shopping excursion. On this tour, guests will shop like locals and get the chance to meet the people who create the dazzling products you'll see along the way. This tour features a variety of places to browse, buy, and explore, from eclectic establishments filled with items from a bygone era to a behind-the-scenes peek at wonderful artists' studios. This tour includes discounted prices at many neighbourhood stores, a small remembrance souvenir, a refreshing drink, and light nibbles.
Made in Melbourne Private Shopping Tour Including Local Stores Visit

Duration: 3 hours
Magnificent Melbourne shopping tours
Melbourne is known for a lively cultural and food scene, but it's also considered the fashion capital of Australia. Chock full of every kind of clothing establishment, from funky and fun boutiques to budget-friendly outlet malls, Melbourne knows how to live stylishly. Uncover Melbourne's expansive array of features by taking an exciting shopping expedition that will add an extra layer of thrills to your Australian adventure.
Disclosure: Trip101 selects the listings in our articles independently. Some of the listings in this article contain affiliate links.
Get Trip101 in your inbox
Unsubscribe in one click. See our privacy policy for more information on how we use your data