Boasting an immense gothic presence and a prominent 141-foot (43-meter) spire, St. Patrick's Cathedral is a crown jewel on Dublin's landscape. Constructed during the Middle Ages, the cathedral is one of the most celebrated and beloved churches on the globe. St. Parick's Cathedral is the tallest and biggest church in Ireland and offers a rich history that encompasses almost 800 years of proud Irish heritage. A prime example of exquisite gothic style, this amazing structure is number one on the must-see list of every tourist who makes their way through Ireland. A trip to Dublin would not be complete without a visit to this impeccably crafted cathedral. To enhance your experience, we've put together a guide to St. Patrick's Cathedral, Dublin.
Things to do
Tomb of Jonathan Swift
Interred within the gray stone walls is the remains of famed author Jonathan Swift, who wrote the classic tale Gulliver's Travels. You can also find at the north pulpit of the church Swift's regal portrait, eerie death mask, professional writing table, and chair. Swift took it upon himself to write his epitaph, which appears on a polished black slab featuring gold lettering and is situated near his tomb.
Grand gothic architecture
St. Patrick's Cathedral will leave you breathless with its exquisite gothic style. Your jaw will drop at the sight of the massive towering ceilings, and your eyes will pop at the delicately constructed details throughout the church. Best known for its gorgeous stained-glass windows, polished marble statues, and pretty medieval tiling, this cathedral is one of the few remaining buildings from Dublin's medieval era.
St. Patrick's Cathedral Choir
Boasting a world-class choir, visitors to the cathedral can listen to inspirational hymns during morning and evening church services. The choir performs daily but only when the school term is in session. Everyone is welcome to attend, and no tickets are needed.
What to eat
Cathedral Cafe
Just steps from St. Patrick's Cathedral is Cathedral Cafe. This charming and intimate eatery offers classic Irish fare along with mouthwatering homemade cakes. Stop by for breakfast before you explore the cathedral or grab a tasty sandwich after.
Ritz Cafe
A no-frills eatery serving lots of hearty dishes is what you'll find at Ritz Cafe. Easily reached on foot from St. Patrick's Cathedral, this compact restaurant is the go-to place for traditional golden and delicious fish and chips. Ritz Cafe also provides juicy burgers, variously prepared chicken options, and nicely seasoned kebabs.
The Temple Bar
Within walking distance of the cathedral, The Temple Bar is the most famous pub in Dublin. Founded in 1840, this legendary local bar oozes Irish hospitality and charm. You can always find a nice cold brew from a top-notch selection of Irish and international craft beer to whet your palate. To soothe your appetite, there's delectable grub—from gourmet sandwiches on toasty Guinness bread to fresh seafood plates like whiskey, honey, and fennel smoked salmon. Live music played daily also enhances the atmosphere.
Travelers tips
Dress code
No specific dress code is enforced, but keep in mind that this is a place of worship, so visitors should dress somewhat modestly.
Wheelchair accessibility
This site is nicely equipped for people with disabilities. St. Patrick's Cathedral's central entrance provides a professional electric wheelchair lift and a sufficient ramp at the Order door entry.
Parking
Parking can be a challenge because the area is so compact. Your best option—in terms of closest proximity—is Cathedral Lane. It is opposite the police station and just off Kevin Street. There is also Fumbally Lane and Clanbrassil Street in the immediate area.
Arrive early
Do yourself a favor and arrive as early as possible. Later in the day, the serenity of the site can be ruined by the crowd of tourists, which increases the noise level considerably.
How to get there
Rent a car
If you choose to drive to St. Patrick's Cathedral, the site is found in the heart of Dublin's city center along St. Patrick's Close in the Wood Quay area.
Taxi
It's difficult to believe, but Dublin offers more taxis than New York City, so hailing one should not be a problem. The wee hours of the morning are probably the only time taxis are scarce. Mytaxi is the go-to app to use in Dublin.
Uber
Only drivers with a taxi license may provide a ride for payment. Needless to say, ride-sharing apps such as Uber is illegal in Dublin.
Rent a bike
If you're in an adventuresome mood, why not rent a bicycle from Dublinbikes—a bike-sharing station—to enjoy Dublin's sights. There are several around the city, and the closest station to the cathedral is just off Kevin Street.
Bus
Several efficient bus lines run near St. Patrick's Cathedral. They include the number 13, 151, 27, 39A, 40, 49, 56A, 77A, and 151 lines. If you plan to stay in Dublin for a few days, then the best value regarding bus and rail choices is the handy Leap Visitor Card—a public transport card for tourists, offering unlimited travel over a selected period.
Train station
Dublin offers a stellar train service. To get to the cathedral, you can catch DART, an electric rail system also know as Dublin Area Rapid Transit or the Maynooth train line. The nearest station to the cathedral is Coombe, which is only a one-minute walk. Both Dublin City South near the Kevin Street police station and Warrenmount on New Street South is only a three-minute stroll from the cathedral. You can also ride the Luas Green Line tram to its final destination at St. Stephen's Green, and the cathedral is just a 10-minute walk away from there.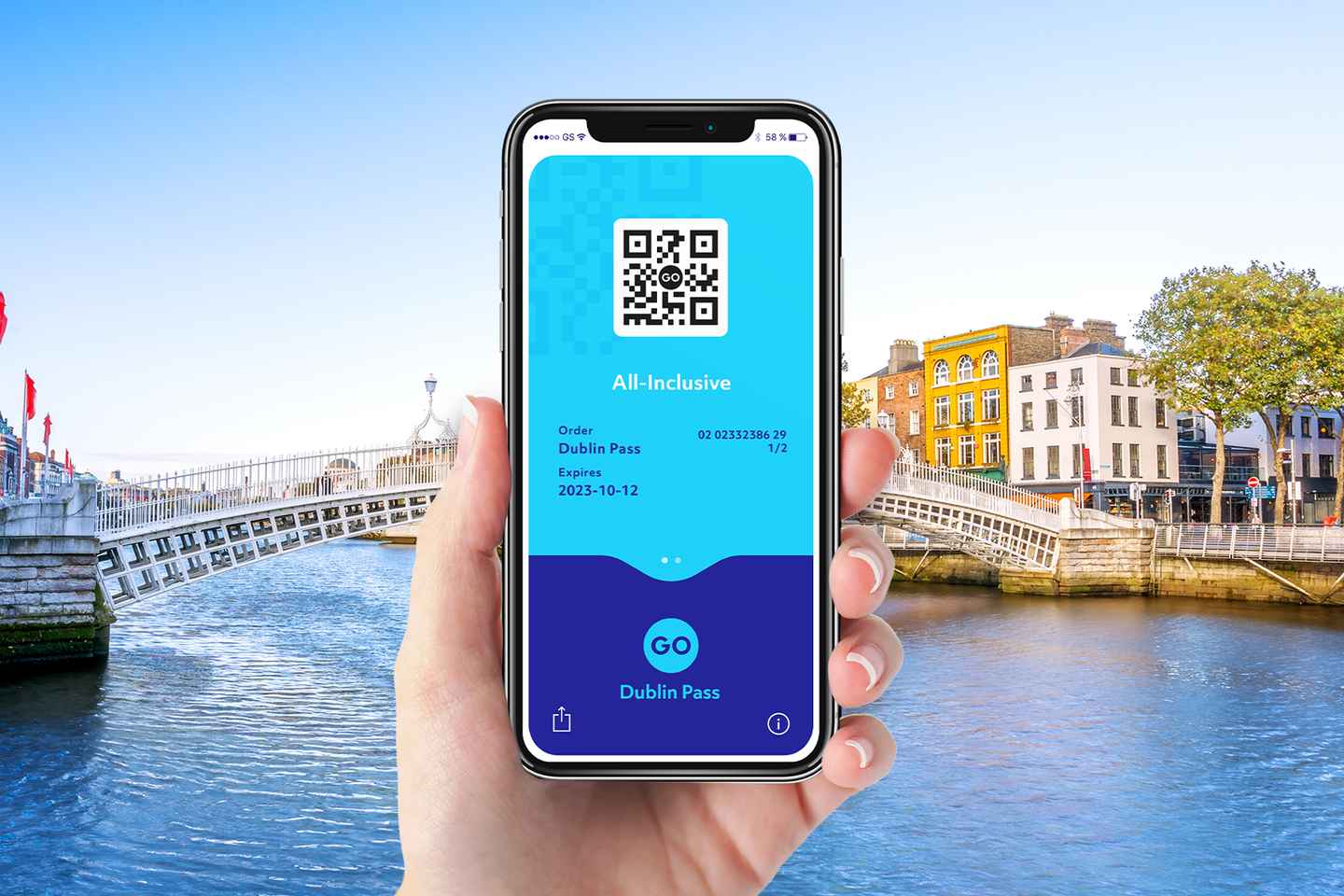 Visitors are welcome to tour the site on their own, but many find the experience much more rewarding by taking a free guided tour that occurs regularly throughout the day. Tickets for St. Patrick's Cathedral should be purchased online, and you can do that at the official website. Be aware that the summer mornings of July and August usually draw the largest crowds, so plan your visit later in the day when much of the tourists have cleared out.
Here's a helpful tip: If you buy a Dublin Pass—the city's sightseeing card—you can gain free entry to the cathedral in addition to over 30 of Dublin's other popular tourist attractions. There's also a skip-the-line advantage. For savvy app users, opt for the Mobile Dublin Pass—just download the Dublin Pass app and have immediate access to this handy city pass!
Dublin: The Dublin Pass with Entry to Over 35 Attractions
St. Patrick's Cathedral information
St. Patrick's Cathedral

Address: St. Patrick's Close, Wood Quay, Dublin 8, Ireland

Opening hours: Sun: 9am - 10:30pm, 12:30pm - 2:30pm, 4:30pm - 6pm; Mon - Fri: 9am - 5pm; Sat 9am - 6pm

Cost: 9 USD

Official website: St Patrick's Cathedral

Department of tourism: Visit Dublin
Disclosure: Trip101 selects the listings in our articles independently. Some of the listings in this article contain affiliate links.
Get Trip101 in your inbox
Unsubscribe in one click. See our privacy policy for more information on how we use your data