The multilingual country of Belgium is famous for its medieval vibe. The architecture, charming towns, and Renaissance-style structures make it a beautiful country and a must-visit on any kind of Europe trip. This small country has a lot more to it than history. The culture, scenic landscapes, and hip places to visit make it a complete package. It does not matter if you are already residing in the country or planning to visit, you are surely looking to have fun while you are here. If your soul is adventurous and theme parks are your thing, you will love this place. Get ready for the adrenaline rush when you visit these top theme parks and amusement parks in Belgium.
1. Bobbejaanland
Bobbejaanland is a theme park that was founded and started by Bobbejaan Schoepen, a famous musician and entertainer. This place was opened in 1961 and was owned by him until 2004 when he sold it. This park started out as a music-oriented park, but it eventually added rides. Today, it is a full-fledged amusement park with a great number of rides that you can enjoy.
Bobbejaanland

Address: Olensteenweg 45, 2460 Kasterlee, Belgium

Website: Bobbejaanland
2. Plopsa Indoor Hasselt
If you want to have fun with your family in Belgium, then this is the place you should visit. Plopsa Indoor Hasselt is an indoor theme park offering many rides sure to entertain you. The best part about being indoors is that you don't have to worry about the weather - rain, shine, or snow, you can still come here to have fun. Other amenities include a playground and a climbing mountain. People of all ages will enjoy this facility.
Plopsa Indoor Hasselt

Address: Gouverneur Verwilghensingel 70, 3500 Hasselt, Belgium

Website: Plopsa Indoor Hasselt

Opening hours: Mon - Tue, Thu - Fri: 10:30am - 4:30pm; Wed: 10:30am - 5pm; Sat - Sun: 10am - 5:30pm
3. Boudewijn Seapark
Boudewijn Seapark is a theme park with a lot of fun rides and sea-themed interiors and decorations. You will be thrilled by the dolphin shows and seal shows - it will be a delight to watch such great training put to work. There are also river rides and carnival rides to keep you and your kids engaged and to ensure that you have lots of fun. This place will surely leave your body tired and your heart happy.
Boudewijn Seapark

Address: Alfons de Baeckestraat 12, 8200 Brugge, Belgium

Website: Boudewijn Seapark
4. Comics Station Antwerp
Comics Station Antwerp guarantees a day of fun for kids and adults alike. This place is built with famous comic books and comic book characters in mind. There are many popular Belgian characters that are included. For those who love comics, having a theme park that revolves around comic books and beloved characters is a dream come true. Plus, they have some of the biggest indoor slides in the world! With over 60 activities to enjoy and 4 floors to explore, rest assured there's a lot to do here!
Comics Station Antwerp

Address: Centraal Station, Kievitplein, 2018 Antwerpen, Belgium

Website: Comics Station Antwerp

Opening hours: Sat - Sun: 10am - 5pm (closed from Mon- Fri)
5. Plopsaland De Panne
Dino Splash, SuperSplash, Heidi the Ride, and the Big Wave - we know where to find them all: Plopsaland De Panne. This theme park first opened as a park based on Flemish and Dutch figures by the Belgian corporation Studio 100, and it had a bee theme. They have a variety of kid and adult-friendly rides here, plus a lovely animal farm, so get ready to move and groove in this theme park!
Plopsaland De Panne

Address: De Pannelaan 68, 8660 De Panne, Belgium

Website: Plopsaland De Panne
6. Aqualibi
While theme parks make us happy and they are fun to be in, if there is one kind of theme park that everyone loves dearly and looks forward to visiting, it's a water park. The cool rides, the adrenaline rush from the slides, and the pools make for an amazing visit. Aqualibi is an amazing water park in Wavre, Belgium. With gentle and not-so-gentle slides, it offers the perfect combination of heart-racing water rides along with chill entertainment.
Aqualibi

Address: Boulevard de l'Europe 100, 1300 Wavre, Belgium

Website: Aqualibi

Opening hours: Wed: 2pm - 8pm; Fri: 4pm - 8pm; Sat - Sun: 10am - 8pm (closed on Mon, Tue & Thu)
7. Walibi
Roller coasters, thrill rides, family rides, and water rides, can you think of any other kind? Walibi does justice to all kinds of rides by providing you with ample options. No matter what you are in the mood for, you will end up having a great time and enjoying rides like Cobra, Calamity Mine, Gold River Adventure, and more. Named after Wavre, Limal and Bierges, the three towns in the Belgian province of Walloon Brabant where it is situated, the park is just like its name: it combines a variety of rides to give you the best time.
Walibi

Address: Boulevard de l'Europe 100, 1300 Wavre, Belgium

Website: Walibi
8. Plopsa Coo
Plopsa Coo is specially designed with kids in mind. If your little ones want to have a day filled with fun and tasty food, take them here. With numerous activities to explore, there will not be a dull moment in your kid's day. The park has a number of rides and activities like go-karting, duck fishing, merry-go-round, and more. There are also some great eateries to check out. Make sure to accompany your kid wherever they go, as the park might get a little crowded. You will love all the entertainment this park has to offer.
Plopsa Coo

Address: Grand Coo 4, 4970 Stavelot, Belgium

Website: Plopsa Coo
9. Bellewaerde
Bellewaerde, the country's oldest theme park, was built on a large chunk of land - the same spot where the Battle of Bellewaarde from the Great War took place. It has many attractions and rides to enjoy. You can plan to spend a whole day here - because of the size of the park, there is a lot to cover. Apart from the regular theme park activities like roller coasters, water slides, and carousels, you can also engage in activities like bird watching, as this park is built in an area with rich flora and fauna.
Bellewaerde

Address: Meenseweg 497, 8902 Ieper, Belgium

Website: Bellewaerde

Opening hours: Wed - Sun: 10am - 6pm (closed on Mon & Tue)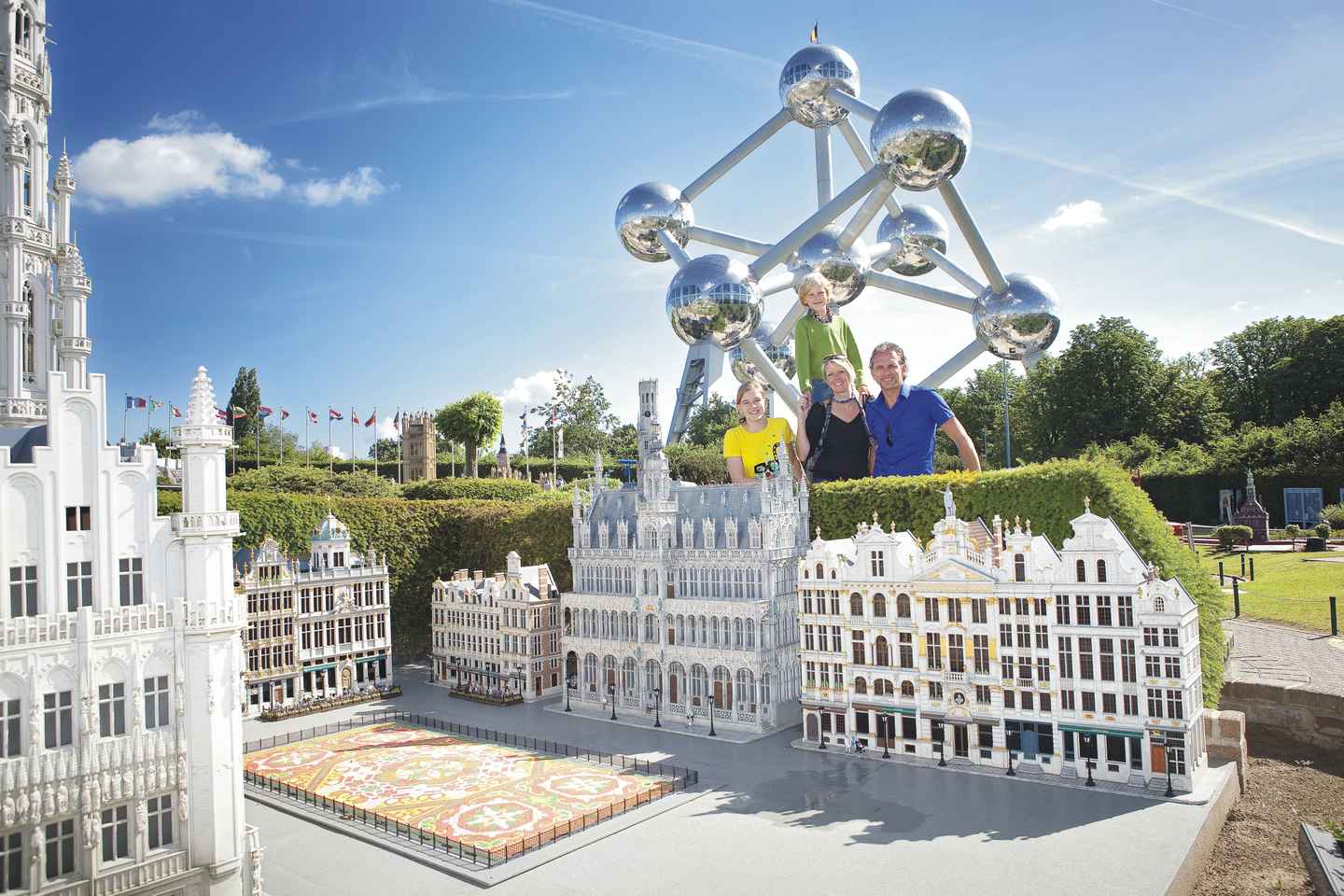 Mini-Europe is exactly what the name says it is. Situated in Brussels, this is a small theme park composed of old Europian cities and their most popular monuments. Around 80 cities and 300 buildings are depicted here. It is a great place to hang out with your kids and educate them about various landmarks and structures in Europe. The theme park also has live-action models, including trains, cable cars, and more. Go here for a day full of learning and fun.
A day of fun
We all love theme parks! Get ready to explore these top theme parks and amusement parks in Belgium and have lots of fun. Make sure you wear comfortable shoes and clothes and put on sunscreen. Line up for thrilling rides and feel the adrenaline rush. You and your loved ones will definitely have a day to remember here.
Disclosure: Trip101 selects the listings in our articles independently. Some of the listings in this article contain affiliate links.
Get Trip101 in your inbox
Unsubscribe in one click. See our Privacy Policy for more information on how we use your data