Brussels is a small city that certainly packs a punch. It's recognised as the capital of the European Union, the crossroads of Europe, and is home to the comic strip art form, spectacular European architecture, and chocolate that's out of this world. As a traveller, you might sometimes struggle with finding night activities in European cities, as many restaurants and shops close relatively early. If you're new to the city, it might be difficult to find the best nightspots in town. Brussels has no shortage of nightlife activities. The cultural sites dazzle in the lights at night, and streets are lined with pubs, bars and great live music. Brussels is known for its locally crafted beers, and what better way to enjoy it than in local pubs? Here are some of the best things to do at night in Brussels, that will make your trip an unforgettable one. Scroll down to check them out.
1. Experience the Deep Dinner at Nemo 33
Nemo 33 was founded by John Beernaerts, an avid diver and traveller who wanted to bring the diving experience closer to those who could not travel out to diving locations. Inspired by the blue lagoons around the world, he designed Nemo 33, a world-class diving facility right in the city. As the deepest indoor swimming pool in the world, it reaches a depth of 113 feet (34.4. meters), and it is complete with man-made caves and platforms. As Nemo 33 continues to push for innovative indoor diving experiences, it's recent creation is the Deep Dinner, the world's first scuba restaurant! Dinner is served at a special underwater sphere, delivered by expert scuba divers through an airtight box. If you're looking for a unique dinner experience, nothing can quite top a Deep Dinner at Nemo 33.
Deep Dinner at Nemo 33

Address: Rue de Stalle 333, 1180 Bruxelles, Belgium

Website: Nemo33

Opening hours: Mon - Sat: 10am - 10pm; Sun: 10am - 9pm

Price: 163 USD
2. Catch drag queen performances at Chez Maman
Editor's Note: Photo taken from the establishment's official social account
What started as a fun way to perform with her fellow drag queen performers turned into a successful bar that is Chez Maman today! Maman opened the bar over 22 years ago with a simple idea of having drag queen performances on the bar counter. Little did she know that Chez Maman would become the cultural icon of Brussels, a symbol of art, inclusiveness and showmanship! You can still catch Maman performing on Fridays and Saturdays together with her crew of fabulous drag queen friends.
Chez Maman

Address: Rue des Grands Carmes 7 Lievevrouwbroersstr. 7 1000 Brussels Belgium

Website: Chez Maman

Opening hours: Fri: 11pm - 5am; Sat: 11pm - 6am (closed from Sun - Thu)
3. Enjoy beers from around the world at Derilium Cafe
The residents of Brussels love their beer, and Derilium Cafe is the perfect manifestation of their passion for this beverage! They offer a wide selection of beers from around the world. And by wide I mean a selection of 2004 beers in total! Derilium Cafe is tucked away in a small alleyway next to the Royal Gallery of Saint Hubert. Its impressive beer list is organised into a menu that resembles an encyclopedia. But don't worry about having to pick from 2004 beers. Their expert staff are happy to help you narrow down your options based on your preferences! You're likely to find something here that you wouldn't be able to find easily in other bars, so try something outside of your comfort zone. You never know if you discover a new favourite flavour! In 2004, they were awarded the Guinness World Records for the number of beers available for tasting.
Derilium Cafe

Address: Impasse de la Fidélité 4, 1000 Bruxelles, Belgium

Website: Derilium Cafe

Opening hours: Mon - Thu: 10am - 4am; Fri - Sat: 10am - 6am; Sun: 10am - 3am
4. Elevate your techno experience at Fuse
Editor's Note: Photo taken from the establishment's official social account
Fuse is known as a powerhouse for techno music performances. Music trends come and go, but since the 90s, Fuse has consistently put out techno music programs that wow the crowd. They now have a reputation as one of Belgium's longest-running electronic music institutions. This is not the place where you dance to some mind-numbing electronic music that you've never heard of. Here is a place where you can fully experience the cream of the crop when it comes to techno music. Let some of the top DJs entertain you, as you party the night away at Fuse!
Fuse

Address: Rue Blaesstraat 208, 1000 Brussels – Belgium

Website: Fuse

Opening hours: Fri - Sat: 11pm - 7am (closed from Sun - Thu)
5. Spend the night at O'Reilly's, an authentic Irish pub
Editor's Note: Photo taken from the establishment's official social account
O'Reilly's Irish pub provides authentic Irish food and drinks in the heart of Brussels. For a reasonable price point, you get to enjoy an exciting party atmosphere that has been highly raved about by locals. If you're a fan of sports, this is a pub you cannot miss. O'Reilly's offers live sports coverage. That means that you can cheer on your favourite teams together with locals. It takes a whole new meaning if your favourite team is based in Europe, as you can really get to meet local fans and share your love for the sport and the team. Grab a classic Irish stout, and have a blast at O'Reilly's.
O'Reilly's

Address: Place de la Bourse 1, 1000 Bruxelles, Belgium

Website: O'Reilly's

Opening hours: Sun - Thu: 11am - 1am; Fri - Sat: 11am - 3am
6. Enjoy drinks at Life is Beautiful - Cocktail Bar
Editor's Note: Photo taken from the establishment's official social account
Life is Beautiful started out as a nomadic cocktail bar in 2015. They became so successful that they eventually found a permanent home for cocktail lovers in 2016. The bar is cosy and homely, and it feels like you're just going to a friend's house for a couple of drinks. The interiors are decorated with hanging plants to give it a peaceful atmosphere. For a chill night out, Life is Beautiful is a perfect choice. The owners are insistent on providing top quality to their customers. They do their best in using only fresh and homemade products, even for their syrups, liqueurs and bitters. Enjoy some homemade cocktails and finger foods to end your night in Brussels.
Life is Beautiful

Address: Rue Antoine Dansaert 161, 1000 Bruxelles, Belgium

Website: Life is Beautiful

Opening hours: Wed - Sat: 6pm - 12am (closed from Sun - Tue)
7. Explore Agora Roundabout - a night market for crafts
Editor's Note: Photo taken from the establishment's official social account
Founded in the late 1980s, Agora Roundabout started out with just a few local artisans showcasing their crafts. It has since grown to include a broad selection of quality crafted products: antiques, jewellery, ceramic art, illustrations, animal sculptures, original candles and perfumes. You can find many unique pieces at reasonable prices here. Get some of these handmade products as souvenirs, and they will definitely stand out over the standard fare of magnets, postcards and little trinkets.
Agora Roundabout

Address: Rue du Marché Aux Herbes 76, 1000 Bruxelles, Belgium

Opening hours: Fri: 11am - 7pm; Sat - Sun: 10am - 7pm (closed on Mon - Thu)
8. Jazz up your night at The Music Village
Editor's Note: Photo taken from the establishment's official social account
The Music Village has a reputation as home to some of the best jazz concerts around the world. Over the years, it has attracted not only jazz lovers, but a broader crowd looking to experience the forefront of jazz music. While you enjoy the show, you'll also get to taste popular Belgian flavours. Some of the menu items include homemade duck rillettes, Liège veal sausage, Belgian ash-coated goat's cheese and the famous Belgian waffles. Visit The Music Village for a night of great food, drinks, and most important, live jazz music.
The Music Village

Address: Rue des Pierres 50, 1000 Bruxelles, Belgium

Website: The Music Village

Opening hours: Tue - Sun: 7.30pm - 12am (closed on Mon)
9. Learn about local culture at La Tentation
Editor's Note: Photo taken from the establishment's official social account
La Tentation is located in a historical building that has been renovated into a successful cultural centre in Brussels. Throughout the year, La Tentation is bustling with activities ranging from concerts, seminars, dance and music classes and dinners. And they're constantly pushing their craft to the next level. Every third Thursday of the month, La Tentation is host to Sysmo, a novel approach that incorporates sign language into live performances, inspired by La Bomba de Tiempo, an Argentinian group led by Santiago Vazquez. If you want to experience the epitome of culture in Brussels, La Tentation is the place to be.
La Tentation

Address: 28, Rue de Laekensestraat - 1000 Brussles

Website: La Tentation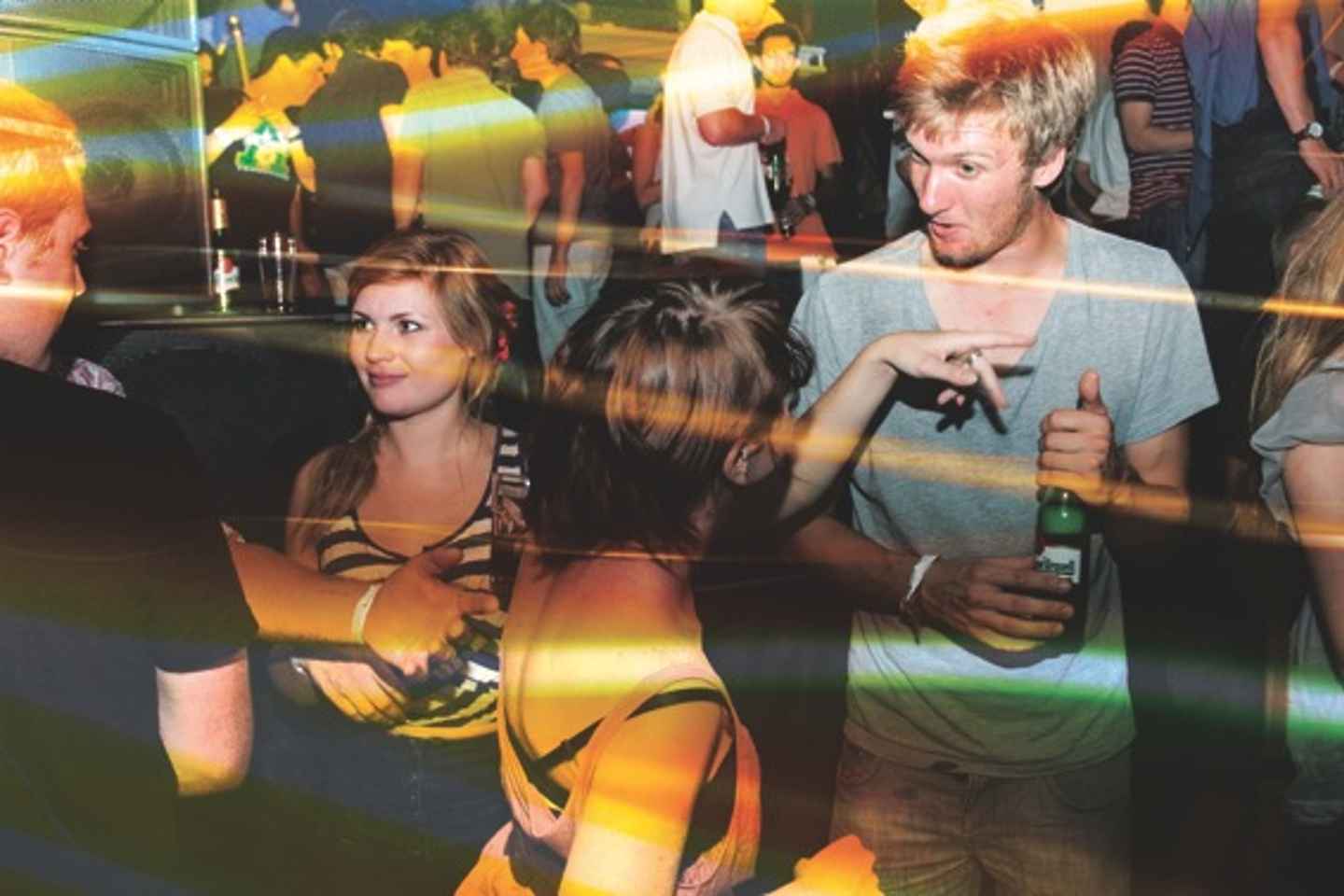 The best way to get yourself acquainted with local pubs in Brussels is with the pub and club crawl, and let the locals be the guide! This will take you through four local bars and one club, and it is complete with free shots and drinks, so you don't have to break the bank just to enjoy a good night out. Led by a professional pub crawl leader, the tour allows you to mingle with locals and like-minded tourists. The tour starts in NUA Party Bar at 8:30 pm, and lasts until 12am. If you're only stopping in Brussels for a night or two, I highly recommend going on the pub crawl as it's your fastest and cheapest way to discover all the best local spots. P.S You need to be above 18 to join the tour.
Pub and Club Crawl of Brussels

Duration: 3.5 hour
Brussels' exciting nightlife
From wild nights out, chill bars to arts and culture spots, there's definitely something for everyone at the Brussels nightlife scene. Plan your perfect night out with the amazing nightlife spots listed above.
Disclosure: Trip101 selects the listings in our articles independently. Some of the listings in this article contain affiliate links.
Get Trip101 in your inbox
Unsubscribe in one click. See our privacy policy for more information on how we use your data