Greece is a historical place where many important events of war, politics, art, and philosophy have happened. Today, it has become a popular tourist destination for people interested in tracing the history from the Paleolithic era to the Roman period. Many of Greece's top-visited destinations are in ruins, but beautiful nonetheless. The country also boasts beautiful views of the sea and landscapes. Some of the most popular places that people visit in the country include the Acropolis, Ancient Delphi, Athens, Rhodes' Old Town, Patmos, and Samaria Gorge.Greece is a sunny place, with a hot-summer Mediterranean climate. If you are planning to visit Greece, a great way of cooling yourself is to visit some of Greece's many amusement parks, where they have plenty of shade, water parks, and cold beverages. Here's our list of the best theme parks and amusement parks in Greece.
1. Aqualand Park Corfu
Aqualand Water Park is a popular amusement park that opened its doors to the public in the late 90s. Those who have constructed Aqualand Water Park are the same company that designed Disney parks and Universal Studios, making sure that everything in the park is of the highest quality. The park is a 75,000 square meter (807293 square feet) water oasis surrounded by forests. The park is composed of huge swimming pools, all kinds of slides, water squirting animal sculptures and all the facilities you may need. Facilities would include lockers, over 600 free parking spots, showers, changing rooms, sunbeds, umbrellas, and a first-aid station. Within the park, they also have bars, restaurants, gelateria, souvenir shops, and a spa.
Aqualand Park Corfu

Address: Agios Ioannis Corfu Agios Ioannis, Parelioi 491 00, Greece

Website: Aqualand Park Corfu

Opening hours: 10am - 6pm (daily)
The Aqua Crea Limoupolis is a water park that offers fun and sun-filled experiences to all its visitors. They have multiple large swimming pools, five colors multi-slides, triple twist sliders, giant 100-meter (328 ft) slides, the Crazy River Limoupolis, the Black Hole Slider, and a 55-meter (180 ft) free-fall slide. The park regularly hosts parties and events as well as give promos and discounts. To ensure safety within the park, Aqua Crea Limoupolis operates an integrated mechanical and laboratory system with safety certifications as well as skilled and experienced lifeguards in every water point in the park.
Skip the Line: Limnoupolis Water Admission Ticket

Duration: 1 day
Zante Water Village is one of the biggest Water Parks in all of Greece. The park occupies 40,000 square meters (430556 square feet) of land, surrounded by trees. The park has three octopus slides, Slippery Rabbit, a lazy river, Blackhole, children's' slides, the Boomer Bowl, free fall, Family Tower 4 Multi Racing Slide, Giant Black Hole, and several other water games. Facilities withing the park include showers, changing rooms, bathrooms, lockers, a first-aid station, lifeguards, souvenir shops, and a large parking lot.
Zante Water Village Admission Ticket in Zakinthos

Duration: 6 hours
4. Splash Waterpark Isthmos
Filled with many water games, slides, pool, and all the facilities you'll need, Splash Waterpark is a popular amusement park that has some great offerings for all kinds of visitors. Some of the most popular slides in the park are the Kamikaze, free fall, multi slides, black hole, and body open. As for facilities, the park has a mini-market, lockers, free sunbeds, free parking, showers, souvenir shops, restaurants as well as a bar. If you are planning for a special occasion, the park also offers party services for children's parties and all kinds of corporate events.
Splash Waterpark Isthmos

Address: isthmos, Korinthos 201 00, Greece

Website: Splash Waterpark Isthmos

Opening hours: 10am - 7pm (daily)
5. Santa Claus Kingdom
The Santa Claus Kingdom is one of the biggest family fun parks in Athens. The parks offer endless amounts of entertainment, including numerous activities such as a variety of games and rides like bumper cars, roller coaster, the VR room, and carousel. Several live theatrical performances, and an ice-skating rink are also available. They also have a new outdoor amusement park taking over 3,000 square meters (32291 square feet) of space, where many beautiful displays and booths can be observed.
Santa Claus Kingdom

Address: Leof. Lavriou 301, Peania 190 02, Greece

Website: Santa Claus Kingdom

Opening hours: 10am - 10pm (daily)
6. Luna Park The Aidonakia SA
Editor's Note: There's no photo available at the time of writing
Having been entertaining families for over 58 years now, Luna Park Aidonakia is a popular spot for groups of people to enjoy and have fun. Some of the noteworthy attractions include the Vortex, mini roller coaster, carousel, safari, 4x4 bikes, climbing tower, highway, and bumper cars. Inside the park is Aidnakia's cafe, where you can order all kinds of shakes, ice cream, popcorn, nachos, and many other snacks. The park also regularly hosts events, parties, and give promotions and discounts to all visitors.
Luna Park The Aidonakia SA

Address: Dionisou 155, Marousi 151 24, Greece

Website: Luna Park The Aidonakia SA

Opening hours: Mon - Fri: 4pm - 11pm; Sat - Sun: 10am - 11pm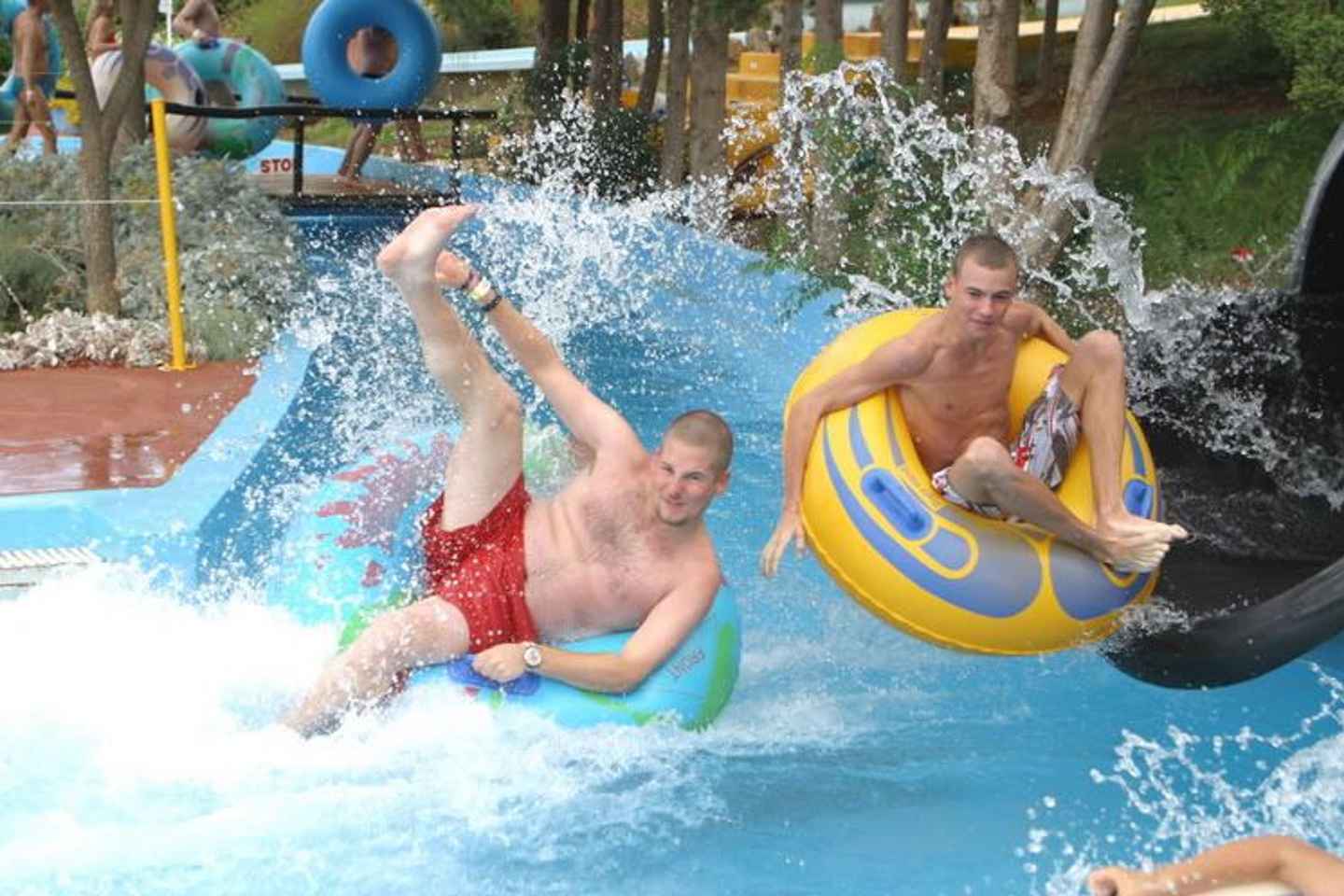 Acqua Plus is the most popular water park on Crete. The park has been in business for over 20 years now. They make sure to use top-quality equipment to ensure safety and quality experience. Facilities would include toilets, telephone boxes, lockers, changing rooms, showers, a first-aid station, sunbeds with umbrellas, and free WiFi in the entire park. As for water games, they have the Giants of Terror, Tsunami, two Massive Black Holes, Crazy River, Spacebowl, multirace slides, three giants slides, Kamikaze, Hydrotube, W.O.W Balls, and several games for children. Aside from all the facilities and water games, the park also has a video gallery and four restaurants.
Hersonissos: Acqua Plus Water Park Entrance Ticket
8. Tsilivi Water Park
Known as an aquatic paradise, Tsilivi Waterpark has done its best to preserve and help the natural environment around it to thrive. As a result, the park is surrounded by wonderful trees and other greenery that make the park look and feel unique. The park features multiple attractions such as rafting, multi-slide, space hole, lazy river, black hole, octopus, pirate boat, swimming pool, hot tub, and more. Park facilities include lifeguards, toilets, telephone boxes, lockers, showers, first aid/medical center, umbrellas, photo shop, a history museum, roof garden, and an internet corner. As for food and beverages, the park also has a restaurant and bar for convenience.
Tsilivi Water Park

Address: Arkadii 291 00, Greece

Website: Tsilivi Water Park

Opening hours: 10am - 5:30pm (daily)
Visit Watercity and feel like a kid again! This water park, located on the northern coast of Crete, is a place where people can experience all kinds of water games such as the wave pool, Tarzan's game, two children's pool, whirlpool, children's slides, hydro tubes & free fall, body slide cyclone, the lazy river, Multi-Race, Kamikaze, and so much more. Certain facilities in the park would include a first-aid station, beauty salon, boutique, souvenir shop, locker, changing rooms, park photographer, and parking.
Skip the Line: Watercity Waterpark Admission Ticket

Duration: 1 day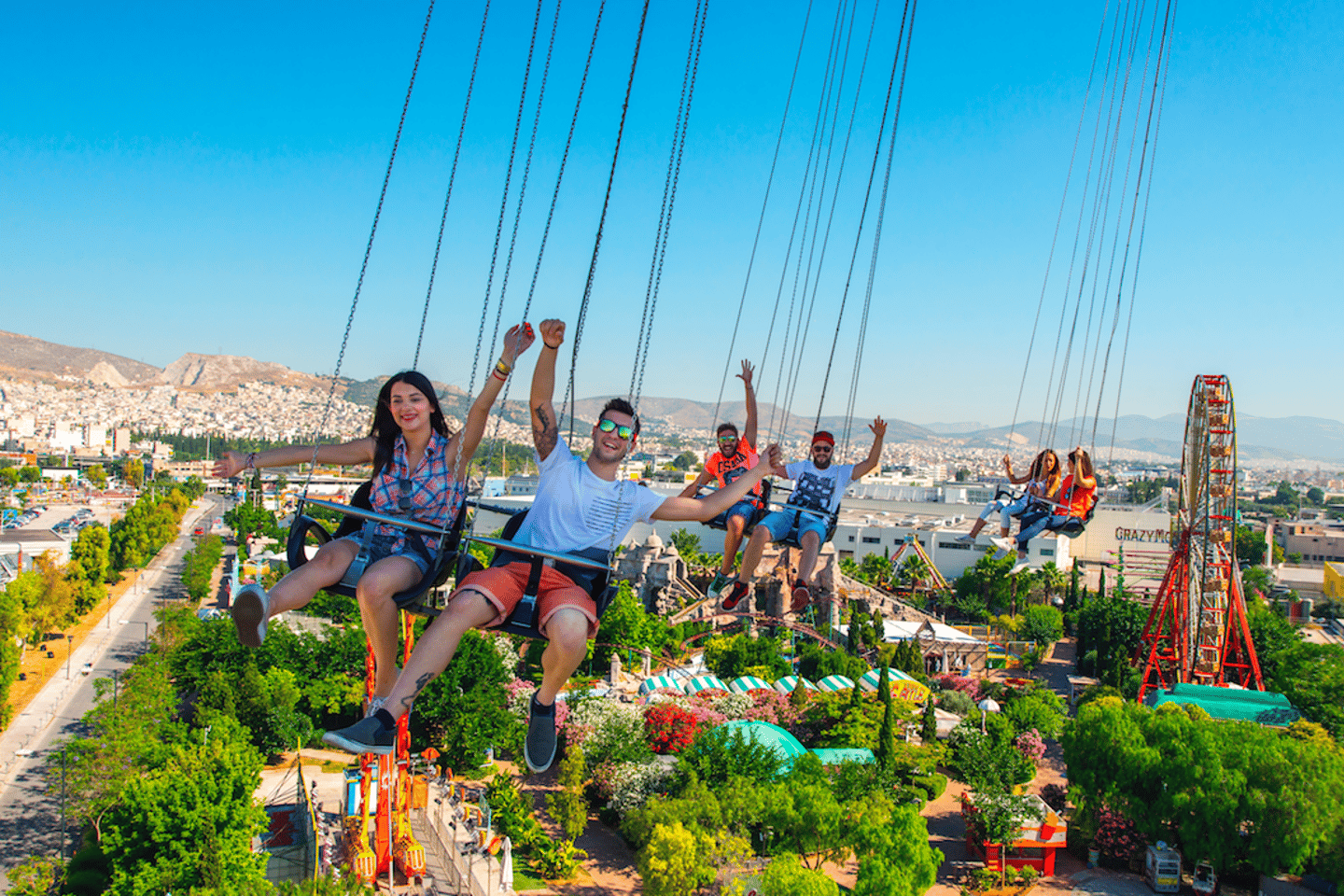 Visit the largest amusement park in Greece, Allou! Fun Park. It is a popular destination for family visitors and people who love to experience the thrill, with some of the most humongous rides in all of the country. The amusement park has some of the biggest titles when it comes to games; some of them are Hologate, Mission Vault, The House of Fear, Red Devil, Music Express 1,2 & 3, Power Karts, Loop It, Shock & Drop, 360 VR X-TREME, and a lot more. The park has several restaurants and shops, as well.
Athens: Allou! Fun Park Entrance Ticket

Duration: 1 day
Fun for the entire family
If you are visiting Greece with friends and family, one of the best attractions to visit is their amusement parks. These parks are great for everyone, as they usually have several attractions located near each other while also being near to some restaurants and boutiques. Whether you guys are interested in shopping, playing games, riding the roller coaster, or want to relax on a lazy river, visiting the amusement parks in Greece will surely satisfy your spirit.
Disclosure: Trip101 selects the listings in our articles independently. Some of the listings in this article contain affiliate links.
Get Trip101 in your inbox
Unsubscribe in one click. See our privacy policy for more information on how we use your data