When one thinks of "nightlife" in Mexico, generally vacation hotspots like Cancun or Puerto Vallarta come to mind – seldom do the words "party" and Mexico City seems like it would go hand in hand, but Mexico City locals, known as "Chilangos" know that you don't have to go to a beach town for a good time.
Want to go out and enjoy the fun after-hours in this vibrant city? Book one of the top Vrbo vacation rentals any of the top Airbnbs under 100 USD and head out to discover Mexico city's nightlife. Check out these top things to do in Mexico City at night.
1. Mama Rumba
Editor's Note: Photo taken from the establishment's official social account
One of the best Mexico city night activities loved by aspiring salsa dancers and live-music fans is visiting the night club Mama Rumba. It is the perfect place to go in Mexico City for those looking for a lively night of Latin music salsa dancing and a good time. This place is great for both tourists and locals looking to enjoy music until late in the night, as the party goes on until 3 am – no worries if you don't know how to salsa, the Chilangos will be happy to teach you.
Mama Rumba

Facebook: Mama Rumba
2. The rooftop of Condesa D.F.
Editor's Note: There's no photo available at the time of writing
Rooftop drinks in Mexico City? Yes, please! This gorgeous all-white rooftop is one of the best places to go in the city for a drink with some views. Though not a place to "party" all night – the rooftop of Condesa D.F. is a great way to spend a laid-back night of drinking, conversation and people watching – or it's the perfect place to start off your party.
Condesa D.F.

Website: Condesa D.F.
3. República Del Distrito Club Polanco
Located in the city's most posh neighborhood, Polanco, this is the perfect place to see the nightlife of Mexico City come spring to action. Always bustling, always filled with the trendy Mexican elite, this is a place where Chilangos dress to impress and come to party. From house music, to EDM and more, Republica Del Distrito is well known in the city – but remember – reservations are required.
República Del Distrito Club Polanco (currently closed)

Website: República Del Distrito Club Polanco
4. Love in Polanco
Editor's Note: Photo taken from the establishment's official social account
Does your weekend start on Friday night? Not at Club Love in the famous district of Polanco. Here, Wednesday nights are the nights to be out and about and enjoy the fast-paced, upbeat energy of Club Love. Here, visitors and locals dance their heart out to music by the country's top DJs in a vibrant venue open until 4 am. If you're in the city on a Wednesday night, this is the best place to use your dancing shoes, flaunt a nice outfit and enjoy cocktails, dancing and an unbeatable non-stop party while in Mexico City.
Love in Polanco

Website: Love in Polanco
5. Jules Basement
Editor's Note: Photo taken from the establishment's official social account
Wondering what to do in Mexico City at night? Then just drop by Jules Basement i- a Polanco treasure that gives visitors a bar experience unlike any other in the whole of Mexico City. The sleek lounge and ambient lighting give the venue a chic, upscale feel combined with traditional Mexican culture like skulls as the base of the tables. This is undoubtedly one of the best bars to go to in Mexico City if you're looking for a speakeasy vibe and killer cocktails. Visitors can also enjoy live music with their drinks, as this beloved bar frequently has events like Jazz nights.
Jules Basement

Website: Jules Basement
6. Patrick Miller
Editor's Note: Photo taken from the establishment's official social account
Patrick Miller might not sound like a Mexican name, but the name "Patrick Miller" is practically a household name in Mexico City. Chilangos know this famous dancehall as the best place in Mexico City to let loose and enjoy a night of disco, electronic music, costumes, dancing and people of all ages looking for a party. The huge venue is always a high-energy dance party, and those looking for an unforgettable night in a quintessential modern-Mexican dancehall should find themselves at Patrick Miller.
Patrick Miller

Website: Patrick Miller
7. Auditorio Nacional
Among one of the biggest concert venues in the entire world, the Auditorio Nacional hosts some of the biggest names in music from all over the world. From opera to reggeaton, all types of artists with all types of audiences make their way to the Auditorio Nacional to enjoy an unforgettable show. This grand entertainment center has something for everyone, but be sure to look at tickets early as shows frequently sell out.
Auditorio Nacional

Website: Auditorio Nacional
Mexico has one too many best places to eat. Choosing a favorite is never an easy task, so indulge your taste buds with a foodie tour in Mexico City that you will never forget. Led by a knowledgeable local guide, this four-hour food tour explores several of Mexico City's vibrant neighborhoods such as Mercado de Flores and Colonia Roma. Enjoy a variety of delicious dishes, from street tacos to restaurants with smoky mescal, and try local Mexican craft beer. As long as you are at least 18 years old, this tour is an ideal way to explore the city's rich culinary heritage – and the guide will even pick you up and drop you off at your accommodation.
Mexico City Taco Night Private Food Tour with Mezcal and Beer

Duration: 4 hours
One of the most exciting things to do in Mexico City is to experience the atmosphere and excitement of Lucha Libre, known as Mexican Wrestling. Down a shot of tequila and join the roaring locals in Arena Mexico or Arena Coliseo as they cheer for their favorite wrestlers. Lucha Libre is more than just a pastime. It is a theatrical drama of athleticism – a story of heroes and villains, saints and devils that do battle for the entertainment of the crowd. This once-in-a-lifetime experience is not to be missed, and you can even take home a Mexican wrestling mask as a souvenir.
Mexican Wrestling: Experience Lucha Libre in Mexico City

Duration: 3 hours 30 minutes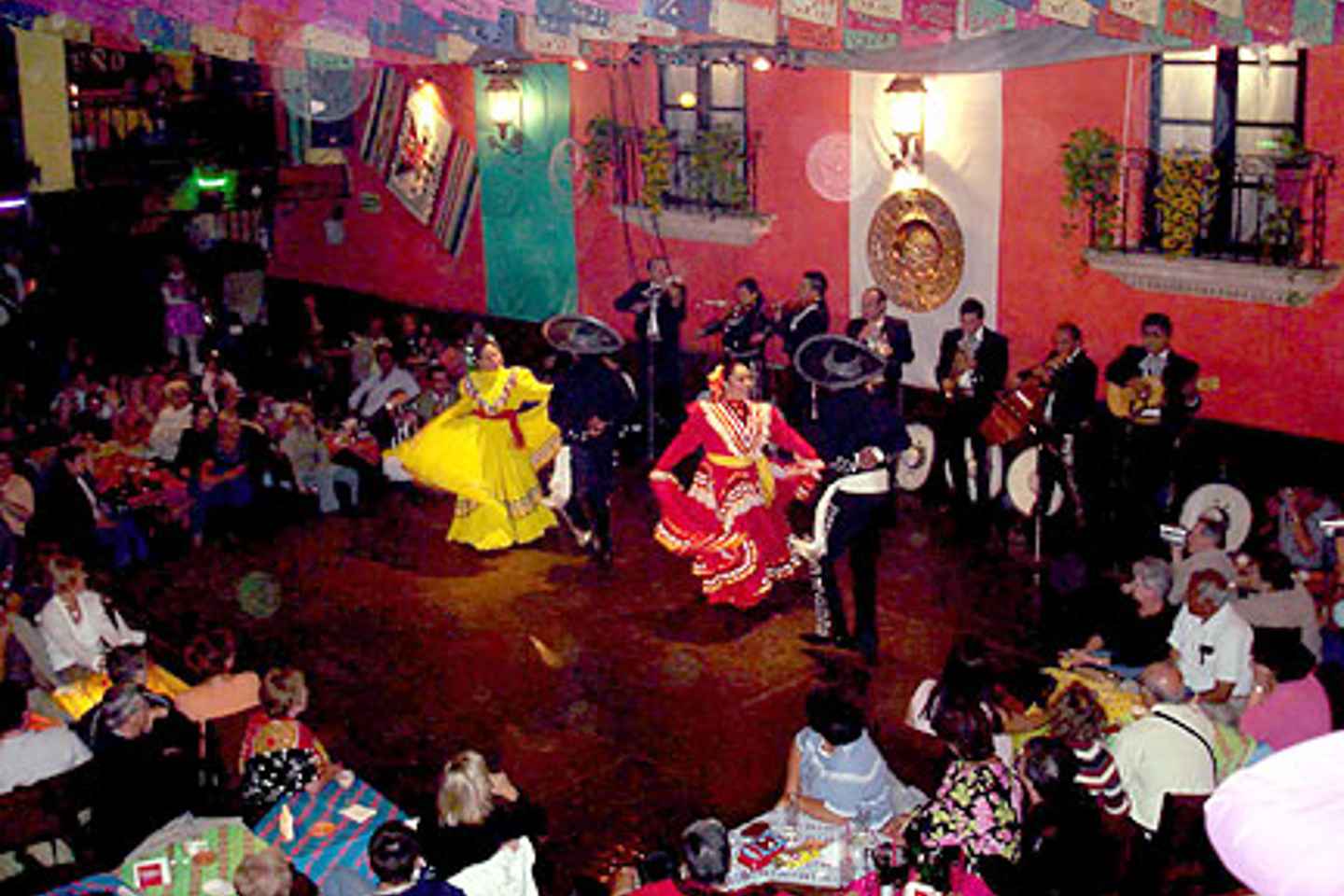 Mexico's favorite liquor comes to life at the Museo de Tequila y Mezcal. While taste-testing the various tequila and mezcal selections during the day is definitely possible, we'd recommend going Thursday-Saturday after dark, when the museum is open until 2:30 am. Enjoy a guided tour and learn about all of the different types of tequila and mezcal produced in Mexico – the museum has hundreds to choose from. Best of all, you're welcomed by a margarita upon entrance and given access to a gorgeous open balcony to enjoy your drinks.
While you are there, why not join a tour at the Plaza Garibaldi and enjoy a Festive Mexican Folkloric Show: A Mariachi Variety Show where you can dance the night away. Grab the complimentary drink, and enjoy yourself! If you have any questions, there's a professional guide who can answer all of your queries.
Garibaldi by Night - Mexico City

Duration: 3.0 hour
Looking for a fiesta in this Latin city that never sleeps? While you may not have time to check out every place recommended above, you'll quickly find that nightlife in Mexico City will keep you wanting more. This truly is a city where you'll never get bored, and one could spend an entire lifetime trying to do it all. So while Cancun is definitely a party hot-spot for spring-breakers, for those looking for a true experience of Mexican nightlife the way the Mexicanos do it, CDMX is the go-to destination.
If you wish to further explore Mexico City at night, why not go on a Segway tour.
Mexico City Segway Tour: Paseo de la Reforma by Night

Duration: 2 hours
Disclosure: Trip101 selects the listings in our articles independently. Some of the listings in this article contain affiliate links.
Get Trip101 in your inbox
Unsubscribe in one click. See our Privacy Policy for more information on how we use your data