Siem Reap is located in north-western Cambodia and is known as being the gateway to the amazing ruins of Angkor. This vast complex of stone buildings was the seat of the Khmer kingdom between the 9th and 15th centuries, and it includes the main temple, Angkor Wat. Meanwhile, the Bayon Temple at Angkor Thom features giant, smiling faces carved into its facade. The Ta Prohm Temple is also of interest to visit, with its ruins overgrown by trees. However, while the resort city is known for these fascinating buildings, there are many more things to do in Siem Reap, Cambodia besides visiting the temples. Scroll below to view our top picks.
Paper Tiger is the first culinary school in the city of Siem Reap and it has been educating people about the culinary arts since the turn of the millennium. World-class instructors here will teach you to prepare truly authentic Khmer dishes such as beef loclac, amok and meat curries over the course of three hours. Start by visiting a landmark market that sells vegetables, meat and other ingredients that you will need to cook. Once you reach the class, your instructor will teach you to prepare lip-smacking dishes and give you a recipe book at the end so that you can go home and prepare the dishes you have learnt.
Paper Tiger Cooking Class in Siem Reap, Cambodia

Duration: 3hrsDuration
If you wish to immerse yourself in Cambodian culture, there are few places better than visiting the Phare circus. Witness the magnificence of the circus performers as they present an electrifying show filled with music, dancing and arts, adding to traditional circus arts. The entire performances are beautifully choreographed to the very second, and the story is performed in Khmer with English subtitles so you can follow everything on stage. Before the show, you can go for some refreshments or check out the shoppe on the premises that sells souvenirs and small trinkets.
Phare, The Cambodian Circus
3. Shop till you drop at ANM Khmer Market
Editor's Note: Photo taken from the establishment's official social account
ANM Khmer Market is one of the most famous night markets in Cambodia, and it is frequented by hundreds of tourists and locals alike. Previously known as the Angkor Night Market, this place opens in the evening so you can visit it after a day of sightseeing, and it is designed in a grid so it's easy to find your way around it. Enjoy shopping for a wide variety of goods from cultural souvenirs to apparel. Once you are done exploring the market, pop into one of the many restaurants or bars lining the streets for some dinner and drinks. The market is wheelchair-accessible and it has plenty of amenities, including clean public bathrooms and fire safety regulations in place.
ANM Khmer Market

Address: Angkor Night Market Street, Steung Thmei, Krong Siem Reap, Cambodia

Website: ANM Khmer Market

Opening hours: 5pm - 12am (daily)
4. Admire Cambodian art at the famous Тheam's Gallery
Editor's Note: Photo taken from the establishment's official social account
This lovely and sophisticated museum offers the choicest of Cambodian artwork and historical artefacts, creating a serene sanctuary where you can immerse yourself in Cambodian culture. Home of the famous Cambodian artiste, Lim Muy Theam, this gallery is a treasure trove for art and culture enthusiasts. In addition, you can explore the more modern paintings of Lim Muy Theam, and watch artist apprentices at work. Step out into the courtyard to find a tranquil garden to relax in as you sip a delicious beverage from Theam's Café and Lounge.
Тheam's Gallery

Address: Veal Village, Phum Kokchack district, 50m on the right of, Street 30, Krong Siem Reap, Cambodia

Website: Тheam's Gallery

Opening hours: Mon - Fri: 8am - 5pm; Sat - Sun: 8am - 6pm
5. Witness art come to life at ArtBox
Editor's Note: Photo taken from the establishment's official social account
ArtBox Trick Art Museum in Cambodia offers a fantastic experience, whether you are travelling with family, friends or just by yourself. This place features landmarks and wonders of the world recreated in a life-size art piece. This 3D museum allows you to click pictures for social media against magnificent backdrops like 3D sculptures and holograms that bring art to life before your eyes. After exploring the museum, head over to the café on the premises for a quick snack or beverage.
ArtBox

Address: Krous Village Road, Krong Siem Reap, Cambodia

Opening hours: 9am - 7:30pm (daily)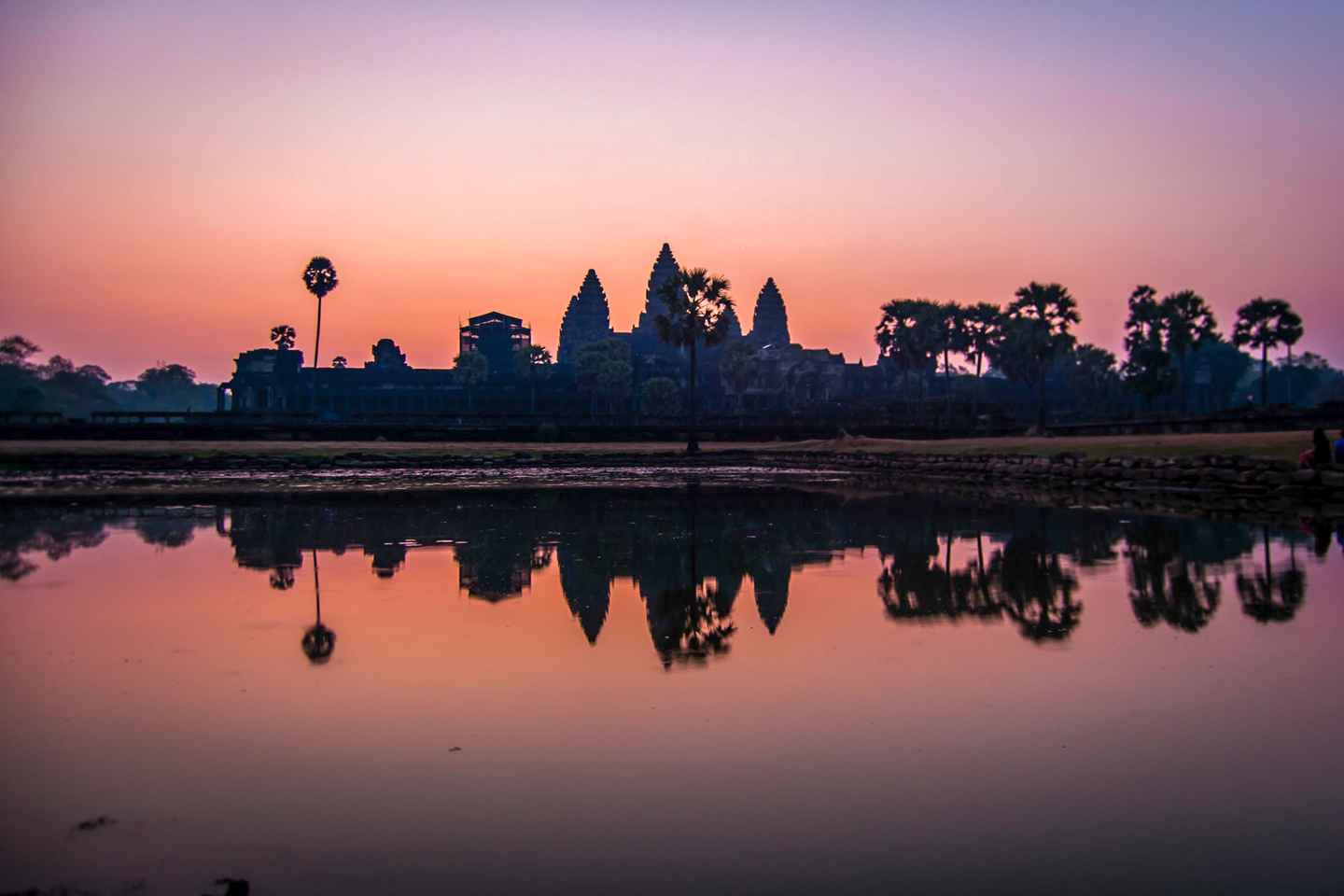 View Angkor Wat from a different perspective as you ride a hot air balloon at sunrise. Enjoy the rest of your day exploring the area and learning about the fascinating monuments from a professional guide. This tour takes a maximum of 10 persons, and temple entrance fees are additional costs. Meals and drinks are not included in the tour package.
Angkor Wat: Highlights and Sunrise Guided Tour

Duration: 8.0 hour
Khmer Ceramics are the specialists in handmade ceramics in Siem Reap. On this fun tour, you will learn how to create your own Khmer pot. You will make your own Angkorian bowl. Add your own finishing touches and decide which piece to hand to the professionals for firing and glazing. You can then collect the finished item the next day. Hotel pick-up and drop-off are available in the package.
Khmer Ceramics Pottery Class in Siem Reap, Cambodia

Duration: 1hrs45 Min Duration
Located 10 mi (15 km) from Siem Reap, the Floating Village is the perfect place to visit while enjoying a boat ride on Tonle Lake. You will be accompanied by your English-speaking tour guide. While on the boat, enjoy the views of the rice paddies and lotus fields, visit the crocodile and fish farm, and learn about the trades in the Floating Market. You will also get a chance to buy some souvenirs to take home.
discover floating villages and tonle sap lake by boat

Duration: 4 hours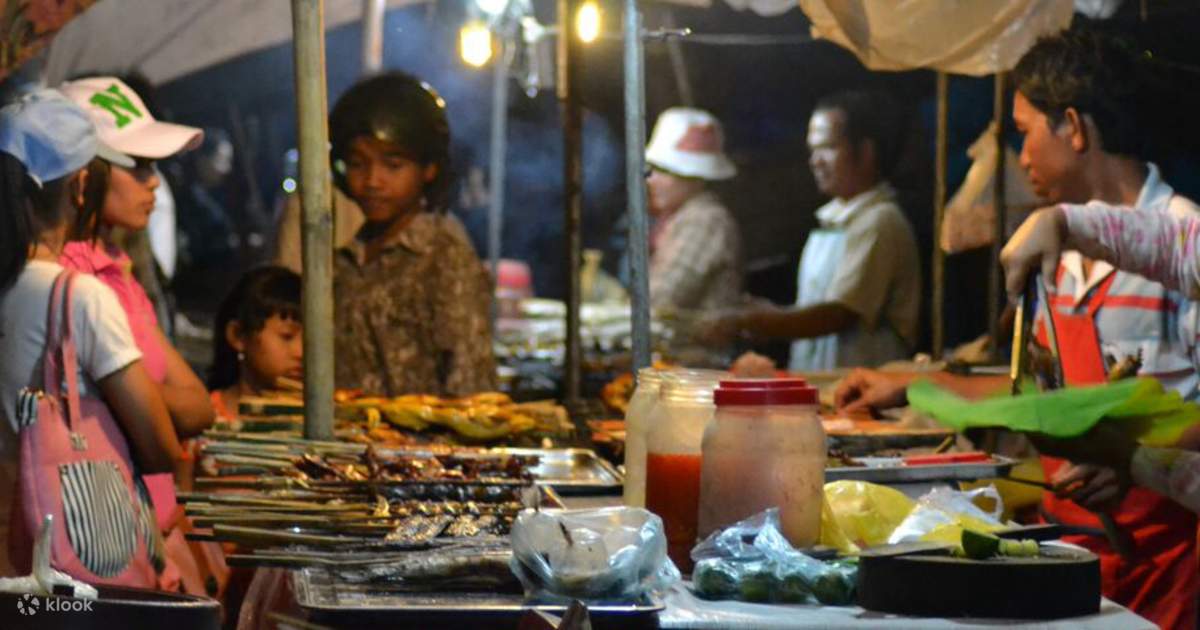 Siem Reap is the home of one of the world's most ancient cuisines, and Khmer food is an important feature of the Cambodia experience. The street food in Siem Reap is influenced by dishes from Thailand, Vietnam, China, and France. There is an amazing array of different flavors that have become unique to the Cambodian taste. A knowledgeable guide will tour with you through the markets and alleyways as you taste test local street foods. The last stop is Pub Street of Siem Reap where you will enjoy a couple of beer servings.
Siem Reap Street Food by Night - Klook

Duration: 3hrsDuration
Learn how to make your own cocktails using a blend of delicious local liqueurs made from mango, coconut, banana, ginger, chili, or galangal. Learn how the liqueurs are made, then taste-test the results. Enjoy the drinks with banana chips, taro chips, flavored peanuts, and cashew nuts. Top off the experience by shopping around for the liqueur and alcoholic jam souvenirs.
Siem Reap Sombai Cocktail Class with Liqueur Tasting, Shopping

Duration: 2 hours
Witness a live performance of the Apsara, a classical Cambodian dance, and part of the Khmer identity. The dance was banned during the Khmer Rouge regime of Pol Pot but has now come back. In Buddhist and Hindu mythology, an Apsara is a female spirit and all the dances are elegant. Performers wear traditional costumes. The movements of their hands and feet tell a story of their history and also relates to the cycle of nature. After enjoying the show in a unique wooden theater, head off for a traditional Khmer dinner.
Evening Apsara Dance Performance with Dinner and Transfers

Duration: 4 hours
Have fun exploring Siem Reap's night markets, trying out genuine Cambodian BBQ and delicious spring rolls. Or, be more adventurous and try barbequed snails and other insect dishes. Along the way, learn about the typical Cambodian flavoring and cooking techniques. Then, follow up with a nightcap at Sombai Siem Reap Liquor House.
Siem Reap Evening Food Tour - Inclusive 10 Local Tastings

Duration: 5 hours
Visit the UNESCO-listed Angkor Wat at sunrise or sunset, when the temperatures are a bit cooler and there are fewer crowds. Plus, of course, the colors in the sky make an amazing scene during those hours. A guide will take you to the main structures in the Angkor Archaeological Park at dawn, or you can head there in the evening after a perfect day of exploring Siem Reap. What a wonderful ending or beginning to an exciting day in Siem Reap, right?
Angkor Wat Sunrise and Angkor Thom Sunset Tour

Duration: 9 to 10 hours
Visit a traditional blacksmith's shop in Siem Reap and learn the ancient Khmer craft of making blades. Angkor Wat was the center of power in the Indochina region in the past, and there was always a booming industry for blacksmiths, especially with the endless wars. But there was also a need to make tools for crafting the amazing sculptures and carvings in the halls of Angkor. This unique hands-on workshop will teach you the age-old process of melting the metal and hammering it over a charcoal fire. You will then craft your own, unique medieval knife as a souvenir to take home. There is a choice of the morning or afternoon class.
Medieval Knife Making at a local Blacksmith's workshop

Duration: 90 to 120 minutes
Enjoy cycling in the rural areas outside of Siem Reap. Head out from the busy city to the quiet dirt roads. Ride alongside the river, passing farmlands and rice fields along a 25-mi (40-km) route. Stop off at local villages along the way to join in daily activities and visit an ancient pagoda. Enjoy light refreshments, as well as a lunch consisting of Cambodian dishes, before heading back to the city.
Siem Reap Countryside Bike Tour with Village Visits & Lunch

Duration: 9 hours
Take in the splendors of Siem Reap in Cambodia
Explore all the history, tastes, and magic the city has to offer by exploring the more things to do in Siem Reap, Cambodia besides visiting the temples. Try the activities on this list! We hope you enjoy your visit!
Disclosure: Trip101 selects the listings in our articles independently. Some of the listings in this article contain affiliate links.
Get Trip101 in your inbox
Unsubscribe in one click. See our Privacy Policy for more information on how we use your data