Surat Thani, which translates to "City of Good People", is one of the oldest cities of Thailand which dates back to the 5th-century. It is also the 8th largest city in the country. It is found in the southern coast of Thailand and is a famous tourist destination for its coastal shores. Surat is the entryway to the popular islands of Ko Pha Ngan, Ko Samui and Ko Tao. These islands draw in tourists for their natural beauty, ancient temples and the diversity of the attractions each island offers.
If you want to reconnect with nature and be in tune with your spirit, Surat Thani offers the temporary escape you need from the stress of modern living. Look at the top Airbnb vacation rentals in the city if you don't know where to stay in Surat Thani after you've visited the attractions below. Here is a list of the things to do in Surat Thani!
1. Go to the Market
The Thai Sunday and Night Market are very attractive to tourists because of their many exotic offerings. Thailand is synonymous to Rambutan (their famous indigenous fruit) and delicious salted duck eggs. This beautiful tropical country is also famous for their oysters, one of the largest in the world. You will find a lot of these delicacies in their markets along with the products from their local handicrafts like the elegant Phum Riang silk. This intricately designed silk is one of the best in the world and is produced only in a Muslim village called Phum Riang. Have a taste of their exotic food and buy at least one of their famous silk products so you can truly have a memento of your Thai experience.
Surat Thani Night Market

Address: Tonpo Alley, Tambon Talat, Amphoe Mueang Surat Thani, Chang Wat Surat Thani 84000, Thailand

Opening Hours: Saturday to Friday 3pm to 11pm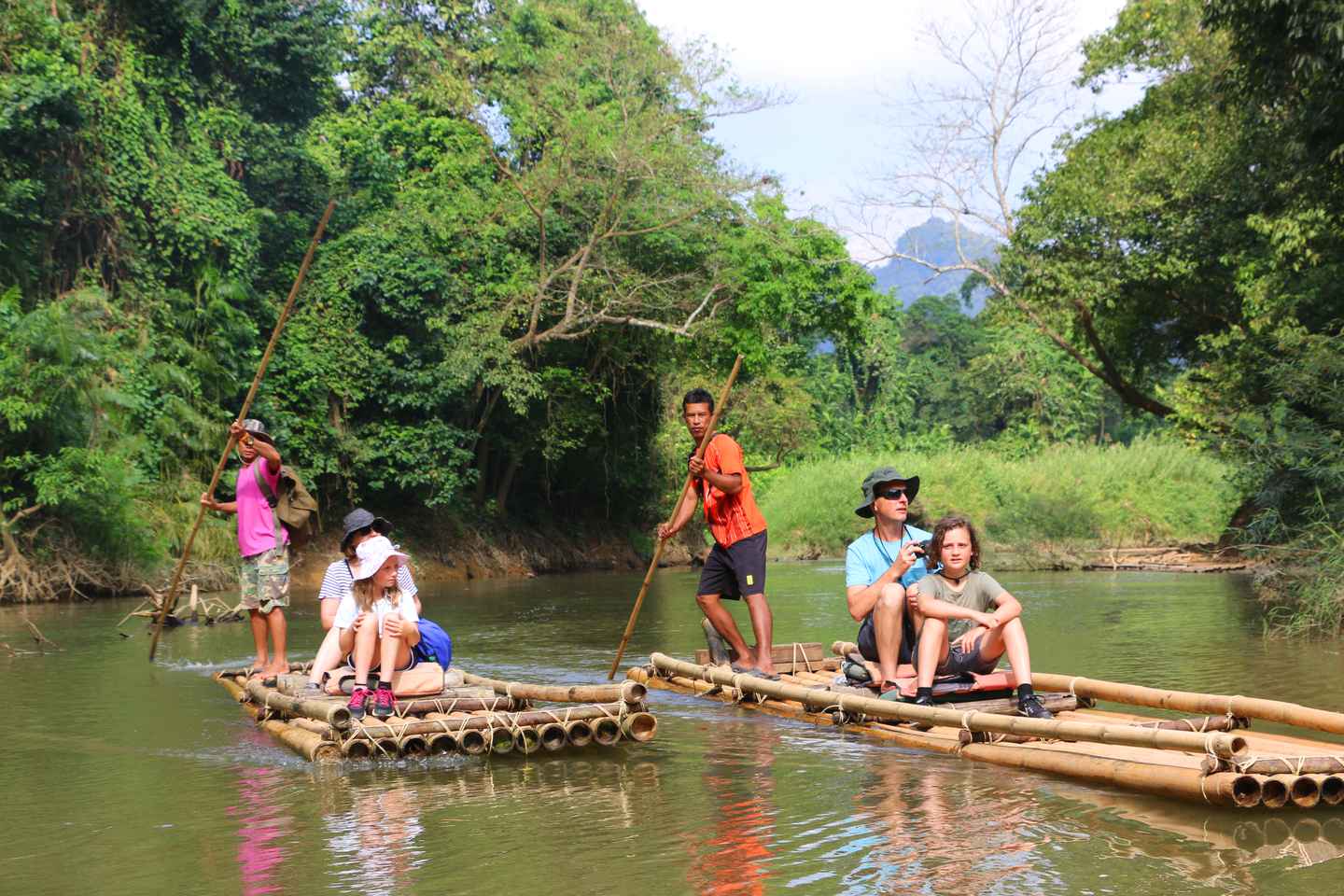 The Khao Sok National Park is one of the oldest rainforests in the world. Nature lovers will truly enjoy the experience of exploring this natural reserve by hiking the trails or riding an elephant through the forest. You can also ride a canoe, kayak or raft paddling through the Sok River or the man-made Cheow Lan Lake. There you will find the tallest evergreen trees, breathtaking views of giant limestone mountains, awesome lakes and caves, and exotic plants and animals.
In 1980, it was established by Thailand as its 22nd National Park and one of the biggest in the world. The park is found in Southern Thailand and overlaps the forests of Khlong Pra Sang and Khlong Yee. It is popular for its untouched topography since the ice ages and the largest limestone mountains called karst. The park offers exciting jungle tours and floating huts for accommodations.
Duration: 7.0 hour
3. Sonchana Farm and Elephant Sanctuary
The Thais have a high regard for elephants, that's why there are several sanctuaries where these gentle giants are well taken care off. The Sonchana Farm is quite exceptional because it has been operating for 120 years and it features an elephant sanctuary program that sustains the local Khao Sok community. It is a family owned farm and they also support the eco-tourism by giving tourists a lifetime experience of interacting and riding an elephant in a real jungle environment. Here you will meet the famous elephant named Somboon, who was once a trekking elephant, living the rest of his retirement in this eco farm.
Other fun filled activities include feeding and bathing the elephants, planting the crops for elephant feed and a short tutorial on how to take care of the forest. You can also sign up for their exclusive cooking class in the Khlong Panom National Park, conducted by Pi Jun where you will learn culinary techniques using the traditional methods of cooking using organic vegetables and herbs that grow in the farm-without the use of electricity, gas or plastic! Now that's an interesting lesson for jungle survival!
Sonchana Farm and Elephant Sanctuary

Address: Khlong Sok, Phanom District, Surat Thani 84250, Thailand

Opening Hours: Daily hours (includes pick up/drop-off): 9:00-11:00am / 2:00-4:00pm

Contact: +66 952428600

Website: Sonchana Farm and Elephant Sanctuary
Riding a boat is one of the popular ways to go about Surat Thani and its numerous waterways. The long tail boat (called Ruea Hang Yao) is the most significant because of its distinct features. It is a long wooden canoe, with an extended piece of wood in front. The improvised versions include a motorized engine to efficiently transport tourists to various scenic locations. Recently, the government banned the use of their precious timber in the construction of these boats so it's becoming a rare item in Thailand. It would be an exciting experience to ride one of these boats, hoping from one island to another before it totally becomes extinct.
4 Island Tour by Longtail Boat with Emerald Cave

Price: from 31.70 USD

Website:
5. Visit an oyster farm
Surat Thani prides itself for being one of the producers of the largest oysters in the world. It is a succulent delicacy enjoyed in most restaurants and dining places. Here at the oyster farm, you will have a first-hand experience of how the oysters are grown, harvested and processed from farm to table. There are some farms where you can actually dine in and taste the newly harvested fresh oysters with a pinch of salt and a squeeze of lime. A word of caution though in eating raw oysters, you must have a strong stomach for it! You will have to hire a boat that will take you to the farms.
Suppadij Oyster Farm

Address:: Surat-Poonpin Rd., Muang Surat Thani, 84000, Surat Thani, Thailand

Phone: +66 07727316
6. Wat Phra Borommathat Chaiya
This lovely white and gold pagoda is one of the most awesome attractions in Surat Thani. In ancient times, it was believed that Chaiya was Thailand's capital, making it one of their oldest cities. This was the center of the Srivijaya Empire, meaning the city existed in the 5th-century. The temple was constructed by the Mahayana Buddhists and is the best preserved artifact designed in Si Wichai style, that is as old as the 7th-century.
This is Chaiya's Chedi (main temple) and it contains the ancient Buddha relics. It also contains several chambers and statues. Several Thais journey to this temple to pay homage and though it is a religious site, you can still take pictures inside. Right across the street is the Chaiya National Museum. Visit this Surat Thani attraction at night for a more interesting view when it looks more spectacular illuminated in brightly colored lights.
Wat Phra Borommathat Chaiya

Address: Wiang, Chaiya District, Surat Thani 84110, Thailand
7. Island hopping
One of the jewels of Surat Thani is its clusters of beautiful islands. In the east are the popular islands of Koh Samui, Koh Pha Ngan and Koh Tao. These islands are surrounded by the clearest of crystal waters and abundant exotic sea life that make it perfect for underwater exploration and swimming. Koh Samui is the largest island found in the south of Surat Thani. The beach is lined with golden sand and palm trees where you will find lots of top-line spas and resorts. At sundown, its Chaweng town is busy with its bustling night life. On this island you will also find Ang National Marine Park, the epic Wat Phra Yai Buddhist temple, and the tallest waterfall, the Nam Tok Na Muang.
Koh Pha Ngan is notorious for its Full Moon Parties, which are held in the southern shores of Haad Rin. On its east are hidden bays and resorts. There are also Chinese and Buddhist temples that offer a more quiet retreat and the highest peak of the island, Khao Ra, offers spectacular views. Koh Tao is world renowned for its dense waters that offer an under-the-sea expedition. As the perfect venue for scuba diving beginners, it is also gaining popularity for its beach yoga classes. Aside from its tree lined beaches, the island has a hilly terrain perfect for hiking and scenic views.
Getting to the islands is a bit of a challenge. You will have to travel either by car, bus or taxi to the seaports where you have to hire a boat to get to the islands. We suggest you take the long tail boats because they can take you directly to the shores of the island. You can also join a tour group that will take you around the islands but only for a limited time.
Flexible Thai Island Hopper

Price: from 375 USD

Duration: minumum 2 days per island

Website: Flexible Thai Island Hopper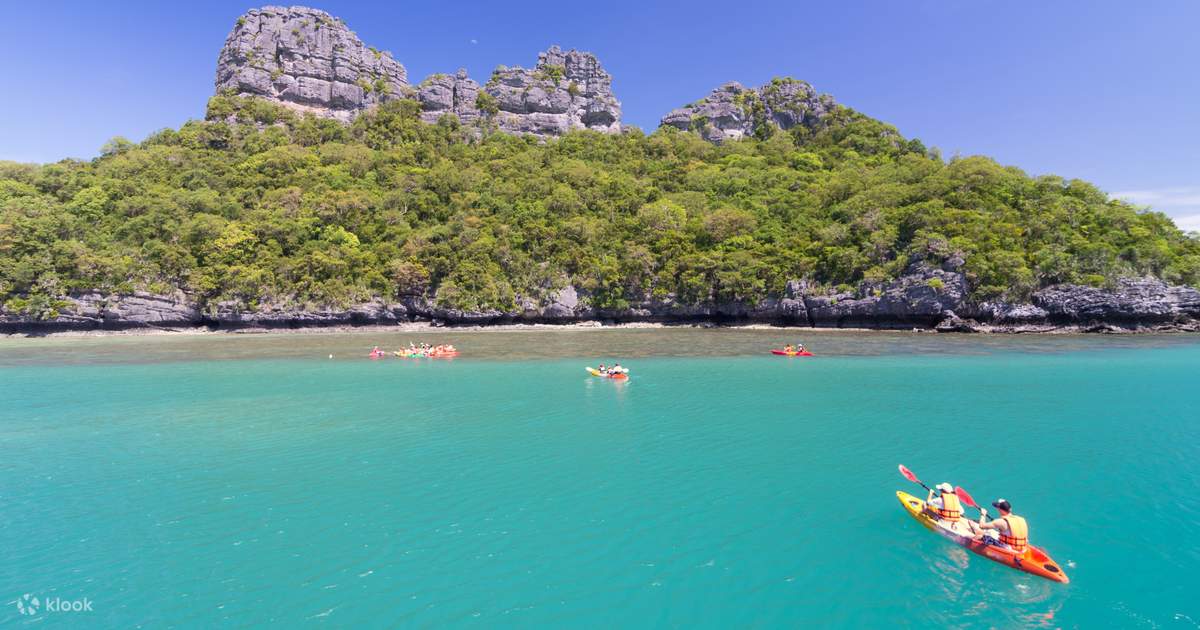 Ang Thong meaning "golden bowl" is a protected marine park that consists of more than 40 islands. The islands are famous for lush, natural landscape and most of them are uninhabited except for 2. Ko Wua Talap and Ko Paluay Island are occupied by sea gypsies that fish for a living. What you will see are islands made of limestone that rise dramatically from the sea and odd shaped rock formations. There are several caves, beaches and lagoons waiting to be explored! The park is ideal for snorkeling because of its shallow coral gardens. Its diverse and exotic flora and fauna make it a fascinating location for a day trip. You will have to hire a boat to get to the park or join a tour group for a day tour.
Duration: 8hrsDuration
9. Surat Thani Pillar Shrine
Every province in Thailand has a public shrine that houses the deity or spirit that guards the region. In Surat Thani, this Pillar Shrine is one of the best designed structures that attracts both locals and tourists. A visit to the shrine will give you an eye witness experience of how Buddhists practice their faith. You can say a prayer or make a wish and tie a piece of colored cloth around any of the four pillars surrounding the shrine. You will also have to light incense and press gold paper on the foundation of the shrine as a sign of respect. Outside, the shrine is guarded by several elephant statues that the locals give flower offerings to in the form of leis hung around their necks. At the base of this Surat Thani tourist attraction are bronze statues of birds that hold the lamps in their beaks that light up the shrine at night.
Surat Thani Pillar Shrine

Address: Tambon Talat, Amphoe Mueang Surat Thani, Chang Wat Surat Thani 84000, Thailand
10. Pra Cha Rat Traditional Floating Market
We all know you've gone shopping, but have you ever gone shopping at a floating market? If not, then you might just find this thing to do worthy of your attention! When in Surat Thani, head on to Pra Cha Rat Traditional Floating Market for a truly unique experience. Instead of shopping for food at the grocery, why not go the traditional way? The floating market is only open on Sundays, with vendors selling a wide range of food, from traditional dishes to various sweets.
Pra Cha Rat Traditional Floating Market

Address: Bang Bai Mai, Mueang Surat Thani District, Surat Thani 84000, Thailand

Opening hours: Sun: 9am - 5pm (closed on Mon - Sat)
11. Explore Ko Lamphu Public Park
Ko Lamphu is a tiny island on Tapi River and is connected to the City Pillar Shrine through a bridge. Cars are not allowed to enter, and the park may only be accessed by walking or biking. There are exercise equipment and playground in the park, free for everyone to use. It's a nice place to take your family for some bonding and a picnic. Ko Lamphu Public Park provides stunning and scenic views of the river, perfect for a photoshoot backdrop.
Ko Lamphu Public Park

Address: 11 Namueang Rd, Tambon Bang Bai Mai, Mueang Surat Thani District, Surat Thani 84000, Thailand

Opening hours: 4am - 10pm (daily)
12. Gather at Day & Night of Surat Thani for a hearty meal
Wish to dine in style? Consider Day & Night of Surat Thani! This rustic cafe, bar, and restaurant is open every day until midnight and serves an array of Thai food and other dishes. Start your day with some much-needed caffeine and taste the highly recommended Hojicha latte. For lunch or dinner, try out some of their bestseller main courses, including dry-aged beef and tomahawk steaks. Finally, to wind down at night, take your partner out for drinks and sample a few of their cocktails.
Day & Night of Surat Thani

Address: Makham Tia, Mueang Surat Thani District, Surat Thani 84000, Thailand

Website: Day & Night of Surat Thani

Opening hours: 7am - 12am (daily)
13. Swim under Dat Fah Waterfall
Editor's Note: There's no photo available at the time of writing
Another one of nature's gems that you'll find in Surat Thani is Dat Fah Waterfall. Dat Fah Waterfall has 13 levels of streams and is considered the highest waterfall in Surat Thani, with a height of 262 feet (80 meters). If you wish to take your family out for a refreshing dip, take them to this budget-friendly destination! The entrance fee is minimal, so there's no need to burn a hole in your pocket just to make the day count!
Dat Fah Waterfall

Address: Lamphun, Ban Na San District, Surat Thani 84120, Thailand

Opening hours: 10am - 5:45pm (daily)
The Full Moon Party is a popular destination of party goers and is one of the attractions that put Surat Thani on the international radar. It is a grand festival held on the island of Koh Phangan EVERY full moon. Imagine how many full moons we have in a year! This grand festival happens on the shores of the island so you will have to book on the exclusive website to become part of the festivities. What makes it more exciting is that you have to ride a boat to get to the island where the party is held!
According to legend, in the 1980s a group of backpackers held a humungous birthday party at the beach. From then on, every full moon the tradition of having grand party lives on and it attracts a lot of tourists from all over the world. What do you expect to see? A lot of drinks, dancing, music, fire dancers, colorful costumes and people from different cultures all in party mode, set in the beautiful scenery of the Koh Phangan shores. Don't miss out on one of the best Surat Thani activities!
Duration: 6 to 15 hours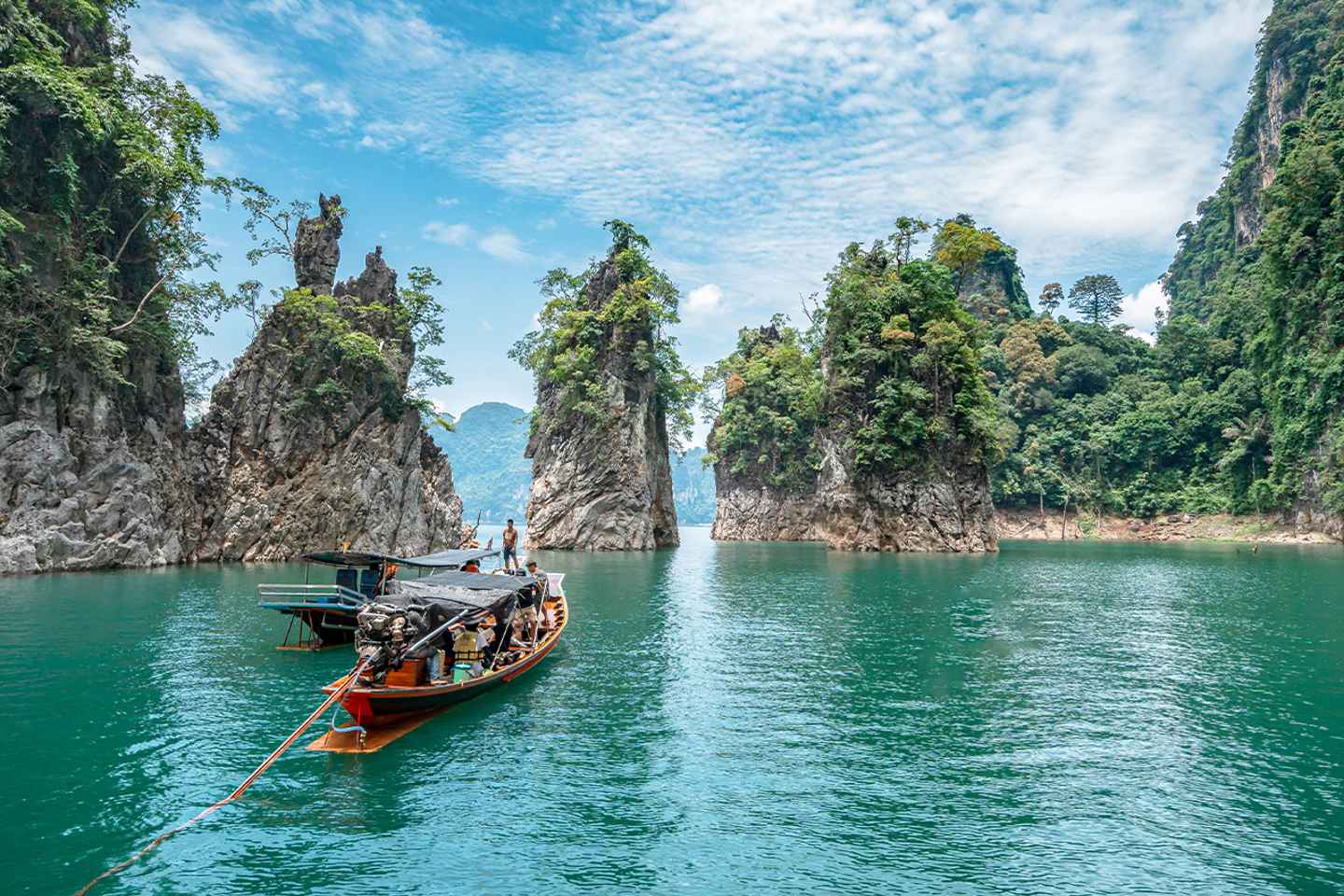 Gather your entire family for a fun-filled day in Surat Thani by booking the Cheow Lan Lake & Coral Cave Tour with Kayaking tour. Riding a long-tail boat, you'll be seeing Cheow Lan Lake from the best vantage points and get to try bamboo rafting on a lagoon. Before you explore Coral Cave, you will also get to walk through the jungle. You may choose to go kayaking on the lake as well. After your busy morning, you will be treated to a Thai buffet lunch!
Duration: 5 hour
Enjoy! YOLO in Surat Thani!
As the millennials will say, "YOLO!" so why not enjoy life to the fullest? When you visit Surat Thani you will experience a lot of firsts. It might be the first time you will ride an elephant through the forest, or taste an exotic fruit like the Rambutan. How about island hopping in Thailand while riding the awesome long tail boats? Or diving into their crystal blue waters? In Surat there may be several temples, but it is amazing how each one is magnificent with their unique designs. Through the centuries, the Thais have been very much in tune with their spirituality and nature and their good vibes are felt by those who visit their islands. Good vibes so strong that a good trip must end with partying under a full moon. Besides, how often do we get a full moon shining on our shores? Now that you know what to do in Surat Thani, so come visit as often as you can!
Frequently asked questions about things to do in Surat Thani, Thailand
1. What are the best attractions to visit in Surat Thani?
Khao Sok National Park, Sonchana Farm and Elephant Sanctuary, and And Thong National Marine Park are only a few of the best attractions in Surat Thani. Make sure to add them to your itinerary!
2. What are the best outdoor activities in Surat Thani?
Some of the best outdoor activities in Surat Thani are island hopping around Koh Samui, joining the Full Moon Party at the beach, boating on Cheow Lan Lake, and bamboo rafting at Khao Sok National Park.
3. What are the most popular things to do in Surat Thani with kids and family?
Surat Thani is a great destination to visit with your kids and family. Take them to Sonchana Farm and Elephant Sanctuary to meet our gentle giant friends. For a more relaxed family activity, take them for a stroll at Ko Lamphu Public Park.
Any must-sees we missed? Tell us about them in the comments section or write a post
here
to help out fellow travelers!
Disclosure: Trip101 selects the listings in our articles independently. Some of the listings in this article contain affiliate links.
Get Trip101 in your inbox
Unsubscribe in one click. See our Privacy Policy for more information on how we use your data