Vancouver Island is the largest island on the west coast of North America. It is the world's 43rd largest island and Canada's 11th largest island. Due to its location, Vancouver Island has one of the mildest climates in Canada and benefits from a diversified landscape with rivers, mountains, and forests. Discover the 9 things to do while in Vancouver Island.
1. Visit the Butchart Gardens
The Butchart Gardens are some of the most popular attractions of Victoria, in British Columbia. This botanical garden is very popular due to its stunning flower creations and the theme gardens. The park was originally built by Robert Pim Butchart (1856–1943) and his wife Jennie Butchart (1866–1950), who commissioned some Japanese landscape architects to take their project up to life and create a stunning environment. The park is home to several bronze statues and home to a lot of birds whom you can get a glimpse of while walking around the gardens.
Butchart Gardens

Address: 800 Benvenuto Ave, V8X 3X4 Brentwood Bay, British Columbia, Canada

Website: Butchart Gardens
2. Go hike to the Pacific Rim National Park Reserve
This national reserve features 35 kilometers (21.74 miles) of beach and trail. The park is perfect for hiking, surfing or immersing yourself in nature. Any serious hiker will want to do the 75 kilometers (46.6 miles) West Coast trail, part of the ancient paths and paddling routes used for trade and travel by First Nations. This trail is a two to three-day journey for adventure seekers and provides a variety of challenges with the rugged terrain of the park. Be ready to climb ladders, cross canyons in cable cars, hike along the shoreline and camp on the beach. This is an adventure you will remember forever.
Pacific Rim National Park Reserve

Address: 2040 Pacific Rim Hwy, V0R 3A0 Ucluelet, British Columbia, Canada

Website: Pacific Rim National Park Reserve
3. Discover the British Columbia Parliament Buildings
Located in Victoria, the British Columbia Parliament Buildings are home to the legislative assembly of British Columbia. These neo-baroque buildings feature a statue of Queen Victoria in front of the lawn and a statue of a soldier commemorating the province's World War I, World War II and Korean War dead. On top of the dome is a gold-covered statue of Captain George Vancouver. Free guided tours of the facility are offered throughout the year.
British Columbia Parliament Buildings

Address: 501 Belleville St, V8V 2L8 Victoria, BC, Canada
You might be interested in these Airbnbs!
Last-Minute Deal
View Deal
4. Go to the Royal BC Museum
The Royal British Columbia Museum was founded in 1886 and consists of the Province of British Columbia's natural and human history museum as well as the British Columbia Provincial Archives. Located in Victoria, the 'royal' title was approved by Queen Elizabeth II and bestowed by HRH Prince Philip in 1987, the year when the royals organized a tour to the site. The three permanent galleries (natural history, modern history, and local first nation's history) comprise more than seven million artifacts and archives.
Royal BC Museum

Address: 675 Belleville Street, V8W 9W2 Victoria, BC, Canada

Website: Royal BC Museum
5. Visit the Craigdarroch Castle
The Craigdarroch Castle is a historic, Victorian-era Scottish Baronial mansion constructed in the late 1800s. The mansion has 39 rooms and over 25,000 square feet (2,300 square meters) of surface. The architect and the owners of the castle never saw their work finished and the work was carried on by the heirs of the owner. The castle is now a museum you can visit all year-round.
Craigdarroch Castle

Address: 1050 Joan Crescent, V8S 3L5 Victoria, BC, Canada

Website: Craigdarroch Castle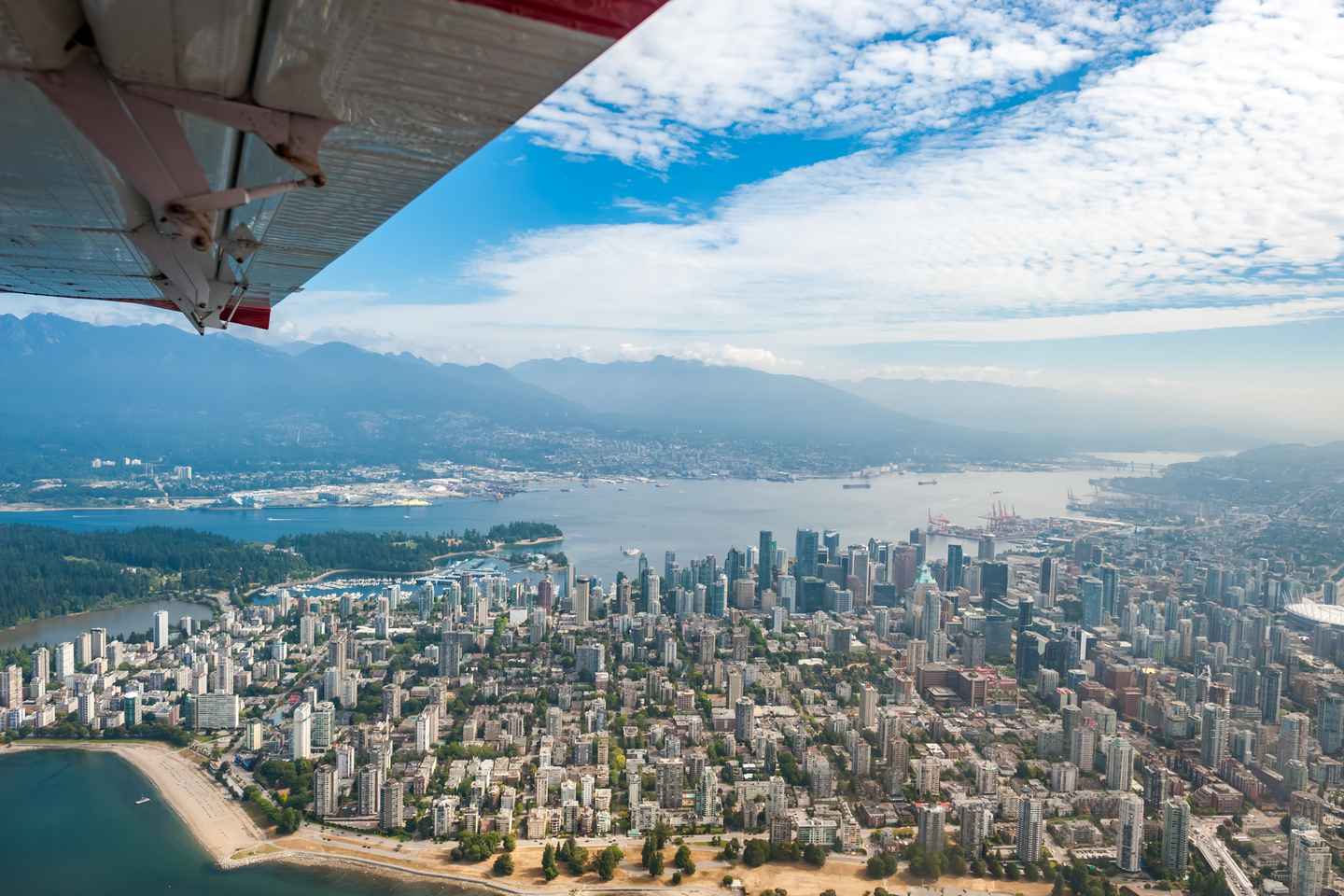 What better way to see the whole city than from the skies?! Embark on an adventure and hop on a seaplane to admire Vancouver Island from above the clouds. This seaplane tour departs from downtown Vancouver's bustling Coal Harbour and flies a loop over the city and park before landing back in front of the iconic Vancouver Convention Center.
Classic Vancouver Panorama Tour by Seaplane

Duration: 20.0 minute
7. Visit the inner harbor
The inner harbor in Victoria is probably one of the most beautiful harbors in the world with a history going back to First Nations. Step into this historic side of Vancouver and get to see the beautiful historic architecture. Both recreational vessels and small cruise ships can dock in the harbor. The harbor also serves whale watching and eco-tourism businesses, float planes, an International Ferry terminal with connections to Port Angeles, Bellingham and Seattle, and a water taxi service.
Inner harbor

Address: Inner-Harbour Pathway, Victoria, BC, Canada

Website: Inner Harbour
Get a sight of these beautiful and majestic creatures. Keep an eye out for the notorious killer whales, grey whales, seals, dolphins, sea lions, bald eagles, and many other aquatic animals. Learn all about the natural habitat and the living habit of these marine creatures. An unforgettable experience! Don't forget to take on your weatherproof clothes.
Vancouver Whale Watching Safari

Duration: 5.0 hour
9. Wild Pacific Trail
This 9-kilometer (5.59-mile), easy, family-friendly trail traces the edge of reefs where shipwrecks, whales, and vistas abound. The trails feature several sections creating short or medium walks for the whole family.
Wild Pacific Trail

Address: Wild Pacific Trail, V0R 3A0 Ucluelet, BC, Canada

Website: Wild Pacific Trail
You've got to love Canada
If you haven't been to Canada nor Vancouver Island, this should definitely be on your top list. From the adventurous trail to family hikes to beautiful museums or even architectural gems, there is something for everyone to spend a good time!
Disclosure: Trip101 selects the listings in our articles independently. Some of the listings in this article contain affiliate links.
Get Trip101 in your inbox
Unsubscribe in one click. See our Privacy Policy for more information on how we use your data