Zakynthos is one of the most beautiful islands in Greece, with amazing views and perfect, crystal-clear water. It's known for its famous view of Shipwreck Beach and also for the crazy nightlife of Laganas, a city on Zakynthos. So, why should you visit Zakynthos? Well, because it is the sunniest island in Greece, with a minimum chance of rain from May to September, so your holiday won't be disturbed by bad weather. The Mediterranean climate and humidity of Zakynthos means that it is a green island, with abundant vegetation and fauna, the most famous being the Caretta Caretta or loggerhead sea turtles. If you're planning a trip, here's a list of the best things to do in Zakynthos, Greece.
After getting your bicycle in the center of Zakynthos town, you'll head off to the charming villages, leaving the busy town behind. You'll cycle through the vineyards, olive trees, and old church, and stop at the villages where you'll grab a cup of Greek coffee and traditional, local sweets. After that, you'll traverse through the streets, crossing all the sheep and chickens that will be blocking your path. This is the best place to explore the hidden gems of Greece.
Cycling Zakynthos, scents & senses

Duration: 4 hours
When you are in Greece and you don't learn how to cook at least one Greek dish, were you ever really there? Visitors enrolling in the cooking class will start by making Greek coffee, also known as frappe, and then you'll move on to making Greek-style pita bread, two starters, and two main dishes out of which one would be a vegetarian dish and the other dish would be traditional Greek dish with Zakynthian flavors. To end the day, you'll indulge in wine tasting that will be hosted by a wine expert.
Greek Cooking Class, Zakynthian Culture

Duration: 4 hours
While out and about in Greece, take home a unique souvenir made by you. In this class, you'll be learning the art of making ceramics or Greek pottery from scratch. The class is perfect for both adults and kids. You'll be learning this art from an expert potter at the studio that is surrounded by serene vineyards and olive trees. The class lasts for two hours where you'll either learn how to make a ceramic bowl, case, turtle, or even a pencil holder. And the ceramic turtle's shape or style depends on your creativity and imagination.
Ceramic Making Experience in Zakynthos

Duration: 2 hours
One of the most famous views in Greece is from Shipwreck View Point. It's located in the western part of the island and it's easy to get here. If you're going to Zakynthos, you can't miss this place known for its overwhelming view which gives you the feeling that you're on top of the world. Here, you can take those perfect pictures you wanted and admire an outstanding sunset.
The best time to get here is near sunset or 7 pm-8 pm in the summer. If you go earlier, be prepared to protect yourself from the sun, the temperatures are very high here, on the top of the island. You should also wear proper footwear as there are a lot of stones here and walking is a bit difficult in flip flops. You can get here by car, a quad or scooter, but you'll need a stronger quad or scooter to make the climb. Follow the signs that lead you to the Shipwreck View Point.
Alternatively, take the bus that makes tours of the island and makes a stop here. For a true adventure, book a Jeep Safari Tour that will take you to all the hidden places on the island of Zakynthos. They will pick you up from your accommodation and you get the chance to learn a lot about history, culture, churches, monasteries and many other facts of the island.
Jeep Safari Tour

Website:

Duration: 8h
The Blue Caves are also a point of attraction in Zakynthos. They are situated in the northwest part of the island and you can get close to them, by car. But the best way to see these spectacular cave formations is to rent a boat and explore each one of them. Swimming into the caves is a unique experience and we advise you to bring your diving gear, so you can see the underwater life.
If you don't want to rent a boat, no need to worry. There are a lot of boat tours that can take you to the Blue Caves, where you can do some swimming. You can take these boat tours from Makris Gialos Beach, Agios Nikolaos Port, and Cape Skinari.
Potamitis Boat Trips to Blue Caves

Address: Skinari | Skinari Lighthouse, 3 km after Port Agios Nikolaos, 291 00, Greece

Website: Potamitis Boat Trips to Blue Caves

Contact: +30 2695 031132

Duration: 40 min
Zakynthos Tour with Navagio (Shipwreck) and Blue Caves Cruise

Duration: 8 hours
Just an hour ferry ride from the Peloponnese western port, is the town of Keri in the island of Zakynthos. It is renowned for its scenic views of jagged coastlines dipped in turquoise waters. Its naturally rich coral reef and diving caverns make it a paradise for scuba divers and snorkelling enthusiasts. Find a deep sense of relaxation in this charming town. Book a half-day snorkelling adventure and visit two different diving sites. Venture into an awesome display of flourishing marine life, astonishing underwater landscapes, beautiful caves and rock formations. Remember to bring your swimwear, towels, and sun protection. The package is offered at a reduced rate if you bring your own snorkelling gear with you.
Snorkelling boat trip in Zakynthos

Price: 23 USD

Location: half day
Zakynthos is known for its big turtles you can find in the water and their eggs that they lay on the beach. In the south, there's a small island called Turtle Island or Marathonissi Island, with beautiful clear water where you can spot turtles in their natural habitat. To get here, you can also go kayaking, or you can take a taxi boat from Laganas Beach.
You can also take a boat tour, that will lead you to places where you can spot the turtles, possibly swim with them and have a great experience.
Turtle Spotting Cruise in Zakynthos

Duration: 5 hours
8. Explore Cameo Island
Cameo Island is a small island, off Zakynthos, with green trees and a beach bar that features top DJs. There's also a small beach, with beautiful, clear water. To get here you have to go to Laganas Beach and then walk on a beautiful bridge, made of wood. It costs 5 EUR (5.88 USD) to get in and you'll get a free drink included in this price.
Cameo Island

Address: Agios Sostis, Greece

Website: Cameo Island
If you want to see the whole island in a day, there are boat tours that can take you around the island to see the most important attractions. These tours generally go to Navigo Beach, the Blue Caves, the Keri Caves and many other points of interest. There are also stops for swimming and explanations about the geography and history of the island.
An Island in a Day Cruise

Duration: 9 hours

Price: 40 EUR (47 USD)

Website:
10. Experience the Laganas nightlife
Laganas is a city in the east part of the island and is famous for its crazy parties, that last until the morning. Here, you can find different types of clubs, with all kind of music and you can dance on the beach until the sun comes up. Here are some of the best places to party:
Sugar

Address: Laganas main strip, Laganas 290 92, Greece

Facebook: Sugar

Cheeky Tikis Bar

Address: Main Road, Laganas 29093, Greece
11. Venture to Keri Caves and enjoy sea kayaking
The Keri Caves are situated in the south part of the island and are a point of interest if you're traveling to Zakynthos. The blue water here is perfect for swimming and spotting fish. This place is accessible only by sea, so if you want to see the Keri Caves, you can rent a boat or you can book a boat tour. Some of the caves are small, allowing you to swim in and some are large enough for a boat. You can also go kayaking in the Keri Caves, with an instructor who will teach you how to do it. It's a great experience and worth every penny.
Keri Caves - Sea kayaking

Price: 25-45 EUR (29.38-52.89 USD) (depends on the period)

Website: Keri Caves - Sea Kayaking
Embark on a spontaneous getaway in this scuba diving retreat. Explore vibrant marine life as the current drifts you along the surface of limestone cliffs. The activity has two open dives with varying depths making this perfect for beginners! The first is an introductory dive lasting between 10-20 minutes on a shallow part of the reef to learn the basics of the scuba gear and get acquainted with underwater environment. The second is a deep dive for 30-40 minutes into the sky-blue sea. Be on the lookout for scorpion fish amid the rocks; eels, octopus and lobsters are also aplenty, and even spot sea turtles during the summer time. The cost is inclusive of scuba diving equipment and the services of certified diving instructors. For an extra cost, receive a photos souvenir of your diving adventure.
Scuba diving

Price: 74 USD

Duration: half day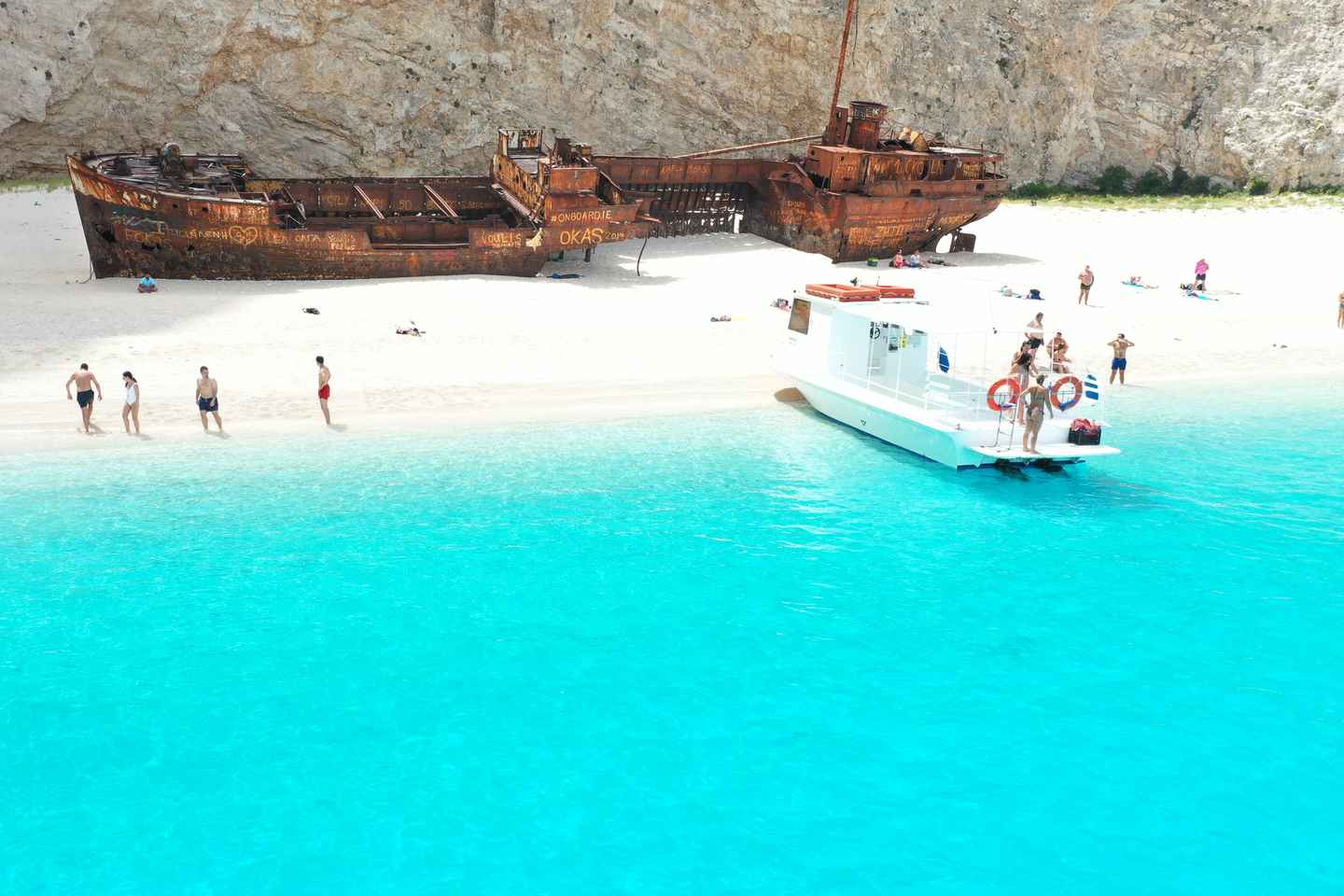 Navigo Beach is one of the most beautiful beaches in the world. After you travel up the hill and see the Shipwreck from the top, you need to head to the beach to see the shipwreck, up close. After you arrive, the crystal water and soft sand will make you want to stay here, forever. Navigo Beach is famous for the spectacular shipwreck found here that was once was used to transport illegal cigarettes.
This beach is also known for the clarity of its water. You can't get here by foot, but there are a lot of boat tours that will take you here. You can also rent a boat and discover this wonderful place on your own. The boat tours will take you to the Blue Caves, as well, where you can swim for around two hours. Other tours last all day and take you around the island, including Navigo Beach.
From Porto Vromi: Navagio Shipwreck Beach Excursion by Boat

Duration: 3.0 hour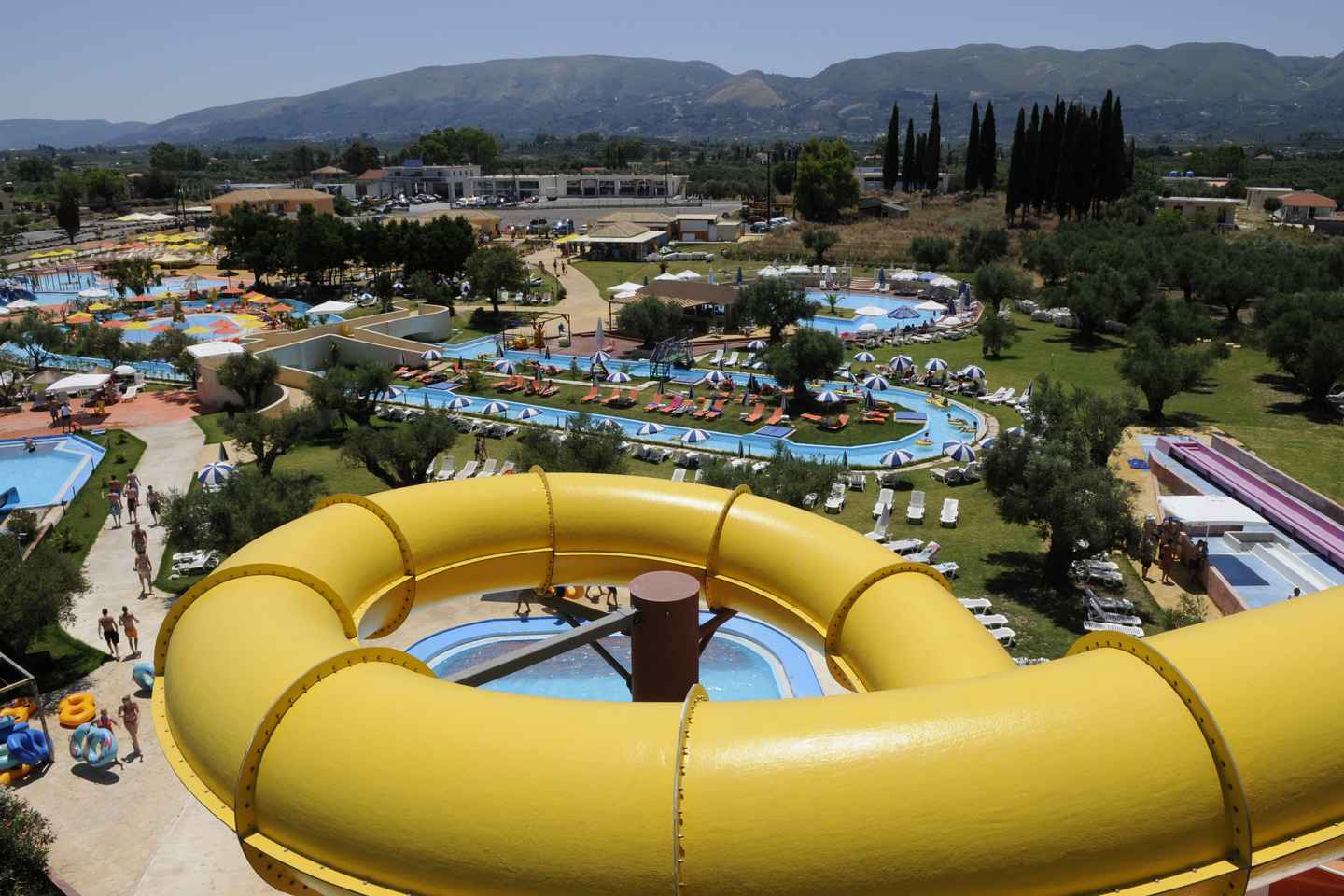 Spend a fun day splashing around in pools, sliding down the water slides, and having fun in interactive play areas with your kids, at one of the largest water parks - Sarakinado, in Greece. Located just a few kilometers from the center, this water park features attractions that include slippery rabbit, boomer bowl, lazy river, children's tower, mat racer, and octopus slides.
Zakynthos Water Park Entrance Ticket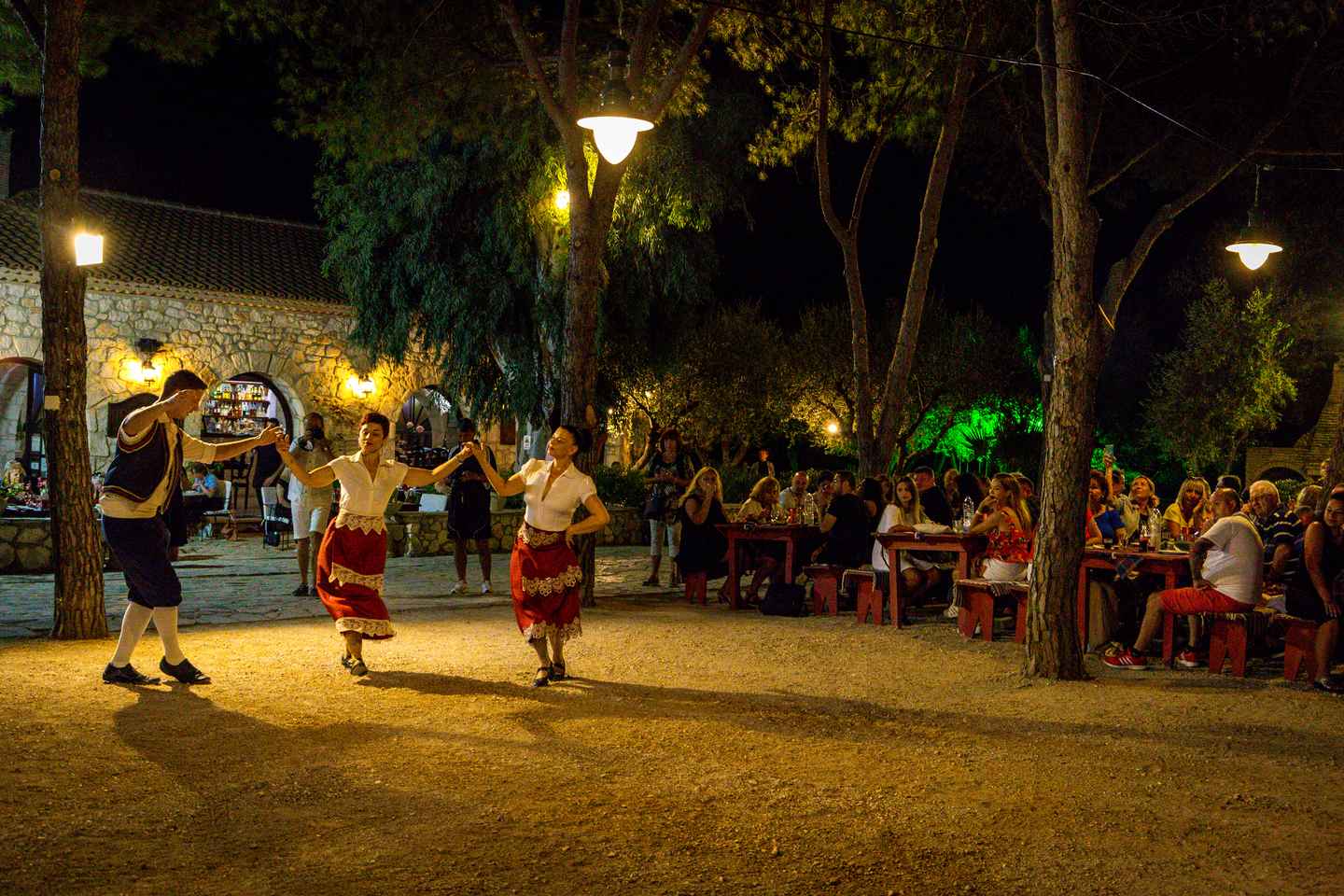 Your trip to Greece is never complete if you don't experience the Greek evenings. Perfect for all ages, this three-hour tour will take you through rural areas with old buildings built in classic style. Around the evening time, you will be served traditional dishes such as pork souvlaki, tzatziki, spinach pies, Greek salad, and sausage pies, to name a few. For the sweet tooth fans, enjoy the traditional Zakynthian sweet. Throughout the evening, you'll be entertained by Greek musicians playing their tunes, and some Greek dancing.
Zakynthos: Dinner with Greek Dancing & Wine

Duration: 3.0 hour
A must-see destination
Zakynthos definitely needs to be on your bucket list! There are so many things to do and see on this island that you'll fall in love with it immediately! So, pack your sun cream, hat, and most importantly, your energy and explore one of the most beautiful places on earth!
Disclosure: Trip101 selects the listings in our articles independently. Some of the listings in this article contain affiliate links.
Get Trip101 in your inbox
Unsubscribe in one click. See our Privacy Policy for more information on how we use your data