Athens at night turns into a magical place. The warm city lights and the fun you can have will make you want to stay up until sunrise. Greek music, Greek food, delicious wines, operas, sightseeing, all of these will warm your heart and will introduce you to the tradition of Greece and will make your trip an unforgettable one. Learn more about the best things to do in Athens at night below:
1. Enjoy the view from a rooftop bar
There's nothing more amazing than seeing all the city from above from a quiet place. You can choose a bar, for example, Galaxy Bar, and enjoy the stunning views, good background music, and a nice atmosphere. Located on the rooftop of the Hilton Hotel in Athens, the Galaxy Bar is a must visit for sunset!
Galaxy Bar

Address: 46 Leoforos Vassilissis Sofias | Hilton Athens, Athens 115 28, Greece

Website: Galaxy Bar
2. Dance on the beach until sunrise
Wouldn't it be lovely to spend a night under the stars, dancing to good music? Just imagine how nice the water looks at night when the moon reflects in it. The beach is lovely, very clean, and lots of sun beds and umbrellas. It also serves delicious food and you can come here during the day as well - bring your swimsuit.
Bolivar Beach Bar

Address: Posidonos Avenue, Alimos, Athens 174 55, Greece

Website: Bolivar Beach Bar
Taking a tour through Athens at night is the best way to enjoy a delicious traditional Greek dinner followed by a show with live music and Greek folk dancing. You'll get to walk through the beautiful neighborhood of Plaka, party with live Greek folk dancing and music and experience delicious Greek food. At first, there will be a short panoramic drive through the city center and on the slopes of the sacred hill and you will see the beautiful illuminated Acropolis.
Then, you'll walk through the picturesque streets of Plaka, beautifully decorated with flowers, and after that, you will arrive at a typical Greek tavern where you'll enjoy a delicious dinner followed by a floor show with live music and Greek folk dancing in traditional costumes. You can't miss this party!
Athens: A Night Out

Duration: 3 hours

Price: 78 USD

Website:
4. Drink Greek wine
Drinking Greek wine is a must when you go to Athens, they are known for a large variety of tasty wines, and Greece is one of the oldest wine-producing territories and they are the first wine-producing territory in Europe. We've selected the Heterocliton Wine Bar which is a lovely little wine bar, not too touristic and with a good choice of wine or cocktails. You can sit outside in the street and enjoy a perfect summer evening.
Heterocliton Wine Bar

Address: 2 Fokionos, Athens 105 63, Greece

Website: Heterocliton Wine Bar
5. Enjoy a play at the theatre
Going to a play at the Herod Atticus Odeon must definitely be on your list when you're visiting Athens. At sunset, you can slowly see the change in light and shadows on the walls. The seats are the original stone steps with thin cushions and no backs. This is indeed a magical way to spend an evening, but be careful, only a few events are allowed each year, so book well in advance.
Herod Atticus Odeon

Address: Dionissiou Areopagitou, Athens, Greece

Website: Herod Atticus Odeon
6. Spend a night at Olympia Theater
Editor's Note: There's no photo available at the time of writing
Olympia Theater is a historical place where the Olympic games took place in the ancient ages. This place is perfect to spend a night enjoying opera or ballet; the dancers, and the orchestra are very professional. It's well looked-after (no trash or litter) and offers endless photo opportunities for people who love architecture. On the top stand, you get a wonderful Acropolis view.
Olympia Theater

Address: 59 Akadimias, at Mavromihali, Athens 106 79, Greece

Price: 6 USD

Website: Olympia Theater
7. TAF (The Art Foundation)
Editor's Note: There's no photo available at the time of writing
This is an old backyard turned into an art exhibition and it's a very well hidden cafe-bar in the center of Athens. It's the perfect place to enjoy exhibitions, art, a coffee or a drink. There's also great music, tasty wines, and delicious appetizers. It's a great place to start your party in Athens!
TAF (The Art Foundation)

Address: Normanou 5 | Monastiraki, Athens 105 55, Greece

Website: TAF
8. Oroscopo Restaurant
Photo is only for illustrative purposes
Here you'll find great food, atmosphere, and reasonable prices. It's a very pleasant restaurant with an elegant indoor dining area as well as a comfortable and cool outdoor dining area. You'll have to make a reservation because, in the evening, the tables are full and people are waiting to get a table. This is due to the very high quality of their food, a good selection of wines and, above all, their attentive service.
Oroscopo Restaurant

Address: Antinoros Street 42-44 | Plateia Caravel Hotel, Athens 161 21, Greece

Website: Oroscopo Restaurant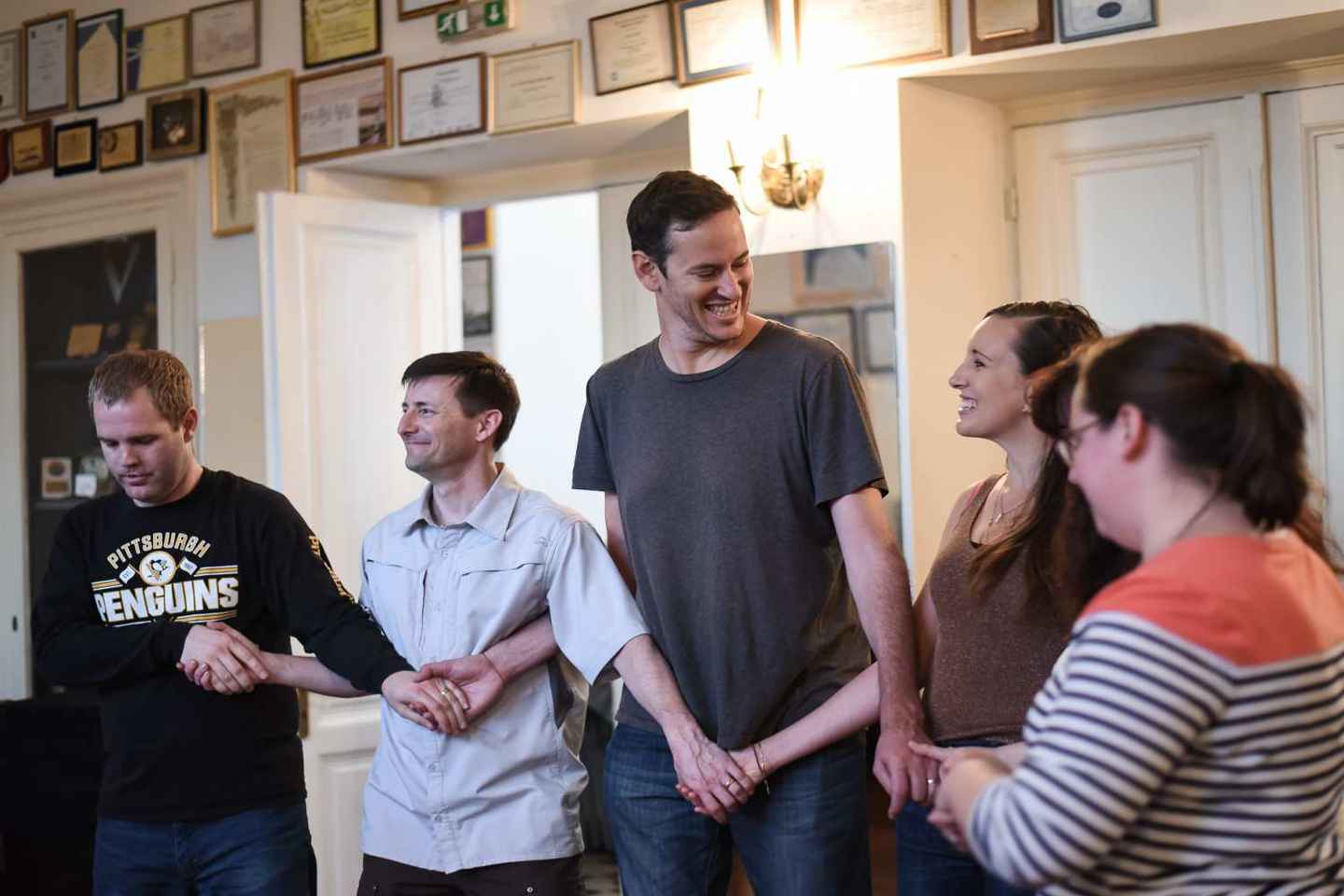 Spend an evening learning how to dance traditional folk dances. Sway to the music, and learn the steps to some famous movements. Attentive and entertaining instructors will teach you exactly how it's done. Just think, next time you're out for a night on the town, you can wow people with your dancing.
After all the music and dance activity you may be feeling hungry, so the tasty dinner that follows will surely hit the right note. Go along with friends, or make new ones in Athens, Greece. Allow five hours for your fun dancing and dining excursion.
Greek Folk Dancing Lesson with Dinner & Live Music

Duration: 4 hour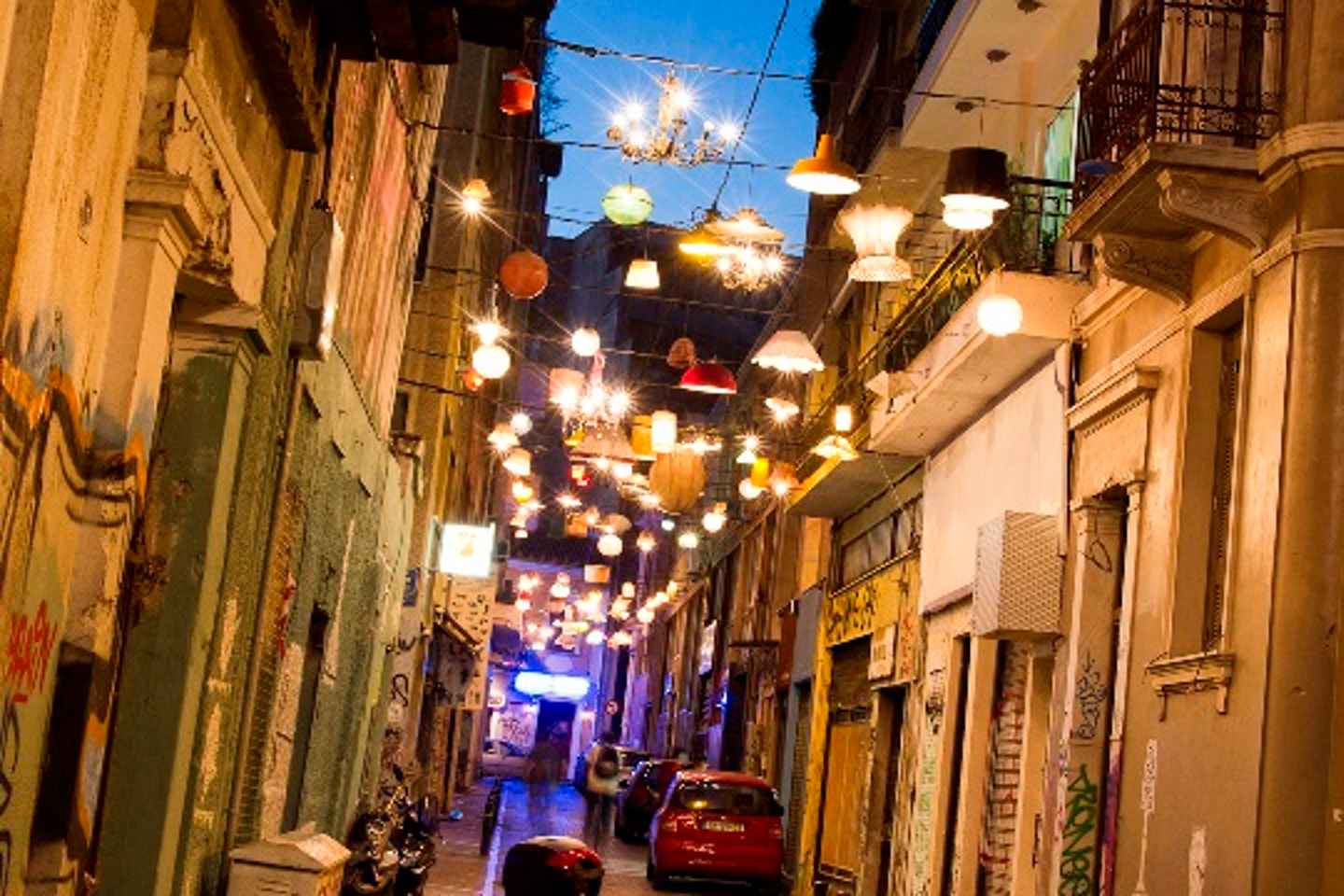 Get into the real Greek lifestyle and experience ancient Athens in the Old Town area. This three-hour evening activity means you travel on electric bicycles to areas visitors seldom get to see. Your journey takes you from Thisseio to the Plaka and Psyri area where you'll find many local residents out and about enjoying themselves.
Enjoy stopping off at the Gastronomy Museum. The tour includes two other stops along the way where you taste traditional Greek food dishes called mezes. Relax, chat, make new friends and enjoy some raki or ouzo. Your guide is local, friendly, and knowledgeable.
Athens: Private Old Town Electric Bike Tour & Food Tasting

Duration: 4 hour
This is a unique experience! There's a table for 22 people and from up there you can see the whole city from above. The food is delicious and the personnel is very professional and attentive. This is a 1.5-hour experience, and as the table slowly rotates, you'll be able to see all the panoramas of the city.
Dinner in the Sky Athens

Duration: 1 hour 30 minutes
Enjoy one of the most popular activities in the summer in Athens - Outdoor Cinema. The nice summer weather and dozens of outdoor cinemas throughout the city make this the perfect social occasion or romantic evening. Join the locals here taking a tour that provides you a guide, cinema ticket, and delicious treats. You can also be picked-up from centrally located hotels.
Enjoy Athens under the Stars - Outdoor Cinema

Duration: 4 hour
Athens, city of lights!
Now, with this list, you might want to spend more nights in Athens because there are so many fun things to do. Drink your coffee and get ready to party!
Disclosure: Trip101 selects the listings in our articles independently. Some of the listings in this article contain affiliate links.
Get Trip101 in your inbox
Unsubscribe in one click. See our privacy policy for more information on how we use your data