With a thriving economy and metropolis that has literally risen from the sands, Dubai is today a shopper's destination of choice. Anything from fashion to electronics is sold here, and thanks to the tax-free economy, they are at a very reasonable price. But when visiting, you'll probably want to buy something that's distinctly Dubai or the Middle East. Among the piles upon piles of products, there are items that you can buy that will act as a memento of your time here. Eager to find out where to spend your money? Scroll down to learn about what to buy in Dubai.
1. Persian rugs and carpets
The UAE has built a reputation of having some of the world's most luxurious textiles. Ranging from the opulent, royal-class iterations to the more pocket-friendly types, if you're in the market for some of the best textiles, then Dubai is the right place to start. With a varied collection of antique Persian rugs littering numerous stores in the city, visitors who seek a unique rug to take back home are bound to be spoiled for choice. Head over to one of the Dubai Souks where you'll find a wide choice of these rugs, or you could choose to spend a little extra and visit the Persian Carpet House where you can have a carpet custom made for you. Whatever the case, your home's floor will thank you for souping up its look with one of these chic Arabian carpets.
2. Oudh and Bakhoor
Trying to pronounce these might be a bit of a tongue twister, but you'll need to learn how for when you visit Dubai. Oudh a type of oil that has a very rich fragrance. This oil has an interesting story—it's from the Agar Tree which produces Oudh oil when it's infected by a specific type of mould. At this point, the Agarwood is harvested and, fast forward, Oudh oil is extracted. Processed into different fragrant oils, Oudh's scent remains distinct and quite rich, owing to its expensive price tag. Bakhoor is related to Oudh in that it's the chips from the same Agarwood that gives birth to the Oudh. Having a similar pedigree, Bakhoor produces an equally enchanting aroma when burned. Looking for a natural air-freshener? Bakhoor ought to be on your shopping list.
3. Arabic perfume oils
While we're still on the subject of aromatic purchases, another item you need to buy when in Dubai is the Arabic perfume oils, known locally as Arabic Attars. Just like Oudh, the Attar is extracted from plants, processed and bottled to be sold as an alcohol-free perfume. There are literally dozens of Attar fragrances to choose from, a fact that will render you indecisive. However, with the help of the vendors' experienced noses, you should be able to walk out of the Souks with a signature fragrance from among the Attars on offer. You can also buy these at one of the perfume stores where you'll get some popular Attar brands like Amouage.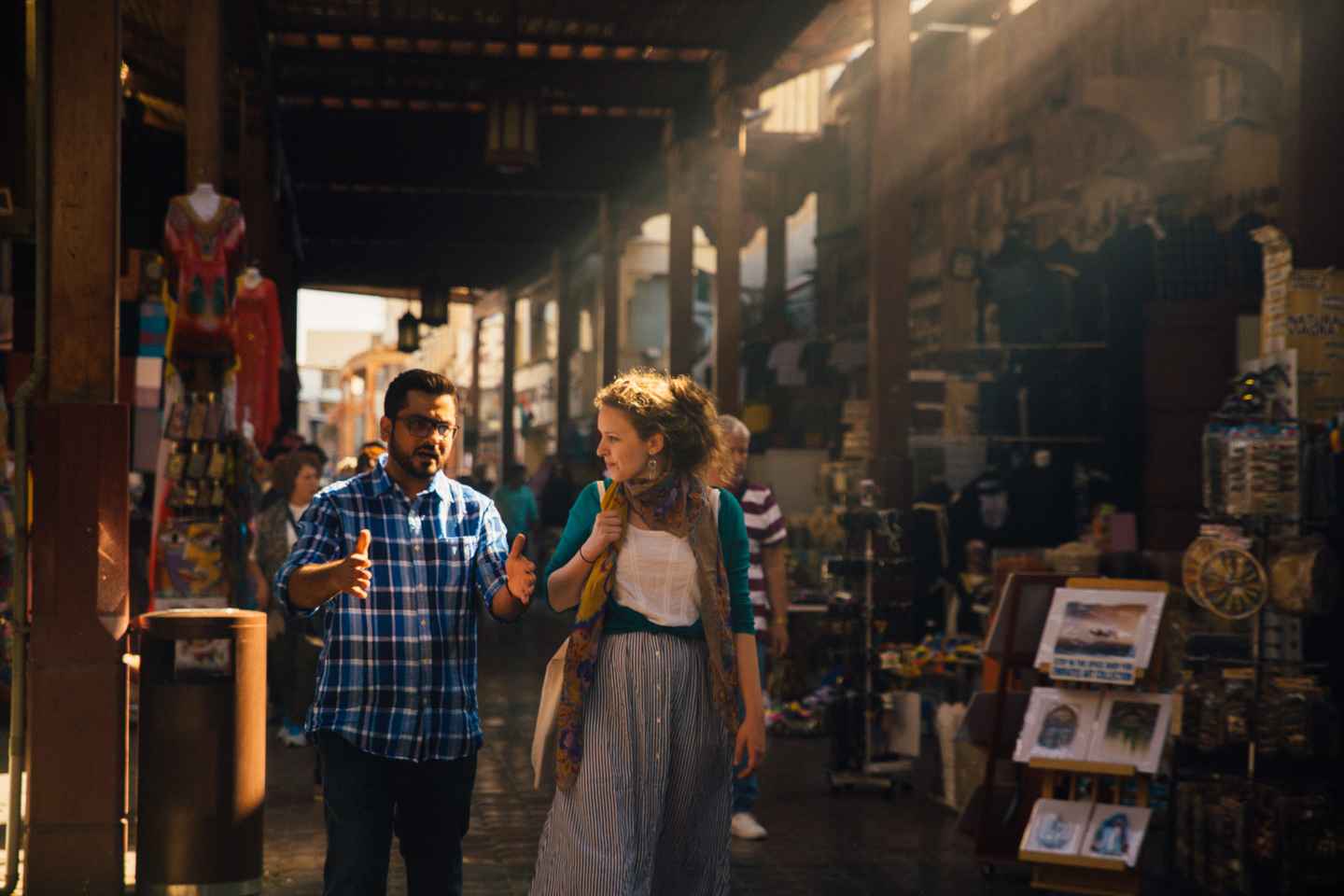 Part of the Arabic culinary culture is their food, spicy food to be precise. And there are very few places in the world that you'll get a variety of freshly ground spices on sale. Dubai spices are packed with rich flavors, ones that you will definitely have experienced at the local eateries. It is, therefore, imperative that you take home some of their spices, sold at the Spice Souk. Some have a strong, almost numbing aroma while others are enticing. However, what's certain is that they bring a meal to life, transforming a dish from a drab, emotionless mix of ingredients to an unforgettable palate pleaser. It's important to note that not all the spices sold at the Spice Souk are meant for cooking, some are meant just for aromatic purposes.
Dubai: Private Tour with Locals – Highlights & Hidden Gems

Duration: 3.0 hour
5. Arabic coffee pot
The Middle East has a rich past that's intoxicated with coffee. It's a past that gave birth to the world-renowned Arabica coffee. Since this region has contributed to the world's love affair with coffee, it is no surprise that they also started designing coffee pots ages ago. Today, these exquisite pieces are more ornamental than functional. Known locally as "Dallah," they come in different designs with some rocking a gold-plated material. Their shape is unique to the Arabian region, with a long spout and an elegantly curved handle. If you're looking for a coffee pot to actually use at home, go for the copper ones.
6. Gold jewelry
Gold has been a status symbol for centuries, used by the very rich to declare their wealth to the world. However, in Dubai, gold isn't as elusive as other cities. In fact, it's constantly in your face and happens to cost less than the rest of the world. It is, therefore, fitting that you leave this city with something golden and the best thing to buy would be jewelry. The Dubai Gold Souk is the best place to get a good rate on these, selling anything from necklaces to earrings clad in this chic metal. If you're looking to spoil yourself or perhaps need a gift for a loved one back home, you can never go wrong with gold jewelry.
7. Pashmina shawls
Leave Dubai with an authentic pashmina shawl, one that's made of cashmere. Certainly, these are costly but they are one of a kind. How are they produced? Well, a guy in South Asia will see a goat, race after it, catch and shave the animal. The hair of this goat (and its friends) will be combined with silk to start a new life as an expensive shawl. The result is a supple fabric that ends up as a pashmina in a store in Dubai. And they cost 70 USD. If this is too steep for you, opt for the non-authentic kinds that still look good but lack the soft, silky texture of the original ones. Dubai's textile souks are replete with these and are a good place if you're looking for a varied selection.
8. Dried fruits
It might sound odd, but dried fruits are a very popular purchase in Dubai. To be specific, these fruits are dates, a very integral part of the Middle Eastern culture. During Islamic holidays, you're certain to see dates prominently taking space on the meal table and they are a popular gift. This is beside the fact that, as a fruit, they are highly nutritive, aside from being mouth-watering. It would be unwise to leave Dubai without a pack or two of these dried fruits as they'll serve as excellent gifts for adults and children alike. There are dozens of varieties of dates and most are sold at the Bateel shops.
9. Camel milk chocolate
We all love chocolate and camel milk chocolate is equally as alluring. These are so exclusive that they're only manufactured by one company named Al Nassma. They make five varieties of the camel milk chocolate, each one as enchanting as the last. However, the best one to buy on your journey out of Dubai, are the types that are shaped like a camel. They are not only delightful treats but will also make for an interesting gift.
10. Arabian dagger
Like a prop out of an Arabian Nights story, the Arabian dagger you'll love to show off—to anyone who cares to listen to you. It's a beautiful, hand-crafted piece that looks as stunning as it is intimidating. The blades gently curve to the tip and the handle is decorated with various markings. This dagger is slid inside an equally striking pouch which, ideally, should hang from your waist. However, the best place to display it is on your wall at home, proudly declaring your trip to Dubai.
11. Lanterns
Dubai is gradually becoming the hub for selling the most unique and authentic products that many travelers and tourists love to purchase as souvenirs for their trip back home. One of the most authentic souvenirs you can bring home from a trip to the UAE is an Arab lantern. Traditional Emirati homes in Dubai and many other Arabic homes commonly have lanterns made with stained glass and mirrors that serve best as a centerpiece to any space or home. Arab lanterns can be found all over Dubai and intricate and exquisite ones at retail shops like Dragon Mart, Homes R Us, and Karama. Generic and affordable lanterns made from aluminum and glass can be purchased at 8.17 USD and go all the way up to 136.14 USD when made with precious metals and intricate handwork.
12. Aladdin Lamps
If the Disney movie, Aladdin hasn't convinced you well enough of how majestic an Arabic brass lamp is then a trip to Dubai's Al-karama's market. Here, travelers will be able to haggle their way into some stunningly carved lamps for half the price. Aladdin lamps are made with utmost precision and artistry, with tons of stones and inlay work. This is a great souvenir to purchase for those who wish to decorate or accent their homes with pieces from their travels. Aladdin lamps are sold everywhere in Dubai and many outlet stores and malls carry their own brands as well Check out Karama Souq for a great selection to choose from and at a great bargain. Rest assured, an Aladdin lamp in your home will definitely remind you of your wonderful trip to UAE.
A globally renowned economic hub
Dubai is certainly a shopping haven, a globally renowned economic hub. There is lots to see and buy here that any new-comer is likely to be overwhelmed. With our list above, you need not wonder what to bring back home. These unique purchases will act as an apt memento of your time in Dubai.
Disclosure: Trip101 selects the listings in our articles independently. Some of the listings in this article contain affiliate links.
Get Trip101 in your inbox
Unsubscribe in one click. See our Privacy Policy for more information on how we use your data