One of the world's busiest and most prestigious airports is none other than Dubai International Airport in the United Arab Emirates. If you've done a significant amount of travel, there's a chance that you've had at least a stopover flight here. Moreover, this airport plays a major role in the local economy and employs about 90,000 people. It's easy to see why this airport needs such a large number of staff given that it also features one of the most comprehensive duty-free sections we've come across. Travelers can purchase branded cigarettes at the DDF sector, popular fragrances from the Gifts from Dubai store, and makeup kits from the MAC store. Check out our amazing list of what to buy in Dubai Airport, UAE below.
After you're splurged at the airport, take your Dubai experience up a notch and treat yourself to a stay at the top hotels and Airbnbs in town!
Book your airport transfer here

Looking for a hassle-free journey to your accommodation? Taxi2Airport is the easiest and most reliable way to get to and from the airport. Through secure online payments, you can book your airport transfers in advance, saving up to 35% on your journey.
No good Dubai Airport shopping is worth its salt without a section dedicated to purchasing cigarettes. Fortunately, the Dubai Duty-Free fully comprehends the needs of international travelers and offers a bevy of cigarette purchasing options. Travelers departing from DXB - Gates A and B, arriving through Gates C, or browsing on the upper floor by Gates D will find stores selling a wide range of budget and premium cigarette brands. Expect to pay about 43 AED (12 USD) for a pack of 200 Gauloises Blondes Filter cigarettes, 84 AED (24 USD) for a pack of 200 Camel Filter cigarettes, and 99 AED (28 USD) for a pack of 200 Marlboro Filter Plus cigarettes.
DDF - Liquor & Tobacco

Address: Dubai, United Arab Emirates

Website: DDF - Liquor & Tobacco
Private Airport Pick-Up from Dubai Airport

Duration: 15 minutes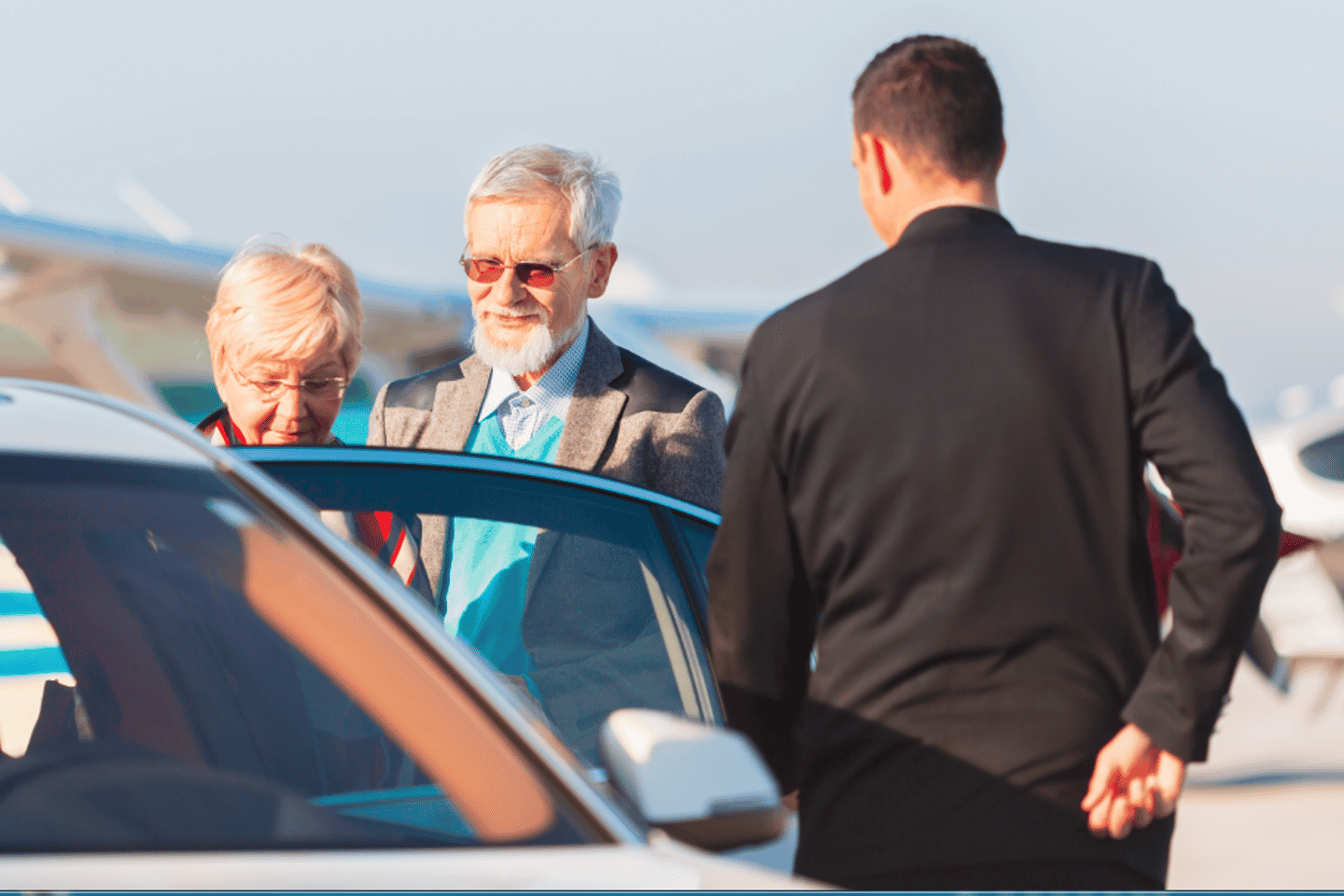 The Dubai Airport has plenty of excellent eateries, which are primarily reputable international brands. If you need your fill of olives and good Mediterranean cuisine, then head over to Ocean Basket. This popular South African restaurant chain is renowned for its Greek cuisine, fish platters, and affordable pricing. Your order of olives or feta will set you back a mere 14 AED (4 USD), or you can have your olives in a tasty Mediterranean Salsa for the same price.
Ocean Basket

Address: Dubai, United Arab Emirates

Website: Ocean Basket
Dubai Airport Pick-Up to Ras Al-Khaimah

Duration: 1.5 hour
Similarly to cigarettes, one will find liquor in several stores in the Dubai Duty-Free sector, which is conveniently located in arrival and departure gates. But if you're serious about your liquor and want to purchase the finest alcoholic beverages, then Le Clos is your go-to Dubai Airport shop. Expect to pay more than usual, but the premium price is worth it considering that you'll be getting a quality product, expert advice, and making your purchase in a contemporary and stylish establishment. A bottle of Glen Moray 1988 Rare Vintage Whisky will set you back 825 AED (225 USD), a Charles Heidsieck Rose 1985 Champagne will set you back 1,150 AED (314 USD), and a Moet & Chandon MCIII Cuvee Champagne goes for 1,800 AED (490 USD).
Le Clos

Address: Dubai, United Arab Emirates

Website: Le Clos
Private Stretch Limousine Experience in Dubai

Duration: 1hrsDuration
"Camels are an important part of Emirati culture that dates back to its roots. In the past, camels were said to be God's...

Posted by KurioCharmz on Sunday, 28 January 2018
The shopping experience in Dubai Airport isn't limited to purchasing branded goods, cigarettes, liquor, and food. In fact, one can enjoy and purchase creative works at Gifts from Dubai, which stocks a range of attractive camel ornaments made from various materials. Expect to pay 92 AED (25 USD) for a gold-plated camel, 232 AED (63 USD) for a colorful hand-painted camel, and 330 AED (90 USD) for a handcrafted fur camel. These ornaments make great souvenirs, too.
Gifts from Dubai

Address: Dubai, United Arab Emirates

Website: Gifts from Dubai
Dubai International Airport (DXB) Lounge Service
5. Arabic sweets
It would be a shame to pass through the Dubai Airport, and not try out the amazing Arabic sweets from the region. You can purchase a wide range of sweets from the Dubai Duty-Free section, which includes any store that stocks chocolates, dry fruits, and nuts. Expect to pay 81 AED (22 USD) for a 450-gram tin of Dellisse Assorted Baklawa, 88 AED (24 USD) for a 500-gram box of Nadiya Al Mealim Arabic sweets, and 92 AED (25 USD) for a 480-gram box of Dellisse Pearls.
Dubai Duty-Free

Address: Dubai, United Arab Emirates

Website: Dubai Duty-Free
6. Perfumes
Perfumes make the perfect gift for that special someone. It's a good thing that you don't have to go to the shopping malls to purchase such gifts. Gifts from Dubai stocks a wide range of popular branded fragrances such as Dior, Givenchy, Gucci, Lacoste, and Salvatore Ferragamo to name a few. You can take your time and try out several sample fragrances, and decide what to purchase before heading off. Expect to pay 271 AED (76 USD) for an Emporio Armani She 50ml Perfume, 455 AED (127 USD) for a Carolina Herrera Good Girl Red Edition Collector 80ml Perfume, and 987 AED (275 USD) for a Bvlgari Le Gemme Collection Selima 100ml Perfume.
Gifts from Dubai

Address: Dubai, United Arab Emirates

Website: Gifts from Dubai
7. Chocolates
If you have a sweet tooth and have a thing for chocolate, then you'll be in heaven at the Dubai Duty-Free section. There's candy of all kinds, and you'll have a choice of Arabic and Western chocolate brands to purchase. Moreover, you'll have a choice of candy bars and packets if you're traveling solo, and gift boxes if you want to bring something home for the special people in your life. Expect to pay about 49.50 AED (13.50 USD) for a 400-gram bar of Toblerone white chocolate, 66 AED (18 USD) for a 1-kilogram packet of M&M's Peanut Party chocolates, and 169 AED (46 USD) for a 200-gram wooden gift box of Al Nassma chocolate.
Dubai Duty-Free

Address: Dubai, United Arab Emirates

Website: Dubai Duty-Free
8. Dry fruits
Dry fruits make for a healthy and light snack, especially when traveling. Furthermore, they're tasty and work well when combined with nuts and dates, which also make for good snacks for active individuals and travelers. The Dubai Duty-Free section stocks all these snacks at reasonable prices and a one-kilogram box of Puranmal Dry Fruit Barfi will set you back about 118 AED (32 USD).
Dubai Duty-Free

Address: Dubai, United Arab Emirates

Website: Dubai Duty-Free
9. Cigars
If you enjoy a good American, Cuban, or Honduran cigar, especially on your travels, then you'll find these at the Dubai Duty-Free section. Shopping in Dubai Airport without these simply isn't complete. Every good cigarette store in the airport also stocks a wide range of quality cigars sourced from around the world. Expect to pay about 65 AED (18 USD) for a pack of 50 King Edward Special Tip Cigarillos, 765 AED (213 USD) for a pack of 25 Camacho Corojo Figurado cigars, and 1,538 AED (428 USD) for a pack of 25 Cohiba Coronas Especiales cigars.
DDF - Liquor & Tobacco

Address: Dubai, United Arab Emirates

Website: DDF - Liquor & Tobacco
10. Makeup kits
M.A.C has something special for you! ✨ Shop any product from the MAC Cosmetics studio fix range and get a M.A.C Prep +...

Posted by Nykaa on Monday, 10 April 2017
With so many things to do alone in Dubai, these activities can take its toll on your physical appearance. Make sure you look your best by carrying a makeup kit or two with you wherever you go. Whether you're arriving or leaving Dubai Airport, there's a MAC store for your shopping convenience, which stocks the world-renowned cosmetic company's wide range of products. You can purchase eye, face, and lip brushes, lip gloss, lipstick, and makeup kits. Expect to pay 74 AED (20 USD) for Slay Ride Lipstick, and 165 AED (45 USD) for a Shiny Pretty Things Eye Party Smoky makeup kit. Make your layover worthwhile, and add these beautifying products to your list of things to buy in Dubai Airport!
MAC

Address: Dubai, United Arab Emirates

Website: MAC
Plenty of options for jetsetters
Most travelers have limited time, especially during stopover flights or when transversing one of the world's busiest airports. Fortunately, the Dubai Duty-Free is one of the best and most efficient in the world, making it easy for travelers to do their shopping and enjoy a few bargains as well. So, book that trip and come to Dubai. Apart from the best rooftop bars and amazing neighborhoods, this country also offers an incredible shopping experience.
Disclosure: Trip101 selects the listings in our articles independently. Some of the listings in this article contain affiliate links.
Get Trip101 in your inbox
Unsubscribe in one click. See our privacy policy for more information on how we use your data