Ko Samet is a region that is located three hours from Bangkok which is accessible by bus or train; you can also take the more relaxing ferry ride if you want to start your holiday a bit early. It's one of the most calming places in the country to visit, known for the various beaches and vacation rentals, so if you need a reprieve from your life, get on the plane now! Once you get to Ko Samet, settle in, grab a drink, and relax in the beauty that the beaches in the area have waiting for you. And if you need help deciding where to stay in Ko Samet, let this article show you the top places to stay!
This beautiful property sits in between Sai Kaew and Pineapple beaches, each which are just a 1-minute walk away from the resort. Sai Kaew Resort is also located within Khao Laem Ya National Park and can be accessed by the Seree Ban Phe Pier that is located on the mainland or from Ko Samet proper. Its location offers travellers the best of both worlds: seclusion and beach views.
Sai Kaew Resort has a variety of activities available for their guests, including the chance to get a Thai massage on the beach as well as wind surfing and scuba diving lessons. The resort has amenities for travellers who'd like to stay on the property, however, there are three outdoor pools available. This is a great destination for those who love being just minutes from the beach.



Sai Kaew Beach Resort

Address: 8/1 Moo 4, Tumbol Phe, Muang, Rayong
Accommodates: 10


Parking Restaurant Meeting/banquet facilities Bar Fitness centre Garden Terrace Non-smoking rooms
A vacation in a place as beautiful as Ko Samet deserves an equally charming place to stay. Ao Cho Grandview Hideaway Resort may not be one of the fancy hotels, but it sure tugs at the heart with its open-air, tropical vibe. There are plenty of room options at the resort, you could stay at a grand villa with your own private pool or at one of the oceanfront suites that get you closer to the beach. It's a win-win, either way!



Ao Cho Grandview Hideaway Resort

Address: 44 Moo 4, Phe Sub- District, Muang District, Ao Cho, Koh Samet, Thailand, 21160

Samed Grandview Resort offers holiday-goers a private place to relax and unwind in-between adventures. This resort, which is located just one minute away from Sai Kaew Beach just like Sai Kaew Resort, is still secluded, however, allowing travelers to have a quiet holiday that can turn into an adventure in just a short walk.
This resort is an authentic Thai-style holiday, with accommodations mirroring the best of Thai architecture and living styles. All rooms and villas offer private balconies as well as amazing views of the gardens and the beach. There are also no less than five beaches within a 1.5-mile (2.4 kilometer) walk from the resort for travelers who want to explore all the beaches this island has to offer.
Whether you want to lounge all day on the beach or have a night out with friends, trying delicious authentic Thai dishes, Samed Grandview Resort is one of the most calming getaways you could ever hope to have.



Samed Grandview Resort

Address: 95/2 Moo 4 Tumbon Phe, Amphur Muang
Accommodates: 6


Restaurant Meeting/banquet facilities Bar Garden Terrace Non-smoking rooms Fishing Facilities for disabled guests
Ao Prao Resort is one of the top-rated beachfront accommodations in Ko Samet. With its lush surroundings and towering trees, this resort is indeed heaven on earth. Start your day in Ko Samet by walking on the shore or taking a dip at the luxe infinity pool at Ao Prao Resort. You could satisfy your cravings for delicious Thai food late at night too, as the on-site restaurant serves until midnight. Take advantage of your stay by joining light water activities such as snorkeling and kayaking.



Ao Prao Resort

Address: 60 Moo 4 Tumbol Phe, Muang, Rayong
Accommodates: 10


Parking Restaurant Room service Meeting/banquet facilities Bar Garden Non-smoking rooms Fishing
SummerDay Beach Resort may be small with only six rooms, but its charm isn't lost on its guests after their stay. The design of the rooms, which we'd say borders on industrial rustic, is a great contrast to the view of the beach. The resort is located in one of the less populated areas along the beaches, so privacy is your best friend here. Each room opens to a balcony with a couple of lounges, where you can sit at night and enjoy the sound coming from the waves.



SummerDay Beach Resort

Address: Sai Kaew Beach, Ban Phe, Sai Kaew Beach, Koh Samet, Thailand, 21160

This modest resort is where you want to stay around Ao Phai Beach and Tubtim Beach. You can choose among standard rooms or villas with either a garden view or sea view. After you've filled yourself up at the complimentary breakfast buffet, lounge under the shades of the towering trees by the beach and enjoy the sound of the waves coming at you. Samed Villa Resort has an on-site massage house too; keep the stress away and head to Lotus Massage.



Samed Villa Resort - SHA PLUS Certified

Address: 89 Moo 4, Koh Samed Ban Phe, Rayong
Accommodates: 4


Restaurant Meeting/banquet facilities Bar Garden Terrace Non-smoking rooms Airport shuttle Fishing
If you prefer the feeling of living as the locals do, then perhaps staying in one of the homes provided by Island House Rentals will be a good fit for you. This highly rated apartment is a short walk from the city centre and has local shops and restaurants all within walking distance. Even better is the fact that Sai Kaew beach is just 500 meters (0.3 miles) from your doorstep!
This is an apartment that can accommodate up to three people and offers views of both the city and the beach. The hosts live in the area, so if you've got any questions about what to do in Ko Samet, just give them a call: they're more than happy to help! They can even arrange motorbike and car rentals for you.
The local village and the Na Daan Pier aren't too far away from this private Ko Samet accommodation, and while this isn't a hotel, it definitely feels like it! Maid service is available, and you are given access to heated water and air conditioning. It is one of the best Airbnb rentals on the island, giving you the feeling that you are a resident, not a tourist, in Ko Samet.
House 33/1. Island House Rentals

Koh Samed, Rayong, Thailand

Superhost

Accommodates: 3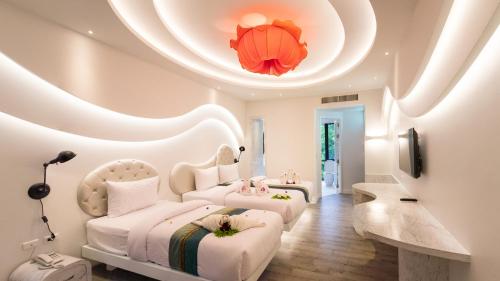 Just a few humble steps from Sai Kaew Beach is where you'll find Avatara Resort. While this resort is just right by the beach, their rooms surprisingly give a vibe that you're in a different world. You get to enjoy the privacy of your room and the boundless beauty of the beach once you step outside. It is highly recommended to dine al fresco too. Opt for a meal by the beach, and go up to the bar right after.



Avatara Resort

Address: 106 Moo 4, Jep's Beach ,Koh Samed, T. Phe, Muang ,Rayong
Accommodates: 3


Restaurant Room service Meeting/banquet facilities Bar Garden Non-smoking rooms Laundry Dry cleaning
For a beautiful view, why not try Paradise Sea View Bungalow on Paradise Island? This is a very new addition to the Airbnb site; however, it is shaping up to be one of the most interesting private accommodation listings in the area.
This is an entire private apartment that can accommodate up to two guests and is just five minutes from the Ao Vong Dueng Beach, which is considered a secluded escape from the daily rigors of mainland life. An outdoor pool, easy access to shops and restaurants in the village, and watersports are also available. The host lives in the area as well, so be sure to ask for recommendations of what to do while you're in the area!
Paradise Sea View Bungalow on Paradise island
Located on the white and sandy shores of Tubtim Beach is Tubtim Resort, one of the oldest resorts in the Rayong District. This is one of the highest-rated places for travelers; it is a laid-back, casual hotel that believes the only thing a person needs is a good bed to sleep in, air conditioning and the beach!
If for any reason you'd like to get out of your private accommodation and explore the area, you will find that canoeing and snorkeling attractions are available through the resort. You can also step into the beachfront restaurant and try a sampling of their renowned Thai and international dishes, all which can be enjoyed at the bar area. If you'd like to relax, get a massage at the spa, or relax in your air-conditioned room.



Tubtim Resort

Address: 13/15 m.4 T.Phe A.Muang Rayong

A moment to relax in a beachfront getaway
While there are many different experiences you can have in Thailand, Ko Samet gives you the luxury of relaxing on the beach with only the sound of the water as a companion. These top places to stay in Ko Samet will give you great views to bask in and an excellent place to retire to, no matter how long you're in Thailand. Check these out, along with the things to do, the next time you're planning a holiday in Ko Samet!
Disclosure: Trip101 selects the listings in our articles independently. Some of the listings in this article contain affiliate links.
Get Trip101 in your inbox
Unsubscribe in one click. See our privacy policy for more information on how we use your data