When you think of pristine waters, luxurious relaxation, and unlimited fun under the sun, there's no denying that Bali would make it on top of your must-visit places. Tagged as the most popular holiday destination in the Indonesian archipelago, Bali satisfies every traveler's bucket list with its rich selection of historical temples, extravagant resort villas, irresistible sea waves, sandy beaches, and a whole lot more. There seems to be no end to what you can explore on this island.
In fact, even when the sun is out, you can still enjoy the beauty of Bali. In this list, we'll give you the best things you can do in Bali with your friends, family or special someone under the moonlight! Are you game for a night to remember? Read on and book these night-time tours.
Editor's Note: Photo taken from the establishment's official social account
Perhaps you've been around animals in your travels, but have you tried strolling with orangutans or feeding elephants after dark? The Bali Zoo offers a unique approach in animal caring by giving you a guided tour in their recreational and wildlife park at night. Since you're exploring the place in the evening, expect to hear natural sounds in the background from tropical menageries.
This perfectly complements your al fresco dinner which happens after your walking tour. To make your dining experience even more memorable with your family or special someone, you will have as your observer the king of the jungle – the lion, who sits calmly with his flock inside a well-secured cage just a few meters away from your dining set-up. If you think the night is over, well, you have to stay for a while. Before you go there's a team of amazing fire dancers who will bid you goodbye with an emotionally-moving fire dance. Truly, coming here is an experience you will take with you wherever you go.
Bali Zoo at night

Website: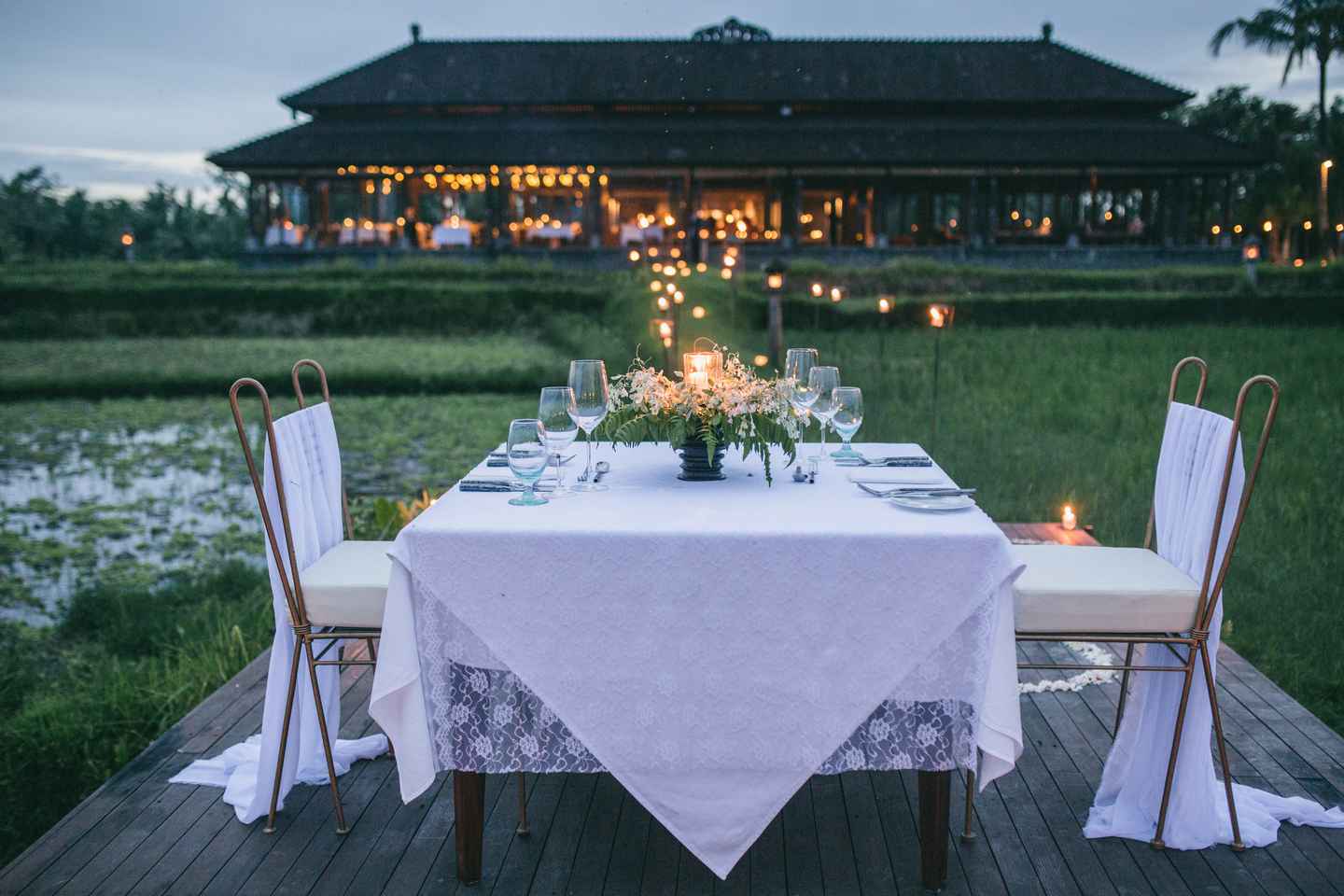 For couples who want an intimate and beyond-romantic night together, there are tours offering a beautiful dinner in a fairy-tale setting near Ubud.
Duration: 2.0 hour
Among the many spectacular sites that are worth seeing in Bali at night, the Ubud fireflies are the most fascinating. This tour will take you to the natural home of light-bearing insects that twinkle in the night or more commonly known as fireflies. Many of them normally stay in less crowded farm fields with fresh air and a healthy ecosystem.
Seeing fireflies at night are considered a rare sight nowadays because they are less likely to survive in an urban environment. But thank goodness we still have some of them freely going around a few peaceful locations in Ubud. Not only will you see a spectacular display of unpredictable moving fireflies at night but also you will learn some interesting facts behind these magical-looking insects. There are tour guides like Made who will guide you through different locations, while generously sharing about the culture and way of living in the area.
What makes this tour extra special are the free-for-all evening treat you'll find when you look at the moonlit sky and hear the natural sounds of crickets, frogs, and other nocturnal animals. Together, they will bring you to an entirely different world. We're pretty sure fireflies are hard to find back in your home. It's just fitting to free up your schedule and spend a special night with them.
See the Ubud fireflies

Website:
The last two itineraries in this list are especially dedicated for sports enthusiasts. Did you know that Bali is also a good location for surfing and diving at night? Over at Padang Bai Beach, a dive site for an evening exploration awaits experienced divers who want an extraordinary adventure with sea creatures.
Say hello to reef sharks, octopuses, crabs, and nudibranchs, among many others. You will find some of them glowing underwater–a beautiful sight you will only get to see during a night dive. You will be escorted all throughout your diving hours by a highly-professional PADI guide who will lead you in the ocean's well-kept wonders. Because this tour is quite advanced in level, you will be required to show your certification as an experienced diver. If you have one, don't hesitate to come over and dive in to witness one spectacular view from down below.
Exploring Padang Bai waters

Website:
If you enjoy the thrill of surfing when the sun is up and bright, you will have an experience of a lifetime doing the same sport you love under the moon and the stars! Bali–specifically Keramas Beach, is the only place in the world that offers a surfing facility for nightcrawlers. What they did is to set up floodlights to give surfers the light they need to catch some waves which can reach a height of 1 meter (4 feet) depending on the current tide. Lifeguards will give you important reminders and the information you need for your safety.
They are on the lookout during the entire surfing sessions, too. One session lasts for an hour which can be shared by up to 6 intermediate to advanced level surfers. Surfing boards are also available on the beach. If you're a surfer up for a twist, this is the surfing place for you. You can also invite your friends over! There are plenty of beach-side and pool-side mattresses where they can chill out and enjoy the night.
Night surfing at Keramas Beach

Website:
As soon as the sun sets, a provincial village known as Batabulan in Bali is packed with visitors eager to hear and witness a story of heroism through a Balinese dance called "Kecak Dance" or Ramayana Monkey Chant. Here, a group of men in their historical costumes acts out the story of Prince Rama and his battle against the evil king, Ravana. They do this while their hands and feet move gracefully to their chants. Part of the musical drama is the burning of Hanuman or the divine monkey which is a central character in the story.
Further in the night, you will witness men stepping over burning coals through a skillfully done fire dance. You will also learn how the early Balinese tribes practice exorcism with their interpretation of the Saghyang (trance) dance. Visitors love this tour as it perfectly represents the culture and history of Bali. It is best to bring the whole family with you for a unique cultural night bonding!
Duration: 4 hours
Seize your Bali experience
There are many things to do in Bali whether in broad daylight or under the crescent moon. While you are in this abundant island, make sure you seize every minute of your stay by ending your day with some enchanting adventures at night. Because when we talk about travel experiences, Bali is evidently an open wonder ready to amaze you.
Any must-sees we missed? Tell us about them in the comments section or write a post
here
to help out fellow travelers!
Disclosure: Trip101 selects the listings in our articles independently. Some of the listings in this article contain affiliate links.
Get Trip101 in your inbox
Unsubscribe in one click. See our Privacy Policy for more information on how we use your data