Hungary is a vibrant and beautiful country in Central Europe known for its classic architectural landmarks. Buda's Medieval Castle Hill, the majestic neoclassical buildings along Pest's Andrássy Avenue and the old-style Chain Bridge are all architectural wonders definitely worth a visit on your next trip to Hungary. Despite it being a landlocked country, there is no shortage of wonderful lakes and rivers for you to swim and splash in. In fact, Its capital, Budapest, is blessed with the waters of Danube River, which runs right through its middle. If you plan on visiting Hungary on your next trip overseas, below are the best places to visit in Hungary. Be sure to check this guide out before your trip.
1. Relax in the spa town Heviz
Heviz is a spa town known for being the home of the world's second-largest thermal lake, Lake Hévíz. You can take a deep soak in the lake to absorb the minerals and vitamins contained in the water's dissolved gas components, which are said to be helpful to those with health issues. The lake's water runs hot and cold depending on the currents, and it comes from a spring cave underground, and the fluctuating temperatures are said to help with circulation and better skin health.
Heviz

Address: Hévíz, 8380 Hungary

Opening hours: 24 hours (daily)

Price: free
2. Take a dip in Lake Balaton, Keszthely
Keszthely is yet another quaint yet vibrant city in Hungary bordering a large body of water. In this case, one of the key things to do in Keszthely is to take a dip in Lake Balaton, which has many small, shallow beaches where you can relax in peace and quiet, away from the hustle and bustle of the city. After taking a relaxing dip, you can take a stroll around one of the many lavish residences lining the lake, the most iconic one out of all of them being the Festetics Palace, a traditional baroque home with enough ornamentation on its high walls fit for royalty.
Keszthely

Address: Lake Balaton, Keszthely

Opening hours: 24 hours (daily)

Price: Free
3. Go museum hopping in vibrant Debrecen
Debrecen is the capital of Hungary's Northern Great Plain province and it is known for its expansive museums and rich history. One of the key attractions that you definitely would want to visit is the Deri Museum, which exhibits cultural icons and artifacts with a known link to Hungary's rich history. There are a few permanent exhibitions on display year-round, such as the "Inhabitants of the Starry Sky" – Archeological Exhibition, which focuses on the ancient idea of death, burial and the afterlife through findings of an ancient Hungarian tomb.
Déri Museum

Address: Debrecen, Déri tér 1, 4026 Hungary

Website: Déri Museum

Opening hours: 10am - 6pm (daily)

Price: 7 USD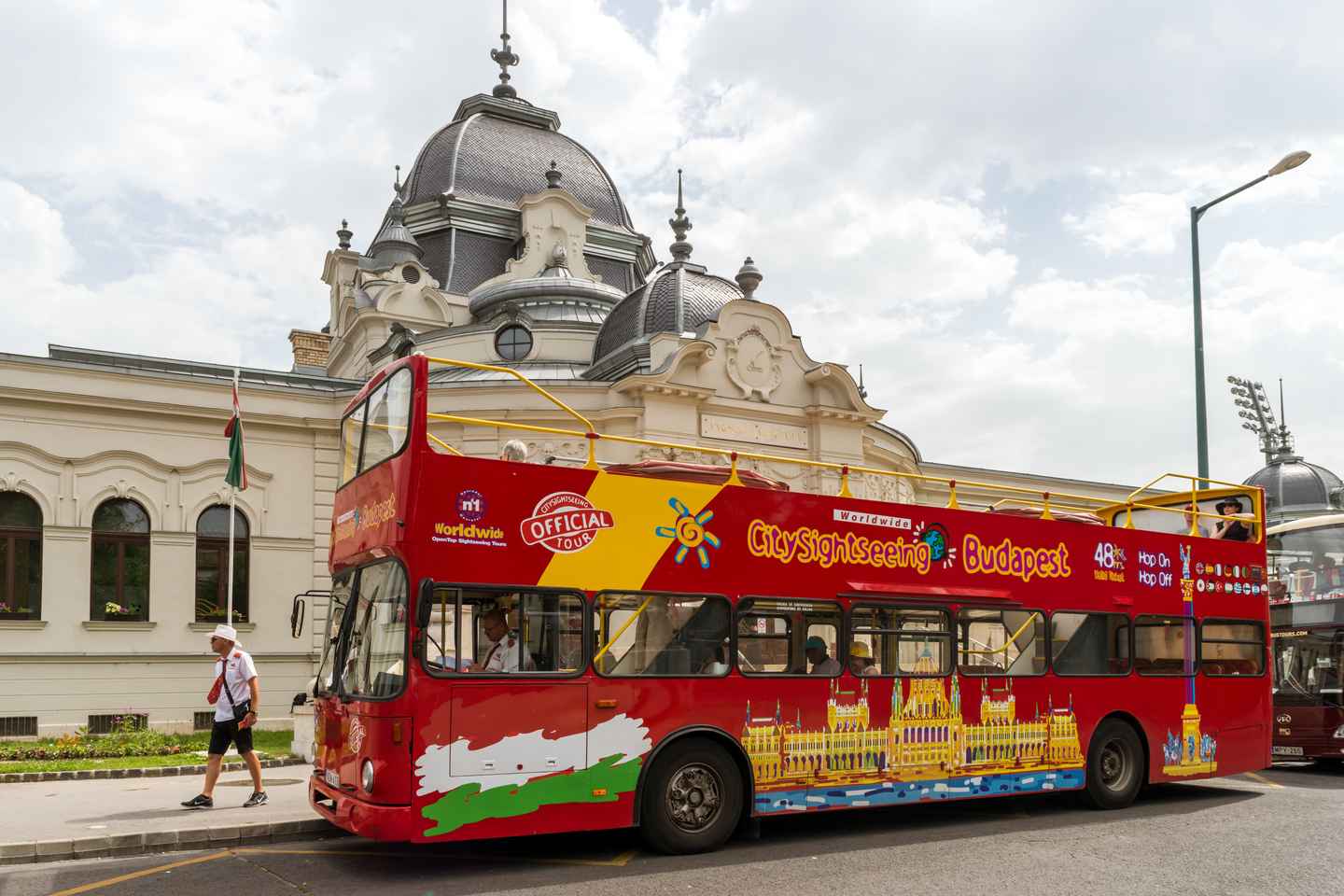 If you wish to explore all the key places of attraction in Budapest with friends and family but at your own pace, you should definitely purchase a ticket to the hop-on hop-off sightseeing bus. You will get the chance to enjoy scenic views of the vibrant city from the upper deck with the breeze in your hair and visit all the places of interest you want without hassle. The Jewish Museum and Synagogue on Dohány Street, Buda Castle complex and Budapest Castle Hill Funicular are all at your fingertips with the hop-on hop-off tour, just a short bus ride away.
Duration: 1.0 day
5. Climb the majestic Mecsek in Pecs
Pecs is known not just as an ancient town with many great museums to visit, but also a marvel of the natural world. The majestic mountain range, Mecsek, is located within Pecs, with its highest peak Zengő reaching high into the sky at 682 m (2238 ft) above sea level. If you are a nature lover looking to explore the wilderness, the protected area of Mecsek is known for housing a wide variety of animals and wildlife.
Mecsek

Address: Mecsek, Pecs, Hungary

Opening hours: 24 hours (daily)

Price: Free
6. Visit Cathedral Basilica of the Assumption of Our Lady, Gyor
To add to the plethora of unique experiences you can have in Hungary, why not immerse yourself in Hungary's rich religious culture and traditions by visiting Cathedral Basilica of the Assumption of Our Lady, Gyor? You can take a snapshot with one of its majestic spires or stained glass windows, or attend an evening mass to understand more about the Catholic community in Hungary.
Cathedral Basilica of the Assumption of Our Lady, Győr

Address: Győr, Káptalandomb 12, 9021 Hungary

Opening hours: 9am - 5pm (daily)

Price: Free
7. Tour the majestic Esterhazy Castle in Papa
When you ask a local about the best thing to do in Papa, Hungary, visiting the Esterhazy Castle is often the first thing that comes up. Esterhazy Castle was the residence of the Esterházy family and it is estimated by historians to have been built in the 1408 to 1432 period. Take a 45-minute tour of the castle with an experienced local tour guide. You will get to visit a wide variety of interactive stations, such as an audio station and a movie station, where you will get to learn about the history of the castle through a wide variety of creative means.
Esterhazy Castle

Address: Pápa, Fő tér 1, 8500 Hungary

Opening hours: Sat - Thu: 10am - 6pm (closed on Fri)

Price: Free
This private full-day wine tasting tour and sightseeing in Eger is perfect for travelers who wish to see Eger in style and comfort. On this tour, you will get to visit key historical attractions of Eger like the Eger Castle and Basilica, while also getting an authentic taste of Hungarian food and drink through the Hungarian 'peasant' lunch experience and the Hungarian wine tasting experience.
Duration: 9 hours
9. Swim in Lake Deseda, Kaposvar
Lake Deseda lies at the heart of small-town Kaposvar. The lake is surrounded by lush greenery, and you can choose to take a leisurely stroll around the lake or swim and splash in it with friends and family during the summertime.
Lake Deseda

Address: Lake Deseda, Kaposvar

Opening hours: 24 hours (daily)

Price: Free
If you want to do a quick day or weekend trip through the vibrant and culturally rich city of Miskolc, you can get the Miskolc City Pass through Viator for amazing discounts on many great restaurants and places of interest around the city. For instance, get free entry into the Miskolc Zoo, where you can see, interact with and even get to pet a wide variety of animals. If you are into history and the arts, this is your chance to go on a museum crawl. The Otto Herman Museum, Otto Herman Memorial House, Miskolc Gallery, Museum of Theater History and Performing Arts, Metallurgical Museum and the Hungarian Orthodox Museum are all free to enter with the city pass.
Duration: 5 days
Many memorable things to do in Hungary
If you are planning your next trip to Hungary, be sure to check out the above 10 most amazing things to do there before your next trip! With our list above, you won't have to search for too long, for memorable activities. Enjoy your trip to this lovely destination.
Disclosure: Trip101 selects the listings in our articles independently. Some of the listings in this article contain affiliate links.
Get Trip101 in your inbox
Unsubscribe in one click. See our Privacy Policy for more information on how we use your data