Stockholm is a city with a variety of activities and tours that will help you understand the essence of the Swedish culture. Every year, it's becoming a more popular destination among travelers around Europe, from hipsters to backpackers; youth looking for a wild nightlife and adults more interested in nice restaurants and cafes. The offerings in Stockholm are very wide and when it comes to history, art and general culture, this is a city that has the perfect pastimes and welcomes you to increase your knowledge. And accommodation is also easy to find - from cozy vacation rentals to the best boutique hotels in Stockholm. For a fun time in the city, take a look at these 15 best things to do in Stockholm, Sweden.
1. The Royal Palace of Stockholm - become royalty
The Royal Palace of Stockholm is one of the top things to see in Stockholm. This is a one of a kind visit because it's one of the biggest palaces in Europe. The Royal Palace of Stockholm is His Majesty The King's official residence and is also where most of the monarchy's official receptions and events take place. Imagine if your office was located in a palace! The King and Queen don't need to. You can feel like one of them exploring the different departments of the complex. Just the architecture in baroque style has been reason enough to go, but also you should know that the history those walls is very interesting. There's no wasting time in here. You can buy your tickets online and save even more time! See for yourself.
The Royal Palace of Stockholm

Address: Slottsbacken 1, Old Town (Gamla Stan)

Website: The Royal Palace of Stockholm
2. Vasa Museum - Titanic is not the only one
If you want to combine adventure, ships, discoveries and history all in one, this is a perfect visit for you and probably one of the most interesting in the city. The Vasa ship has a wonderful history. She sank in Stockholm in 1628 and now is the only ship from the 17th-century that is preserved and open for exhibition. Learn all about the timeline of the ship, from the moment it was built, the over 300 years sailing the sea and finally the reasons why it sank. It's a wonderful tour for families with kids. Sail back in time. Bon Voyage!
Vasa Museum

Address: Galärvarvsvägen 14, Djurgården, Stockholm, Sweden

Website: Vasa Museum
3. Moderna Museum - House of modern art
For modern art enthusiasts, this museum exhibition is one of the best Stockholm attractions to spend an entire afternoon. The collection is the responsibility of the government and takes a serious interest in preserving and supporting modern and contemporary art. You will find paintings from big names like Picasso, Andy Warhol and Salvador Dalí, among others. There are also sculptures and photo exhibitions. Either on a cold day or a summer warm afternoon in Stockholm, staying inside the Moderna Museum walls is going to be a wonderful experience for your eyes and mind.
Moderna Museum

Address: Exercisplan 4, 111 49 Stockholm, Sweden

Website: Moderna Museum
4. Södra Teatern - For special events or to make events special
The Södra Teatern is a stunning multi-functional event space. Here you will find nightlife, bars, a restaurant, stages for concert performances and live music events, and the possibility to book the venue for special events with advanced booking. It's a good idea to visit at least to relax in the beautiful beer garden, enjoying the ornate décor, the exquisite architecture and the amazing service. It's a great meeting point to mingle with locals from Stockholm. Take a look at the calendar of upcoming events on the website if you want to make your visit even more special.
Södra Teatern

Address: Mosebacke Torg 1, 116 46 Stockholm, Sweden

Website: Södra Teatern
5. Skansen - Miniature Sweden
If you're wondering what to do in Stockholm with your kids, then Skansen - Miniature Sweden might interest you. This is an open-air museum with a zoo included! This is a place where you can learn all about Swedish culture and costumes by playing the part and spending a day interacting with actors and representations of the old days of the country. It's a great activity for kids. And now is the perfect time to go during the midsummer celebrations that offer a different agenda and special events. Have a great time in this magical place with over 150 traditional houses on the hilltop. Enjoy nature, industry, history and fun all in one place.
Skansen

Address: Djurgårdsslätten 49-51, 115 21 Stockholm, Sweden

Website: Skansen
6. Nobelmuseet - House of big minds
Ionization chamber, electrometer with piezoelectric quartz and sensitive scales. Marie Curie studied radioactivity using...

Posted by Nobel Museum on Saturday, 10 June 2017
The stories we tell in the Nobel Museum are the stories of the Nobel Laureates. We use artefacts from them as entry...

Posted by Nobel Museum on Sunday, 28 May 2017
Do you want to get more familiar with the entire history of Nobel Prize winners? At this museum you will have that and more. It's an impressive exhibit about each one of the awarded winners and their inventions. The museum works as a homepage to their success and preserves the story behind the masterpieces for the future to come. The exhibition includes films, interviews, displays and much more! The mission of the museum is to stimulate interest through the generations around the natural sciences and culture with smart and interactive learning activities for all the family to enjoy. Find out all about it!
Nobelmuseet

Address: Stortorget 2, Gamla Stan, Box 2245, 103 16 Stockholm, Sweden

Website: Nobelmuseet
7. Münchenbryggeriet - Go for the big one
If you have the chance, you should make some time in Stockholm to visit the historic building in Södermalm. It used to be a royal brewery from the 19th-century, but since 1971 it has been mainly an events and conference venue. Just the architecture from the outside, seeing it from afar and how big it is, sticks in your head. Another excuse to visit is being a student, you can take ballroom dance lessons here, in a beautiful salon. Don't miss out the opportunity.
Münchenbryggeriet

Address: Torkel Knutssonsgatan 2, 118 25, Stockholm, Sweden

Website: Münchenbryggeriet
8. Mall of Scandinavia - Don't feel shopping guilt
Shopping malls can be cultural too. After all, Swedish brands are huge around the world and a stamp of good quality. You can find out why by visiting the Mall of Scandinavia that opened in November 2015 and since then it's been hosting over 200 stores and featuring the best brands both local and international. You can also enjoy a movie at the IMAX cinema or a gourmet meal with an excellent wine in the many restaurants.
Mall of Scandinavia

Address: Stjärntorget 2, 169 79 Solna, Sweden

Website: Mall of Scandinavia
9. ABBA: The Museum - Mamma mia, here you'll go again
ABBA: The Museum should definitely feature on the Stockholm sightseeing itinerary of all music enthusiasts. Are you a dancing queen? Are you looking to have a super trouper time? Then visit the museum completely dedicated to ABBA. There's no museum like this one. You will have a sensory-overload experience. It's a bit mandatory to be a bit of a fan of the Swedish band. Take a chance on the ABBA Museum and explore the exhibition.
ABBA: The Museum

Address: Djurgårdsvägen 68, Sweden

Website: ABBA: The Museum
10. Spritmuseum
The Swedish know their alcohol. After all, it's a very, very cold country during the very long winters, and over generations, alcoholic drinks have been a polemic cure. The Museum of Spirits is about Sweden's relation with alcohol. Learn all about the industry and explore the secrets you didn't know about the Nordic society. Have a taste of something good while you are at it!
Spritmuseum

Address: Djurgårdsvägen 38-40, 115 21 Stockholm, Sweden

Website: Spritmuseum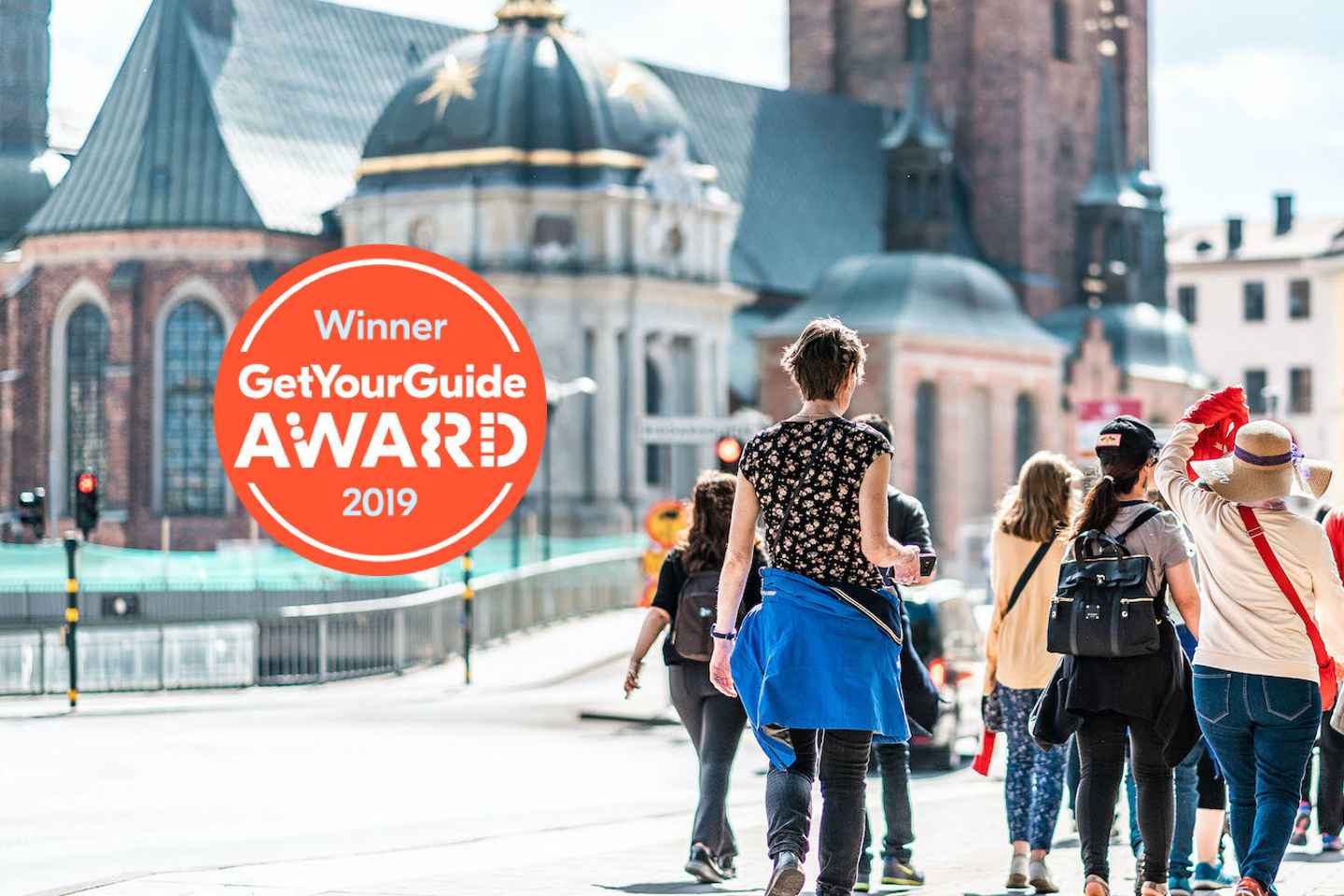 Meaning 'Old Town' in Swedish, Gamla Stan is said to be one of the best preserved medieval-era towns in Europe. Enjoy marveling at the beautiful architecture, including colorful houses and buildings, and hear about the stories and legends of the area from an experienced guide. On a walking tour of Gamla Stan, see 17th-century royal palaces, the stunning Riddarholmen Church, and check out the narrowest alley in town! You can also enjoy mesmerising views of the rural settings and Lake Mälaren.
Stockholm: Old Town Walking Tour

Duration: 1.5 hour
12. Gröna Lund
For a fun day out in Stockholm, check out Gröna Lund. This waterfront amusement park has a number of rides and attractions that will especially please the thrill-seekers in your group or family. Must-try rides here are Eclipse, Insane, Fritt Fall, Ikaros, and more! Roller-coasters, free-fall rides, and giant swings will leave you screaming for more. Kid-friendly rides and several family entertainment options are also available here.
Gröna Lund

Address: Lilla Allmänna Gränd 9, 115 21 Stockholm, Sweden

Website: Gröna Lund

Price: 14.02 USD onwards
13. Skyview
You've tried gondola rides for skiing and in snowy areas before, but have you heard of a gondola ride around a giant globe? Skyview is a unique Stockholm attraction that offers visitors a chance to ride glass gondolas on the exterior of the famous Ericsson Globe. Take in panoramic views of the city, click pictures and enjoy yourself as you ride a gondola that starts its slow downward journey from a height of 130 meters (425 feet). A gift shop and a restaurant are also available here.
Skyview

Address: Ericsson Globe, Globentorget 2, 121 77 Johanneshov, Sweden

Website: Skyview

Opening hours: Mon - Fri: 10am - 6pm; Sat - Sun: 10am - 4pm

Price: 17.26 USD
Get spooked out in this Scandinavian city by embarking on The Original Stockholm Ghost Walk and Historical Tour. On this walking tour, you will get to learn about the city's haunted past and hear tales of horror, murder and mayhem from experienced guides. Follow your lantern-holding guide through narrow alleys and streets, and listen to spine-chilling stories of spirits and ghosts as you visit haunted locations around the city.
The Original Stockholm Ghost Walk and Historical Tour - Gamla Stan

Duration: 1 hour 30 minutes
15. Royal Swedish Opera
For the culturally-inclined, a night at Royal Swedish Opera in Stockholm is a must. This impressive building in located in the heart of the city and the perfect place to catch an opera or a ballet performance. Rub shoulders with the high society who frequent this location and watch mesmerising performances by talented artists from Sweden and abroad.
Royal Swedish Opera

Address: Gustav Adolfs torg 2, 111 52 Stockholm, Sweden

Website: Royal Swedish Opera
Stockholm is culture, history and fun!
Visiting the city will be a very rewarding experience. If you are looking for cultural activities, here you have several to choose from. You can enjoy the Swedish summer, hide from the cold when it comes, and enjoy from learning all about the unique nordics.
Disclosure: Trip101 selects the listings in our articles independently. Some of the listings in this article contain affiliate links.
Get Trip101 in your inbox
Unsubscribe in one click. See our privacy policy for more information on how we use your data