As one of the largest cities in Australia, Sydney holds a special place in the hearts of locals and tourists alike. Filled with sprawling modern architecture and towering skyscrapers juxtaposed against a beautiful old-world charm representing the rich history and culture of the land down under, Sydney is a truly wonderful city to travel to and live. For anyone looking for interesting attractions and activities, this is one city that will never disappoint. If you are a sports enthusiast and are looking for outdoorsy activities to engage in, why not try bike tours? This is an amazing sports activity that will enable you to make a ton of memories and friends. So if you are interested in a fun tour for a few hours, scroll down to explore our list of the best bike tours in Sydney, Australia.
If you are interested in exploring the very best that Sydney has to offer in terms of tourist sightseeing attractions, this biking tour is perfect for you. It covers a whopping 30 attractions including some of the must-visit places for any tourist in Sydney. The tour is inclusive of a bicycle and all the equipment you need, and you will be accompanied by a professional and friendly tour guide who will show you all the important landmarks and attractions as well as explain the significance and history of each of them. You can stop by to take a picture of world-famous monuments and attractions such as the Sydney Opera House, Darling Harbour, Hyde Park, the Royal Botanical Gardens, Harbor Bridge and more. This tour gives you a choice of four different routes that you can take, one of which includes a complimentary sandwich along with a beverage at a monument stop.
Sydney Bike Tours

Duration: 5 hours
Afternoons in Sydney can be an uncomfortably hot time to walk around the city. Instead of walking around, why not try this easy 2.5-hour biking tour that allows you to go on an easy cycling trip around the city, exploring all the popular sightseeing spots? This tour ensures you don't have to deal with traffic by leading you down nature-oriented paths such as parks, sidewalks, and waterfronts. It includes comfortable high-quality bicycles, a professional tour guide who will show you around, rain ponchos if the weather isn't favorable, and the opportunity to make many new friends and unforgettable memories.
Sydney Highlights 2.5-Hour Bike Tour

Duration: 2.5 hour
If you care about personalized experiences that you can only get in small groups, this biking tour is perfect as it provides a knowledgeable and friendly tour guide who will show you around and answer all your questions. With up to 12 travelers in your group, you are assured of the perfect number of companions to forge wonderful friendships, as you cruise by the must-see landmarks of Sydney. You will end your ride by stopping by a cozy pub and enjoying a nice cool beverage with your new friends.
Sydney Bike Tour

Duration: 4hrsDuration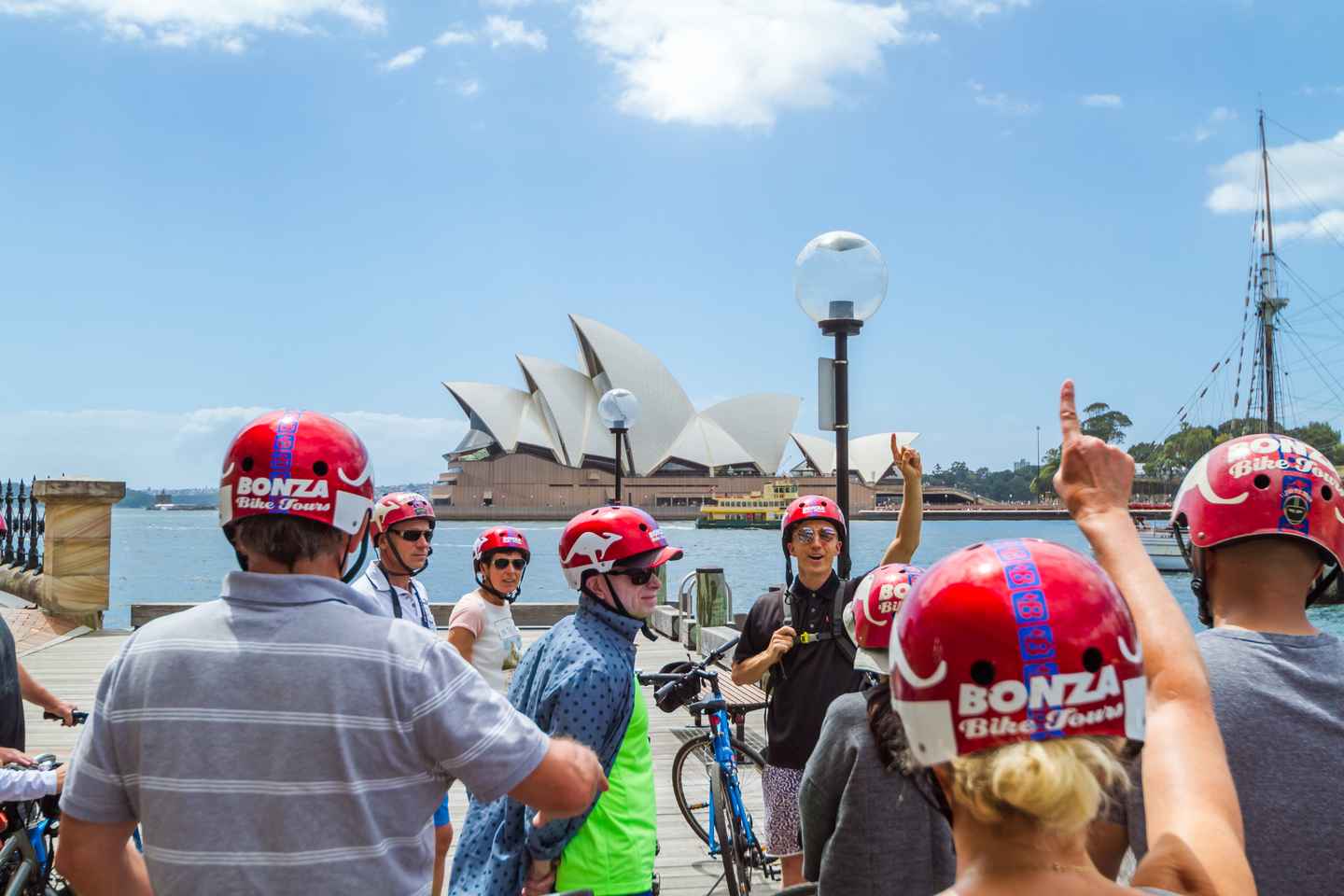 Explore the beauty of Sydney, both in its manmade monuments such as the Sydney Opera House, Sydney Harbour Bridge and the Observatory, as well as the natural scenic beauty of Royal Botanical Gardens and The Rocks. This tour ensures you explore all the must-see attractions that the city has to offer, and you will be accompanied by an experienced and professional tour guide who will lead you along the routes explaining the landmarks you see.
Sydney: Iconic Sights 4-Hour Bike Tour

Duration: 4.0 hour
The Sydney Blue Mountains are a breathtaking sight indeed, being a UNESCO World Heritage site. Traveling all the way up the mountains to check out the view is quite an ordeal. This tour, therefore, features electric bikes that allow you to comfortably enjoy the whole ride, and specific routes tailored to your fitness level. This tour is completely off-road, so it is necessary that you know how to ride a bike well.
Explore the Sydney Blue Mountains: E-Bike Group Tour

Duration: 4 hours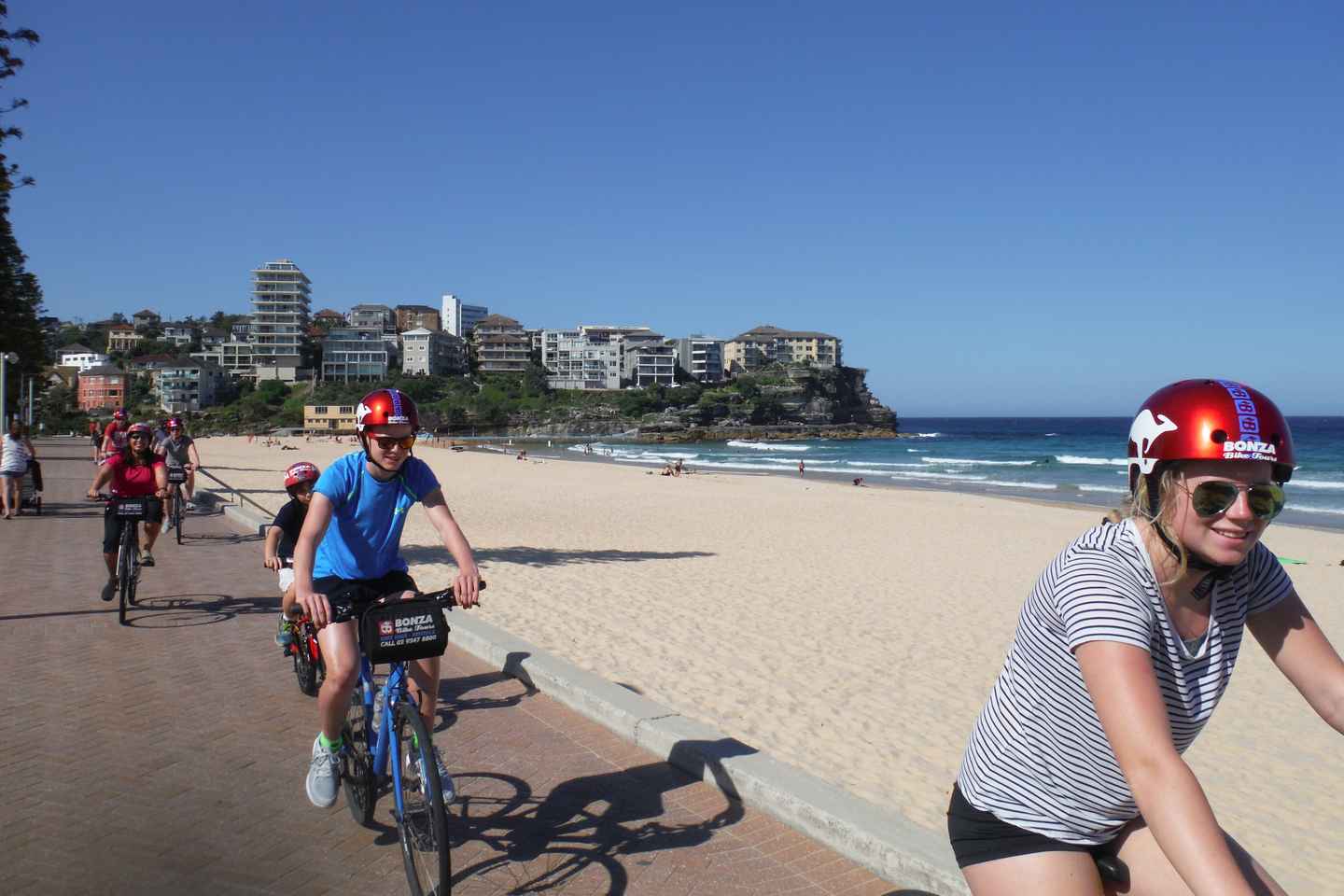 Imagine riding on best-in-class bicycles along the beachfront as you feel the balmy oceanic breeze caress your face and listen to the waves crashing along the shores in the distance. This tour takes you along all the oceanfront spots that are popular in Sydney, such as Manly Beach and Sydney Harbour. You can even get to ride the Sydney Harbour ferry as you watch the marine life in the waters, then take the most scenic routes exploring the beauty of this city during sunset hours. This tour requires a fairly intermediate level of fitness as a couple of roads have an incline along the route.
Breathtaking Manly Beach Bicycle and Sunset Cruise Tour

Duration: 4.0 hour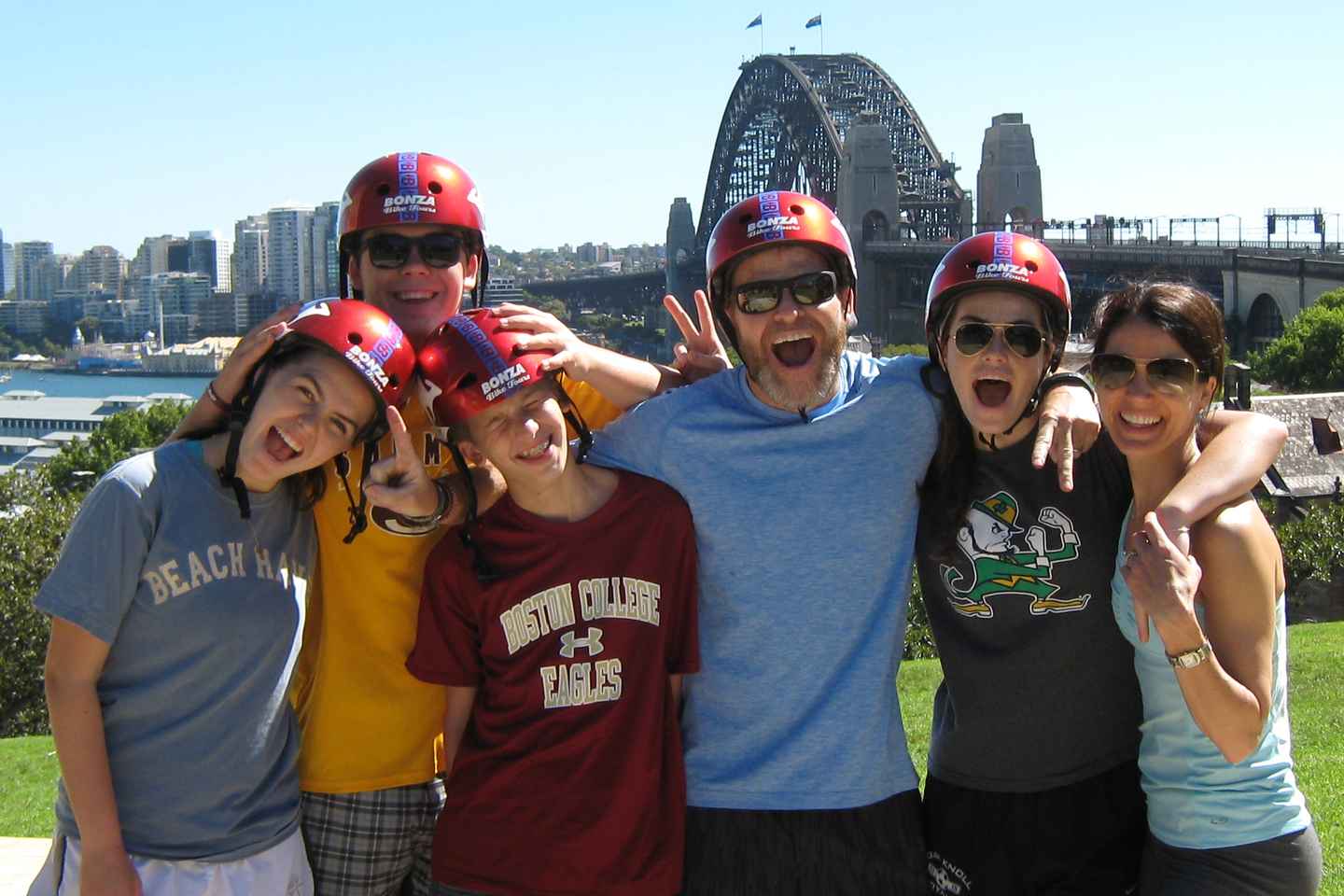 If you want to explore the very best of Sydney for an extended period of time, this five-hour tour is perfect for you. Ride through the city on bicycles that will be provided to you by your group, along with a knowledgeable and experienced tour guide who will show you around. This tour begins at 10:30 in the morning, and it includes a delicious lunch followed by a cold beverage, and you will get to stop by amazing monuments and landmarks to get some awesome Instagram-worthy shots!
Scenic Sydney Harbour Bridge Bicycle Ride

Duration: 5.0 hour
For the independent sports enthusiast who is ever ready for a day-long adventure, this self-guided biking tour is perfect as it lasts a whole day, and you do not have any tour guides telling you where to go. Get ready to cycle for a whopping 12.5 miles (20 kilometers) along sidewalks and adventure trails that offer a beautiful and refreshing view of monuments and natural scenery that include Shelly Beach, Sydney Harbour National Park, Cabbage Tree Bay and Manly Beach.
Manly Self-Guided Bike Tour

Duration: 1 day
This afternoon e-biking tour is a great way to get rid of your post-lunch grogginess. Bike pasts idyllic and scenic landmarks in the Eastern suburbs of the city with your very own electric bike, as your tour guide leads you to amazing landmarks and attractions. This tour includes a refreshing cup of coffee and a snack, as well as water and sunscreen, so that the Australian sun doesn't burn you.
Sydney: 3-Hour Eastern Suburbs Harbour Bay Tour on an E-Bike

Duration: 3 hour
Who wants to exercise too much while on vacation? If you are fascinated by the idea of biking tours but don't wish to exert yourself, or aren't confident about your fitness level, try this tour that features electric bikes. These bikes make it easy to ride for as long as you want, even uphill! You will get to visit the best of Sydney's landmarks in a small group setting, and you will be accompanied by a friendly and knowledgeable guide.
Sydney City Highlights Small Group Electric Bike Guided Tour

Duration: 2 hours 30 minutes
Tour the city of Sydney in a whole new way
Biking tours are a low-intensity workout, perfect for the tourist that wishes to explore the city in a unique way without the excessive exertion that walking provides. Feeling the cool breeze caressing your face as you marvel at the sights and attractions around you, while you make friends with your fellow cyclists seems like the perfect way to spend a lovely morning in Sydney. So now that you've checked out our awesome list, book your place in these tours so that you can get the best of Sydney.
Disclosure: Trip101 selects the listings in our articles independently. Some of the listings in this article contain affiliate links.
Get Trip101 in your inbox
Unsubscribe in one click. See our Privacy Policy for more information on how we use your data