Ubud is like a mantra that clings to those who visit it. A village located in Bali, Indonesia, that has its own charm from its blend of nature, spirituality, and modernity. One of the best thing to do here is just simply enjoy the greenery of nature and rice fields. Explore the town through walking or on a motorcycle. The beautiful views of Ubud will accompany you as you ride downhill and uphill. One more fun option to tour this town is to ride a bicycle. You can explore the villages, temples, rice fields, jungle, and hills in the town. Here's a rundown of the best bike tours in Ubud, Bali.
Take the rice fields route for a closer look at the paddies and even the farmers in Ubud. The ride? An electric bike with a fat-tire. A fun transportation that can even pass through the rough trails. Go off road and explore the rice fields through a pathway where your fingers can touch some paddies that stand tall in the fields. Start cycling from Sok Wayah and then continue to Tegallalang Rice Terrace, with a stop for a meal at a traditional house. Pickup, tour guide, and a bottle of mineral water are also included in this tour.
Duration: 3 hours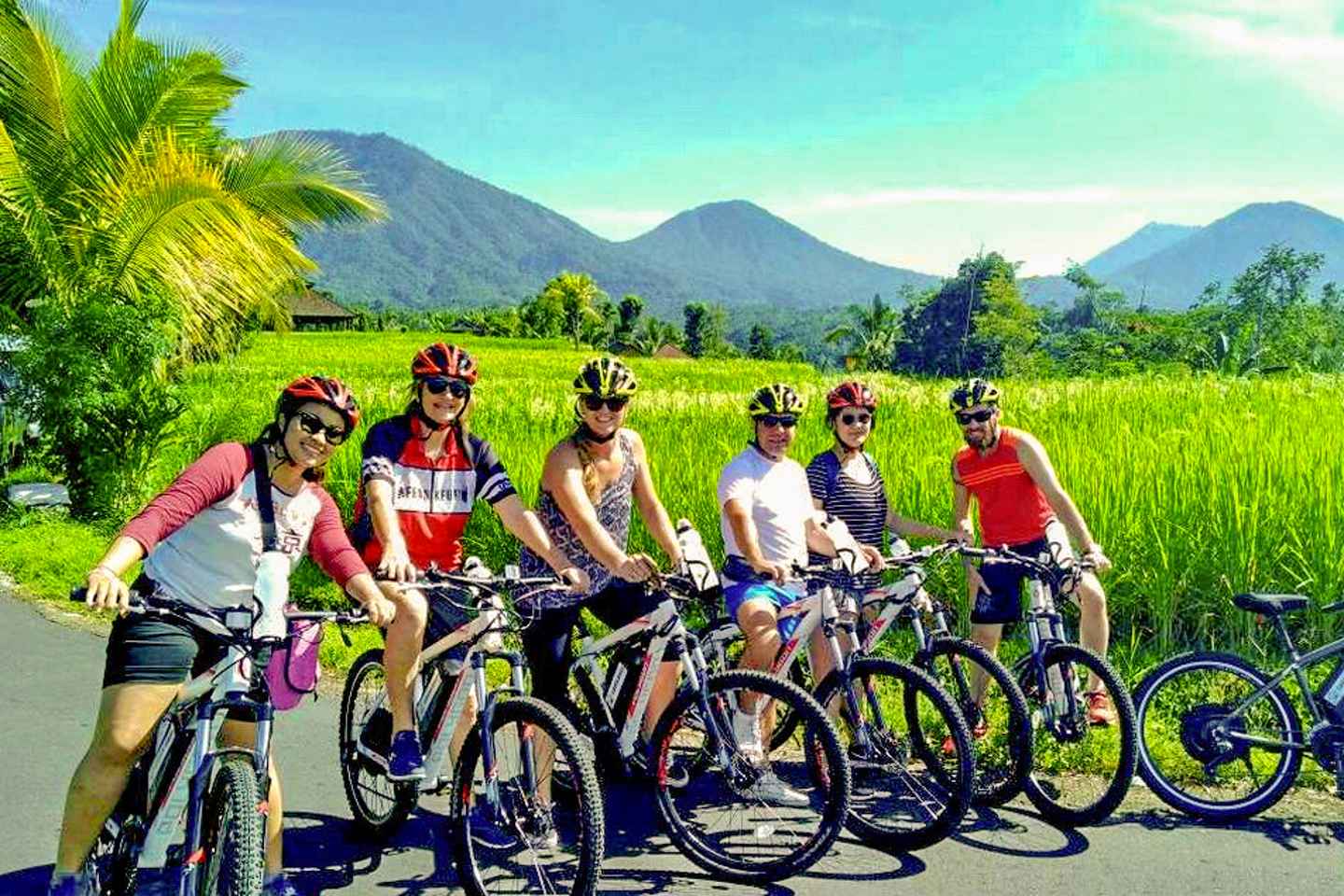 Near Ubud, the famous Jatiluwih in the Tabanan region, attracts everyone from around the world. Rice fields and rice terraces are spread across the village. Besides the rice fields, the village boasts a calming atmosphere where you can spend some time in nature, in peace. The two-hour bike ride, full of rice terrace, dense jungle, and bamboo forest, will start at Batukaru Temple and continue to the best spots of Jatiluwih. Lunch, guide, and even insurance are included in this electric bike tour.
Duration: 2.0 hour
Have a half-day bicycle tour to one of the best countryside in Bali. The village offers lush jungles, calming rice fields, and even a view of Mount Batur from afar. The tour starts at Kintamani and ends at Ubud, where a traditional Balinese house awaits you. After riding a bike and exploring the village for six-to-seven hours, end it all with a meal. Pick-up is available even if you are staying outside Ubud, in the areas like Denpasar, Kuta, Sanur, and Canggu.
Duration: 6 to 7 hours
Expect nature and culture of Ubud and its surrounding area if you take this bicycle tour. A three and a half hour ride through villages, volcano terrain in Kintamani, and a stop at Lake Batur. Scenic views of trees and rice fields will accompany you throughout. The route is mostly downhill. Have a coffee at Kintamani and breakfast at Lake Batur - all included in the tour. Learn more about Bali culture from a local family before ending the bike trip.
Duration: 8 hours
Kintamani and beyond is where this tour will take you. Downhill fun on a bicycle with a view of rice fields, jungle, temples, and villages is one of the best ways to experience the Balinese countryside. The 16 miles (25 kilometer) route will start with a breakfast overlooking the bold but beautiful Mount Batur and Lake Batur. After passing through nature and cultural attractions of Bali, the tour will end with buffet lunch.
Duration: 6 hours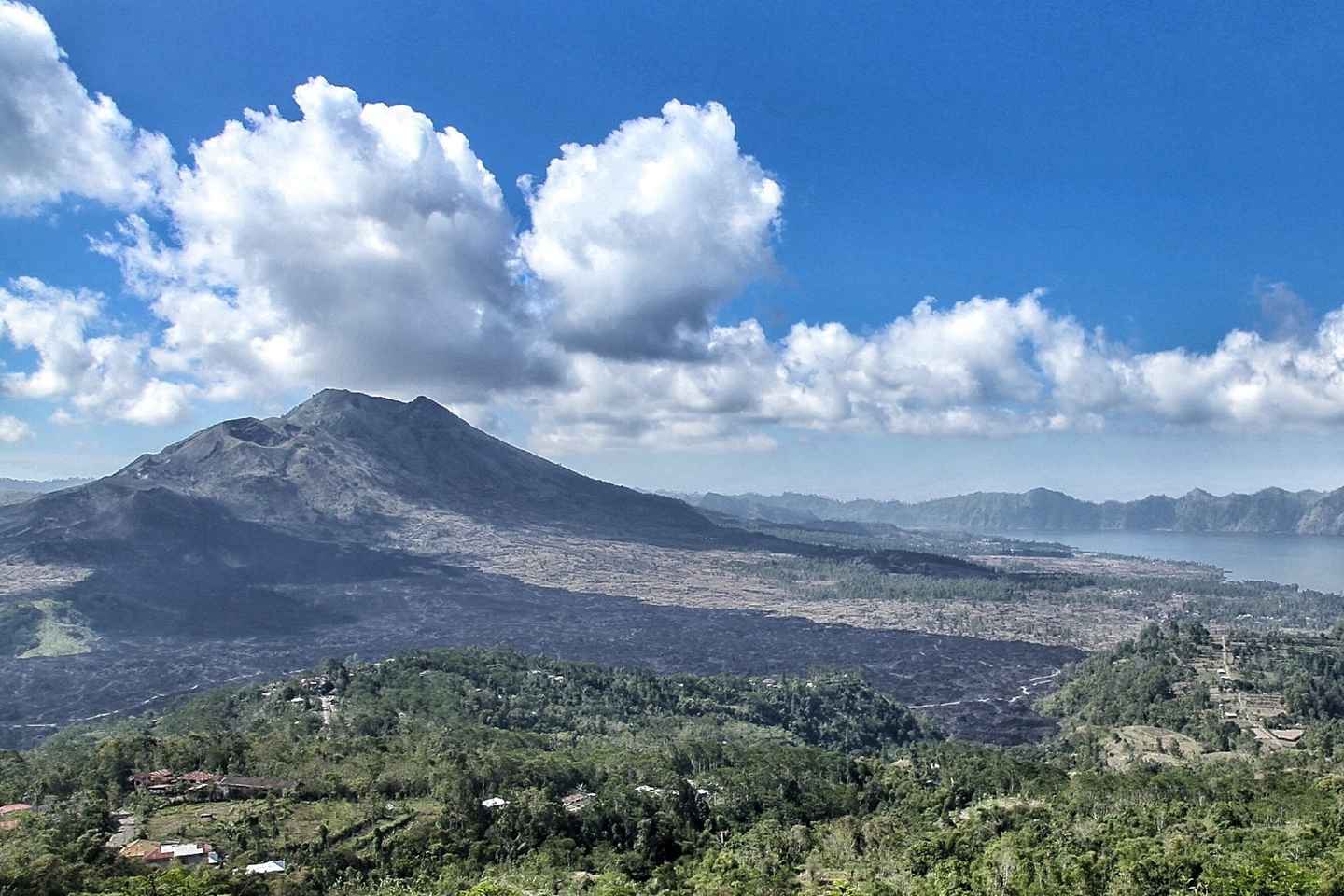 From Mount Batur region in Kintamani, go on a downhill journey with a bicycle. On the mountain, prepare yourself for magnificent views of the region from a height, then ride downhill through forests and the streets of Ubud. Continue to the part of the village, where a UNESCO World Heritage site with the name of Tegallalang Rice Terrace awaits. The estimated six-hour ride includes a guide, pickup with a minivan from your accommodation in Ubud, and a meal to end the journey.
Duration: 6.0 hour
Cycle your way into the mountains while seeing the scenery of valleys, forests, villages, and also rice fields. A guide will tell the history and culture of Bali while you ride the bicycle to see some beautiful greenery along the way. Stops will be made for storytelling and a chance to tase some local fruits. Before concluding it all with a lunch, the tour will take you to Taro village that is known for its bamboo forest.
Duration: 5 hours
Electric tour means that you can explore Ubud on an e-bike or electric bike. It is eco-friendly; plus, you'll have lots of fun, too. Pedal when you want or just cruise without effort through the wonderful greenery and other sights of the village along the tour. Culture can be found everywhere, from temples and everyday routine such as the offering that Balinese does everyday across the island. With that in mind, you can easily see how culture and even spirituality thrive everywhere, including Ubud. The tour takes you to a coffee plantation and ends at Tegalallang, where the famous rice terrace can be found. It is a three-hour tour with a guide, and if you are staying in central Ubud, a pickup is available.
Duration: 3 hour
Just like the other bike tours on this list, you can get a glimpse of paradise by cycling while seeing Ubud best scenery such as jungles, rice fields, and villages. Places that you can will pass through include Tegallalang Rice Terrace, the Luwak coffee plantation named Laksmi Bali Agro Tourism, and Mount Batur. What makes this tour unique is an intimate visit to a traditional house with local Balinese family that are present to talk to you and even share stories. This tour includes breakfast, lunch, a guide, helmet, and a pickup.
Duration: 8 hours
This tour start with a walk towards the sunrise spot in Pinggan. Start with a breakfast while overlooking Mount Batur and continue the day with a bicycle trip through the countryside. From lush jungle to village, where you can learn about the Balinese culture from the locals or the guide. End the bike ride with a lunch while viewing the calming rice fields. A pickup, safety equipment like helmet, bottled water, and a guide will be provided in this tour.
Duration: 10 hours
See the beauty of Ubud and beyond on two wheels
Bicycle or electric bikes are a fun way to tour Ubud and beyond. Imagine going downhill from the top where mountains reside. Slow and steady or at a faster pace while sightseeing, passing through the valleys, jungles, rice fields, temples, and villages of Ubud and its surrounding area awaits you. So, hop on your two wheels and explore Ubud, Bali.
Any must-sees we missed? Tell us about them in the comments section or write a post
here
to help out fellow travelers!
Disclosure: Trip101 selects the listings in our articles independently. Some of the listings in this article contain affiliate links.
Get Trip101 in your inbox
Unsubscribe in one click. See our Privacy Policy for more information on how we use your data