Sandwiched between Andes Mountains in the east and Pacific Ocean in the west, Chile is set on a long, narrow strip of land. Popularly believed to mean "limit of the earth", Chile has enticed travelers for centuries with its unique natural wonders. The country's tumultuous history, given its share of Incas and Spanish conquerors, adds to its mystique. Chile's volcanic mountains, Atacama Desert, Lake District, South Pacific Islands, lengthy coastline, and southern fjords are an adventurer's delight. Its central region is known for its wine valleys and metros like Santiago and Valparaiso. A country like no other, Chile contains a microcosmic world with something for everybody. Here are the top nine things Chile is famous for.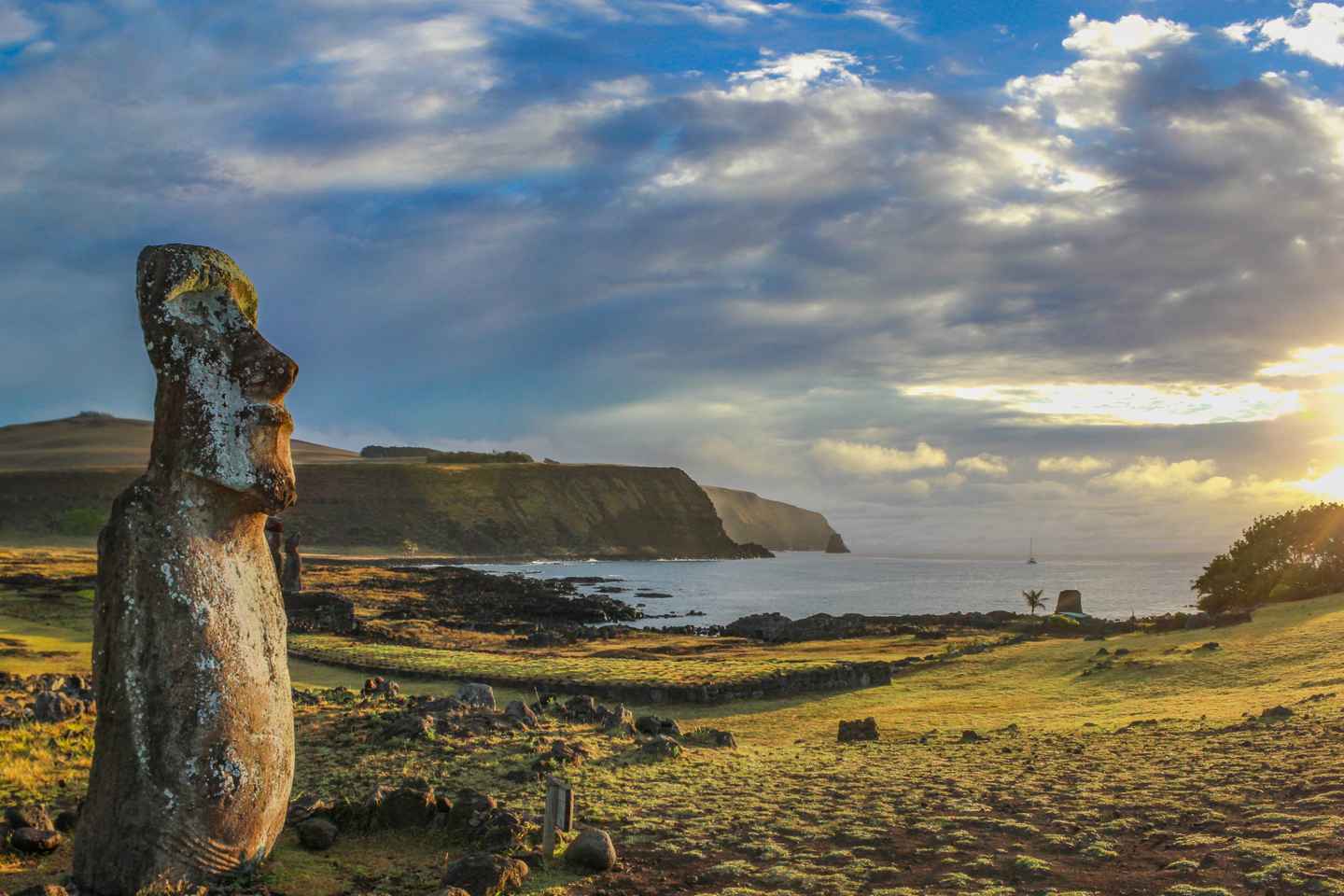 Easter Island, surrounded by turquoise waters, rolling hills, and majestic Moai statues, offers a peek into the mysterious past. The dormant Rano Kau volcano provides mesmerizing views and is close to many archaeological sites. O'rongo stone village is a must-visit where you can learn about the birdman legend. The 7 Moai statues at Ahu A'kivi facing the setting sun and Ahu Tongariki's 15 Moai statues make for an unforgettable experience apart from ample photo opportunities. Visit Rano Raraku site to learn about the origin and crafting of these mysterious monoliths. After a day of exploring, unwind by the white sandy Anakena beach to soak in the views of the ocean.
Easter Island: Highlights Private Tour

Duration: 7.0 hour
2. San Alfonso del Mar Resort
Located in Algarrobo, San Alfonso del Mar is a beautiful resort with a private beach. This resort is known for having the world's largest swimming pool at the time of its construction. A crystal clear lagoon pumps and filters ocean water, giving a Caribbean effect to the resort. Its large structure makes it a great place to enjoy watersports such as kayaking and snorkeling. The resort's pyramid-housing units come with balconies that offer stunning views of the lagoon and ocean. Excelling at comfort and entertainment, the resort provides a private beach for fun in the sun. This self-contained resort has it all–supermarkets, gyms, restaurants, sports centers, nightclubs, and an amphitheater.
San Alfonso del Mar Resort

Address: G-98-F 886, Algarrobo, Valparaíso, Chile

Website: San Alfonso del Mar Resort
3. Gran Torre
Gran Torre serves as a reminder of the grandeur of Chile. At a height of 984 feet (300 meters), Gran Torre Santiago is the tallest building in the country. This 62-storied structure is located within Costanera Center Complex near Mapocho River. Set against the dramatic backdrop of Andes ranges, this glass-clad tower with its distinct architecture is a sight to behold. Catch an elevator and reach the top 2 floors to enjoy 360° degree views of the sprawling city and the snow-capped mountains from its observation deck, Sky Costanera.
Gran Torre

Address: Av. Andrés Bello 2457, Ground Floor Level, Providencia, Chile.

Website: Gran Torre

Opening hours: 10am - 10pm (daily)

Price: From 7 USD
4. Street food
Traveling not only nourishes the soul but also opens doors to new cultures and cuisines. The best way to experience the vibrant ambiance of a new place is through its street food scene. The Chilean foodscape derives inspiration from diverse cultures. Going on a food tour to come up close with everything, from meat dishes to raw fish. Finish up with fruit cups, pastries, and refreshing beverages. Tantalize your taste buds with anticuchos, empanadas, and completos. You will find that sopaipilla with pebre gives an interesting twist to pastry-eating. Mote con huesillos, a summer drink with dried peaches and husked wheat, is a must-try for children and adults alike.
5. Cueca
Cueca is the national dance of Chile. It is a cocktail of dance styles from Zamacueca, Spanish, and English popular dances from the 19th century with a generous sprinkling of Chilean charm. Most popularly performed during Fiestas Patrias, it can also be sighted in streets, squares, or entertainment centers. Resembling a chicken-rooster mating ritual, cueca is ultimately a dance of silent courtship and flirtations performed in under two minutes. The scene of men and women clad in traditional Chilean attire, dancing to the tune of vocals, guitar, and accordion waving a white handkerchief makes for a wonderful sight.
6. Futbol
Brought in by British immigrants in the 19th century, futbol soon became integral to Chilean life. Practiced by men's and women's teams on streets and in schools, universities, clubs, and leagues, futbol or soccer brings out the emotions in Chileans. Chile has one of the oldest national teams in the world and has participated in nine World Cups so far. Several inter-state futbol rivalries exist in the country and there is a good chance that you will catch a couple of matches during your visit. Irrespective of whether you are a fan of futbol, the energy surrounding the game is sure to envelop you, bringing you to the edge of your seat.
7. Diverse landscapes
The unique geography and location of Chile have resulted in it being a country of diverse landscapes. Experience four seasons across the length of Chile–from the driest desert in the northern Atacama to the temperate central regions spread with metros and from the humid forests and picturesque lakes of south-central to the cold south cut by deep fjords. The Atacama Desert with its moonscape scenery is famed for its blue salt lake and astrophotography opportunities. Hike the trails at Andes and Punta Pite. Santiago, Valparaiso, Wine Valleys, Lake District, and Torres Del Paine National Park also hold their own. The breathtaking beauty of Chile Chico's marble caves and Talca's inverted waterfalls are sure to leave you enthralled. Visit Magdalena Island to see colonies of Magellanic penguins or the coastal regions to watch the breaching of humpback whales. Meanwhile, experience being at the edge of the world in the southern fjords and glaciers region.
While Chile is peppered with several skiing resorts, Portillo remains a classic destination for skiing in the world. Explore the snow-clad Andes from breathtaking heights at Portillo, Chile's oldest ski resort. Learn about the region's history and the legend of Inca Lake. The dreamy landscape of Portillo is sure to delight your senses, especially the yellow-hued resort with a backdrop of snow-white mountains and the shimmering blue lake at the foothills of the Andes. Put your camera to good use, so you can capture the iconic images of the Andes reflected in the waters of the lake.
Private Tour: Portillo Ski Resort Day Trip from Santiago

Duration: 8 hours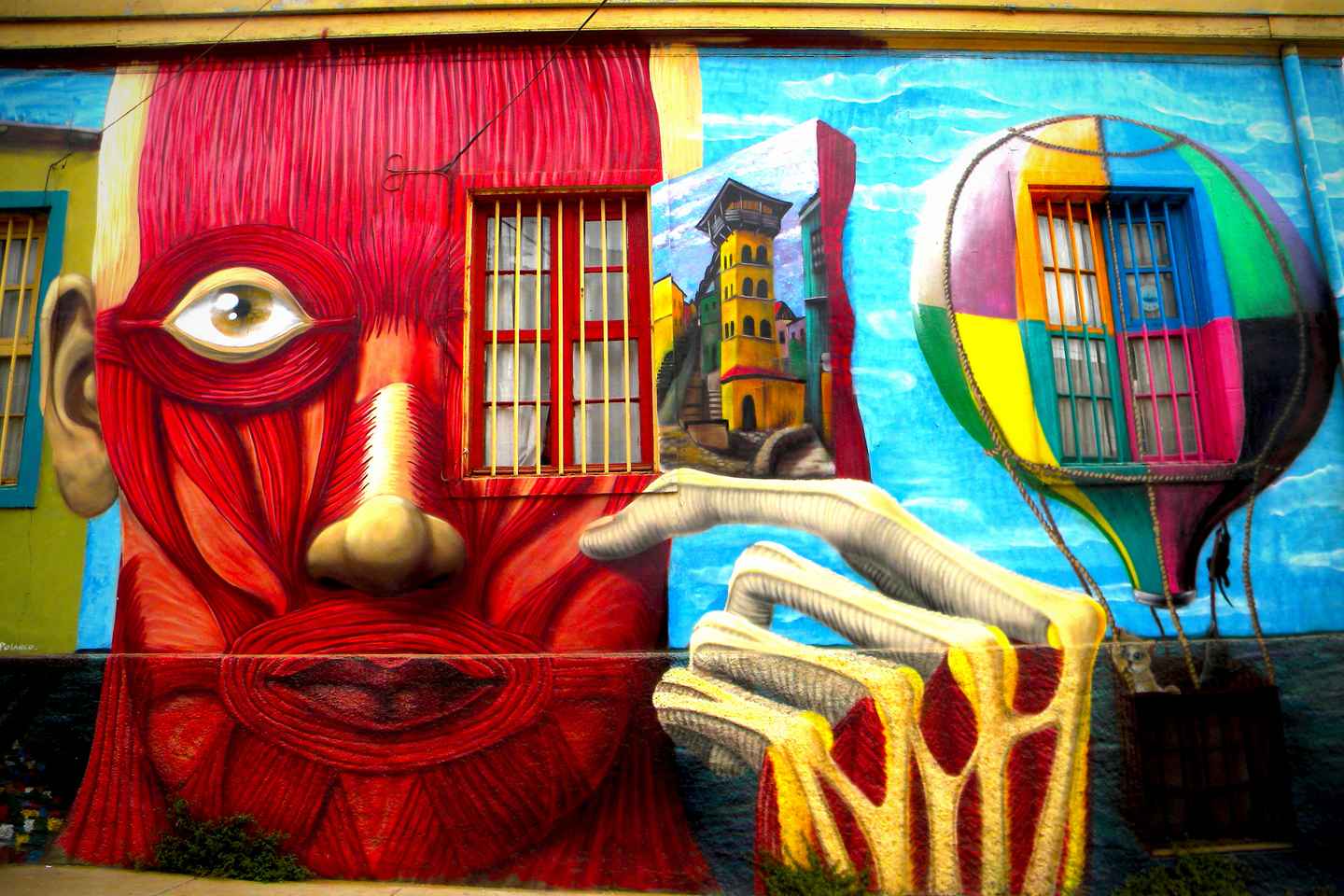 In a country with a turbulent past such as Chile, art was used to convey the voices of protest. Valparaiso, the colorful port city of Chile, carries on with this tradition and is known as the bohemian heart of the country. Famed across the world for its street art, Valparaiso is a rich repertoire of graffiti and murals. Take a stroll across Plaza Victoria to enjoy the elegance of Fuente Francesa. Visit Cerro Bellavista, the country's first open-air museum to browse the works of famous Chilean artists. Ride up Bellavista Hill on the historic Espiritu Santo funicular to the views of murals and graffiti. Enjoy Hill Polanco's fresh urban local art along with stunning panoramas.
Valparaíso: Cultural and Street Art Walking Tour

Duration: 4 hour
Visit the edge of the world
The alluring natural beauty, vibrant culture, and luscious cuisine are more than enough reasons for you to pack your bags and head to Chile. Before you start packing, do make a note of the top nine things Chile that is famous for.
Disclosure: Trip101 selects the listings in our articles independently. Some of the listings in this article contain affiliate links.
Get Trip101 in your inbox
Unsubscribe in one click. See our Privacy Policy for more information on how we use your data