Paris, the city of romance, is set in a picturesque location by the banks of the River Seine. Its reputation for being a center of art, history, culture, and fashion place it firmly on the list of cities to visit. The capital city of France, it is well-connected to all major cities of the world and also boasts of an excellent transport system. Famous for its architectural wonders and its museums, Paris is a city one can never get enough of! The city is divided into 20 arrondissements and the 7th arrondissement is where you can find popular attractions, such as the Eiffel Tower, Musee Rodin, and Musee d'Orsay. Take a look at some of the best Vrbo accommodations in the 7th arrondissement of Paris, France, that you could call home during your stay in this pulsating city.
Situated on the second floor of a walk-up, this cozy apartment comes with a secured entryway and is located in a quiet neighborhood with plenty of cafés and bakeries. Featuring oak flooring, the apartment is cheerfully decorated with colorful paintings and souvenirs from across the world that gives off an artsy vibe. Enjoy high-speed internet and the convenience of a fully-equipped kitchen. The streetside windows in the bedroom are soundproofed and have blackout blinds for your comfort.
Discover Central Paris from an Artsy Private Apartment at Invalides Eiffel Tower

Accommodates: 3
Minimum Nights: 2
Refund Policy : 100% refund if you cancel at least 14 days before check-in.

Feel at home when you arrive at this cozy house with a small backyard tucked into a quiet street. The functional kitchen has all the amenities necessary for preparing meals or short bites. The seating area in the backyard is a good place for a cup of coffee in the mornings or some afternoon tea. Charming stairs lead to the bedroom and bathroom. The space has been completely renovated to ensure maximum functionality.
Small house at the back of the courtyard. Trees. Completely renovated and equipped.

Paris, Ile-De-France, France
Situated on the second floor, this recently-renovated apartment is flooded with plenty of natural air and light. Quirky paintings and vintage showpieces dominate the décor throughout the space. The large 18th-century desk adds a touch of regal elegance to the bedroom. Enjoy all modern conveniences, including high-speed fiber internet and a washer/dryer, while a lovely piano sits near a window. The subway station is a short stroll away, as is the bus stop.
Large renovated apartment overlooking the Musee Rodin

Top guest reviews

It has generous light-filled spaces; big windows that open to the urban soundscape or close to shut it out; quality furnishings and art; dining room is a great common space with large table and go...

The kitchen was well-equipped

(no shelf in shower was the 1 negative for all 3 people)

The apartment was found as described and presented in images

the furnishings were comfortable (particularly the beds ) and the neighborhood was fun to explore

Our hosts were always accessible and they were full of great ideas about restaurants shows and local shops

so that I'm considering booking it again same time next year that I'm considering booking it again same time next year

sink and clothes drier

Les Invalides is subway pretty close and the very-useful #69 bus stop is about a 10-min walk

We loved the street with its restaurants groceries and diversity of shops

Very spacious great location and lots of amenities

working fans (it was unseasonably warm) and lots of evidence of lives well-lived in this space 2 flights of stairs were not a hardship -

We were happy and appreciated living in this lovely space located where we could walk over to the Eiffel Tower on a friday night to check out the night lighting

Read more reviews
This centrally-located apartment in a sought after neighborhood. It is a peaceful place that sits back from the street and the large sliding windows usher in abundant natural air and light. Accessible by a short flight of stairs, this apartment has undergone a recent renovation in an attempt at modernization. Enjoy relaxed breakfasts at the kitchen counter or a complete meal at the elegant dining table. Clothing and gourmet food stores are just a stroll away.
Le Vaneau : Paris Best, Chic & Quaint Latin Quarter/Eiffel Tower

Accommodates: 3
Minimum Nights: 4
Refund Policy : 100% refund if you cancel at least 14 days before check-in.

Gaze upon stunning views of the magnificent Eiffel Tower at various times of day and night. This elegant apartment is just steps away from the famous landmark and is located in a building with secured entry. Accessed by an antique glass elevator, this apartment features floor-to-ceiling French doors and balconies to help you make the most of the view. The metro station is less than two blocks away, while there is a taxi stand one block away.
Eiffel Tower View: 2 Bedroom, 2 Bath Apartment 1350sf - Spectacular View!!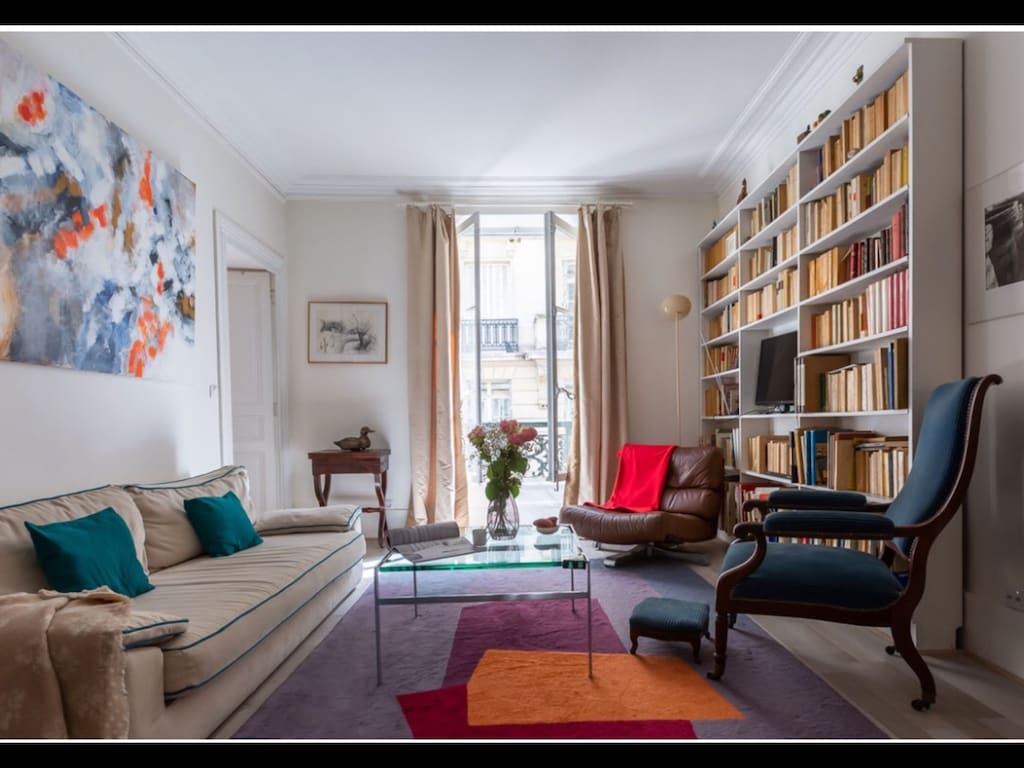 Located in an area that is well-connected to various parts of the city, this beautiful apartment has two bedrooms, a lounge with a library, kitchen, and dining room. The books that take up one wall in the living room invite you to curl up in the cozy chairs, as you read to your heart's content. Just a short walk from the Eiffel Tower and the Quartier St Germain, this place is perfect for short and long-term stays. The functional kitchen gets plenty of natural light, as does the living room.
4 ROOMS COZY, FUNCTIONAL, 4/5 pers NEAR TOUR EIFFEL St GERMAIN ...
This spacious apartment, with three bedrooms, a living room, and a dining room, is the perfect place for you to settle in during your time in Paris. Just a 15-minute walk from the Eiffel Tower, this duplex is comfortably furnished with all modern amenities, such as a washing machine, dishwasher, internet, and TVs. King and twin beds, a leather sofa, and armchairs in the bedroom and living room are ideal for relaxing. The twice-a-week maid service ensures you do not have to worry about cleaning up.
STUNNING DUPLEX 3BR-2.5BA IN 7TH WID A/C

34 Boulevard des Invalides
Perfect for a stay in the capital city of France, this studio comes with a kitchen and modern bathroom. The metro station is minutes away, as is Les Invalides. This tranquil locality is dotted with restaurants and various shopping facilities. The iconic Eiffel Tower is a five-minute walk away.
12 to 22-m² furnished studios in Paris' 7th arrondissement
This centrally-situated apartment is minutes away from Paris's most famous landmark. Equipped with all modern conveniences for a comfortable stay, this cozy accommodation offers you the privacy of a compact courtyard to relax in after a day of exploration. The bedroom can be closed off for privacy with floating panels. Heating and air conditioning are available to keep you comfortable as the weather changes. The building is secured with a digi-code door.
Two Blocks From The Champs De Mars And The Eiffel Tower
Just steps away from the renowned pedestrian street of Rue Cler, with its many bistros and food shops, this apartment offers quick access to the Eiffel Tower and Quai Branly Museum. The Ecole Militaire metro station is nearby, as is the bus stop. The area is populated with diplomats, local government officials, and academics, due to its proximity to the American University.
Very Quiet 1 Br by Rue Cler
The gorgeous City of Light
Location is of significance when looking for a place to stay in a new city, whether you are on a short holiday or an extended vacation. These comfortable Vrbo accommodations are some of the great options available in the 7th arrondissement of Paris.
Disclosure: Trip101 selects the listings in our articles independently. Some of the listings in this article contain affiliate links.
Get Trip101 in your inbox
Unsubscribe in one click. See our privacy policy for more information on how we use your data