Why would you want to leave Milan? It's a question that would keep anyone awake at night. Milano has it all – high fashion, historical sites, and cultural landmarks. Spending a few days in Milan is enough to make you fall in love with the capital of Lombardy. While Milan is a fascinating city in itself, its location makes it an ideal starting point for other adventures in Europe. Here are a few good reasons why you might want to leave Milan's glitter and glamour. Check out our list of the best day trips from Milan, Italy.
Venice is about three hours away from Milan. If you take a high-speed train, it will take 2 hours and 25 minutes, tops. Anyone who has been to Venice swears by the enchantment of its canals and gondolas. You probably won't have time to explore all 118 islands in the Adriatic Sea, but you can choose to get lost in Venice.
There are too many sites to see here, but St. Mark's Square is always a reasonable starting point for first-time visitors. Ponte di Rialto on the Grand Canal is a suitable alternative. From these landmarks, you can spend a pleasurable day or two ticking off attractions on your Venetian bucket list.
Duration: 14 hours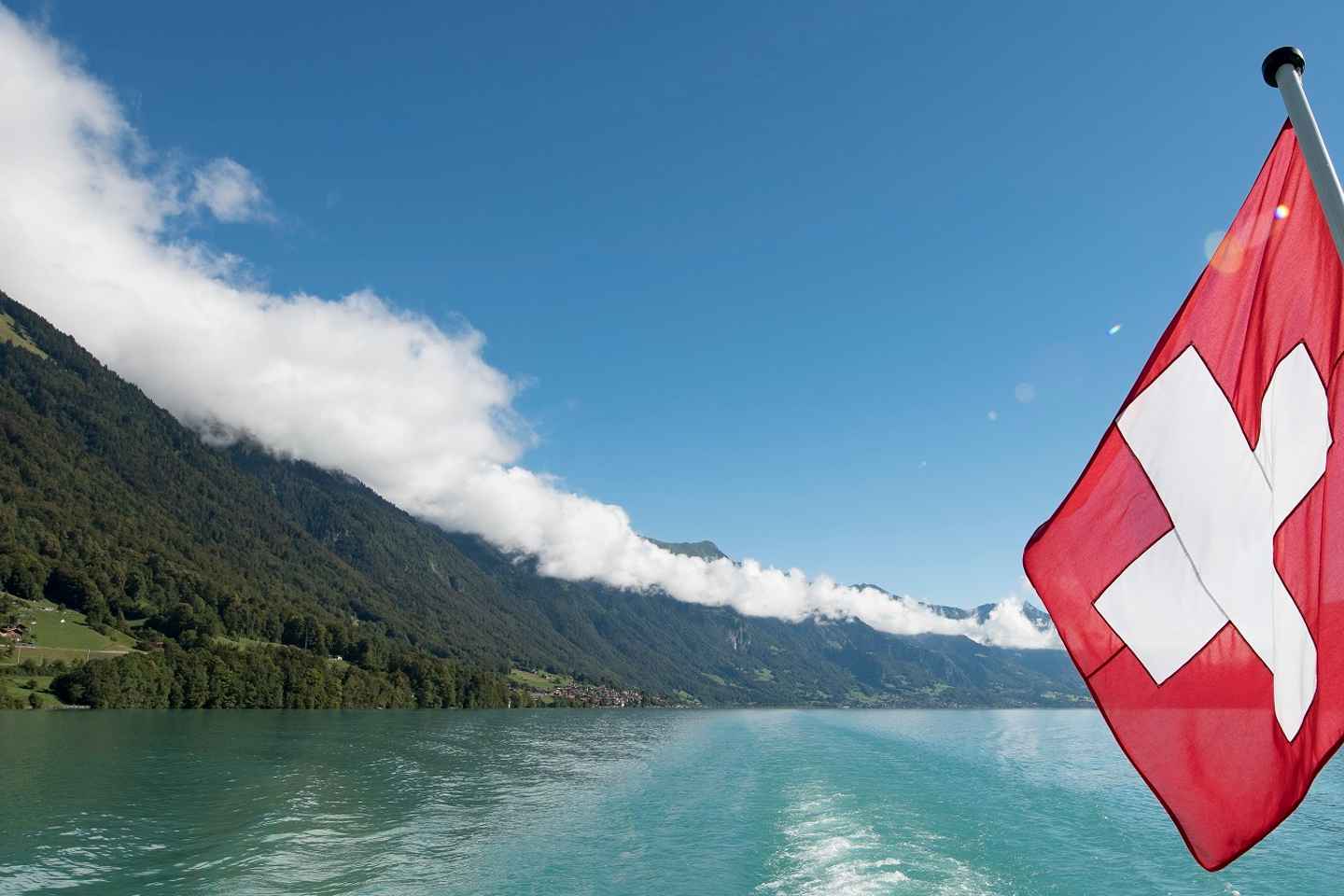 The drive from Milan to Interlaken in the Swiss Alps is unforgettable. Visualize towering mountains and flowing glaciers, left and right. You won't mind spending four to five hours to get here. If you take the train, you will need to change carriages at least once, but the fares are affordable. You may take the bus as an alternative.
The roads are paved and scenic and, when you arrive, it will take a few minutes to get over your initial awe of the Bernese Highlands. Once recovered, you'll have to consider the practical aspects of crossing the border from Italy to Switzerland. You'd be paying with Swiss Francs and saying "thank you" and "please" in German.
Duration: 13.0 hour
What would a marriage of the Mediterranean Sea and the Italian Alps be like? If you are willing to travel for about two hours from Lombardy to Verona, you'll find out for yourself. Garda is a sparkling deep turquoise lake, situated 200 feet (61 meters) above sea level. From Lake Garda, you can reach Verona easily, as it's only 35 kilometers (21.8 miles) away.
Verona retains a medieval air. Juliet's balcony may not be exactly as it is described in the famous Shakespeare's play, but the 14th-century Gothic structure dubbed "Juliet's House" is a bonafide tourist destination.
Duration: 12 hours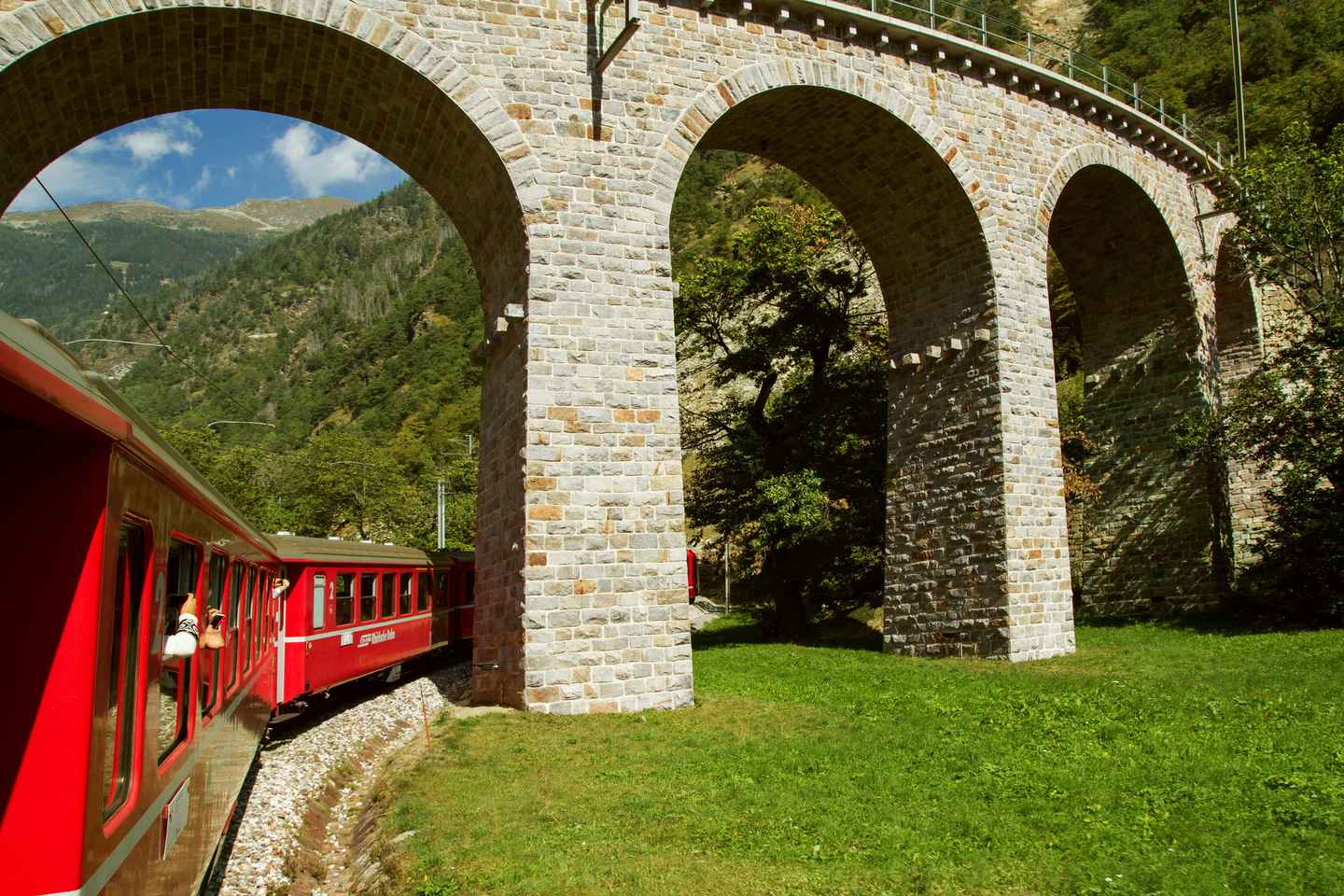 We've already established that Switzerland is accessible by train from Milan. Now, we have another proposition for you. From Milan, make your way to Tirano in the province of Sondrio. The bus ride is long, so when you start to get tired, remember it's the journey itself that counts. It will all be worth it in the end, as you will see.
In Tirano, secure a train ride on the Bernina Express. It offers a spectacular crossing of the Alpine mountains to Switzerland. You won't mind the time because you will marvel at the incomparable vista outside the window. When you reach your destination, don't hold out on the oohs and aahs. The spa resort town of St. Moritz is famous for its mineral springs and for hosting the Winter Olympics twice. You'll want to allot at least a couple of days here, but be prepared to spend on a luxury stay.
Duration: 12.5 hour
The trip from Milan to Portofino in Genoa (Genova) could take as long as three hours. Italy's longest city walls are in Genoa, but if you've already had your fill of medieval walls, perhaps you'll be interested in its harbors and ships. The Genoa Maritime Museum is one of the most important institutions of its kind in Europe. Expect to see reconstructed galley ships and an Italian military submarine docked in the vicinity. Before leaving Genoa, find your way to Via Garibaldi, a UNESCO World Heritage Site.
Duration: 12 hours
If you want to see more UNESCO World Heritage Sites, head to Rome from Milan. The journey is long – at least six to seven hours, but there will be 55 cultural and historical destinations awaiting your close inspection. Rome, the Eternal City, was founded in 753 BC and it is legendary and formidable. It is home to the Colosseum, the Pantheon, Vatican City, the Spanish Steps, and Trevi Fountain. The list of significant places goes on.
A day trip will not be enough to cover all the historical and cultural landmarks that set Rome apart. But since you have to start somewhere, choose from the UNESCO register for key places to visit during the hours you can spare.
Duration: 15 hours
The Skyway Monte Bianco is a cable car that brings you high enough for uninterrupted views of Monte Rosa and Matterhorn – two prominent Alpine peaks. Monte Bianco is one of the main tourist magnets of the northern Italian ski resort town of Courmayeur. From Milan, it usually takes two to three hours to reach the popular resort town in the Aosta Valley and it is nestled at the foot of Mont Blanc. Converse with the locals and they will tell you how the highest commune in Italy shares administration of Mont Blanc with a neighboring French municipality.
Duration: 12 hours
You can travel by bus, train, car, or airplane from Milan to Florence. As soon as you're done shopping and buying keepsakes from top Italian brands, take whatever mode of transportation is available. For the meantime, leave Dolce & Gabbana, Marco Rambaldi, Giorgio Armani, Prada, and Versace behind. Michelangelo, Botticelli, Brunelleschi, Giotto, and other Renaissance masters are waiting for you in Florence.
If you're more of a foodie than an art scholar, Florentine cuisine is worth making the trip for. Florence may be clothed in the past, but it has something wonderful to offer tourists of all ages.
Duration: 12 hours
In less than two hours from Milan, you will reach the second largest lake in all of Italy after Lake Garda. Lake Maggiore also goes by the name Lake Verbano. You can spend the day in the water, but we suggest that you go prospecting on land, as well.
Charming villages surround the immense body of water. Angera's medieval fortress, Laveno's natural harbor, and Legguino's hermitage are some of the main attractions. On the lake, the island of Isola Bella has a garden of exotic plants, while Isola Madre supports a population of peacocks. No less than an ostentation of large male birds with iridescent tails will greet your arrival. These villages may be reached by a ferry boat.
Duration: 7 to 10 hours
After slightly more than three hours of traveling southbound through Lombardy and Liguria, you will reach Porto Venere in the Italian Riviera. It's a seaside town with pastel houses and a UNESCO World Heritage Site. Cinque Terre can wait for a little while. Spend a few hours exploring the quaint medieval town and its famed Castello Doria.
Afterward, drive leisurely and take some photos of the cliff-clinging houses and vineyards. As the name suggests, Cinque Terre consists of five seaside towns. Monterosso's long sandy beach is usually crowded, but you will always find a good seafood meal here. Vernazza has a piazza and a port, while Corniglia is nestled higher (and quieter) than the others. Manarola has a Lover's Lane and Riomaggiore's colorful houses hug the cliffs serenely.
Duration: 14 hours
From Italy's fashion capital to other spectacular locations
Milan is a progressive capital and offers tourists numerous means of transportation to other parts of the country. But why limit your options when the world awaits? Milan's convenient location in northern Italy makes it an ideal starting point for breathtaking sojourns to Switzerland. When you are ready to be adventurous, make a commitment to leave Italy's fashion capital in search of more excitement.
Disclosure: Trip101 selects the listings in our articles independently. Some of the listings in this article contain affiliate links.
Get Trip101 in your inbox
Unsubscribe in one click. See our Privacy Policy for more information on how we use your data