Naples is one of the largest cities in Italy - and is, undoubtedly, one of the most beautiful, as well! Naples is filled with breathtaking scenery, owing to its location and the natural wonders that surround it. The city is home to various historical sites, having served as an ancient Greek settlement. It also played a large role in the artistic developments of the Renaissance era. Visiting Naples soon? There's a lot to see in this fascinating city, but even with limited time, you can explore the best of Naples and its surrounding areas! To help you plan your trip, we've selected the most exciting day trips from the city. Read on to learn more about our picks for the top 10 day trips from Naples, Italy!
Mount Vesuvius, one of Europe's most active volcanoes, is infamous for destroying the once-thriving city of Pompeii. After more than a thousand years, these two have become must-see sites in Italy. If you're in Naples, you can explore these historic ruins by going on a day trip and tour of these sites. The tour begins with a guided walk through the ruins of Pompeii. There, you can find the Pompeii Forum, thermal baths, Vetti's house and Lupanare brothel. Afterward, you are treated to a delicious traditional Italian pizza lunch. Time is also allotted for souvenir shopping. The tour caps off with a hike to the top of Mt. Vesuvius where you can witness a breathtaking view overlooking the Bay of Naples.
Naples to Mt Vesuvius and Pompeii Day Trip with Admission

Duration: 7 hours
Sorrento and Positano are scenic coastal villages, located along the famed Amalfi Coast. Though a trip to the coast typically takes longer than a day, you can explore and learn more about Sorrento and Positano on this day trip. You also get to see breathtaking views of the Amalfi Coast as a welcome bonus! The trip begins at downtown Positano, where you're free to explore the villages at your own pace. Of course, you can also follow your tour guide for a detailed tour of the area. Before the tour ends, you can indulge in a delicious, homecooked Italian lunch. You even get to enjoy your meal while taking in a breathtaking view of the sea!
Sorrento, Positano, and Amalfi Day Trip from Naples

Duration: 8 to 9 hours
You can explore this charming island in just one day! The tour of Capri Island begins with a high-speed hydrofoil boat ride, which takes you to the town of Anacapri. Upon arriving, you can explore this scenic town at your own pace. Then, you have the option to take another boat ride to the famous Blue Grotto or ride up to Monte Solare to enjoy the view. Of course, you can also just go shopping for one-of-a-kind souvenirs. At noon, before heading back, expect to eat a full, three-course lunch with the rest of your tour group at one of the local restaurants. It's the perfect way to cap off your time at Capri Island!
Capri Day Trip with Lunch from Naples

Duration: 9 hours
4. Pontine Islands
The Pontine Islands is a cluster of islets that are collectively named after the largest of the bunch - Ponza Island. Boasting pristine, blue waters, the islands are some of the most popular destinations in Naples. The islands are easily accessible, and you can explore every one of them on a single day trip. Many boat tours are available to take you on a leisurely ride through the islands. Some tours even come with a delicious, multi-course lunch with an authentic Italian flare!
Once a major ancient Greek city along the coast of the Tyrrhenian Sea, Paestum is now home to some of the best-preserved Greek temples in the world. On your next trip to Naples, you can witness this piece of history by taking a day trip to the ruins. You can enjoy round-trip, private transportation to the ruins, and even ask to be picked up from your hotel or the port. Once at the ruins, you can take a private tour and explore the area independently, for as long as you wish. Returning to Naples at the end of the day should not be a problem, as your driver will wait patiently for you to finish your tour. You may even request to visit the local farms and get a taste of the famous Mozzarella di Bufala Campana!
Paestum Greek Ruins Private Tour

Duration: 8 hours 30 minutes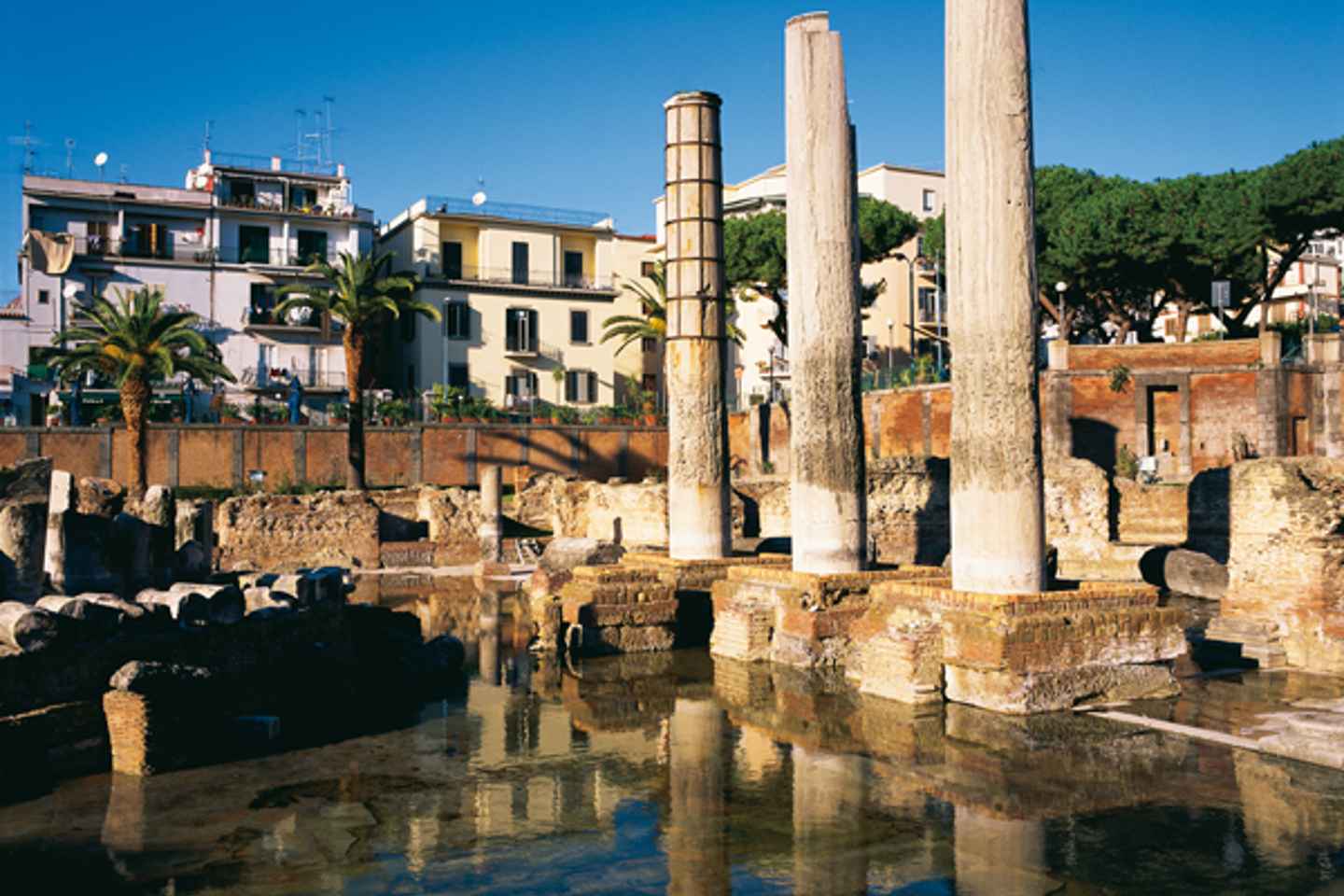 If you enjoy sightseeing or wish to learn more about the history of Naples, take a day trip to the Phlegraean Fields. This day-long tour takes you through the natural wonders that surround Naples. You get to see the volcanic lakes of D'Averno, Fusaro, and Miseno. You can also go and explore the fascinating ruins of Baiae, Puteoli, and Cumae. When going to and from the site, you also get to travel in comfort and style while riding a Mercedes S-Class vehicle!
Naples: Phlegraean Fields Full-Day Private Tour

Duration: 8 hour
Recognized as a UNESCO World Heritage site, the Royal Palace of Caserta is a sight to behold. Built during the 18th century, the palace features a majestic Baroque design. The building spans 87.37 ha (0.3373 sq mi), making it one of the largest palaces in Europe of its time. Eager to explore the palace? Why not take a day trip to explore it? The day tour of the palace includes skip-the-line tickets, giving you full access without having to wait in line. Of course, you can explore the palace's lavish rooms and gardens on your own. However, audio guides are provided for those who want a more educational experience.
Caserta Royal Palace: Day Trip from Naples

Duration: 4 hours 30 minutes
8. Pozzuoli
To the west of Naples, you can find the charming fishing village of Pozzuoli. Though the village is also home to some fascinating ruins, it's better known for its laid-back vibe and mouthwatering seafood. Located near Naples, Pozzuoli is quite easy to get to and explore on a day-long trip. In a single day, you can visit the Flavian Amphitheater - the third largest in all of Europe. You can also find the fascinating, ground-level crater of Solfatara during your visit here. Of course, no trip to Pozzuoli would be complete without trying their freshest catch of the day, as well.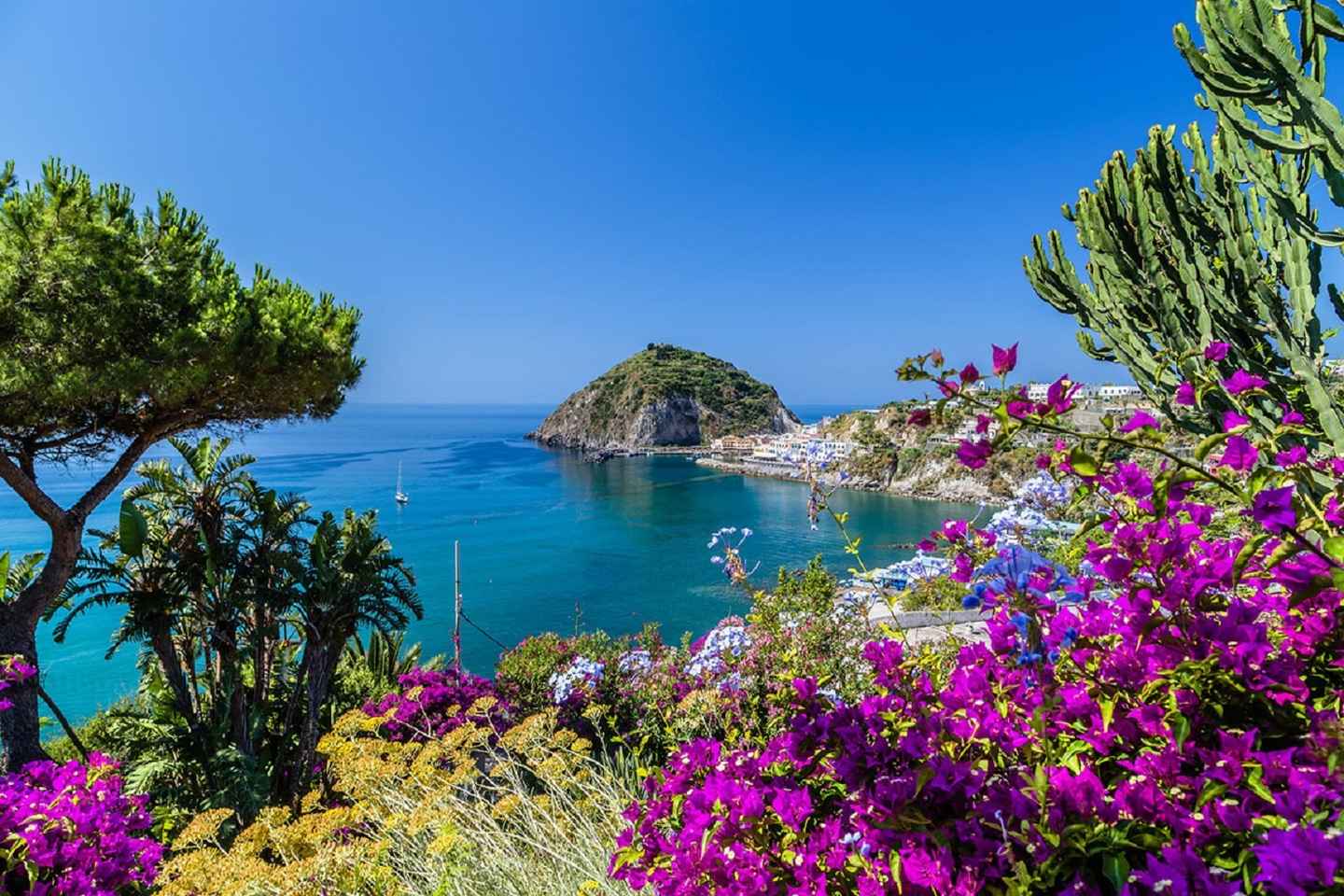 The island of Ischia is one of the largest along the Gulf of Naples. Though home to sights like the Aragonese Castle or the chic village of Sant'Angelo, the island is perhaps best known for its mineral-rich hot springs and beautiful beaches. Hoping to unwind on your next trip to Naples? A day trip to this stunning island would be a great way to kick back and relax. On this day trip, you can come from Molo Beverello Sea Port and take a ferry to Ischia. While on the island, you're free to explore the sights and sounds at your own pace. Find colorful, Mediterranean-style homes or take a bite at the local ice cream shops and cafes. At the end of the tour, you're provided with an enjoyable two-course lunch that comes with dessert and some wine.
Ischia Day Trip with Lunch from Naples

Duration: 1 day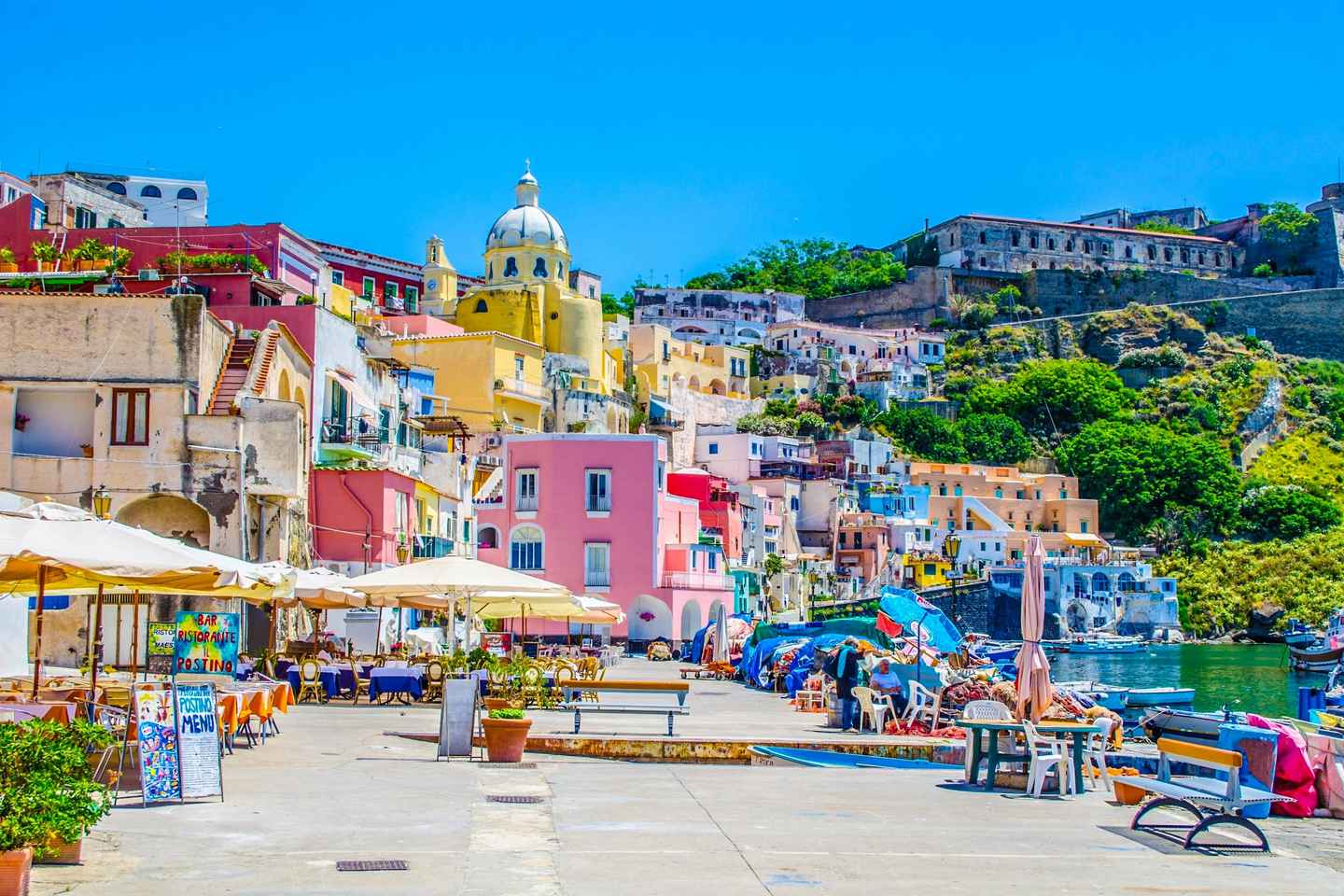 Procida Island is mysterious. It's often described as a "secret island" since most tourists prefer to visit the nearby islands of Capri and Ischia instead. Nonetheless, Procida is stunning, and it's blessed with natural beauty and charm. The place serves as a home to vibrant houses, fragrant lemon groves, and even vintage cobbled roads. On your next trip to Naples, why not put aside a day to explore this hidden gem? This day trip begins either at the Molo Beverello Sea Port or the Calata Porta di Massa Sea Port, where you will take a ferry to the island. Once there, you can explore the island as you wish - visit Terra Murata, the oldest village on the island, or see the Marina Grande. After exploring the island, you're treated to a scrumptious three-course lunch, topped off with a bottle of wine.
Procida Island Day Trip with Lunch

Duration: 1 day
Witness the best of Naples in one day
Rich in culture, history, and natural beauty, it may seem overwhelming and impossible to see all of Naples in just a short visit. While, of course, a longer trip may be more ideal, there is no reason for you to miss out on the best of what this city has to offer while on a shorter trip. Let this list of the top day trips from Naples help you make the most out of your visit. You can enjoy the best that Naples has to offer, even in your limited time there!
Disclosure: Trip101 selects the listings in our articles independently. Some of the listings in this article contain affiliate links.
Get Trip101 in your inbox
Unsubscribe in one click. See our privacy policy for more information on how we use your data