Palm Springs is a chill and spacious city that caters to tons of outdoor activities. The refreshing atmosphere showcased in the area in almost every aspect makes the place inviting. Perhaps you have heard about how its hot springs and golf courses? Everyone is welcome here and enjoyment is not a problem if relaxation is what you're looking for. However, did you know there are also wonderful places around the city? To find the hidden gems or noteworthy places to go, look no further. Here are the best day trips from Palm Springs, California.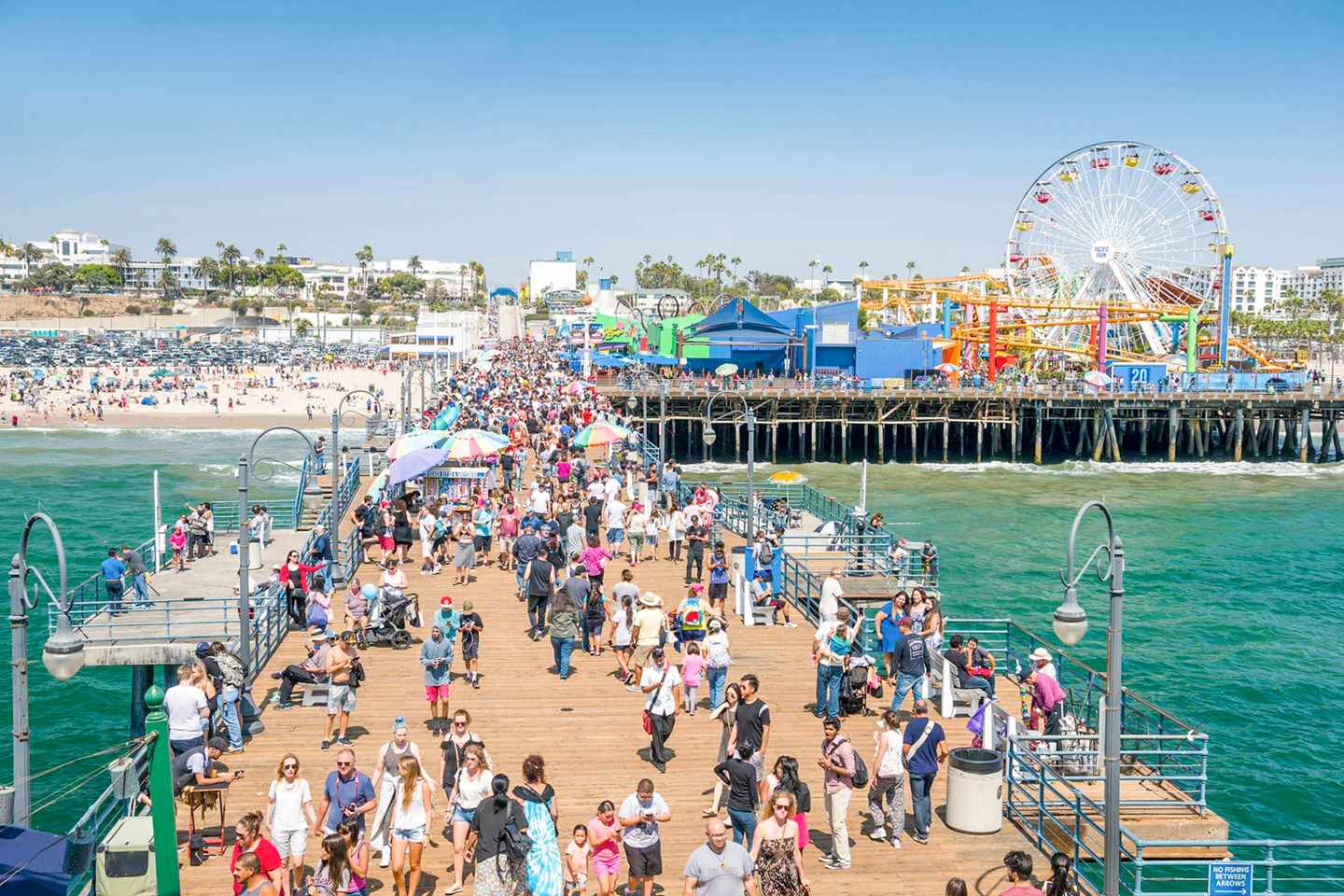 Here, in the lively city of Los Angeles, you can have an unforgettable grand tour for an entire day! This package includes a seven-hour narrated tour, while you sit comfortably on a tour bus and make convenient stops at famous venues like the Santa Monica Pier and the 3rd Street Promenade. Of course, the tour would not be complete without a visit to Hollywood!
You will feel the electrifying energy of Los Angeles through this tour. It is a fantastic day trip to look forward to from Palm Springs, California.
Los Angeles: LA Grand Tour

Duration: 7 hour
2. Salton Sea
This endorheic lake was once one of the most productive fisheries in the whole of California. Thankfully, fish farming here has been maintained throughout the years, so visitors can still nab a great catch! Go fishing and swimming with the family for some quality bonding time.
The Salton Sea also offers refreshing views of the mountains and rock formations. For a relaxing time, try sunbathing or simply sight-seeing. Feel the tranquility amidst Palm Springs' usual busy atmosphere.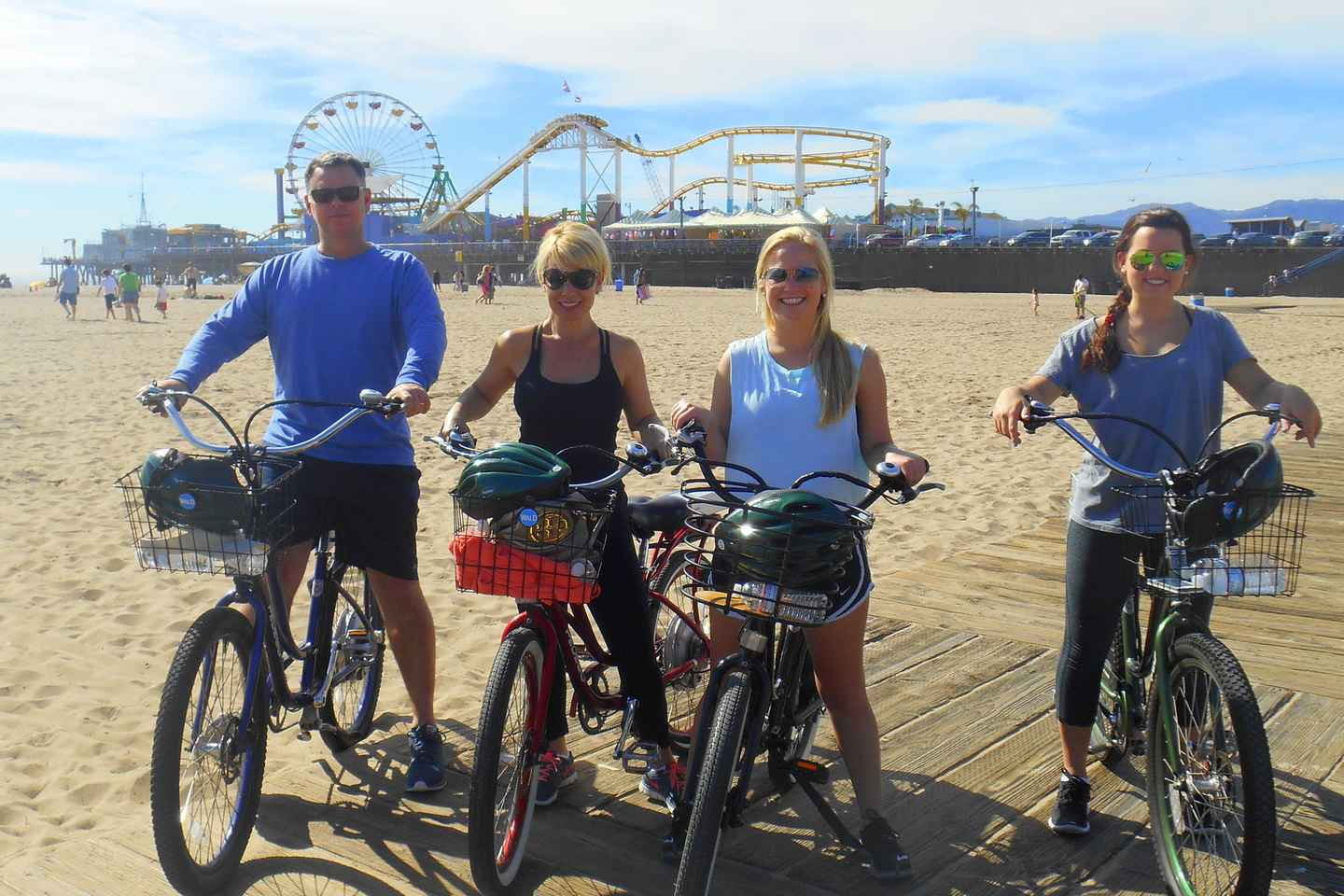 Stay fit while getting to know more about Santa Monica and Venice through this three-hour electric bike tour. You'll get picturesque views of the stunning Santa Monica Pier, visit famous Muscle Beach, and get a clear view of the fabulous amusement parks around the area!
It is recommended that you bring sunglasses with you, especially on a hot day. Wear comfortable cycling clothes and closed-toe shoes. You will have a fun and healthy time enjoying what Santa Monica and Venice can offer.
Santa Monica and Venice 3-Hour Electric Bike Tour

Duration: 3 hour
Trolley tours give you a local experience since you can witness the activities of the local people from their perspective. Right here in San Diego, you can choose your itinerary, covering 10 stops in total. There is the Gaslamp Quarter, the famous USS Midway Museum, San Diego Zoo, and Little Italy, among many others.
Along the way, the knowledgeable guide will give you interesting information about these places. If you are staying in a nearby hotel, you may get free hotel pick-up and drop-off, too!
San Diego Tour: Hop-on Hop-off Trolley

Duration: 2 hours
5. Pasadena
Travel back to the Victorian era and walk through the streets of Pasadena! Boasting impressive restoration of its historic structures, like its city hall, hotels, and cultural institutes, the city center offers an exciting journey back into the past, but with all the modern amenities you're looking for.
Attend famous annual events, like the Rose Bowl Football Game and the Rose Parade. Go shopping, get familiar with the art scene, watch something at one of the theaters – there is much to do in this modernized Victorian-style city.
6. Mecca
The unincorporated desert community of Mecca retains its simple, small-town charm – it's neat, unassuming, and welcoming. In addition, it's surrounded by agricultural land, so you will enjoy undisturbed views of the azure skies. With farming as the major industry in the area, visitors should look forward to buying local produce and dining at restaurants with fresh ingredients. Besides strolling around town, you can also check out the region's beautiful canyons and landscape!
Put on some comfortable clothes and wear your rock climbing shoes for this four-hour climbing tour! Explore more of California in a whole new way. Get some climbing lessons at Joshua Tree National Park and learn from the pros. If this is your first time to try rock climbing, that's not a problem, because the lesson is suitable for beginner climbers. Take a walk in the desert to find some amazing climbing destinations, offering gorgeous sights. You'll be exploring California while acquiring a new skill!
Half-Day Rock Climbing Adventure in Joshua Tree National Park

Duration: 4 hours
8. Idyllwild
If peace is what you're looking for in Palm Springs, look forward to traveling to Idyllwild. It is a serene location in the San Jacinto mountains, with whimsical views of the evergreens, rock formations, and the tranquil town – a contrast to most of California's popular destinations.
The community has kept its small-town atmosphere, with various local shops offering great goods and commodities to check out. This is your big escape from the usual stress and hectic activities that city life brings. Take a stroll in nature and hike the beautiful mountains to enjoy the incredible views!
9. Pioneertown
The community of Pioneertown, which is supported by various Hollywood investors, retains its traditions and identity in terms of structure. Because of this, visiting is like entering a time machine. Just imagine going back to the 18th century! You will see the rustic Old West come alive with old structures that include banks, saloons, and stables.
Pioneertown is a photographer's dream, due to its uniqueness and appeal. With that, do not forget to bring your camera to snap some amazing photos!
10. Anza Borrego State Park
San Diego's great outdoors offers beautiful landscapes and activity-packed outdoor events. Anza Borrego Desert State Park has hiking trails and routes, both inland and on its outskirts. Discover the exhilarating views and take the time to savor the natural beauty all around!
If you plan to spend a night here, you can reserve your slot at the campsites up to six months in advance. Remember to bring some food and drinks when coming here! Equip yourself with a flashlight, power bank, and a first aid kit. After that, you're set for a thrilling camping experience!
Ride on a jeep and spend half the day learning about California's interesting geology and wilderness. From Palm Springs, you will pass by the Coachella Valley, Salton Sea, San Andreas Fault, Painted Canyon, and finally, the Oasis Date Gardens. Because the tour allows you to take some time exploring these destinations, you can enjoy taking some photos and sightseeing.
The tour package has everything you need for a convenient trip, including tickets for the given destinations for a smooth entrance, a knowledgeable guide, and light refreshments to keep you going. Learn about the flora and fauna, as well as the history of these fantastic places in California.
San Andreas Fault Half-Day Jeep Tour From Palm Springs

Duration: 4 hours
Relax and let loose in the chill city of Palm Springs, California
Not having to worry about your itinerary and letting the experts guide you is a great way to travel if you want to let loose. The guides are knowledgeable and, besides exploring the places around the city, you will learn some interesting facts you may not have learned if you visited these places on your own. At the same time, you won't get lost and your time will be spent efficiently. These day tours in Palm Springs, California, are made for you to simply relax and allow the guides to show you the awesome places in the region.
Disclosure: Trip101 selects the listings in our articles independently. Some of the listings in this article contain affiliate links.
Get Trip101 in your inbox
Unsubscribe in one click. See our privacy policy for more information on how we use your data