Playa del Carmen is a popular beach resort town on the Riviera Maya in Quintana Roo, Mexico. Its palm-lined beaches spread along the Yucatan Peninsula, while Quinta Avenida runs parallel to the beach, offering plenty of restaurants, shops, bars and nightclubs. This is a popular vacation spot for Americans who are looking for sun, sand and fun. Apart from family resorts and hotels, there are also homey Airbnb vacation rentals for one's accommodation needs. Sometimes it's great to get out of the resort town and its crowds while heading into the "real" Mexico, including fascinating Mayan ruins, beautiful natural parks and more on the Mayan Riviera. Read up on some of the best day trips from Playa del Carmen, Mexico.
Cozumel Island is a mesmerizing destination that offers an authentic Mexican experience with its beautiful beaches, crystal-clear waters, and vibrant culture. The island is a hub for snorkeling and diving enthusiasts, as it is home to the second-largest coral reef in the world.
When visiting, explore the island's colorful streets are filled with markets, shops, and lively bars. The people here are warm and welcoming, and their passion for their culture and history is evident in their music, dance, and festivals.
Cozumel Island Custom Private Tour with Tequila Tasting

Duration: 4 hours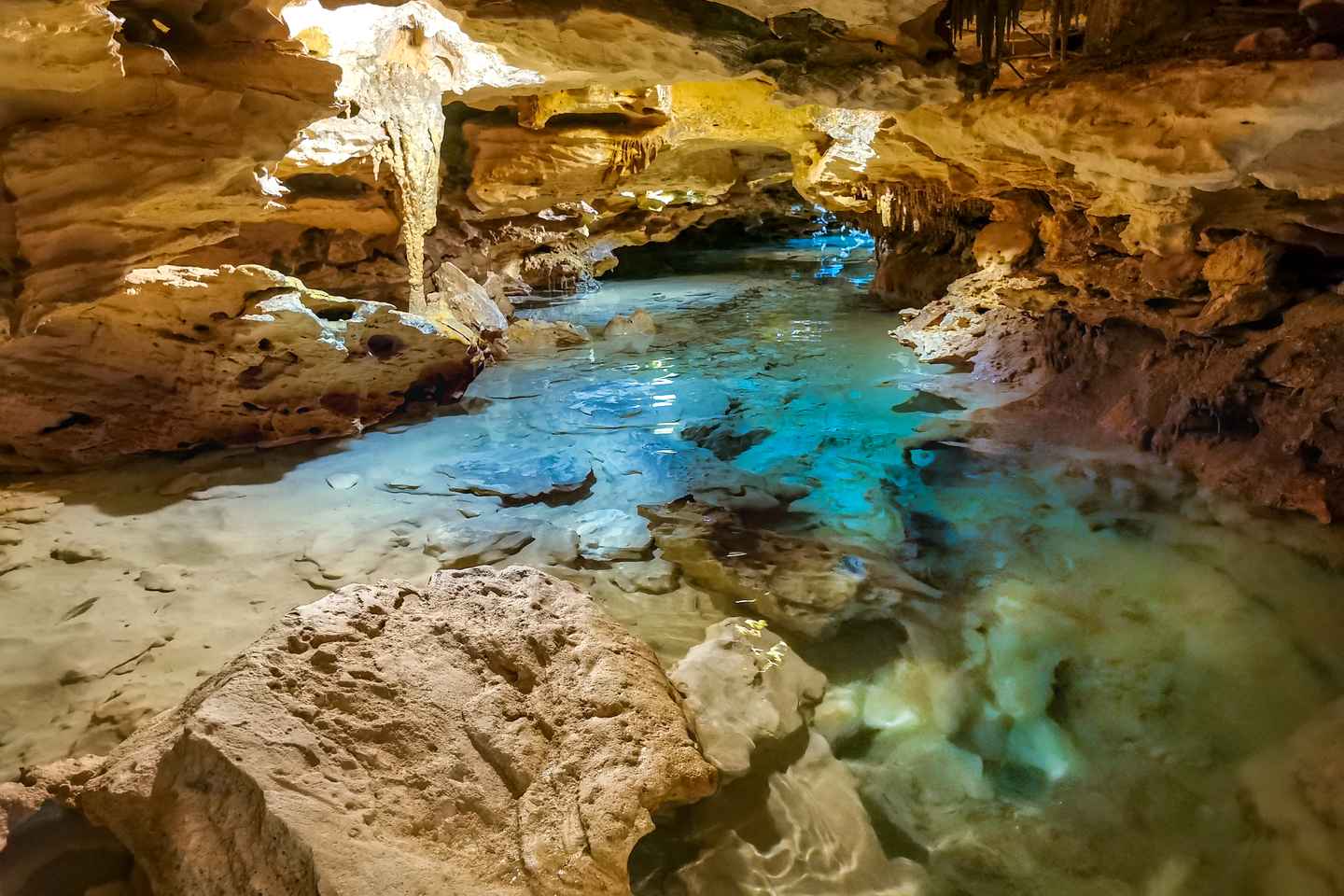 Puerto Aventuras is a tropical paradise that offers a perfect blend of relaxation, adventure, and culture. The small town is nestled along the pristine Caribbean coastline and boasts stunning white-sand beaches, turquoise waters, and breathtaking coral reefs.
Water sports enthusiasts will be thrilled to know that snorkeling, scuba diving, fishing, and kayaking are available here. For those seeking a more laid-back experience, Puerto Aventuras offers luxurious spas, world-class golf courses, and a picturesque marina lined with shops and restaurants.
The town's rich history and culture are reflected in its traditional Mayan architecture, colorful festivals, lively music, and dance performances.
Riviera Maya: EcoPark Kantun-Chi Cave Adventure

Duration: 3.5 hour
Rio Secreto Nature Reserve lies outside the city of Cancun on the Riviera Maya and is a 6-mi (9.8-km) journey from Playa del Carmen via Cancun. Here it is possible to wade and swim in the spectacular underground, crystal caves. It also offers some of the best day tours near Playa del Carmen. Relax and enjoy the peace and tranquility of the turquoise water and beautiful surroundings inside the ancient cave.
Rio Secreto Underground River Tour with Crystal Caves and Tulum Ruins

Duration: 3 to 8 hours
Ek Balam is one of the more recently discovered Maya sites on the Mayan Riviera and can be reached by driving 97 mi (156.5 km) inland. Visitors can explore the fascinating archaeological ruins, along with Cenote Maya Park which is an adventure park in a beautiful natural setting. It is possible to climb to the top of the Acropolis Pyramid of Ek Balam and enjoy panoramic scenic views, including other hidden temples among the dense surrounding jungle canopy. Adventure sports are available in the form of zip-lining through the rainforest and cave rappelling. Before heading back to Playa del Carmen, buy some souvenirs in the handicraft market onsite.
Ek Balam Ruins and Cenote Maya Park Tour from Playa del Carmen

Duration: 8 hours
Chichen Itza is one of the most spectacular Mayan pyramids and the capital of the Mayan civilization on the Riviera Maya. The site can be reached by taking a 112.7-mi (181.4-km) drive inland from Playa del Carmen. Find out about the secrets of the Mayan civilization at this UNESCO World Heritage site while exploring the ruins and gazing at the huge Kukulcan Pyramid and learning about the mysterious acoustics of its ball court. Take a dip in a crystal-clear sacred cenote (sinkhole) near the ruins.
Chichen Itza Day Trip from Playa del Carmen

Duration: 12 hours
Visit the Cobá ruins and Cho Ha Cenote in Tulum approximately 40 mi (64.7 km) from Playa del Carmen. Both sites are impressive Mayan archaeological sites on the Yucatan Peninsula. Due to the fact that the Cobá ruins don't see as much tourism as the more famous sites, visitors can freely climb up some of the structures for an incredible view. Explore the ruins and find out their significance from the guide before taking a refreshing dip in the crystal clear waters of the Cho Ha Cenote (natural pit or sinkhole).
Coba Ruins, Cho HaCenote, Tulum and Paradise Beach Tour

Duration: 10 hours
7. Valladolid, Mexico
Valladolid is an 88-mi (141.1-km) drive from Playa del Carmen. Located on the Yucatan Peninsula, the city hosts a number of Spanish 16th-century colonial buildings including the Convent of San Bernardino of Siena and the Baroque San Gervasio Cathedral. View beautiful Mexican folk art and furnishings at the Casa de los Venados or visit the Cenote Zaci sinkhole with beautiful stalactites. To the southwest are the Samula and X'Keken underground cenotes.
Isla Holbox, or Holbox Island, is located off the coast of the Yucatan Peninsula, 65 mi (104 km) from Playa del Carmen. The island is car-free and can only be reached by boat across the Yalahau Lagoon. The island forms part of the Yum Balam Nature Reserve where marine life such as whale sharks and sea turtles can be seen, as well as pelicans and flamingos. A visit can be made to relaxed Holbox Village and the lovely Punta Coco Beach.
Holbox Island Full Day Trip with Lunch From Playa del Carmen

Duration: 12 to 13 hours
Xcaret Natural Park is a short, 6.4-mi (10.2-km) drive along the coast from Playa del Carmen. This natural park has plenty to offer, including the flora and fauna in the area, including butterflies and birds, and an eco-archaeological site to explore. Swimming is available in the crystal clear lagoon. Head into an underground river for more adventure or visit the fascinating aquarium and Mayan village at the site.
Playa del carmen to Xcaret Day Trip with Admission Tickets

Duration: 6 to 12 hours
Head down the coast via Cancun to Xel-Há, a 30-mi (48.2 km) drive from Playa del Carmen. Here you can enjoy swimming and snorkeling in the crystal clear lagoon and discover the diverse marine life in what feels like a natural aquarium. Relax in secluded coves and find hidden caves while exploring, or head on a tube down a river. A number of restaurants here serve authentic Mayan and traditional Mexican food.
Playa del Carmen to Xel-Há All-Inclusive Day Trip with Entry

Duration: 9 to 10 hours
Sian Ka'an is a UNESCO Biosphere Reserve located near Tulum on the Riviera Maya, approximately 40 mi (64.7 km) from Playa del Carmen. The reserve is made up of coral reefs, mangroves and a flourishing marine life including dolphins, manatees, sea turtles and crocodiles. The Sian Ka'an reef is ideal for enjoyable snorkeling and marine safaris are available by boat. Travel through an untouched area of the Riviera Maya and visit the fishing village of Punta Allen for a snack and cooling drink.
Sian Ka'an Truck and Boat Safari from Playa del Carmen

Duration: 12 hours
There are a number of beautiful islands off the Riviera Maya, including Contoy Island with its bird refuge and Isla Mujeres. Enjoy snorkeling the reef on Contoy Island and take an ecological tour of the island. Relax on the beautiful beach on Isla Mujeres and explore the town, taking time to rest with a delicious meal and buy souvenirs to take home. To get there, travel 42 mi (68 km) from Playa del Carmen to Cancun, where you can catch a ferry to the islands.
Isla Mujeres, Contoy Island Day Tour from Playa del Carmen

Duration: 11 hours
Enjoy exploring the Riviera Maya in Mexico
Have fun at the beach, the restaurants, the lively nightlife, and the fun day clubs of Playa del Carmen on the Mayan Riviera, while also taking some time out to visit the fascinating Mayan archaeological sites and beautiful natural parks on some of the best day trips from Playa del Carmen, Mexico.
Frequently asked questions about day trips from Playa del Carmen, Mexico
1. What day trips from Playa del Carmen are good for avoiding crowds?
Avoid the touristy areas in Playa del Carmen by heading to Rio Secreto Nature Reserve, which offers underground crystal caves as well as tranquil beaches that are not crowded. The Acropolis Pyramid of Ek Balam also features hidden temples and adventure spots that provide a relaxing retreat on the lap of nature.
2. What are the best tours near Playa del Carmen?
Explore the archaeological ruins of Ek Balam in this Day Trip from Playa del Carmen, visit island attractions in this Private Island Tour in Cozumel, swim in the underground river in this EcoPark Kantun-Chi Cave Adventure, and see the famous crystal caves in this Rio Secreto Underground River Tour.
Disclosure: Trip101 selects the listings in our articles independently. Some of the listings in this article contain affiliate links.
Get Trip101 in your inbox
Unsubscribe in one click. See our Privacy Policy for more information on how we use your data